Your top 5 WordPress security questions answered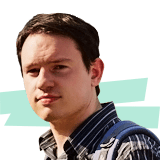 Richard King
WordPress Expert
15 Feb 2023
Adopting a proactive WordPress security plan is vital to prevent cyber criminals from reaping havoc on your business.
A hacked WordPress site has the potential to cause severe damage to your business's revenue and reputation. Hackers can steal user information, passwords, install malicious software, and distribute malware to your visitors. While WordPress is a secure content management system (CMS), like any CMS, it's vulnerable to attacks if you don't invest time in securing your site.
Not sure how to improve your WordPress security? Don't panic: we're here to help with answers to your questions.
Let's dive into WordPress security, how to strengthen it, the best security plugins, and how to keep your website up to date.
What is WordPress security?
WordPress is the most used CMS in the world. Currently, around 40% of all websites run on WordPress. However, this popularity also translates into WordPress security risks. That's not to say that WordPress itself is inherently insecure — it's simply a prime target.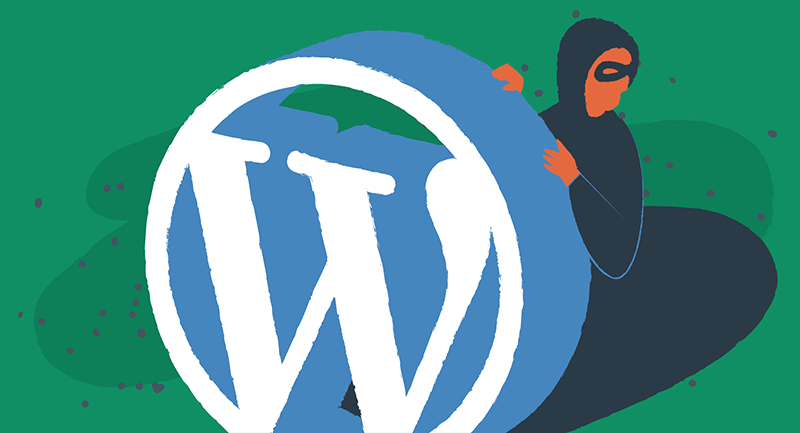 By design, WordPress is open-source software that depends on its users for secure installation and maintenance. With that in mind, there are actions you can take to improve the security of your website, including:  
Installing WordPress on a reputable hosting platform
Keeping WordPress and its associated plugins and themes updated
Setting strong admin and user passwords
Managing user roles thoughtfully
Below, we've shared some top WordPress security tips to help you protect your website against hackers and malware.
How to improve WordPress security
Always update
Every plugin and theme installed can pose a security risk, so the fewer you have, the better.
Remove all themes you don't use except the default WordPress themes. The same goes for plugins that you no longer need. You can remove them directly via your WP Admin or delete them from your website. This also applies to your older WordPress installations — these are equally vulnerable to hacks.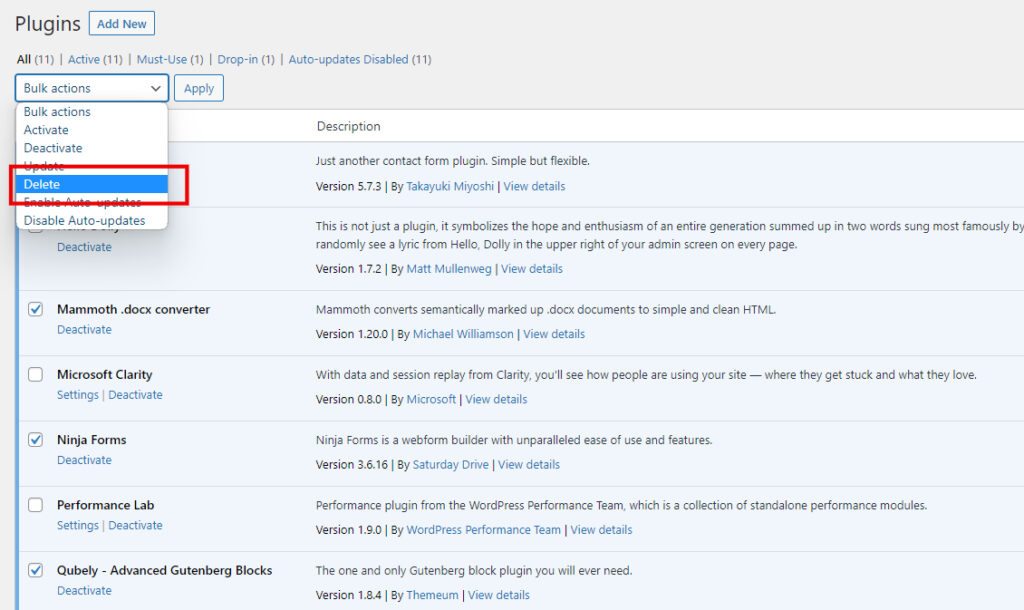 Generate strong passwords
One of the simplest ways to protect your WordPress site is to use strong passwords for all your logins.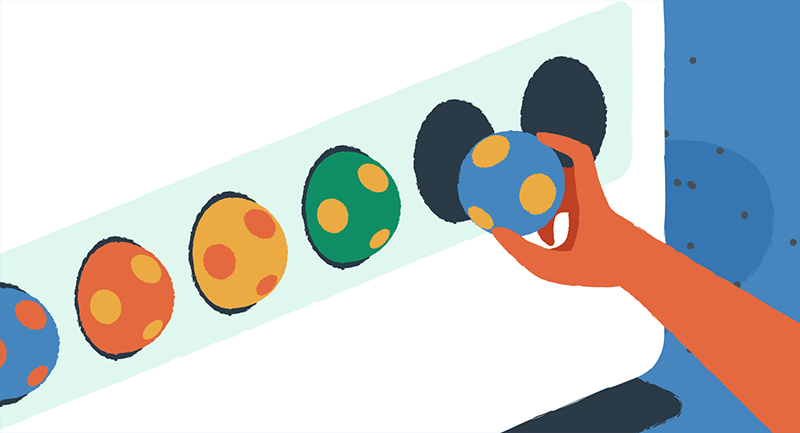 As tempting as it is to use or reuse familiar or easy-to-remember passwords, doing so puts you, your visitors, and your website at risk. Improving password strength decreases your chances of being hacked. The stronger your password, the less likely you are to become a cyber-attack victim.
Install SSL certificates
As a WordPress site owner, you should have a Secure Sockets Layer (SSL) certificate. An SSL certificate keeps sensitive data between web servers and browsers secure and private. Installing an SSL certificate will help visitors feel more confident in your WordPress pages.
It's worth noting that a website without an SSL certificate will affect your SEO, meaning Google will punish your site by marking you down in the search rankings.
What is the best WordPress security plugin?
WordPress security plugins give you extra peace of mind and protect your site from threats that basic security best practices can't. See below for our expert pick of the best WordPress security plugins.
1. Wordfence
Wordfence is a popular WordPress security plugin. Its free version comes with a powerful malware scanner, exploit detection, and threat assessment features. This security plugin automatically scans your website for common threats, although you can activate a full scan anytime.
Furthermore, you'll be alerted if any signs of a security breach are detected with instructions to fix them.
2. All in One WP Security
All in One WordPress Security (AIOS) is a robust WordPress security auditing, monitoring, and firewall plugin. It enables you to easily apply basic WordPress security best practices on your website.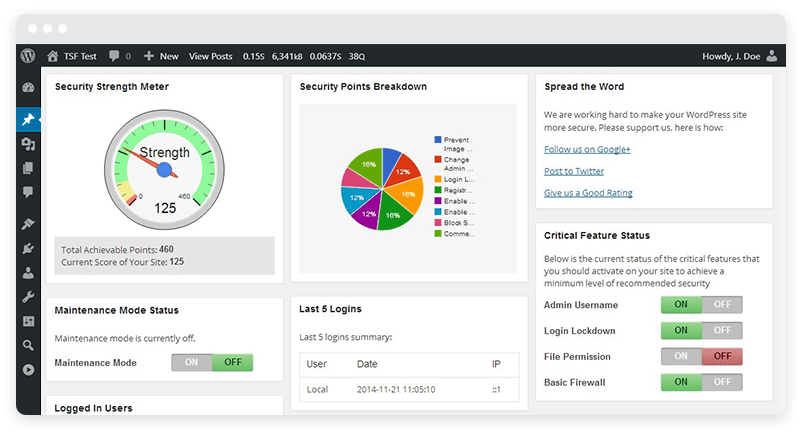 This user-friendly security plugin is packed with innovative features such as login lockdown to prevent brute force attacks, IP filtering, file integrity monitoring, user account monitoring, scanning for suspicious patterns of database injection, and more.
Additionally, it offers a basic website-level firewall that can detect familiar patterns and block them for you.
3. Sucuri Security
Sucuri Security is bundled with security hardening features. These include malware scanning, core integrity file checking, post-hack hardening, and email alerts to notify you of any critical changes or security issues.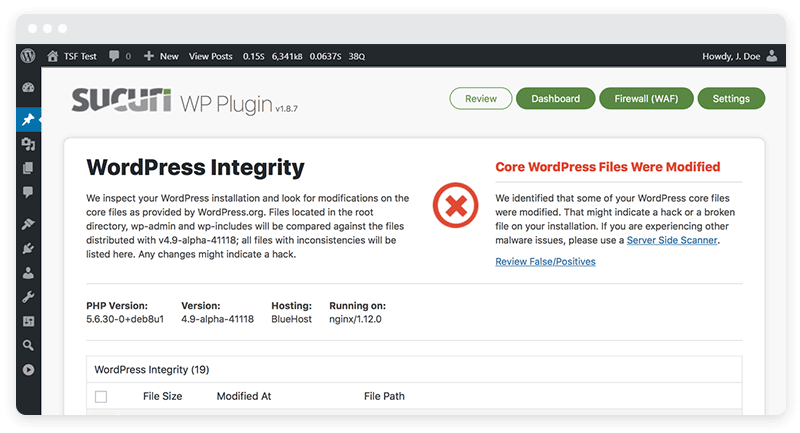 Most of these services are free. However, to access features such as the website firewall, SSL support, and more, you'll need a paid Sucuri account.
How to harden WordPress security
In this article, we've addressed some of the low-hanging fruit you can implement to secure your WordPress website. Let's look at some additional steps you can take to harden your WordPress security.
Enable two-factor authentication
Two-factor authentication (2FA) adds an extra layer of security to your login process by requiring you to provide a second form of authentication in addition to your password.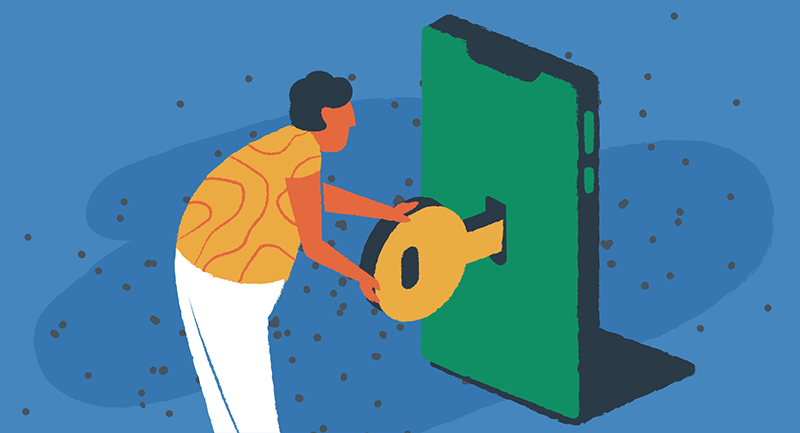 This could be a code sent to your phone or an app that will generate a code for you. To enable 2FA in WordPress, you can also use a plugin such as Google Authenticator or Two-Factor.
Harden your wp-config.php file
The wp-config.php file contains essential information about your WordPress installation, including your database connection details. You can add security measures to this file to help protect it from unauthorized access. For example, you can add code that prevents your wp-config.php file from being accessed directly, or you can use a .htaccess file to block access.
Limit login attempts
As primitive as it sounds, hackers often use brute force attacks to try and guess your login credentials. To combat this, you can limit the number of login attempts allowed to help prevent these types of attacks. This can be done through a plugin or by adding code to your functions.php file.
How do I update my security?
Every WordPress update includes release notes which list what has been fixed and changed. It's common practice for hackers to read the release notes and then attempt to exploit them by searching for sites that still need to be updated. As a result, you're vulnerable if your website runs on an older WordPress version.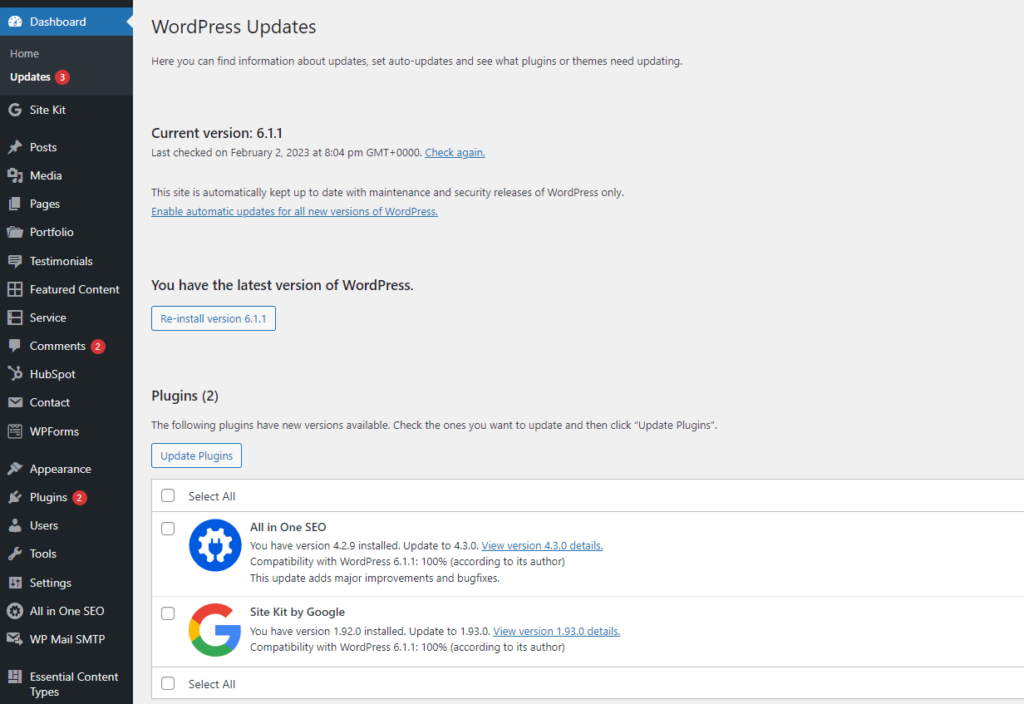 Checking for security updates in WordPress is a straightforward process. To start, log in to your WordPress admin account, which opens the entire server side of your website. Once you're logged in, click on Dashboard > Updates. You'll be taken to the WordPress dedicated update page in the admin area, where you can view all updates available for WordPress core, themes, and plugins.
Protect what you create
A compromised WordPress website can hurt your revenue, put your visitor and customer data at risk and damage your reputation.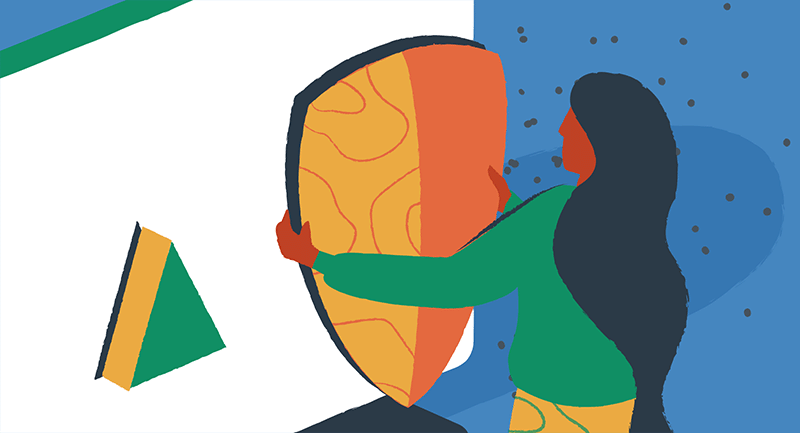 As much as technology is evolving, the threats of cyberattacks are also increasing. It is becoming more and more crucial to secure your WordPress site from cyber criminals seeking access to credit card numbers, bank information, names, and addresses.
Following the tips outlined in this article can significantly reduce the risk of security threats and protect your website from attacks.
Get more of your WordPress security questions answered
Want to learn more about how to keep your WordPress site updated? Learn how to clear your cache to view your website updates hassle-free, and how to prevent WordPress hacks with five simple tips.