Link building outreach: strategies top link building agencies use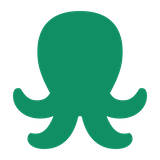 EasyWP Team
06 Jun 2023
If you're a business owner with an online presence or a digital marketer, you must have asked yourself some questions, such as:
How can I drive quality leads to my website?
Is there any way I can boost my search ranking?
What should I do to beat my competitors on SERPs?
The answer is simple — you need to start a link building outreach to your website!
Before we get to that, it's worth mentioning that several other methods exist to generate leads. For example, using paid ads can drive thousands of leads to your page, and creating quality content can help you rank better. Even social media can serve as an additional source of lead juice.
But if you want a full-proof method that will rocket your website to Google's first page, you should also count on quality backlinks.
5 proven strategies agencies use for link building outreach
If you want to build backlinks like a pro, you need to start getting visible, create quality content, invest in infographics, leverage broken outbound links, and guest blog. Let's walk through each of these strategies now.
Infographics
Infographics present complex messages in a simple-to-understand, graphic-based approach. And they are often used when dealing with several numerical data. For example, Grammarly uses an infographic to send users monthly usage reports containing figures and percentages.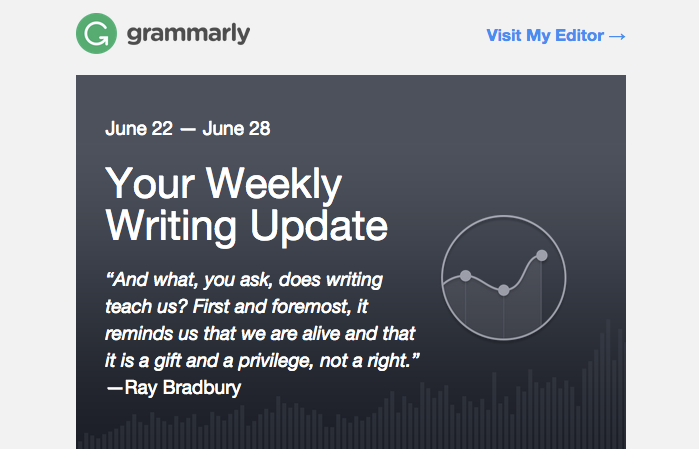 One exciting application of infographics is using them to present your research or survey results.
Let's say you conducted a comprehensive survey on customer preferences between mobile phones and laptops. You could end up with as many as twenty or more valuable findings that others can later reference. Instead of compiling all these stats into blocks of text, it's better to convert them into an infographic. That makes it easy for your audience to read and for other websites to use while linking to you as the source.
Here's what you should do to create your infographic:
Research your target audience
Before creating an infographic, you must know your target websites or brands. The result will help you know what research type or survey to conduct. Look for their major queries and dig deeper into the type of content they create.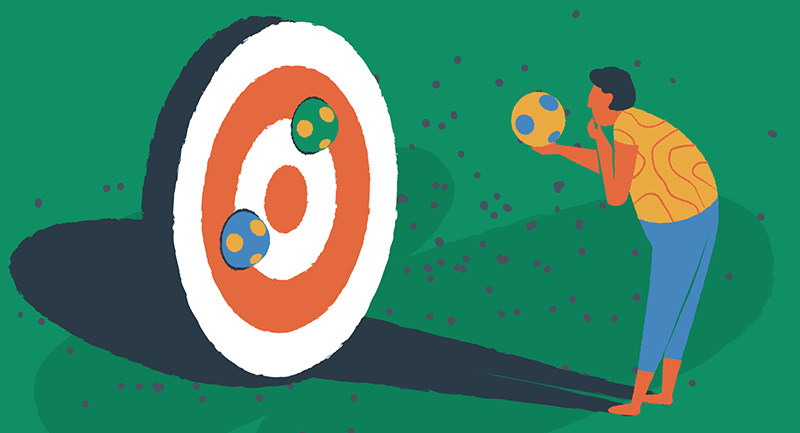 "The most important thing to analyze while building backlinks is to ensure that the target websites or brands are relevant to your product or service. That's why we, as an SaaS link-building agency, always look for SaaS domains while building backlinks for our clients."
– Vibhu Dhaiwal, Co-founder, Digital Gratified
Next, start your research quest for unique data no one else has. Note that you can also compile other people's stat into infographics, especially if you don't have the resources to carry out a comprehensive survey at the moment.
Create a storytelling infographic
Once you have the data, you can start creating your graphics. Infographics are generally great storytellers, so you need to ensure the content you're using is properly optimized to do the same.
Design programs such as Procreate or Adobe Illustrator are highly recommended. However, Procreate is a better option since this design platform offers the best deal on brushes like line art, Procreate star brushes, and even watercolor. With these tools, you will find it easy to create realistic and expressive infographics.
Publish and share
Review the infographics you just created for errors or missing details. If there are none, go ahead and publish your content. You should also share the link on social media forums, especially Quora. With time, more and more people will start linking back to it.
Platforms like HARO (Help A Reporter Out) present a tiny chance of getting quality backlinks from top sites like Forbes as long as your infographic offers a solution to the provided query.
Getting visible
Visibility is one of the buzzwords you'll likely have heard in the digital world. And the reason is simple: if no one knows about your website, they won't know about your top-notch content. People can't link back to what they can't see.
That's why you should first conduct a website audit to eliminate every possible factor affecting a page's visibility. For example, your web pages will not be visible on search engines if they are not indexed. Not optimizing your meta tags and description properly can also prevent your pages from showing up where necessary. So, how can you fix this?
Check your site's visibility
To see if your website appears on search engines like Google, type "site:www.yourwebsite.com" in the search box. If your web pages are correctly indexed for visibility, Google will display them in the results.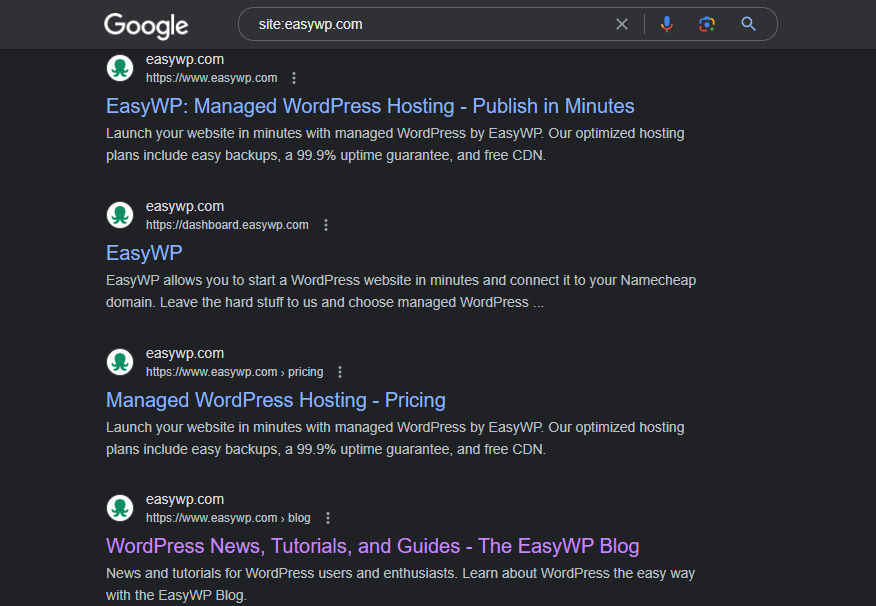 Your homepage might be indexed in most cases, whereas your blog posts or resource pages are not. To fix that, visit Google's Search Console and manually request indexing. You should also check if your sitemap is submitted so search engines can crawl your pages with their bots. Google integrations like the Site Kit WordPress plugin can quickly get you started with sitemap submission.
Optimize website speed
Another factor that can reduce your visibility on SERPs is website speed. According to SEJ, Google prioritizes websites that have a shorter loading time or faster loading speed over those that don't.
To improve your website speed, perform a technical audit with tools like Ahrefs or Screaming Frog. Or simply use Google's PageSpeed Insights tool. Highlight the factors that contribute to a longer loading time and fix them immediately.
Update meta tags and description
Meta tags are components of a website that help search engines understand your page. The meta title and description help people understand your website from the search engine preview, even before clicking.
However, others, like robot tags, can make or break your page's visibility. Robot tags are HTML codes placed in the header section of your webpage. You can use them to tell search engines like Google or Bing whether to crawl and index your page or not.
For example, if your robot tag is "<meta name="robots" content="noindex, nofollow" />", it tells search engines not to index or follow that particular page. You can correct this by changing the code to "<meta name="robots" content="index, follow" />.
Create top-notch content
Creating top-notch content is another way link-building agencies generate passive backlinks. If you have no valuable content on your website, there's nothing worth linking to.
So after optimizing your website for visibility, the next thing to do is to create "yay-worthy" informative pieces. We're not talking about those two-minute AI-generated articles or content whipped out after several processes of regurgitation.
You need to create something that can attract true attention from your potential leads, other marketers, journalists, and even your competitors. When they know you have something unique that they can't replicate, they have no option but to quote you and link back.
To build content that is worthy of being linked back to, follow these steps:
Prioritize the topic cluster approach
The topic cluster approach involves creating multiple informative content pieces around a single versatile topic. This approach has two components — a broad long-form pillar page and several narrow secondary pieces.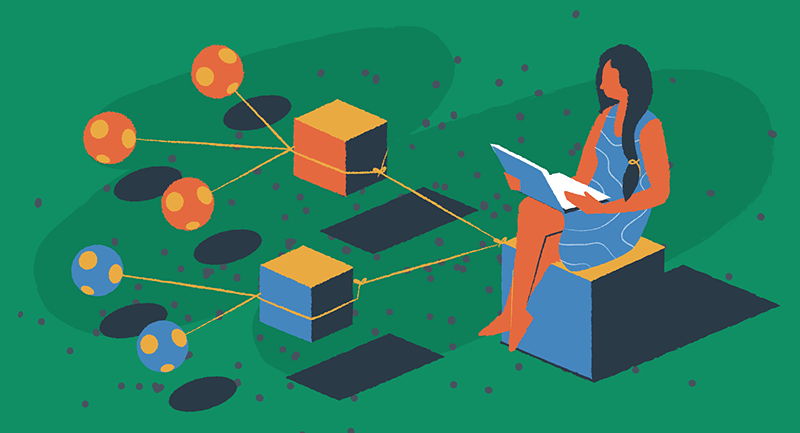 For example, "A comprehensive guide into digital marketing" is a good topic for your pillar page. Secondary topics around this can be "8 strategies to skyrocket your marketing results" or "6 reasons why you should automate your marketing processes".
Technically, these secondary pieces link directly to the pillar page and other relevant articles. This creates an architecture on your website, making it easy for Google to crawl through and providing more related resources for your leads.
Position yourself as an authority
Since the topic cluster approach prioritizes quality and comprehensiveness, it automatically positions you as an authority in the niche you write on. When you are seen as an authority and a value provider, other sites find it easy to link back.
Importantly, when you guest blog for other websites in the future, you can always request a link back to your pillar pages. We will discuss more on guest blogging later in this article.
Share on forums
While this is not a common practice of top digital agencies for link building outreach, you can take it as an extra tip. Once your pillar pages are published and optimized, you can share the links on social discussion platforms like Quora.
On Quora, industry leaders and top brass in the marketing world often ask vital questions to which you might have answers. All you have to do is provide a valuable response and cite the part of your website that addresses the same query. Doing so will ensure they link back to your site using the information you provided.
Build broken links
Broken links are web pages no longer accessible on the server and usually return a 404 error response. Often, links are broken when the original resource files are missing or removed.
Let's say one of your blog pieces cited a stat from www.statista.com two years ago. If Statista moves that stat to another address or loses the resource file due to some errors, the linked stat on your website will return a 404 error when clicked.
That means you have a broken link and need a replacement, whether from Statista or another competitor providing the same data.
However, you're not auditing your website for broken links in this context. Instead, you want to target high-authority websites like Forbes, Hubspot, or any other top-ranking site in your niche. And once you find out that they have broken links, you step up to volunteer a replacement link.
Let's break it down.
Check for broken links on your target website
There are several tools to check for broken outbound links, such as Screaming Frog and SemRUSH. But we will use Ahrefs instead since they offer a free broken link checker.
Head to Ahref's dead link checker tool and input your preferred target website. Our target website for this article is Hubspot.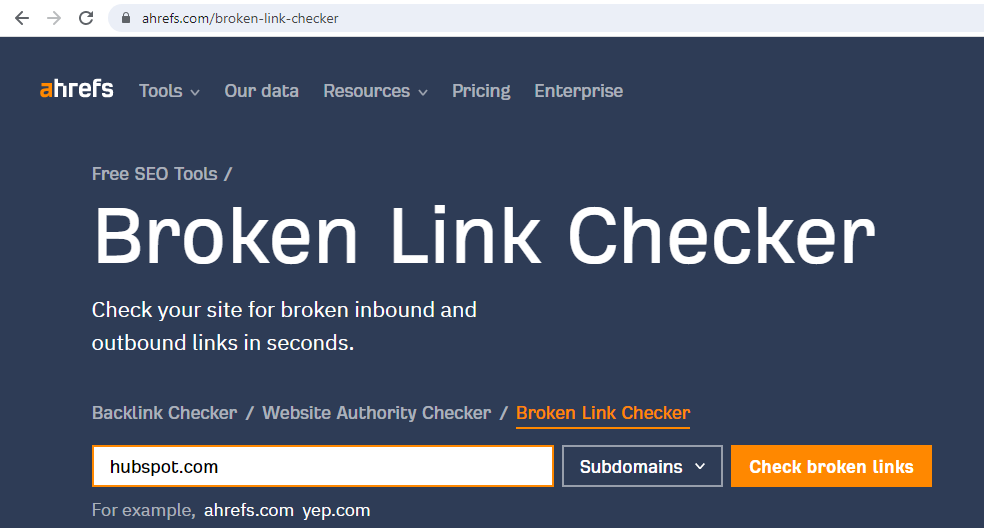 Analyze broken outbound links
Click the "check broken links" button and verify by captcha. Then wait a few seconds for the results to be displayed on the screen. You should, however, note that this tool is not entirely free. So you will only be able to view a few broken outbound links. But that should be enough to help you understand what we're doing here.
The image below shows an article by HubSpot titled "50 Visual Content Marketing Statistics You Should Know in 2021". One of the stats in this piece was gotten from "Think With Google." However, the resource file of this stat is no longer accessible and will return a 404 error once you click it.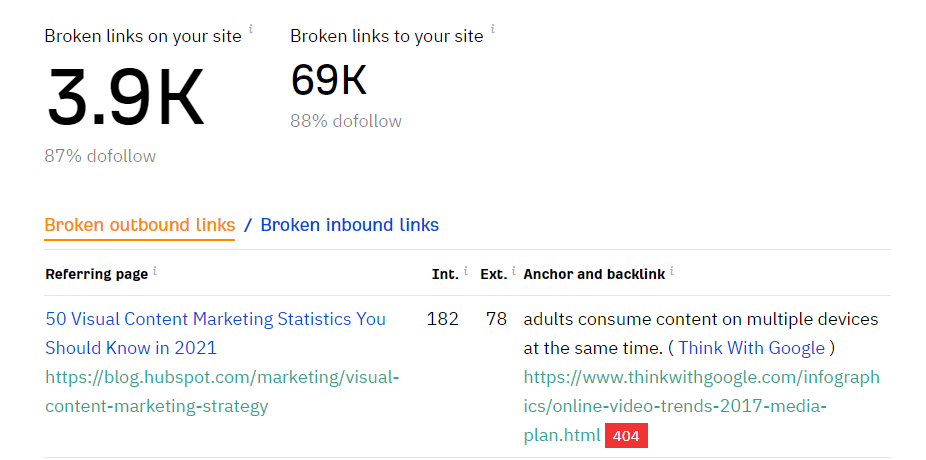 Create similar but more valuable content
The next step is to analyze what type of content the broken link holds. In the example above, HubSpot tries to show that "adults consume content on different devices simultaneously" by linking to infographic data on "online video trends" created by ThinkWithGoogle.
Now, that data is no longer available. And HubSpot's claim is without proof. But that's where you come in.
You need to check if you've published similar content in the past. If you have, optimize it again, then reach out to HubSpot to put in your link as a replacement for ThinkWithGoogle's dead link.
If you have no such content, see if you can create one that's better, well-researched, and backed up with accessible stats. Sometimes, you might need to run a survey and use the data obtained to create valuable pieces.
Afterward, publish it and reach out to HubSpot to ask for a link replacement.
Guest blogging
Guest blogging is one of the most effective link-building strategies that involves writing one or two pieces of content for another target website. These target websites are usually in the same or related niche as you, the writer. And the content written is linked back to your website.
The pillar page is the best place to link back to since the incoming leads can access other resources from there. That's why you should prioritize creating topic clusters.
Here are some simple steps to start guest blogging for links:
Discover websites in the same niche
Before you start, you need to find websites in your niche that accept guest blogs. If you're in the marketing niche, simply type in "Marketing + write for us." The same thing goes for fashion, tech, and the news niche.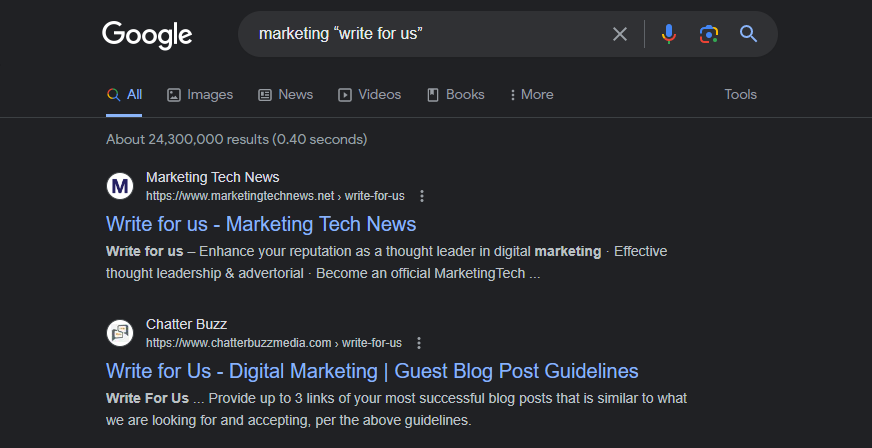 Extract these websites into a spreadsheet and sort out those with a domain authority of or above 60. Some prefer higher, and that works too. Open each site and follow the instructions to contact the site's administrator. Tell them your purpose, mainly about getting backlinks to your website through guest posts.
Request for guidelines
Once you've sent out your pitch and have the go-ahead, request guidelines. Some websites have stringent editorial guidelines, including boosting your Grammarly score to 90+, while Surfer often borders on 80+. These scores are based on the grammar, readability, and structure of your content.
Write a "Wow" worthy piece
Give the guidelines to your writing team. Coordinate with the design team to insert appropriate graphics as well. Once the writing team completes their draft, pass it on to the editorial team. You can use LinkedIn to recruit one-time or long-term editors if you don't have one.
Include your bio
Before submission, add your bio at the end of the article or create a new document. The bio should talk about you, your role, where you work, and a few fun facts within three sentences. Don't forget to include your headshot too!
Link building outreach for long-term results
When it's time to start your link-building campaign, first audit your website for errors affecting visibility. The next step is creating link-worthy content and infographics. Afterward, juice out broken outbound links on your target websites. And finally, look out for guest blogging opportunities for relevant websites with high domain authority.

With these five strategies, you can seamlessly build quality links from the top, relevant sites like SEJ, Forbes, and HubSpot. However, link building outreach is just one of the ways to rank high on SERPs. You must employ other consistent practices, such as developing a mobile-friendly website and creating highly valuable content pieces. Read our beginner's guide to WordPress SEO now to unlock the secrets of optimization and skyrocket your digital success.