How much does a website cost?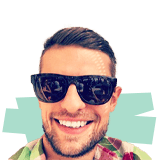 Karol K
08 Sep 2021
"How much does a website cost?" is one of the most common questions people ask before taking their business online. Had you asked this a decade ago, I would have told you that it's thousands of dollars.
Things have changed – thankfully! Nowadays, you can build a website for a fraction of that price. But how much exactly?
In this post, we give you the answer to "How much does a website cost" and break down each individual element of the final bill. We also share tips on how to build a site on your own for a very low price.
But first:
What goes into the cost of a website?
Websites come in all different shapes and sizes.
To some extent, the cost of your website will depend on the type of website you want to build. Simple websites and blogs will generally cost less than ecommerce stores.
The size of the site is also a factor. For instance, a micro-site consisting of just a single page will be much easier and thus faster and less expensive to build than a bigger business website with tens of pages.
Then, there's the topic of whether you'll be building the site yourself or hiring someone to handle everything for you. I probably don't have to tell you which of the two is cheaper.
If you're not one for numbers and accounting, you can always use tools such as cloud accounting software to make the financial side of running a website a bit easier and smoother. You can take all the information you learn here and use it with such software to keep effective track of your spending.
In the following sections, we'll show you the most common types of websites and the costs usually associated with getting them built.
How much does a website cost if you build it yourself on WordPress?

Building a website yourself and doing it on WordPress is the cheapest option possible.
This is not only because you'll be doing the bulk of the work on your own but also because WordPress – the operating system you'll use for the website – is 100% free.
Most importantly, it being free doesn't mean that it's inferior in any way. In fact, WordPress is the most widely used website platform of them all. When writing this article, over 40% of all websites run on WordPress. Yes, you read that right; that's 40% of all websites!
WordPress is also easy to use. You should be able to master all of its key interfaces in an afternoon.
Moreover, thousands of free design packages for WordPress – called themes – are available on the web. This means that you don't have to invest anything in the design of your site if you don't want to.
The story is similar with WordPress plugins. Plugins are small, easily installable packages of additional features. There are thousands of plugins available, and the essential ones are free.
This all makes crafting a WordPress website by yourself the cheapest option available. You're also not missing out on features or the visual appeal of the final product.
The cost breakdown
There are a couple of elements that are unavoidable when it comes to the final price of your WordPress website:
Domain name. This is your website's address on the internet. All websites need an address like that. For instance, the domain name of the website you're reading this on is namecheap.com. You can get your own original .com domain here.
Web hosting. Contrary to popular belief, websites don't reside "on the internet" or "on Google." Instead, they're hosted on a special type of computer from where visitors can access them. WordPress-optimized hosting from EasyWP starts from $22.88/year (roughly $1.90/month).
The domain name and hosting are the absolute minimum infrastructure needed for a WordPress website to run and be visible publicly on the web.
Apart from that, you can invest in a premium theme and plugins. However, this is not mandatory and is up to every website owner's specific needs and requirements.
Premium themes cost in the range of $50-$200.
Premium plugins are usually priced between $20-$400.
Again, there are more than enough quality free themes and plugins out there to satisfy most business websites built on WordPress. You really don't have to spend money on premium upgrades if you don't want to.
💰 Total cost: You can have a website built for $29 for the first year if you're on a budget. This assumes you'll only use free plugins and themes for the site.
If you want to get a premium theme plus a couple of paid plugins for some important features, the price tag can grow to $250+ for the first year.
How much does a website cost if you build it yourself on Wix?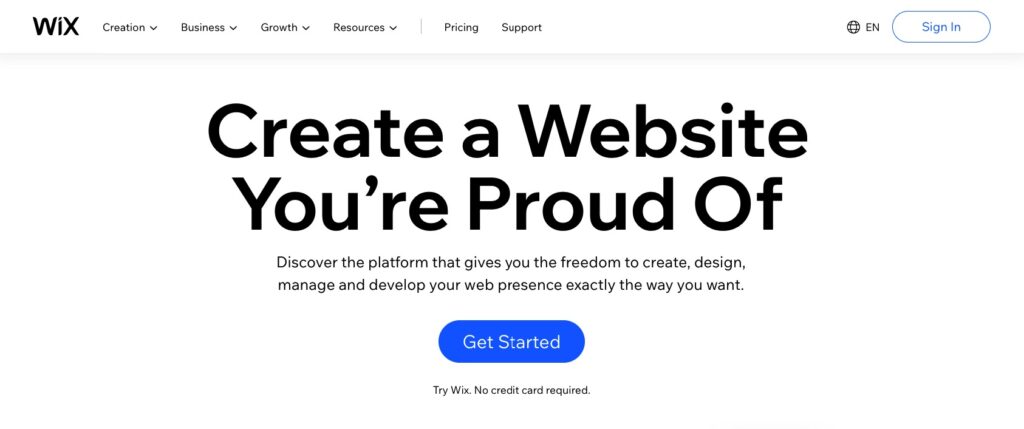 If WordPress still feels a bit too difficult to grasp for a beginner, then you can switch to a platform like Wix.
Note: I've picked Wix for this example, but the story is similar with other tools of this type – like Squarespace or Weebly.
Wix is in some ways similar to WordPress. For instance, it is a do-it-yourself kind of tool for website building. Just like on WordPress, you can craft your site by picking your design and then adjusting everything inside an admin panel.
What's different is that you don't have to get any hosting separately with Wix. Your site is hosted on Wix's own servers and doesn't require any additional payments or infrastructure. Wix will also give you a free domain name for the first year.
Another significant difference is that you do all your work within Wix.com – using one concise interface.
The cost breakdown
Wix offers a couple of tiers of its product depending on the scale of the website that you want to build.
The entry-level is $8.50/month ($102/year), but a more workable setup that doesn't limit the amount of data your site can use up is $12.50/month ($150/year).
At that price, you get to pick from one of Wix's more than 500 website design templates. You also get all the features a standard website would need.
If you want to extend the site with add-ons (for things like email marketing, advanced social media integration, live chat, etc.), then those can be from $15-$100/month. Getting paid add-ons is not required.
💰 Total cost: Wix's unlimited tier costs $12.50/month ($150 for the first year). In year two, you'll also have to pay for the domain name – about $15.
How much does a website cost if you hire a freelancer to build it?
Going the DIY route vs. hiring someone is the main question you'll have to answer and the main factor contributing to the final price tag on your site.
Naturally, hiring anyone will be more expensive than doing the bulk of the work alone.
You're essentially paying for a couple of things:
you're paying for the software and the infrastructure of the site (domain, web hosting, website platform),
you're paying to get the design created or picked (based on an existing theme),
you're paying to get all the required plugins and add-ons installed,
you're paying to get the site tested and ensure that it's optimized to welcome visitors.
Essentially, the freelancer will probably still use WordPress, plus themes and plugins available on the market. However, they will be proficient with all this software and know how to put it all together – this is the primary thing you're paying for.
The cost breakdown
The exact cost will depend on your deal with the freelancer. However, in most cases, you'll still need to handle the basic infrastructure costs, such as domain and hosting.
Again, those are $5.98 for the domain and $22.88/year for the hosting.
Then, any paid themes and plugins the freelancer uses you'll likely either have to pay for directly or it will be factored into the freelancer's final invoice.
About that invoice, how much does a website cost when hiring a freelancer to build it?
I know most people hate this kind of answer, but it depends. Some freelancers charge $20/hour, while others might charge $500+. That said, to get a good idea of the going prices, we can look at the current offers on Fiverr.
Fiverr is a site where you can hire people for simple as well as more complex tasks.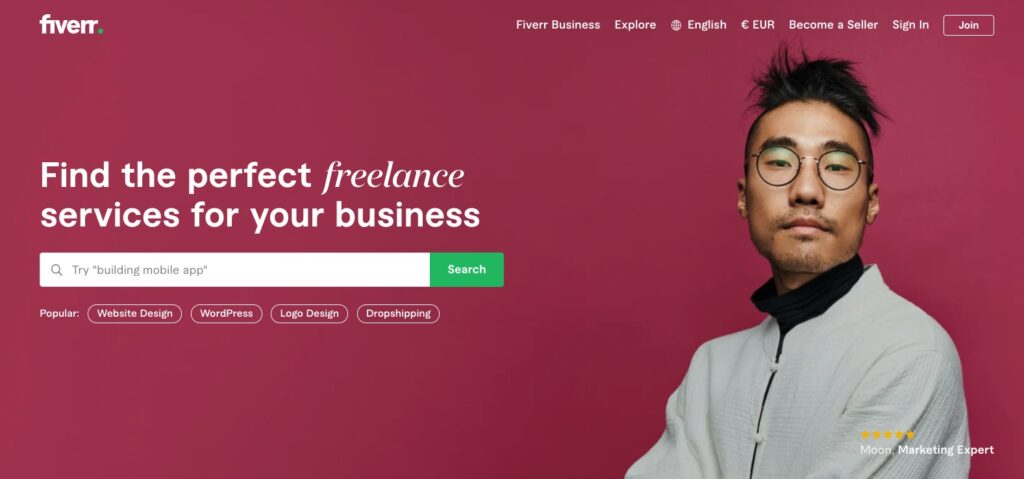 The WordPress category on Fiverr is rather sizable, so you won't have any problems finding help there. If we filter the list to show only "Top Sellers" and "Full Website Creation" services, we'll get offers in the price range of $70-$400. When we average those out, it looks like you can get a simple website built for around $150.
💰 Total cost: You'll still have to pay for domain and hosting ($29 for the first year) plus the freelancer's services ($70-$400). This makes the total cost around $100-$430.
However, as we said earlier, this cost can vary highly depending on who you're working with and what the scope of the project is. But if you hire a reliable freelancer and all your agreements are aptly documented in a freelance contract, this can guarantee a smooth workflow since you'll be working as an expert in the field.
How much does a website cost if you hire an agency to build it?
Agencies are basically like multiple freelancers all working together to build your website.
This model comes with a lot of benefits, but price is not one of them.
Let's start with the good stuff. Overall, you'll get a much better service with an agency vs a sole freelancer.
When working with an agency, a lot more time will be spent on ideation, identifying your needs, brainstorming the best solutions for you, identifying your target audience, putting together the design carefully, etc., and then testing the final website and making sure that it's optimized both for your audience and for Google.
Since more people are working on your project, and each of those people usually specializes in their narrow type of work, you can expect to walk out with an overall better outcome.
However, as mentioned above, the cost is the main downside.
The cost breakdown
First off, just like when working with a freelancer, some agencies will be more expensive than others. Believe it or not, there's a whole space of rockstar agencies that have made their names by designing some of the biggest brands' websites. Those will be multiple times more expensive than agencies without such celebrity.
Another factor contributing to the price is where the agency is based. For instance, the services of an NYC-based agency will cost a lot more than those of an agency based in a smaller European city. With the modern age of remote work, you no longer have to work with the agency next door.
What are the prices on average?
Unfortunately, agencies don't like to list their services on platforms like Fiverr, and they don't even share any price brackets on their websites. That's because every website built by an agency is 100% custom to match the client's needs.
Still, after doing some research on the web and reading through local Facebook groups, we can see a couple of trends:
The prices with US-based agencies start at $5,000 and go up to $15,000-$20,000 for normal business websites.
Agencies in Europe or Asia offer more affordable prices, often in the range of $1,000-$5,000.
What's included?
Usually, the agency provides you with the whole package, including the site's infrastructure too. This means that you don't have to pay for the hosting yourself, nor for the domain name.
💰 Total cost: $5,000-$20,000 when working with a US-based agency; $1,000-$5,000 when working with an agency abroad.
How much does a website cost: summary
As we covered above, to answer the question "how much does a website cost," we have to consider all of the different paths that you can take to build your site.
Will you go the DIY route or hire someone? Will that someone be a single freelancer or a whole agency employing more people?
There's also the question of how much time you have to handle part (or all) of the work yourself vs how big your wallet is.
In the end, these are the prices you can expect:
| | | | | | | | |
| --- | --- | --- | --- | --- | --- | --- | --- |
| | Domain name | Hosting | Main website software | Web design cost | Core website functionality | Contract cost | TOTAL |
| Building a WordPress website yourself | $5.98 | $22.88 | $0 | $0-$200 | $0-$400 | $0 | $29-$250 |
| Building a Wix website yourself | $0 ($15 second year) | $0 | $12.50/month ($150 for the first year) | $0 | $0 | $0 | $150 |
| Hiring a freelancer to build you a website | $5.98 | $22.88 | $0 | $0 | $0 | $70-$400 | $100-$430 |
| Hiring an agency to build you a website | $0 | $0 | $0 | $0 | $0 | $1,000-$20,000 | $1,000-$20,000 |
Which of these paths is the most appealing to you? Feel free to share in the comments below. Is it building a website yourself using WordPress? If so, check out our in-depth guide on that topic exactly. Read our WordPress Tutorial here. 👈