10 personalized e-commerce promotions to boost online sales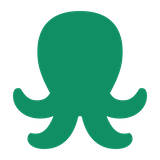 EasyWP Team
27 May 2022
Today's online retail world takes creativity and outside-of-the-box personalized e-commerce promotions to stand out from the competition. The Covid-19 pandemic caused incremental online growth and along the way, it resulted in a steep rise in e-commerce competition.
Online consumers are savvier than ever, with things like price comparison sites enabling people to find the best offer possible. If your competitors are selling products at cheaper prices, it's likely your customers will go to them even for the slightest price difference.
Even though e-commerce promotion strategies almost always come at a cost, personalized online promotions are a great way to gain new customers, improve customer retention, and grow short-term sales. Without marketing, you can't get your product in front of the right audience at the right time.
Therefore, let's look at what e-commerce promotions are, what they can do to help your sales, and bring some inspiring real-life examples to the table.
What can personalized e-commerce promotions help you achieve?
There are several benefits to offering promo deals, and low price offers to your customers. Below you can find some of the main benefits that you can achieve through e-commerce promotions:
Boost short-term sales;
attract new customers;
retain existing customers;
convert new customers to loyal customers;
prompt positive reviews;
lead to repeat purchases;
stand out from the competition.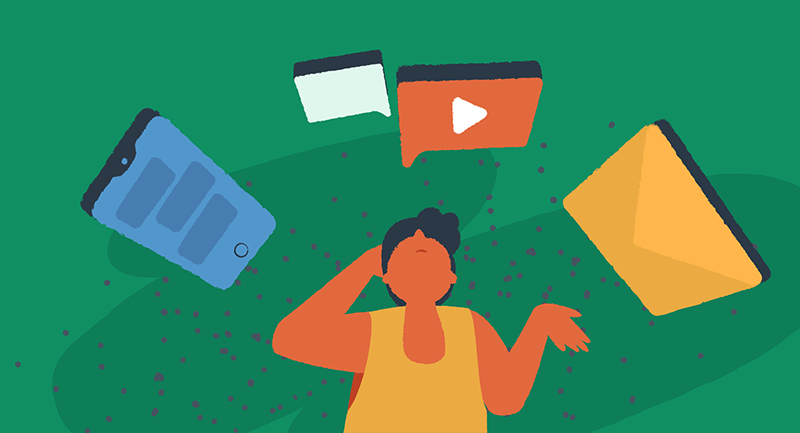 Which channels to use for e-commerce promotions?
Coming up with a suitable promo offer requires creativity. Hence, nowadays, it has been made easier by most large online store builder platforms like Shopify or e-commerce plugins for WordPress such as WooCommerce, which offer solutions for e-commerce discounting.
For example, WooCommerce for WordPress offers several different plugins for various versions of e-commerce promos: bulk discounts at a store level (on all products), bulk discounts on a product category level, volume discounts for one particular product, etc. Plugins like WooCommerce Discount Manager, Pricing Deals for WooCommerce, Dynamic Pricing, and Discounts, or Simple Bulk Discounts, can help, and most of them are free or cost a small fee.
But it is also essential to make sure you are reaching the right audience – that is another task. Let's look at the main ways of distributing promotions online.
Social media channels for e-commerce promotions:
Facebook, Instagram, YouTube, and TikTok are the most popular channels for online retailers to show promotions. 
Facebook ads are still the most popular – through the FB Commerce Manager system, online retailers can choose their preferences and apply offers to their entire product catalog, separate collections, or only a few select products. With Facebook ads, it is imperative to keep in mind the Facebook post sizes.
SMS and email for e-commerce promotions:
Albeit more "traditional". both SMS and email are still excellent ways to send promotions and discounts to your customers, as one can easily personalize the message and prepare a targeted contact list. Here you can find some excellent examples of SMS promo message templates for high customization and a personalized offer.
Personalize your e-commerce promotion strategy
Even though people are growingly concerned about how their data is used and collected, the power of personalization is surprisingly strong. What is more, innovations like blockchain technology can now help to keep data more secure.
Research conducted by AI and machine learning platform Formation found that 80% of people are okay with sharing basic information in exchange for customization, whereas 83% agreed if they knew how the company uses it.
Let's take Netflix or Spotify as examples – both are showing heavily personalized offers of shows or music to you daily. The same applies to customized e-commerce website promotions – a survey by Accenture found 91% of consumers like to shop with brands that show them relevant offers.
Many consumers don't mind permitting to use their data, but only if the offers are personalized.
Therefore, to catch the eye of both new and existing customers, it is a good idea to incorporate personalization into your promotions strategy.
Excellent online promotion ideas and examples
There are endless combinations and several online sales promotion ideas you could offer to your customers. Performance marketing or promo marketing has become a great solution for achieving short-term results with immediate effect. However, it is important to mention that because of this, performance marketing – e.g. promotions and offers – are better combined with a wider marketing strategy.
But, saying that, if tested and thought through, promotions can help you to achieve your sales goals and reach the right target consumer. If your offers are shown in front of the right audience, they can be extremely helpful to boost sales and gain new customers.
Now let's go through some of the main types of promotions and show some examples of brands that have done a great job at personalization and targeting their offers.
1. Promotions based on customer intent
Intent-based promotions are an excellent way to personalize your online offers and tailor them to each customer for maximum ROI. Intent-based promotions are a relatively new and niche topic compared to other strategies.
For example, Digital Journey Platform Namogoo announced its one-of-a-kind solution in January 2021. They aim to individualize promotions and offers for customers for every site visit through Machine Learning. Analyzing customer behavior in real-time allows them to send optimal promotions and discounts for each customer, even for entirely new customers.
According to Namogoo, with their intent-based promotions solution, you can benefit from a 45% shorter purchase time, 15% revenue boost, 25% less spending on advertisements, and 15% decrease in journey abandonment – worth a try for maximizing your results!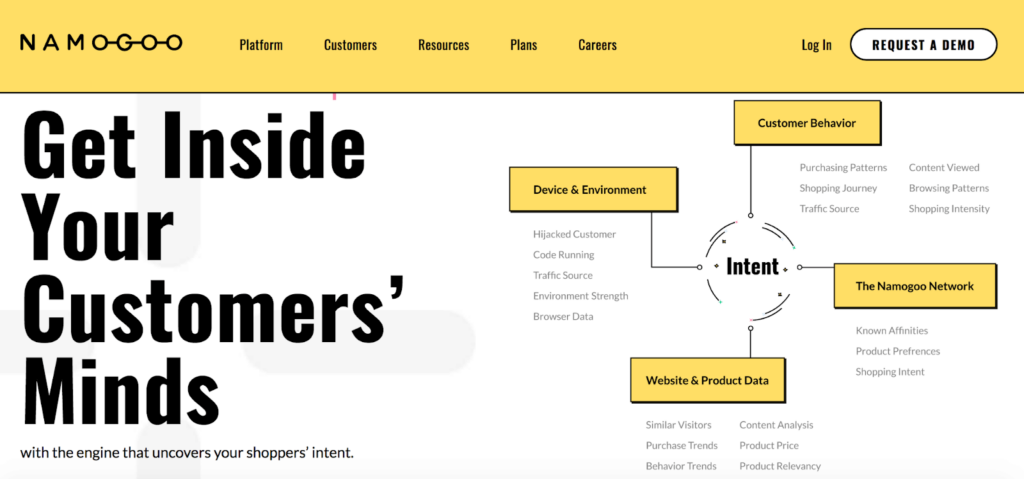 2. Percentage and value-based discounts
Value and percentage-based discounts are where a coupon, or a specific percentage, is applied to a retail price (RRP) – for example, 10% or $20 off from the total basket size or product.
Macy's is among the largest department stores in the US, established in 1858, and is currently paying a significant focus on its digital growth. Whereas many traditional retail store chains like Debenhams and Topshop couldn't keep up with the digital trend, old-timer Macy's has done great.
Macy's is using promotions in the form of BOGO, loyalty rewards, % offers, and free delivery options to increase their sales:

Macy's uses SMS marketing as one of the main channels to reach their target audience with promotions and offers. SMS open rates stand at 98%, beating emails and social media, making them an excellent way to spread the word about great deals.
What is more, text messages and emails are easy to personalize through custom contact lists and personalized promo messages to strengthen the relationship with your customers.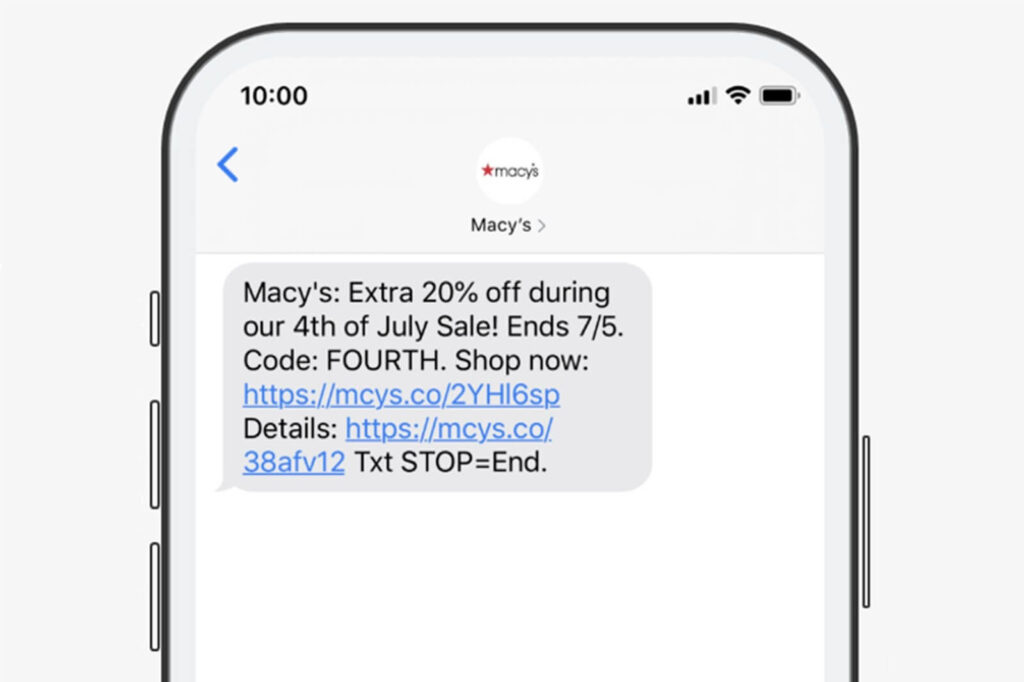 3. Buy-one-get-one-free (BOGO)
BOGO deals come in 2-for-1 or buy-1-get-2 for a discounted price. It is considered one of the top promo options to appeal to consumers – everyone loves "free"! It doesn't take in-depth research to know that the word free can get people drawn in.
What is more, BOGO is also one of the most popular Shopify discounting features. Specific promotions apps on Shopify allow you to set up deals nice and easy.
BOGO deals are the perfect technique to attract new customers. For example, American fast-food chain Chipotle regularly uses buy-one-get-one-free promotions as their primary offer strategy, delivering consistency and tangible benefits to their customers.

4. Bulk purchase, group discounts, bundle discounts
Bulk discount is when a purchase is made in bulk, and the retailer offers a bulk discount. If the customer purchases more than a set amount of items, they will get a deal. For example, if one towel costs $5 each and the customer orders five towels, a discount is applied – for instance, five towels for $20 instead of $25.
E-commerce businesses in China are the ones to look to for bulk and group purchasing. Large e-commerce platform Pinduoduo, for example, focuses on affordable deals and is known as the go-to platform for bulk and group purchasing.
Group buying is not new; however, social media has enabled the growth of this discounting strategy. It is a win-win situation – businesses can benefit from more sales, whereas customers can benefit from heavily discounted items.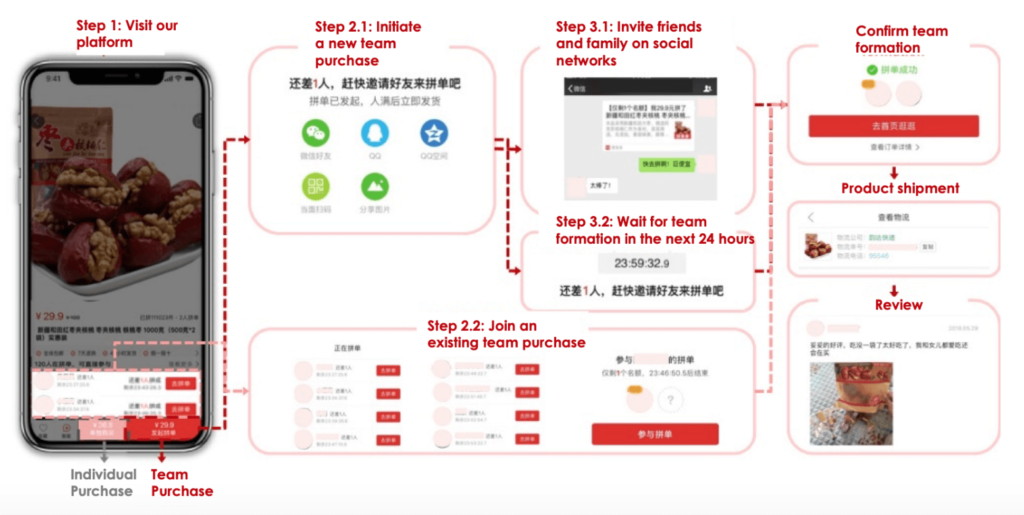 5. Loyalty programs & bonus points
Getting your customers to sign up for a loyalty program can have several positive effects:
Build a loyal customer base;
retain existing customers;
increase word-of-mouth marketing.
You should start now if you don't have a bonus point system. It is an excellent way to reward your loyal customer base. You can also benefit from personalizing their experience – through loyalty programs, and you can see their shopping behavior and target offers based on that.
For example, H&M uses its loyalty program to offer rewards: exclusive offers, discounts, free delivery, bonus vouchers based on their customer's previous purchases – a great way to personalize.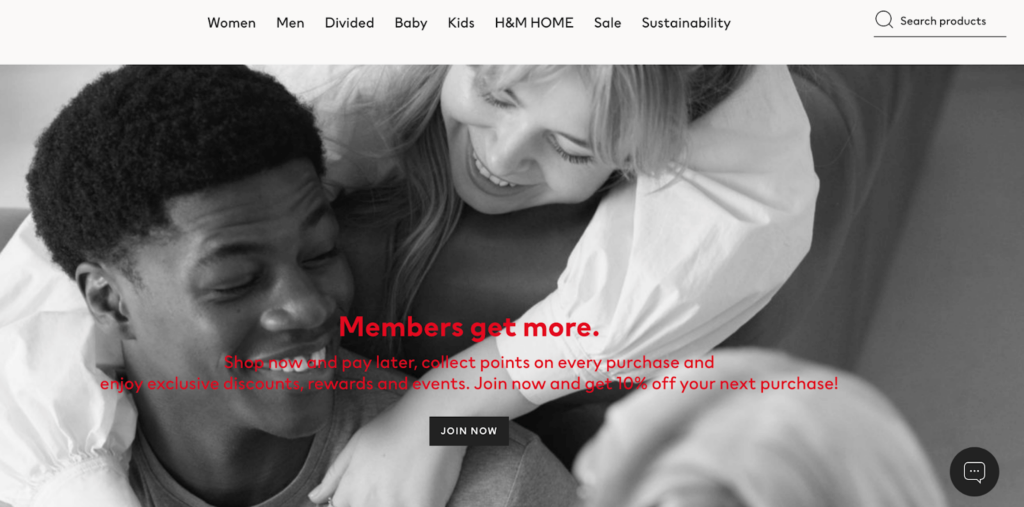 6. Free items and surprise gifts
Suppose you cannot offer your customers promotions and discounts because the margins are too low, and you can't afford to sacrifice any stock. In that case, you should consider sending a gifted item of lower value that you can afford.
Furthermore, it doesn't have to be anything of high value, and it could also be slow-moving stock items, for example, that are otherwise difficult to shift. It combines free marketing and leaves customers happy – everyone loves free stuff!
For example, online beauty retailer Glossybox sometimes sends gifts to its customers. As they operate based on a monthly subscription strategy – customers get a box of select products for a monthly fee – they sometimes offer "free box" coupons to attract new sign-ups and use email marketing as a part of the distribution strategy.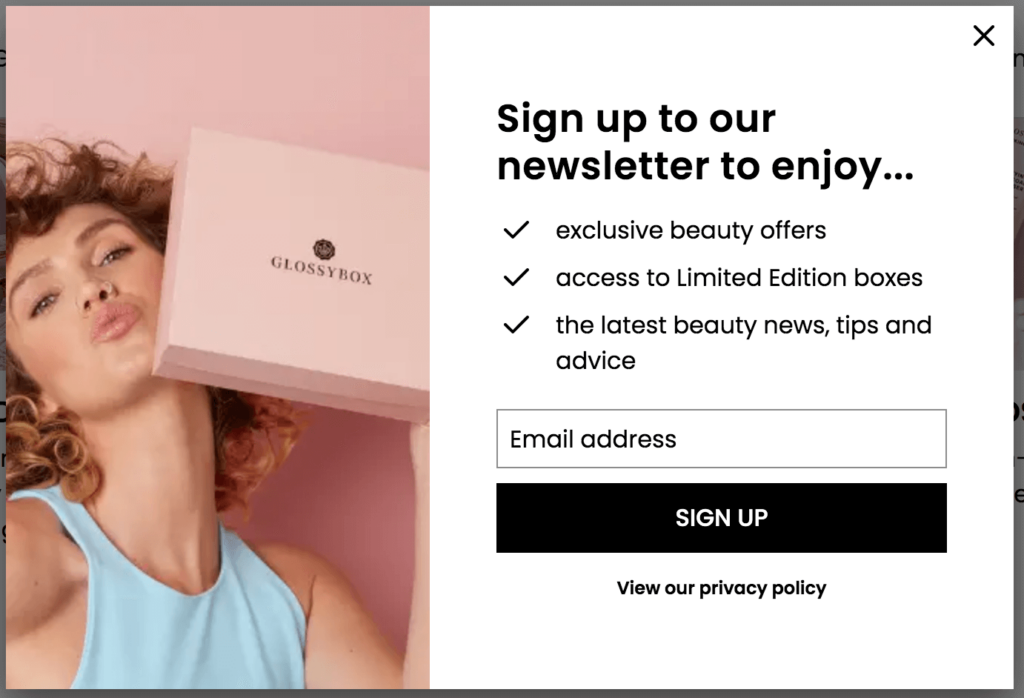 7. Flash Sales
Flash sales are a type of promotion or discount offered to customers for a short time. The quantity is limited, and the bargains are available for a set time. These kinds of prompt deals encourage impulse purchases.
Using flash sales as a part of your promotions strategy can help you reach new audiences, drive conversions through scarcity and low prices, build more reviews quickly and get rid of slow-moving stock.
Several online retail platforms are built purely on this strategy, such as Groupon or Gilt, which offer limited-time-only deals at steep discounts.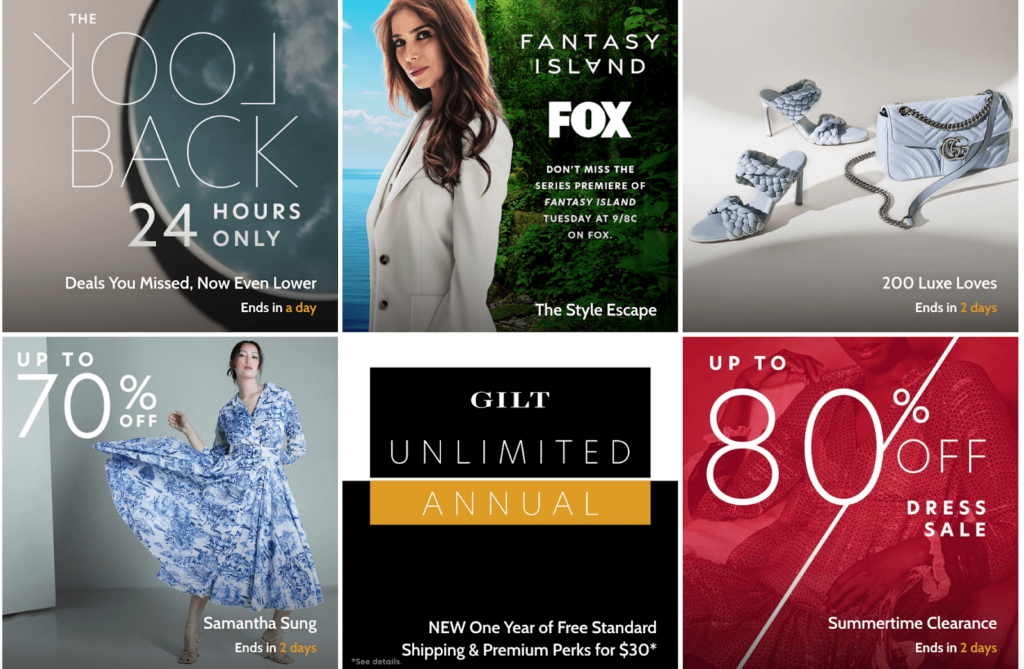 8. Livestream shopping on social media
With Livestream shopping or live sales events, you can create and share video content in real-time. What was shown traditionally on TV (think Topshop) has now moved over to social media. Essentially the same thing, but for the new generation of consumers.
As you can see, there is so much potential, and there are benefits aplenty. With Livestream sales events, businesses can benefit from short-term sales uplift, broad audience reach potential, low costs, and direct and personal connection to the customers. You can also gain valuable customer data and do audience analysis.
For broadcasting consumer-oriented live sales events, the most popular streaming platforms are still social media channels such as YouTube, Facebook, Instagram, and TikTok for targeted audience reach. E-commerce Livestream shopping is hugely popular in China.
In the US and Europe, Livestream shopping is predominantly used by direct-to-consumer (D2C) brands and clothing retailers. For example, US actress Catherine Zeta-Jones uses Livestream shopping to promote her new Artisan Coffee line. Will the US and Europe be next?
9. Free Shipping
When thinking about significant online marketplaces and retailers such as Amazon or Zalando, offering free shipping is a part of their strategy. However, it isn't often possible when operating on a smaller scale. It can, however, be a part of your promotion strategy.
Here is another example by Macy's, offering Free Shipping during Black Friday, distributed through personalized offers via SMS messages to its customers.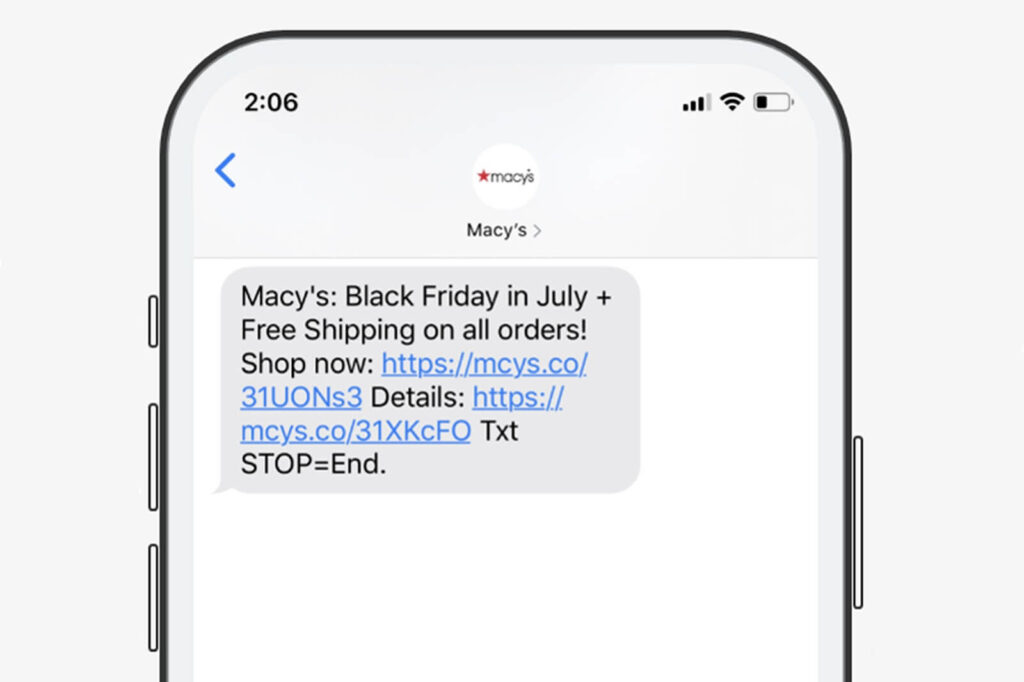 10. Influencer Discounts
China-based brand Shein has recently overtaken Spanish retail chain ZARA and is fast approaching H&M as one of the largest fashion brands globally. And its success is widely due to its social media and influencer promotion strategy.
Shein's marketing and influencer program is largely focused on TikTok and YouTube for video marketing. Their army of celebrity promoters includes celebrities like Rita Ora, Haley Bieber, Katy Perry, and Lil Nas X, to name a few.
What is more, the fast-fashion brand has used social media to promote their products and grow sales by offering coupons promoted through influencers. By doing so, they can create a highly targeted offering to reach their target audiences.