10 best menu plugins for WordPress (free and paid)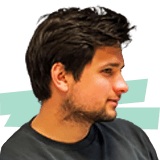 Vladyslav Koval
16 Nov 2021
It's no secret that great (and simple) site navigation is essential to providing stellar user experience and making your visitors spend more time on your website.
After all, it's through menus you provide quick access to your most important content. But as you may or may not know, all websites are not created equal.
Where some need an advanced mega menu loaded with product categories, sub categories and image banners, others will be all set with a minimalistic yet sophisticated layout matching their brand philosophy.
Whatever criteria are most important to you, there's a ton of various WordPress plugins that can help you build menus perfect for your project.
And so, on the er, menu (pun intended) for this post, we present what we think are the 10 best menu plugins for WordPress for you to step up your navigation game:
Let's get started!

Type: Freemium
Active installs: 400,000+
Rating: 4.7/5
Pro price: from $29 (1 year of supports and updates included)
True to its name, the Max Mega Menu plugin allows you to create mega menus and customize them using an extensive set of styling options. With over 400,000 active installations, it's one of the most popular menu plugins for WordPress that offers plenty of functionality even in its free version.
For example, you can integrate widgets, organize submenus using the Grid Layout builder, add icons and much more. In terms of mobile view, Max Mega Menu comes with a bunch of useful settings like setting your own responsive breakpoint or hiding submenus.
Max Mega Menu also lets you edit your existing default WordPress menus. You can easily turn them into advanced mega menus customized to your liking without having to start from scratch.
Notable features:
Ability to modify your existing default WordPress menus
Support for multiple menu locations
Grid Layout Builder for creating rows and columns
Widgets support
Easy customization with a built-in theme editor
PRO: Tabbed mega menus
PRO: Sticky menu
PRO: WooCommerce integration
PRO: Menu logo and search box
Who is Max Mega Menu for?
Offering an impressive set of features, Max Mega Menu is a great solution most people should be happy with when looking for one of the best menu plugins for WordPress. If you need a mega menu plugin for your WooCommerce store and can't justify the pro version, this plugin might not be for you.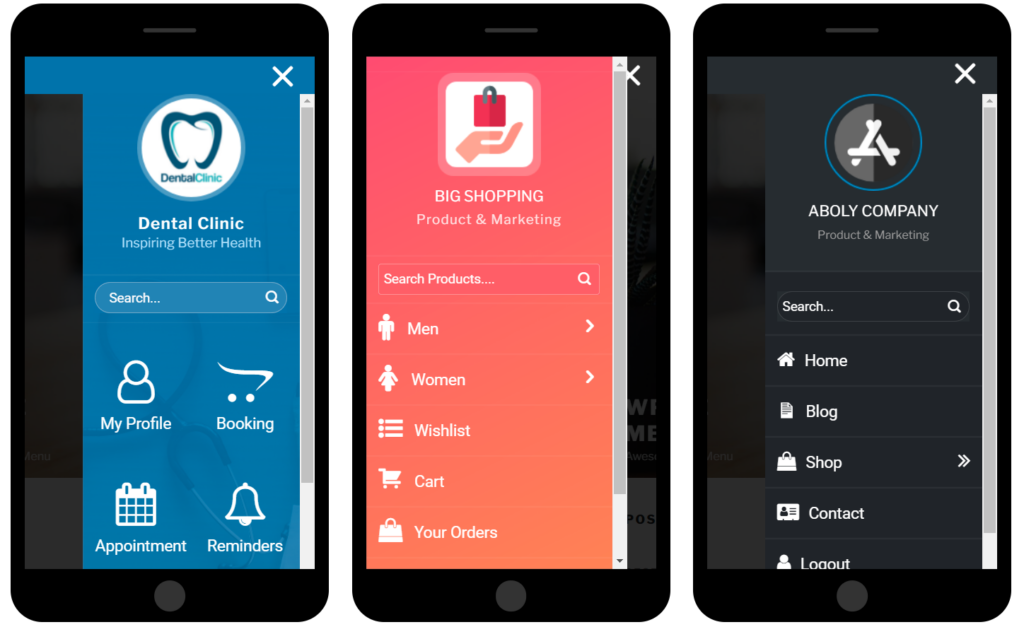 Type: Freemium
Active installs: 60,000+
Rating: 4.3/5
Pro price: from $35
WP Responsive Menu is a straightforward solution to creating menus that look good on all screen sizes. While you can't build mega menus with this plugin, you shouldn't be lacking any features when it comes to customization or display options.
From the plugin settings, you can configure font sizes and menu styles, add your logo to the menu, add a search box, etc. WP Responsive Menu is also advertised to work well with any theme framework and multisite setup.
By paying for the pro version, you'll get WooCommerce integration, better support for RTL and the option to use custom or Google fonts.
Notable features:
Fully responsive
Customization options for color schemes, font sizes, etc.
Left/right/top/bottom open directions for mobile
Ability to hide menu items in mobile view
PRO: WooCommerce integration
PRO: Social media icons integration
PRO: Custom fonts support
PRO: Widgets support
Who is WP Responsive Menu for?
WP Responsive Menu deserves its place in any discussion about the best menu plugins for WordPress. It will cover all your basic needs when it comes to creating simple and responsive menus. If you don't want to spend hours fine tuning complex layouts and just need a clean yet attractive solution, WP Responsive Menu will do the trick for you.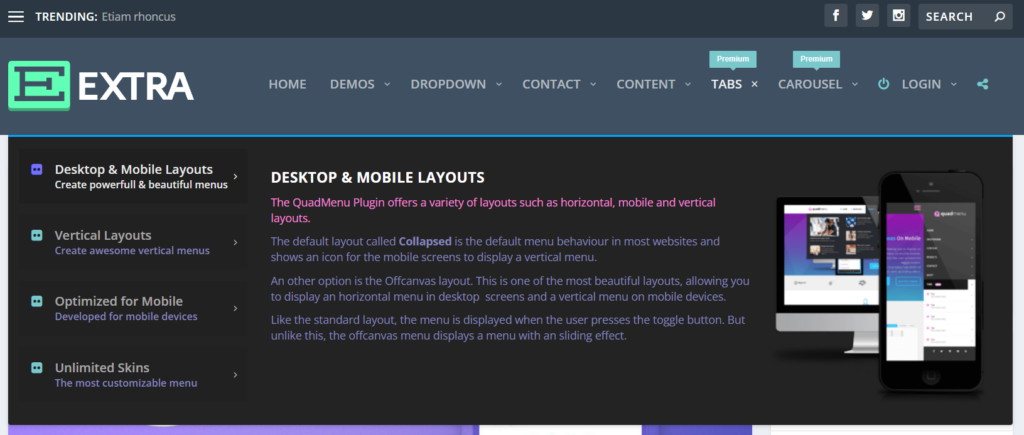 Type: Freemium
Active installs: 20,000+
Rating: 4.5/5
Pro price: from $15
QuadMenu is a powerful, all-in-one solution that can be seamlessly integrated into your standard WordPress menu system. With child themes support and an extensive set of options for design and layout, this plugin offers great flexibility and can be used for virtually any type of project.
The drag and drop editor simplifies the process for beginners and saves time when creating complex menus. Among other features, you can choose from vertical and horizontal layouts, make your menus sticky, create off canvas mega menus and display your menus in multiple locations.
The premium version comes with more menu types like tabs, login, and carousel menus.
Notable features:
Ability to modify your existing default WordPress menus
Multiple menu locations
Drag and Drop builder
Sticky menu
Vertical and horizontal mega menu layouts
PRO: Tabs menu
PRO: WordPress Customizer integration
PRO: Social Menu
PRO: Carousel Menu
Who is QuadMenu for?
QuadMenu stands out as a versatile plugin capable of creating a big variety of menu types, from the most complex to simple ones. Made by developers for developers, this plugin excels at handling multiple projects with different design and layout needs.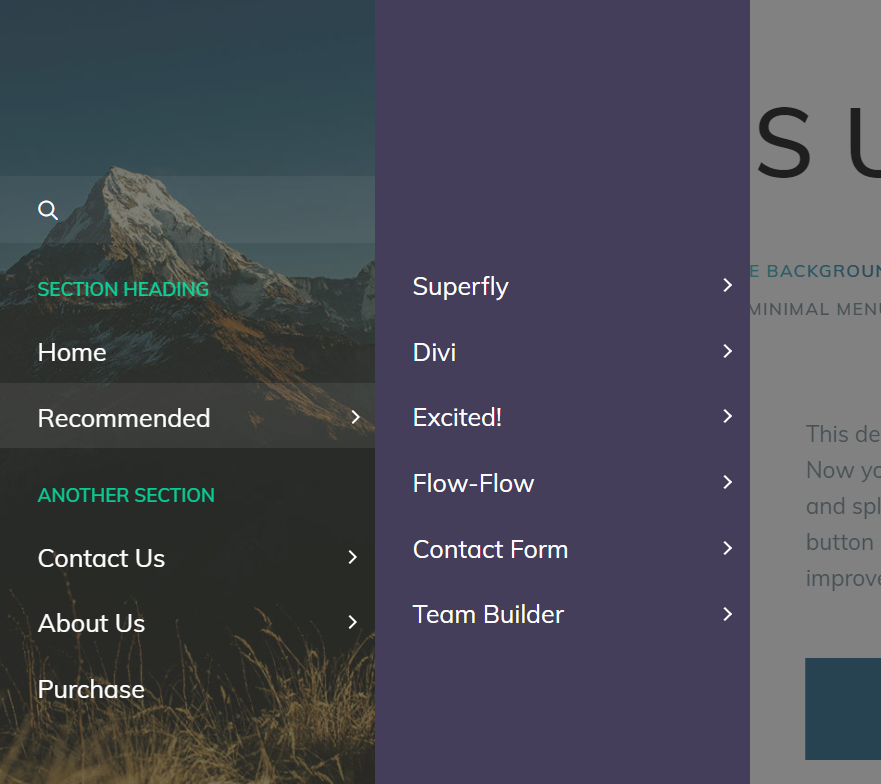 Type: Premium
Sales: 9,500+ (on Codecanyon)
Rating: 4.8/5 (on Codecanyon)
Price: from $29
Superfly is a premium menu plugin that creates beautiful and engaging vertical navigation menus. This plugin also supports standard WordPress menus allowing you to choose them as a source for further modification.
Superfly packs a number of features to customize the look and feel of your menu. The plugin supports 5 different menu modes, from icon bars to fullscreen mode. You can also set different background types (images, videos, color, etc.), change colors and fonts, add widgets to your menu and even enable smooth scroll.
What's also great, menus created with this plugin are also 100% responsive and have additional features for mobile as well, for example swipe gestures support.

Notable features:
Live editing via WordPress Customizer
Fully responsive
Multi-level menus support
Menu visibility control for different screens, pages and user types
Great styling options (background images, color options, fonts etc.)
Rich menu elements (widgets, shortcodes, custom HTML, etc.)
CSS3 animations
Social bar
Who is Superfly for?
Do you think that horizontal menus are old-fashioned and vertical ones are the new black? If the answer is yes, look no further. Superfly is one of the best menu plugins for WordPress that will help you turn your boring navigation into memorable and user-friendly vertical menus.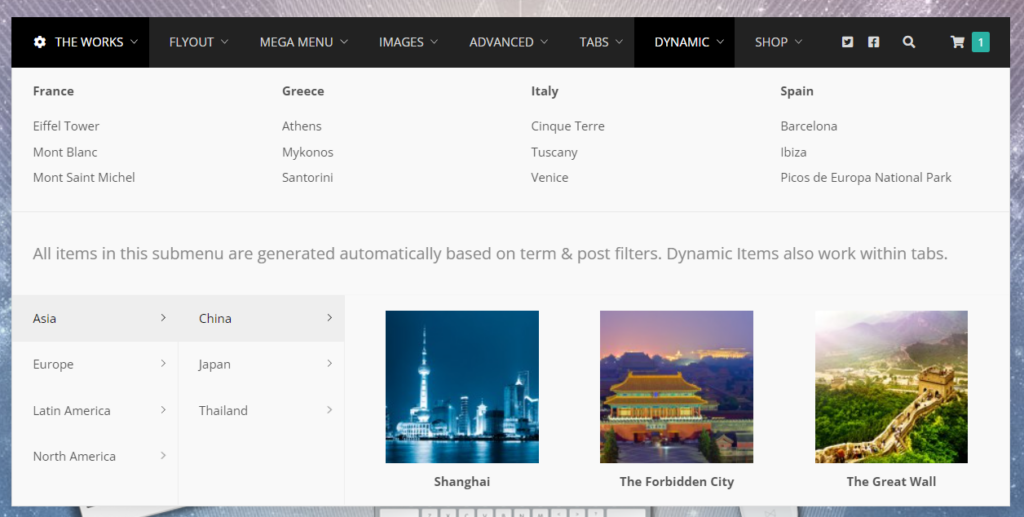 Type: Premium
Sales: 85,000+ (on Codecanyon)
Rating: 4.7/5
Pro price: from $25 (lifetime)
UberMenu is another highly popular menu plugin for WordPress with over 85k sales on Codecanyon. While UberMenu doesn't have a free version, its premium features can make a compelling case for themselves.
This plugin packs an extensive set of features for creating menus of all kinds that will impress your users on any device. Thanks to the grid system and WordPress Customizer integration, UberMenu allows you to unlock its full power without breaking a sweat.
All menus are highly customizable with over 50 styling options, 25 Google fonts, vertical and horizontal layouts as well as CCS3 animation effects. You can also automatically generate menus from your blog posts in a couple of clicks.
Notable features:
Responsive & mobile optimized
Rich menu items (widgets, shortcodes, maps, etc.)
A built-in grid system
WooCommerce integration
Live editing via WordPress Customizer
50+ style settings
Tabbed submenus
25 Google fonts
Who is UberMenu for?
UberMenu does a great job at creating advanced yet stunning mega menus without sacrificing their responsiveness. Your menus can feature pretty much any element you need, from maps to custom HTML and tabbed content. If rich elements are important to you, UberMenu will deliver beyond your expectations.

Type: Premium
Sales: 7,700+ (on Codecanyon)
Rating: 4.6/5 (on Codecanyon)
Price: from $16
Mega Main Menu is a premium mega menu plugin offering over 10 different dropdown types for you to choose from. You'll also find a bunch of other features you'd expect from a premium menu plugin.
By that we mean sticky menu, logo and search integration, tons of Google fonts and vector icons. You can easily make menus match your brand style by adding background images or tweaking colors for each menu element individually.
Your navigation will look good on mobile devices since Mega Main Menu is fully responsive.
The plugin is also Weglot and WPML compatible which means you will be able to translate your menus with ease.
Notable features:
Fully responsive
Sticky menu
10 dropdown combinations
1600 vector icons
600 Google fonts
WPML and Weglot compatible
Who is Mega Main Menu for?
If you're looking for a menu plugin with plenty of dropdown options and a highly customizable color scheme, Mega Main Menu is worth a shot. It's also quite cheap compared to other premium menu plugins.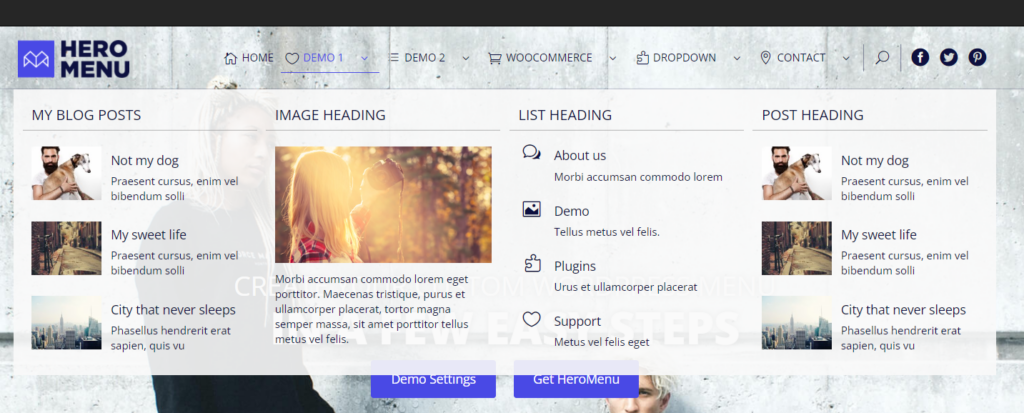 Type: Premium
Sales: 6,200+ (on Codecanyon)
Rating: 4.5/5 (on Codecanyon)
Price: from $20
Hero Menu makes it extremely easy to build menus of any difficulty level. Be it a simple menu with a background image and a couple of submenus or an advanced multi-level mega menu featuring all sorts of rich elements like Google Maps, product categories and custom HTML.
Such ease of use is possible due to the highly intuitive user interface that comes with a cool drag and drop builder. Customize your color schemes, make your menu sticky, organize your items by adding dividers. Hero Menu lets you do all this and much more in a blink of an eye. To save your time, this plugin is shipped with 60 color presets and a collection of handcrafted icons.
Notable features:
Fully responsive
WooCommerce integration
A variety of custom menu items
Drag and drop builder
Sticky menu
60 color presets
3 search field types
fully customizable color schemes
Who is Hero Menu for?
If you're looking to create menus fast and hassle-free, Hero Menu got you covered with its push-button controls and powerful drag and drop builder. With this plugin, you can also seamlessly integrate WooCommerce products and categories into your menus.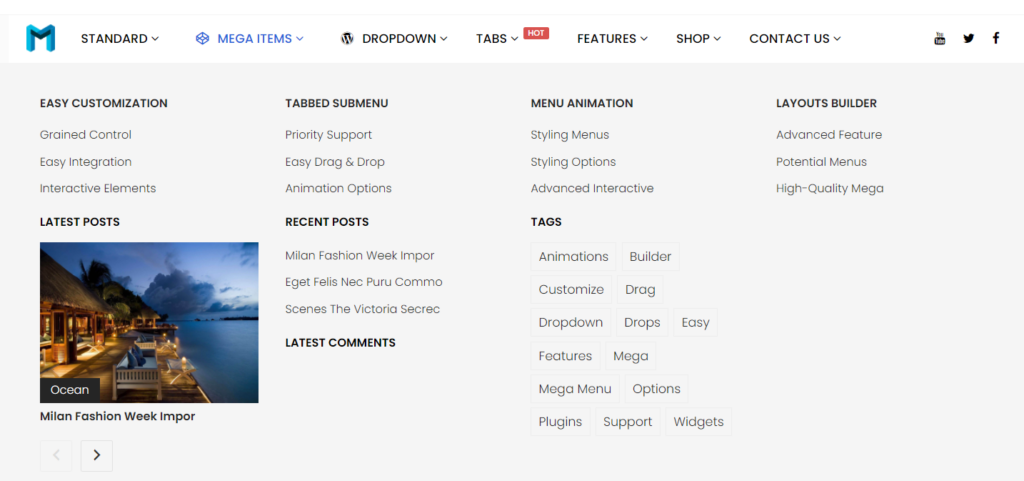 Type: Freemium
Active installs: 20,000+
Rating: 4.5/5
Pro price: from $29 per year
WP Mega Menu is an adaptive and highly customizable mega menu plugin with a drag and drop interface. With its focus on mega menus, this plugin packs a bunch of useful features to make your creation process a breeze.
To give you an idea, you'll get a fast and intuitive visual builder with a columns and rows system, advanced feature widgets to add to your menu and lots and lots of styling options. Since it's a freemium plugin, we recommend you try out its basic functionality before upgrading to pro. There's plenty of features to play around with.
Last but not least, WP Mega Menu is mobile-friendly so your menus will look as great on smartphones too.
Notable features:
Drag and drop builder
Visual editing feature
Widgets support
Customizable colors, fonts, menu attributes
Social icons
PRO: Vertical layout
PRO: Logo centering option
PRO: CTA buttons integration
Who is WP Mega Menu for?
If you're into feature-rich and engaging mega menus, WP Mega Menu does an excellent job at creating those. Adaptive menu layouts and rich styling options will help you build just the right menus for your website.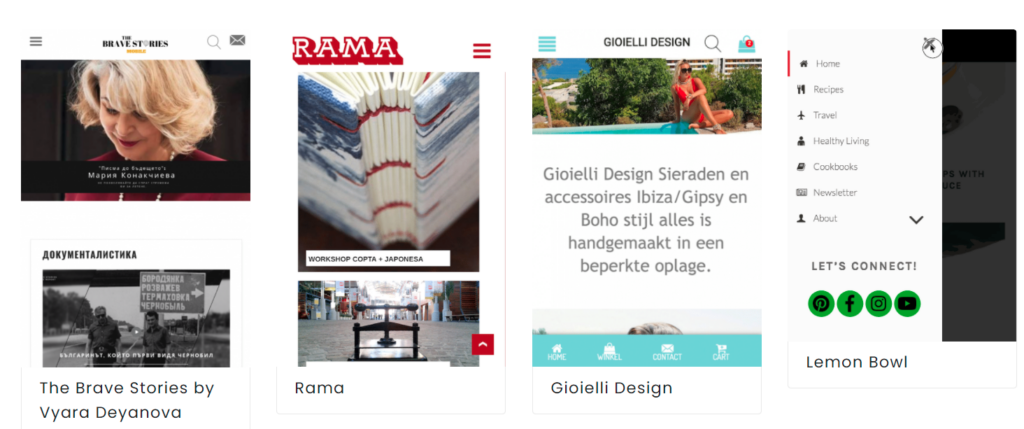 Type: Freemium
Active installs: 90,000+
Rating: 4.8/5
Pro price: from $6.49 per month
WP Mobile Menu is a menu plugin that will help you optimize your navigation on mobile devices and make sure your visitors can browse your content freely. On top of being 100% responsive, the plugin also lets you hide specific menu elements for mobile view, add background images and logos, choose Google fonts, etc.
This is another freemium plugin which means some of its advanced and coolest features are behind the paywall. For example, only with the pro version, you can disable menus on specific pages, add footer menus and use custom icons.
It might be worth the money for you if you're running a WooCommerce store as WP Mobile Menu offers additional ecommerce features like menu cart icon, mobile product filter and header products live search.
Notable features:
Fully responsive
Menu visibility control for mobile view and logged in users
Google fonts
Customizable colors and fonts
Background images
3 level deep menus
PRO: page-specific menus
PRO: 5 level deep menus
PRO: WooCommerce integration
PRO: 2000 icons (FontAwesome, Fontelicon, Iconic, Entypo, Typicons)
Who is WP Mobile Menu for?
If your menu doesn't look good on devices like tablets and phones, WP Mobile Menu can help you fix that while also giving your navigation a clean and sophisticated look. Upgrade to pro to unlock more features for WooCommerce.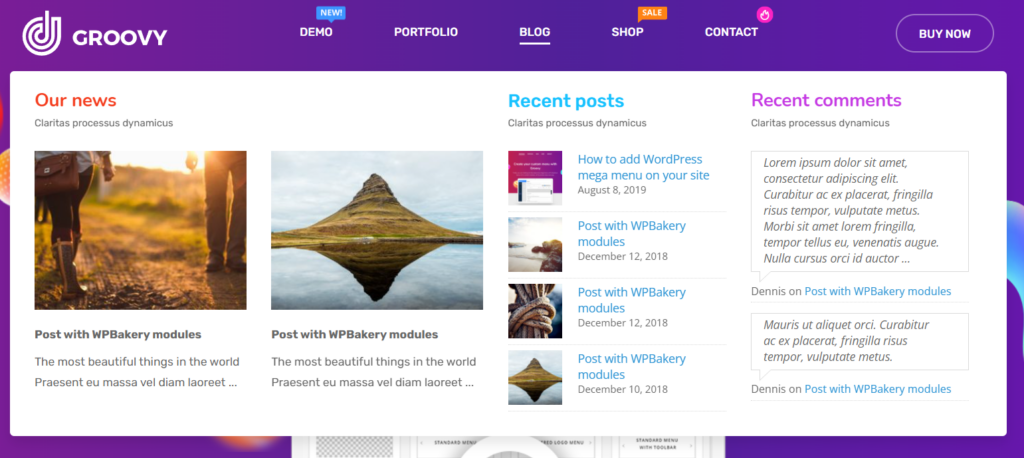 Type: Freemium
Active installs: 5,000+
Rating: 4.3/5 (16 reviews so far)
Pro price: from $39
Groovy Mega Menu doesn't fall behind in terms of creating eye-catching mega menus. Even by using the free version, you can build multi-level navigation, add your logo, enable smooth scroll and, of course, customize colors and the overall look.
But composing mega menus is easier when you can use your favorite page builder plugin in the process.
That's what the developers of Groovy Mega Menu thought and made their menu plugin compatible with a bunch of popular page builders like Divi, Elementor and WP Bakery. If you actively use one of those, Groovy Mega Menu can help enhance your site navigation faster.
Among many features the premium version comes with, you'll find 21 menu presets, an option to make your menu sticky or fixed as well as a vertical layout to spice up your navigation.
Notable features:
Fully responsive
Search feature
WooCommerce integration
RTL support
WPML ready
PRO: Rich menu items
PRO: 21 menu presets
PRO: Hamburger menu
PRO: Icon menu
Who is Groovy Mega Menu for?
Integrated into the most popular page builders, Groove Mega Menu is a great mega menu solution for people who rely on plugins like Divi or Elementor to power their projects. The customization process is quite easy and WooCommerce compatibility in the free version is a big plus.
Conclusion
That's about it on menus for today! We hope you enjoyed checking through our proposed list of the 10 best menu plugins for WordPress and were able to pick one (or two?) for your WordPress site.
Remember it's best to test out several plugins to compare their functionality and make an informed decision after seeing them in action. Luckily, most plugins on our list have a free version so make sure to give it a try.
Either way, thanks for reading! Don't forget to let us know which menu plugin you liked best or if there's one you think is missing that needs to be added to our list.