6 TikTok plugins for WordPress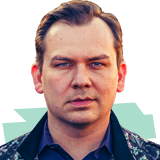 Rodney Brazil
20 Sep 2023
Are you looking to enhance your WordPress website with engaging TikTok content? In this comprehensive guide, we will explore the best TikTok plugins for WordPress that seamlessly integrate social media content into your website. These plugins will not only help you showcase TikTok videos but also encourage site visitors to engage with your social media accounts and share your content.
Why TikTok?
Before we dive into the plugins, let's take a moment to understand why TikTok has become such a force in the social media world. With over 1 billion active users worldwide, TikTok has quickly become one of the most popular platforms for sharing short-form videos. Its fast-paced nature and addictive content keep users engaged for an average of 95 minutes per day. Moreover, TikTok's user base extends beyond just teenagers and young adults, making it a valuable platform for businesses targeting a wide range of demographics.
How to choose the best TikTok plugins for you
In today's mobile-dominated world, it's crucial to ensure that your chosen TikTok plugin is mobile-friendly and responsive. This means that the plugin should adapt to different screen sizes and resolutions, providing an optimal viewing experience for all visitors, including those accessing your website on mobile devices. By selecting a responsive plugin, you can ensure that your TikTok videos look great and are easily viewable on any device.
It's also essential to check whether plugins are compatible with your current WordPress theme. Compatibility issues between plugins and themes can lead to design inconsistencies and even break the functionality of your website. To save time and avoid any potential issues, ensure that the TikTok plugin you choose is fully compatible with your theme.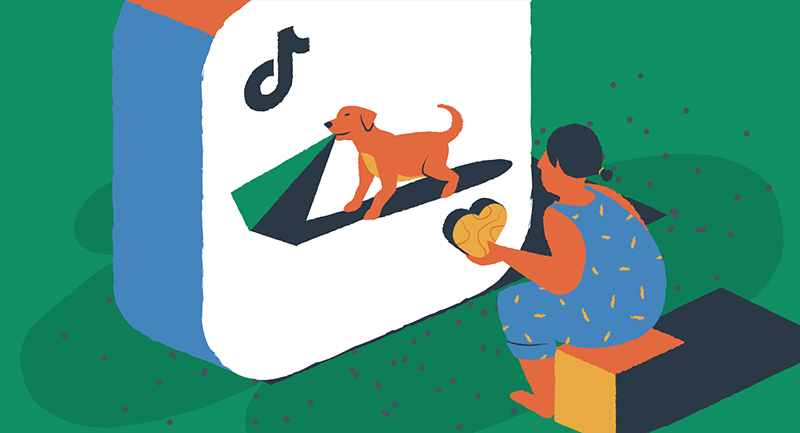 The loading speed of your website plays a crucial role in user experience and search engine rankings. Therefore, it's vital to select a TikTok plugin that does not negatively impact your website's performance and speed. A lightweight and well-optimized plugin will allow your website to load quickly, ensuring a smooth and seamless user experience.
The best TikTok plugins for WordPress
Now that we've covered the essential factors to consider when selecting a TikTok plugin, let's explore the top choices available for seamlessly integrating social video content into a WordPress website.
Tagembed is a user-friendly WordPress plugin that helps you collect, arrange, configure, and display content from various social media feeds, including TikTok, Instagram, Facebook, Twitter, Google reviews, YouTube, and more. With Tagembed, you can embed content from all of your social networking platforms, including TikTok, seamlessly into stunning, searchable site banners.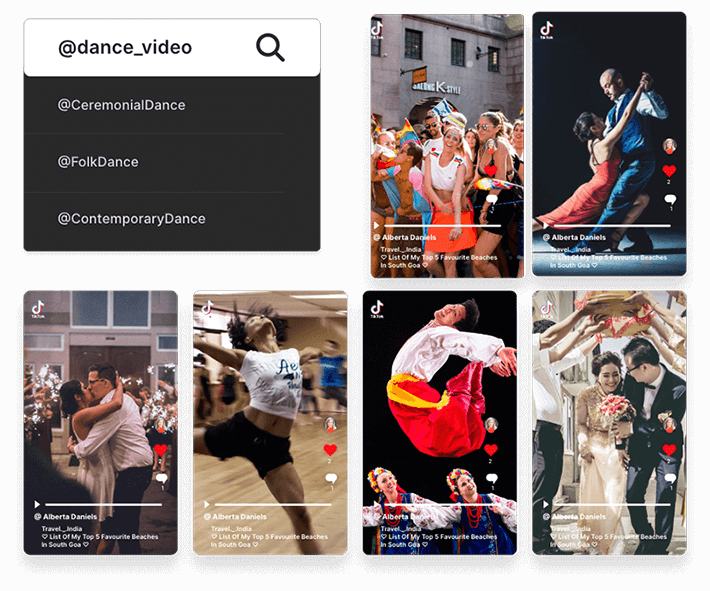 By using this plugin, you can easily curate and showcase TikTok videos along with all of your other social content, encouraging your visitors to engage with the content and share it on their own accounts.
Key Features:
Collect, arrange, and display content from various social media feeds.
Embed TikTok videos and other social media content seamlessly.
Curate and showcase TikTok videos to encourage engagement.
Encourage visitors to share your content on their social media accounts.
User-friendly interface with customization options.
Pricing: Free, with premium features also available.
The Floating TikTok Button plugin is your key to effortlessly boosting your followers by displaying a dynamic button, Tikcode, or both directly on your website's front end.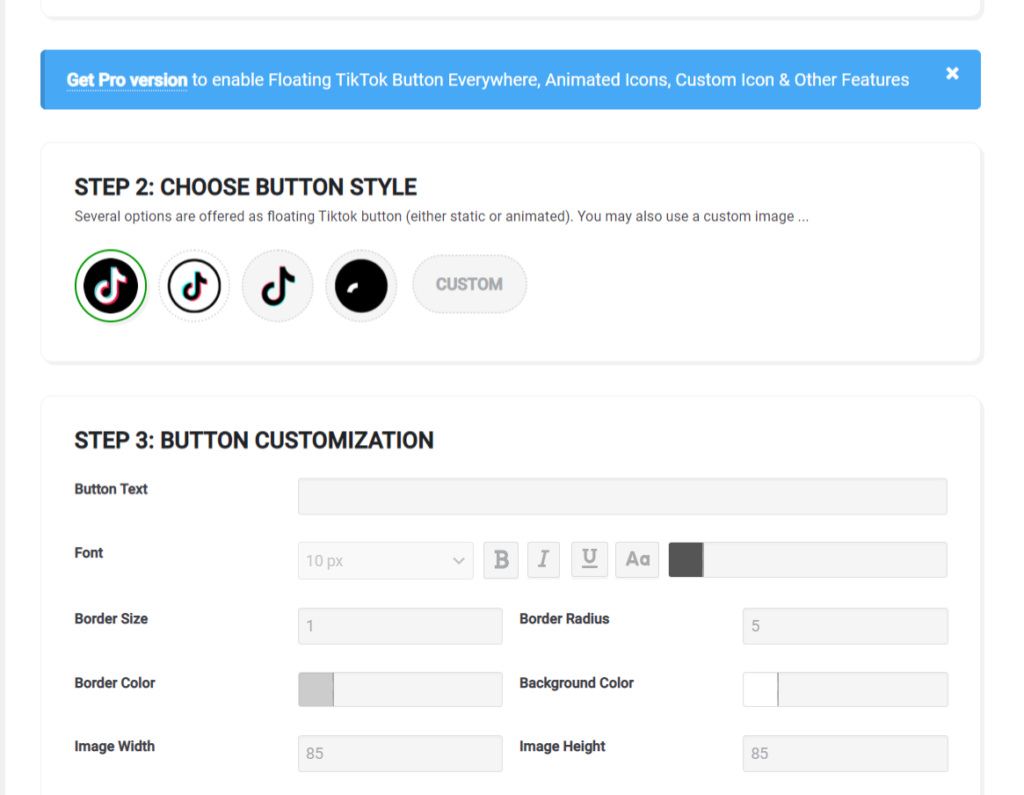 Every TikTok user has a Tikcode that other users can scan to discover their profile on this popular video-sharing platform quickly. The Tikcode simplifies the process of finding your profile, sparing users the effort of manually searching for your account. Using Tikcodes can be a game-changer, especially if you're active on various social networks. They enable you to gain more TikTok followers rapidly, expanding your reach on the platform.
Key Features:
Flexible placement options for both desktop and mobile site versions: Select exactly when and where you want these floating buttons to appear.
Tailor the appearance of your floating TikTok button by choosing between static or animated styles.
Add your unique touch by customizing button text, font, border, width, height, and more.
Fine-tune the position of your floating buttons to ensure they integrate seamlessly with your website's design.
Pricing: Floating TikTok Button is a free WordPress plugin built with open-source software. A Pro version is also available.
The official TikTok for WooCommerce Plugin, created by the TikTok platform itself, is specially designed for WooCommerce store owners. With over 100,000 active installations, this plugin allows you to connect TikTok to your WooCommerce store, sync your product list, and create advertising campaigns that match consumers with the products they want to buy. You can also add the TikTok pixel with just one click to measure campaign performance and drive organic traffic to your WordPress website.
TikTok for WooCommerce is the official plugin built by the TikTok platform in collaboration with Automattic. However, it's important to note that most of the reviews in the WordPress.org plugin library are negative. So, it's crucial to test functionality on your site before any large-scale integration.
Key Features:
Easy connection between TikTok and WooCommerce store.
Advanced matching techniques to target interested customers.
Effective creative ad formats to promote your profile and store.
Collaboration with creative partners to create engaging advertisements.
Combined video advertisements, product cards, and a full-screen landing page for increased product discovery and quick purchases.
Pricing: Available for free and can be downloaded from the WordPress.org repository.
Pixel Manager for WooCommerce is a versatile plugin that many users prefer to the official plugin. It's designed to track visitors to your WooCommerce shop while collecting valuable data for optimizing conversions, dynamic remarketing, and comprehensive reporting. The plugin's setup is straightforward, making it accessible to all users. However, its powerful tracking engine under the hood offers advanced features like Meta CAPI (Facebook CAPI) in the Pro version, Google Analytics Enhanced E-Commerce, Google Shopping Cart Item Tracking, TikTok Events API (Pro version), and more. Advanced users will appreciate the customization options provided by the plugin's filters, allowing fine-tuning to suit individual shop requirements.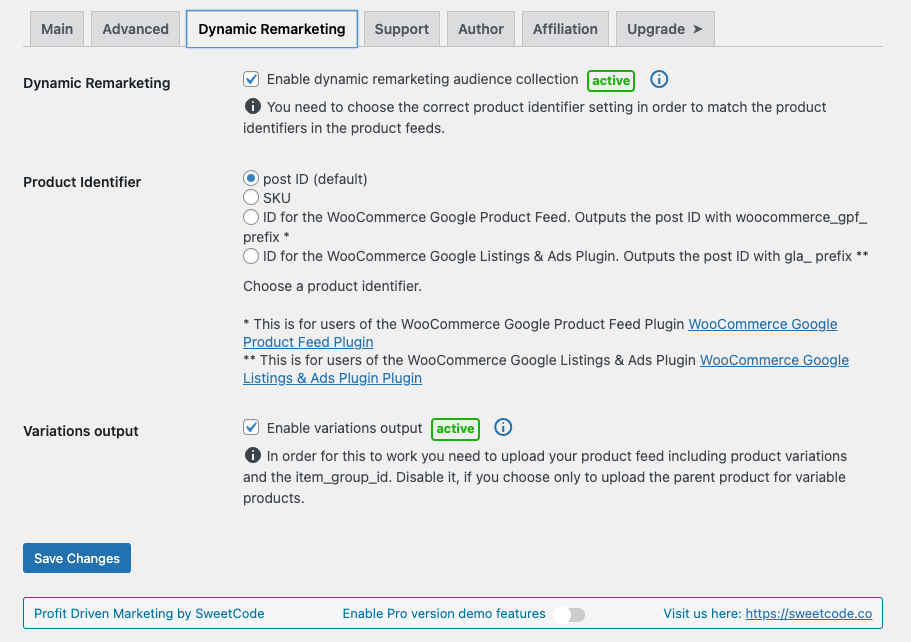 Pixel Manager stands out due to its exceptional tracking accuracy, user-friendly interface, and continuous innovation. It provides unique insights into payment gateway accuracy issues, a common problem often overlooked by other tracking solutions. Additionally, with the premium Automatic Conversion Recovery (ACR) feature, Pixel Manager solidifies its position as a leading tracking solution.
Key Features:
Robust support for various providers, including TikTok Pixel, Google Analytics (Universal and GA4), and Meta Pixel.
Prioritizes data privacy and empowers you to achieve the highest level of GDPR (and other privacy) compliance. Your customers' data is handled with the utmost care.
Easy to use and understand. Whether you're a seasoned pro or new to tracking, you'll find it accessible.
Customize the plugin's output to your exact requirements using powerful filters.
Standardized output to all pixels, enabling accurate comparisons between different providers. This simplifies tracking analysis.
Pricing: Free, with premium features also available.
QuadLayers TikTok Feed is a user-friendly TikTok plugin designed to simplify integration and keep up with the highest growth indications in social media. The plugin efficiently stores TikTok information and videos, optimizing data storage to reduce server queries and upload times.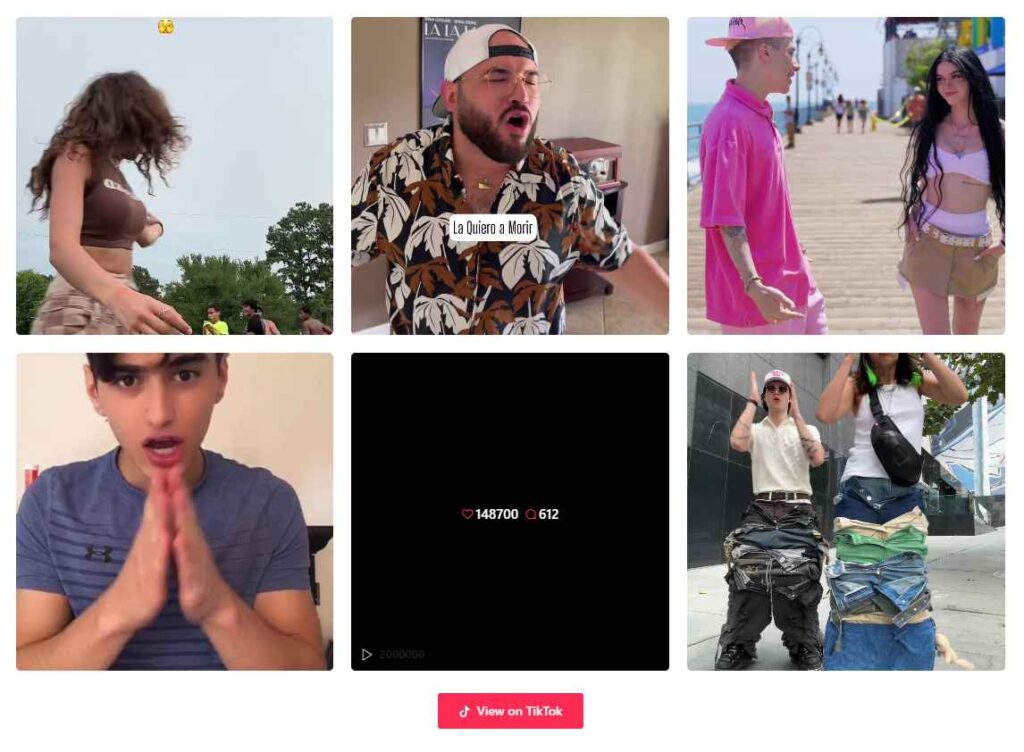 QuadLayers TikTok Feed is also highly optimized for speed and performance, ensuring that your website remains fast and responsive while displaying TikTok content.
Key Features:
Simple integration and configuration for TikTok video display.
Resizable pop-up lightbox for viewing TikTok content.
Multiple feed display options, including masonry and galleries.
Include hashtags or usernames to retrieve videos from specific users or categories.
Easy incorporation of TikTok videos into your website using shortcodes.
Pricing: QuadLayers TikTok Feed is available in both free and paid versions. The free version can be directly installed from the WordPress dashboard, while the premium version unlocks additional features and customization options.
Connect with your website visitors effortlessly through their preferred channels, including TikTok, WhatsApp, Facebook Messenger, and more, with the Chaty Floating Chat Widget. This versatile plugin allows you to display a chat button for direct messages on TikTok, facilitating seamless communication with your customers.
You can elevate your customer support game by offering multiple quick and accessible chat options, allowing you to address inquiries promptly and provide valuable assistance. Chaty helps you capture leads and encourages direct calls from potential customers, streamlining the conversion process.
Key Features:
Connect with customers across 20+ chat channels, making it easy for them to reach out.
Enable visitors to call you directly through the widget, improving accessibility.
Allow visitors to choose their preferred chat app for communication, giving them the freedom to connect where they are most comfortable.
Show the widget only during your specified opening hours, enhancing efficiency in managing customer inquiries.
Pricing: The basic version of Chaty is free. The paid Pro version offers the ability to assign chats to multiple agents and several other features useful to larger businesses.
Keep your customers engaged with the best TikTok plugins
Integrating video content into your WordPress website has never been easier. With the help of the best TikTok plugins for WordPress, you can seamlessly embed TikTok videos and encourage site visitors to engage with your social media accounts. So, select the plugin that best suits your needs and start boosting engagement and followers on TikTok today. For site owners and businesses that share video content on multiple channels, check out our complete guide to integrating your Instagram feed on WordPress.