WordPress themes

An introduction to WordPress themes
WordPress themes allow you to control the way your website will display. These powerful files determine what your visitors see, how content is organized, and how visitors navigate through your site. Your WordPress theme also determines your default logo placement, font families, page layouts, and nearly everything your visitors see. On the whole, adding a fresh theme is one of the best ways to update your aesthetic appeal and user experience.
There are thousands of different WordPress themes available for every possible niche –with plenty that are free or come at an affordable price – meaning there's something out there for everyone. Having virtually unlimited theme options is a significant benefit of using WordPress, but it can also make the selection process a challenge.
But never fear — the EasyWP team is here! Let's review some common questions we get about WordPress themes. We'll then look at considerations when choosing themes and outline a few of our team's favorites depending on your website type.
What is a WordPress theme?
A WordPress theme is the core component of a WordPress website. Themes give your site unique design and functionality, coming in various styles and formats. At the time of writing, WordPress.org has listings for nearly 10,000 free themes, and private developers offer thousands more premium themes at a cost.
If you're just getting started with WordPress, you'll likely want to begin with a general WordPress theme to learn the ins and outs of customization and settings. After using WordPress for a while, you may want to try a premium theme with more features.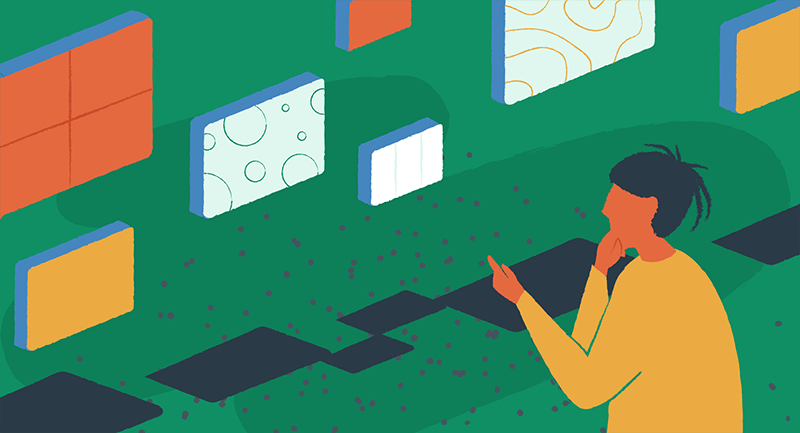 A WordPress theme is not the same as a WordPress template. A template is what WordPress uses to create individual pages and file structures. The template files are stored together with the style sheet to make your WordPress theme.
WordPress templates vs. themes
There can be a lot of confusion surrounding WordPress themes and templates, mainly because the terms are so similar, and some people mistakenly use template and theme interchangeably. Put simply, themes take care of the overall WordPress website design, and templates control individual pages. Templates are smaller design components within the overall WordPress theme.
How do WordPress themes work?
A WordPress theme is a software tool to customize the look of your site, but it's not only about design. Technically speaking, a theme is an installation that comes bundled with files that work together to produce a graphical interface for websites according to its unifying design (whew!). Themes also control how visitors interact with your content and elements on their screens.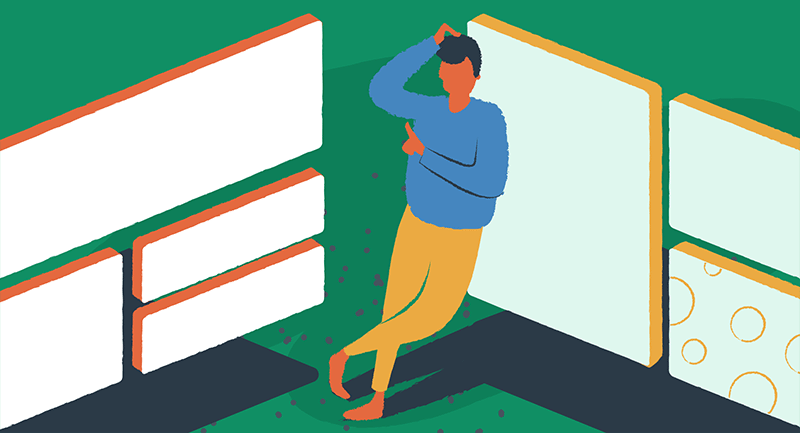 As mentioned before, these files are called template files. A theme modifies the website without changing any underlying software by customizing the appearance of widgets or templates instead.
While every theme is different, there are key features that developers focus on when creating a new theme.
Key Features of a WordPress Theme
Page Layouts – WordPress page layouts make the site look and feel like a blog.
Navigation – The navigation of your blog is crucial. You'll want to make it easy for your visitors to navigate the posts and pages they're looking for.
Header and Footer Elements – Your header and footer elements, such as your logo, copyright information, and contact details, help create a professional look for your site.
Post Formats – Standard blog post formats, such as Standard, Over-Post, and Timeline, are common to most blogging platforms. You'll want to make sure that your theme supports the formats you need for your site.
Post Editor – The WordPress post editor is what allows you to write and publish your blog posts. Many of the most common features are standard, but some themes alter how posts function.
---
How to choose a theme
This can actually be the hardest and most time-consuming part of the process. But there's a simple trick to help you. Before choosing a WordPress theme, you first need to figure out what you want your site to be about. Once you know this, you can avoid decision paralysis and begin to find themes that best fit your needs by narrowing the scope.
For example, if you want your website to be about cooking, you'll want to find a food-related and recipe-specific WordPress theme. On the other hand, if your blog is about travel, you'll want to find a photography or travel theme.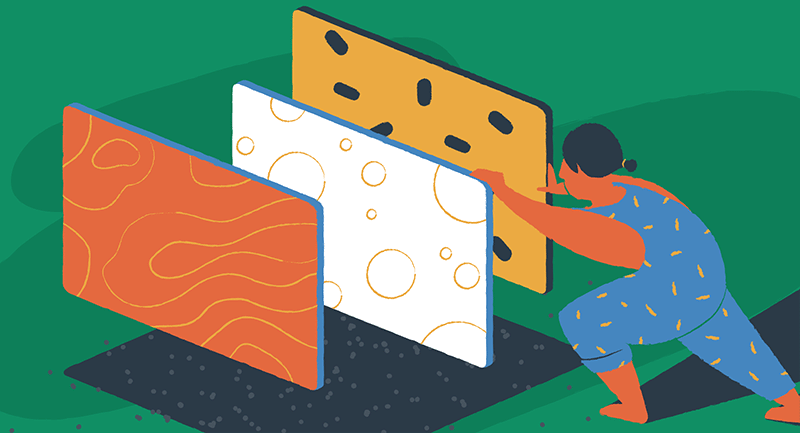 Another aspect to keep in mind when choosing a theme is the site's audience. You'll want to choose a theme that is appropriate for the website's topic. Remember, there's no harm in being a creative copycat. Make a list of existing sites your target user is likely to visit, then engage with each site. Take a look at their page layouts, menus, and galleries. If you come across a website with a theme that resonates with you, use a WordPress theme detector to see if it's available to install.
How to download/install new themes
Installing WordPress themes with EasyWP hosting couldn't be easier.
Navigate to the Appearance option from within your WordPress Dashboard and click Themes. You can install a new theme by selecting Add New from the following page – you can choose one from Featured, Popular, Latest, or Favorites and search all themes using the built-in search option.
Before installing, click Preview for more information to preview a theme. If you decide on an installation, click Install and then "Activate" once it's installed. Visit our knowledge base for step-by-step instructions on installing WordPress themes.
Is a premium WordPress theme worth buying?
Paid WordPress themes that fall into the premium theme category are usually more feature-rich, customizable, and complex than free themes. They're often worth the money, but only if you need the extra features. For simple blogs and portfolio sites, there's likely a free theme that's right for you. If you can't decide on a particular premium theme, check to see if the developer offers a free preview installation option.
What are website builders for WordPress?
Website builders are software tools built to make site building faster and easier for beginners. Coding experience isn't required when using a website builder, and desirable functions, like photo galleries and video embeds, can be added with a few clicks. Wix and Squarespace are examples of non-WordPress-based site builders.
Within the WordPress universe, there are popular site builders as well. The most popular is Gutenberg, the native editing system that's part of the core code. This block-style editor is straightforward to use and works well with every WordPress theme available in the free library on WordPress.org.
Other next-generation website builders are worth a try as well. We're big fans of Brizy, a WordPress plugin that includes a drag and drop interface, global color and font settings, and over 100 customizable page templates.
Making the final decision
It's almost decision time. Find themes with good ratings and testimonials. Try a new theme from the front-end and back-end. Create test pages, publish them, and interact with them on multiple devices. Until you are 100% satisfied with the user experience on desktop and mobile devices, you should look for the perfect theme.
Changing WordPress themes
Changing themes can be tricky since you can't just reset everything to default by hitting Control+Z. You'll need to take a few extra precautions to avoid losing content.
How to change themes without losing content
The first thing to keep in mind when changing themes is to make sure you backup your WordPress website every once in a while. This step will help you if anything goes wrong and you need to revert to the previous version of your site. With EasyWP hosting, backups take only a couple of clicks through your personal dashboard.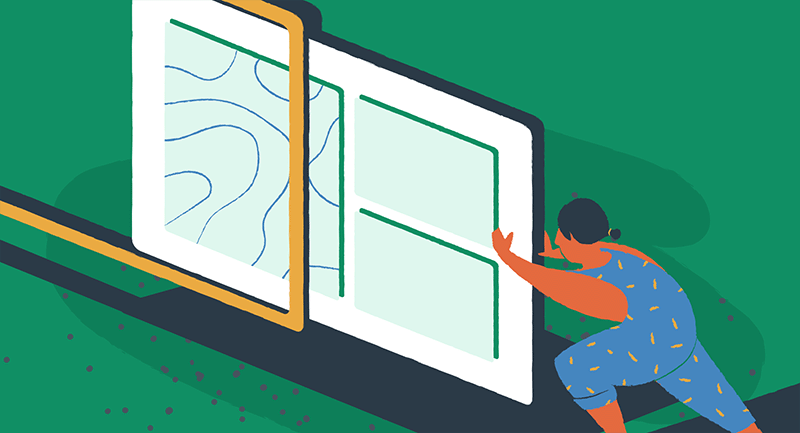 After backing up your website, you can set up your new theme. Go through the installation and activation process mentioned above. Next, navigate to the Appearance section, and click Customize. This will take you to the visual settings for your newly activated theme. Click through the entire list of sections, and make sure all desired content was retained. If it wasn't, simply add and save the necessary resources from your Media Library.
Once your Appearance settings review is complete, go to the front end of your site (the live site your users will see), and surf through your pages and posts. Your headlines, body copy, and images should still be there. Smaller issues can often be fixed with simple edits to the page. If you see widespread problems with missing resources, you should restore your backup and try a different theme.
How to delete themes
If you decide that you don't like your theme, just install and activate a new one. However, once you've decided, it's crucial to go back and delete inactive themes. Old, unused themes can be a security risk and take up space on your service and lead to unnecessary update notifications within your WordPress dashboard.
You can delete the theme from your WordPress installation by navigating to Appearance > Themes and clicking the "Delete" button next to your theme's name.
---
List of the best themes
If you're hunting for a new WordPress theme, you have come to the right place. Below, you will find a list of the best WordPress themes as of the time of writing. These themes are some of the best and are highly recommended for their versatility and performance.
OceanWP
OceanWP is a perfect theme for most projects. It's lightweight and extendable, enabling you to create almost any blog, portfolio, or business site.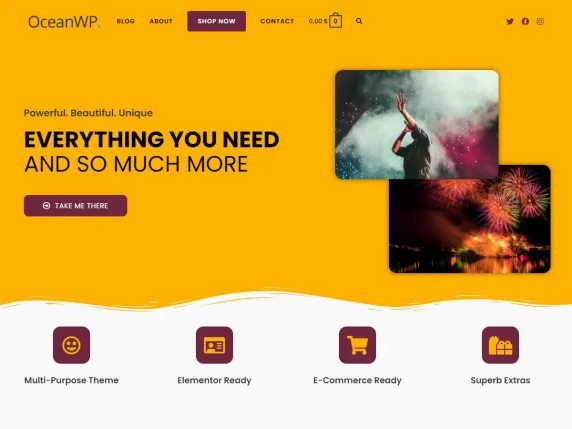 It is very fast, responsive, and RTL-ready; OceanWP gives you access to WooCommerce features that increase conversion rates and other metrics. It's compatible with website builders like Elementor and Brizy — and works well on mobile devices.
Elite Commerce
The Elite Commerce theme is a WooCommerce-compatible e-commerce theme with all the bells and whistles. It supports integrations with YITH Wishlist, TranslatePress, and WooCommerce Currency Switcher plugins to help your online store grow globally.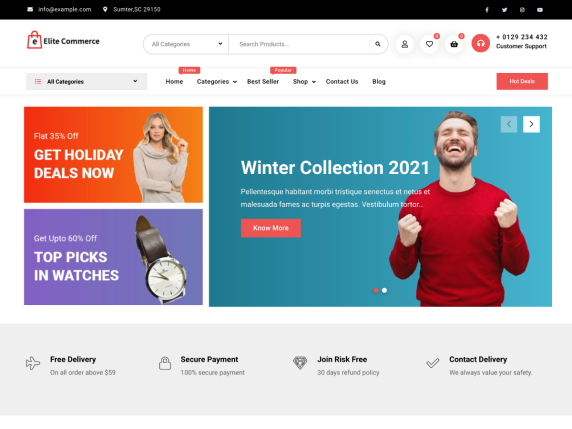 Developed by FireFly Themes, natively supported sections include testimonials, promotional headlines, image sliders, excerpts, and more.
MinimalistBlogger
With MinimalistBlogger, you can create a website and have your posts up quickly. With this WordPress theme, you can customize your site's appearance in just a matter of minutes.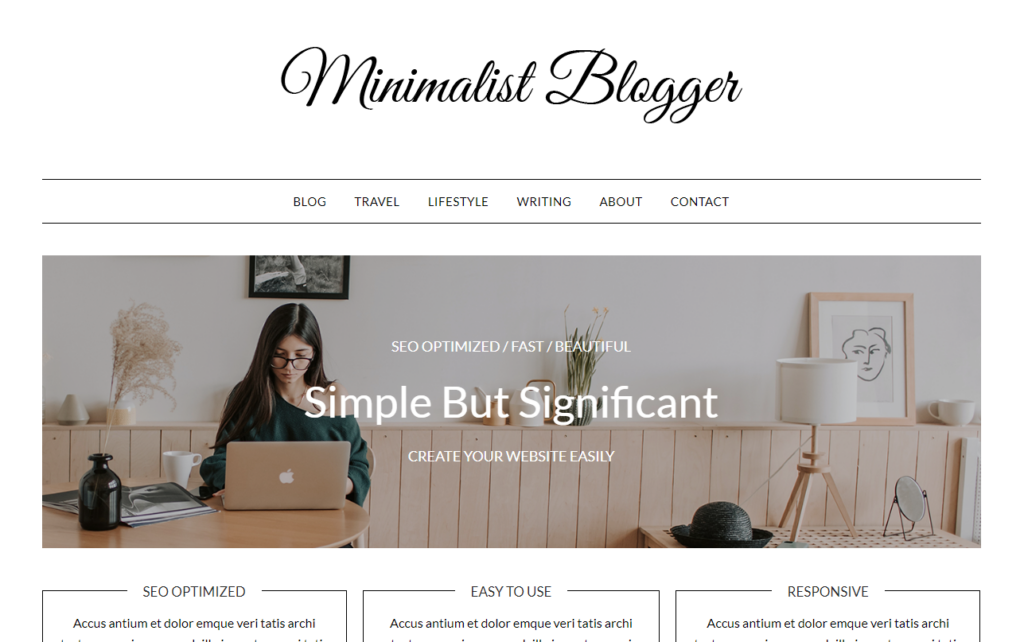 The classic blog style is minimalist, but it comes with premade templates that show off the content on the post-ready out of the box. You also get full optimization for SEO and access to all Google fonts without any plugins needed — this leads to faster page load speeds and caching. Two child themes are available as premium features, too.
Neve by Themeisle
Neve is a multipurpose business website theme. It's also translation-ready, which means you don't have to meddle with PHP and HTML codes to display everything in the correct language of your audience — a common problem when using English-only themes.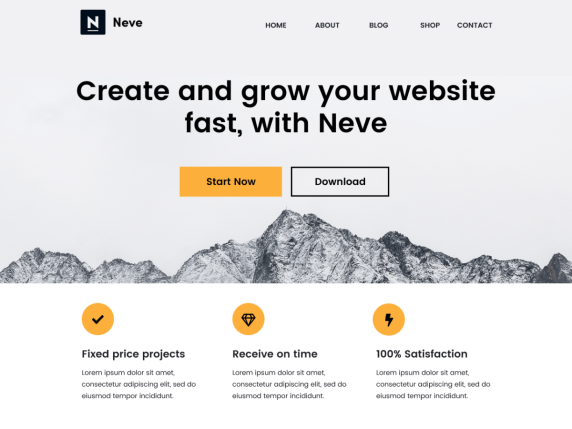 It also features an input for site search on the top, which is necessary for websites that contain lots of content or products online.
Twenty Twenty-Two
The official WordPress development team annually releases a new theme, and the aptly named Twenty Twenty-Two was made available this year. The true beauty of Twenty-Twenty-Two is in its customization.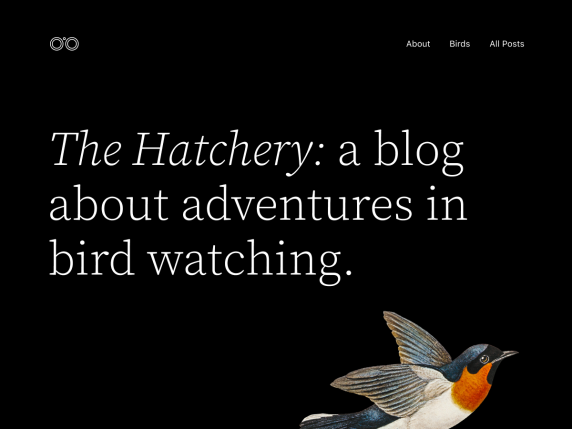 The theme takes advantage of the Full Site Editing features introduced in WordPress 5.9, meaning that colors or typography can be customized on every single page to suit your vision.
News Way
As WordPress was initially developed as a platform to share text-based blog articles and lifestyle content, it's still the most popular choice for publishing news. News Way is a modern-looking responsive magazine-style theme for WordPress.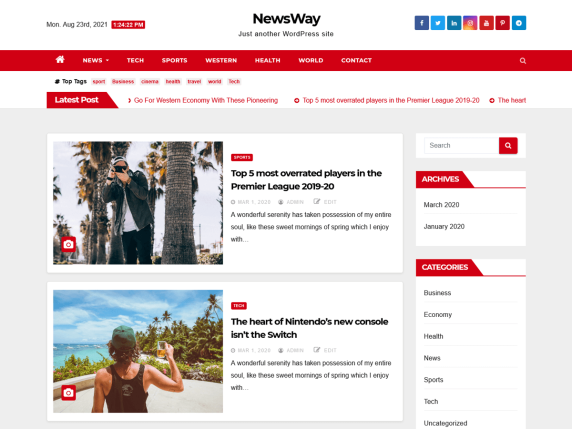 With easy-to-use widgets and fast loading times, it's perfect for any news-related site. Category navigation is prominent and easy to find, and the default layout will make any newsreader feel right at home.
---
Learning more about WordPress themes
Eager to learn more? There's no shortage of resources when it comes to learning more about WordPress themes. There are theme documentation portals, forum groups, Slack channels, and our extensive library of tutorials. It's a never-ending flow of information, but what are the best places to learn about WordPress themes? Where should you start? Let's take a look at some of the best blogs in the world for learning about WordPress themes.
WP Tavern
WP Tavern is one of the best places to go for all things WordPress-related. The website has around 25,000 monthly visitors, making it one of the most popular WordPress-related blogs in the world. WP Tavern covers everything from the latest WordPress plugin news to the best WordPress tutorials and provides reviews on the best WordPress upcoming and existing themes. You can expect to see at least one new article per week covering something related to WordPress themes.
ThemeForest
ThemeForest is probably the most well-known marketplace for WordPress themes, aside from the official WordPress.org library. On the site, you can find thousands of premium WordPress themes. The quality of themes on the site is incredibly high, and user reviews and star ratings are available for each. You can also visit their forums to chat, ask questions about themes, and check out their blog for creative trends and tools.
WordPress.org News
Not surprisingly, WordPress publishes a news blog, and it's the best place to learn information about new core updates. Occasionally you'll see a post specifically about themes, but you'll often read official news about updated functionality, bug fixes within the core, and how those might affect individual themes. You'll also see summaries of recent podcast episodes and find features about the people of WordPress.
WordCamp Central
If you're looking for WordPress-related inspiration and hoping to find out about some of the best new WordPress themes from real people, you should start with WordCamp Central. The WordPress community has hosted hundreds of WordCamps worldwide since 2009, which are community-driven conferences that are meant to foster a sense of togetherness and community among WordPress users.
WordCamp Central is a place where WordPress users can find local and regional announcements and then attend online and in-person presentations on many topics, including themes.
Smashing Magazine
Smashing Magazine is a reliable and practical source of information for web designers and developers. They don't focus on the latest trends and news like other sites but publish a steady flow of evergreen resources. Writers at Smashing Magazine cover a wide variety of front-end and UX-related subjects, and the site includes a dedicated section for WordPress users.
The power of WordPress Themes
WordPress themes are some of the most powerful and flexible assets for a WordPress website. They give you the freedom to change the look and feel of your site, integrate additional features, and create unique experiences for visitors. Choosing a WordPress theme is one of the most important decisions you can make for your site, but remember that with WordPress, you always have the option to update and change.