Three best themes from SuperbThemes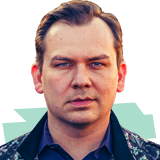 Rodney Brazil
04 May 2021
At EasyWP, we are constantly testing new blocks, widgets, plugins, and WordPress themes. We certainly have our favorites, but it's always exciting to discover something new that we can pass along to the readers on our blog. We recently tried out three great theme options from the same company: SuperbThemes.
The team at SuperbThemes has been creating themes for WordPress since 2014. One of the first things that caught our eye was their commitment to customer support, which is of utmost importance here at Namecheap. Each of the more than 60 themes they offer is built with great design, SEO, and usability in mind. Like EasyWP, SuperbThemes supports the WordPress community by sponsoring WordCamp events and hiring skilled WordPress developers and writers. 
Choosing a WordPress theme
Your choice of WordPress theme determines what kind of experience your visitors have and how they will engage with your site. And while changing your theme is one of the features that make WordPress unique, it also takes time and effort. Therefore, carefully selecting the best theme for your site is essential for success in the long run.
Here are three of the best WordPress themes available from SuperbThemes.
MinimalistBlogger
Don't let the name deceive you; MinimalistBlogger is highly flexible and customizable. With this WordPress theme, you can easily have your website up and looking great in a matter of minutes. The classic blog style is minimalist, yes, but this theme comes ready to showcase your posts right out of the box.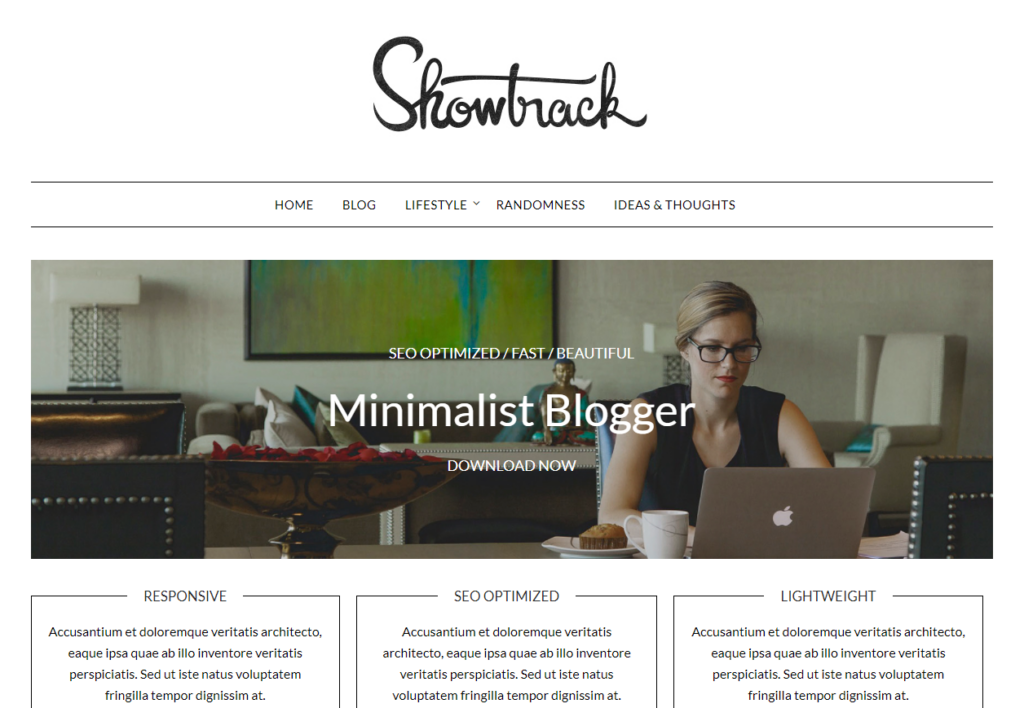 The premium version of MinimalistBlogger comes fully optimized for SEO. You can easily access all Google fonts without additional plugins, which helps with page load speed and caching. Two child themes are also available as a premium feature, one accented by gold hues in the default settings and another that caters to explorers and travel bloggers.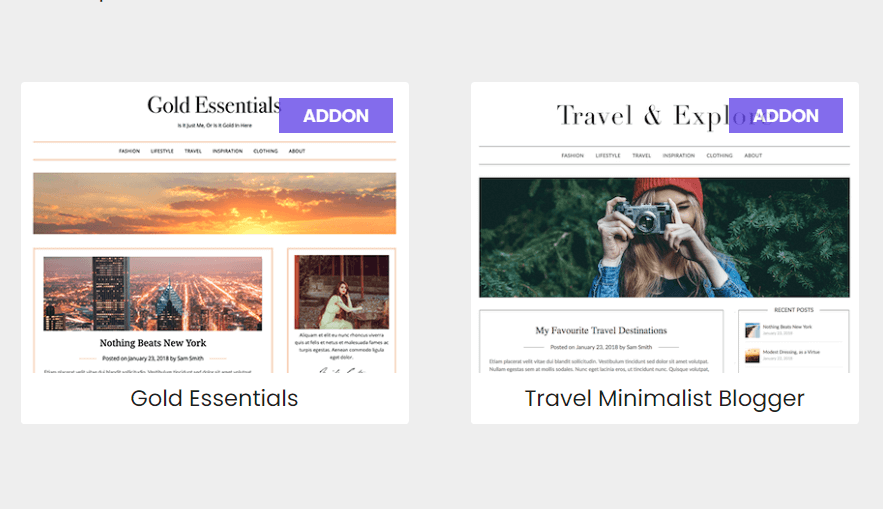 Additionally, with MinimalistBlogger Premium, you get the option to choose customized navigation and footer colors. This feature seems small but can actually help give your site a unique finishing touch.
EcoCoded
For anyone focused on their carbon footprint, EcoCoded from SuperbThemes is a great way to build an eco-friendly WordPress site in a snap. This theme uses reduced and compressed code to lower energy impact and create a more sustainable site. This theme also automatically uses low-resolution images for faster page performance and minimizes the energy used to store, transmit, and load web pages into your browser.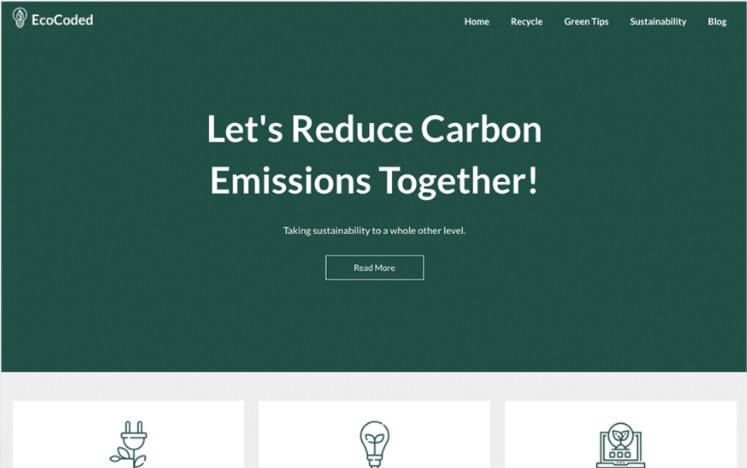 EcoCoded uses, well, code to decrease device power usage on the development end and the end-user. This streamlined design doesn't include any fancy or annoying animations that bog download time, thereby reducing carbon emissions.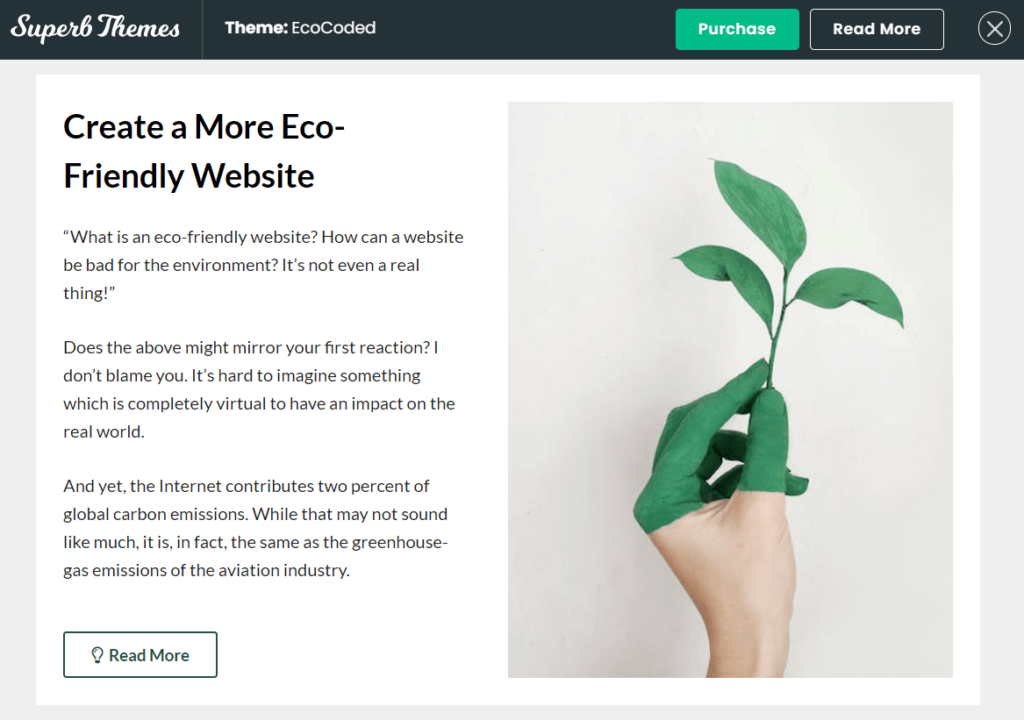 The template relies on a beautiful green color scheme, and the premium upgrade allows for greater color customization. Dynamic and captivating, EcoCoded is the best theme option we know of for the conscious global citizen.
Feather Magazine
For news and information sites that publish a lot of text-heavy content, Feather Magazine is about to become your new favorite theme. The page layouts are familiar but operate much more smoothly and seamlessly for the end-user. With Feather Magazine, you get a professional, journalistic user experience paired with breakneck page load speeds.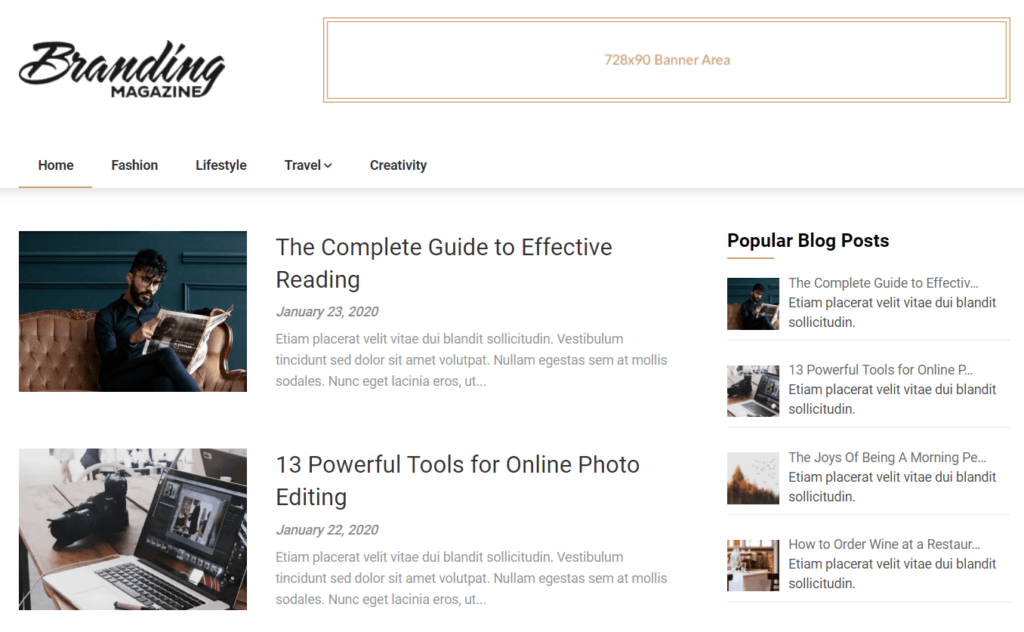 If you are serious about making an impact with our online articles and content, the premium version of Feather Magazine offers just about every feature you could ask for. You can choose whether to show or hide breadcrumbs, tags, and even author boxes. Page colors can be customized at the site level or the post level.
We've seen that many EasyWP customers use page builders in addition to the native block editor, and Feather Magazine Premium is fully compatible with Elementor. As with all products from SuperbThemes, you also get premium customer support and importable demo content.
Conclusion
If any of these three themes sound like a good fit for you, we highly recommend that you head over to the SuperbThemes website to look at the demo versions. You'll also find complete lists of free vs. premium features and can read more about the company.
If you've tried one of these themes on your EasyWP site, tell us about your experiences in the comments below. We'd also love to hear any tips or tricks you've learned along the way. For anyone building their first WordPress site, we'd love for you to check out the benefits of cloud-based managed WordPress hosting from EasyWP.