The best WordPress theme detectors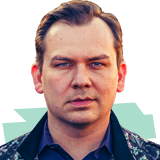 Rodney Brazil
16 Mar 2021
As UX designers and content creators, our favorite WordPress themes are revealing. A preference for a streamlined, uniform theme might reflect a love of organization. Bright themes with large photos and bold navigation could connect with the inner child.
Some themes, like Astra and Divi, can be recognized almost immediately due to their popularity. But other themes can be like hidden gems, even to experienced WordPress users. No matter what your preference in WordPress themes might be, many of us can relate to that moment when you visit a site for the first time and think, "Wow! What WordPress theme is that?"
With a little detective work, a knowledgeable WordPress pro can almost always inspect the site and come up with the name of the theme that was used. However, the quickest way to find out is by using a WordPress theme detector.
What is a WordPress theme detector?
Much like a color picker or image search engine, a WordPress theme detector scans any website to figure out what WordPress theme a site uses. The best tools can also help you discover other important details, such as theme version, author, and child themes or plugins that are present.
How do WordPress theme detectors work?
There are several ways that WordPress theme detectors can identify the theme that a website is using. One common method is to scan the website's source code for specific theme-related files or code snippets.
---
What are WordPress code snippets?
WordPress code snippets are small pieces of code that can be added to your WordPress website to add new functionality or modify existing features. These snippets are typically written in PHP and can be added to your website using a variety of methods, including the functions.php file, custom plugins, or specialized snippet plugins.
---
For example, a WordPress theme might have a unique stylesheet or JavaScript file that is only used by that theme. A theme detector can find these files and use them to identify the theme.
Another way that theme detectors work is by using a database of known WordPress themes. These databases are constantly updated with new themes, and they allow the detector to match the website's code with a known theme. Some theme detectors even use machine learning algorithms to improve their accuracy and identify new themes that haven't been added to the database yet.
Remember that swapping WordPress themes should be carefully considered, even if you absolutely love what you see on another site. A WordPress theme detector won't provide certain key knowledge, such as whether the theme has been customized or whether it is a good choice for SEO.
Here are four of the most accurate and free, WordPress theme detectors.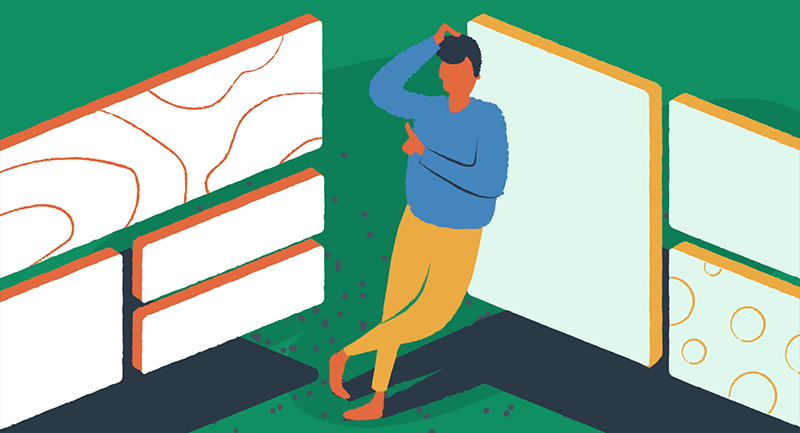 What WordPress Theme is That?
Aside from having one of the most brilliant domain names anywhere on the internet, What WordPress Theme Is That is also one of the most popular free tools for detecting what WordPress themes and plugins sites are using. If you can't tell immediately, this tool will also detect if a site is running Drupal or Joomla instead. Keep in mind that searches using What WordPress Theme is That will only turn up information about the page on the precise URL that you entered. If you believe different components or plugins might be in use on different parts of the site, be sure to perform a search for each and every page you want to know about.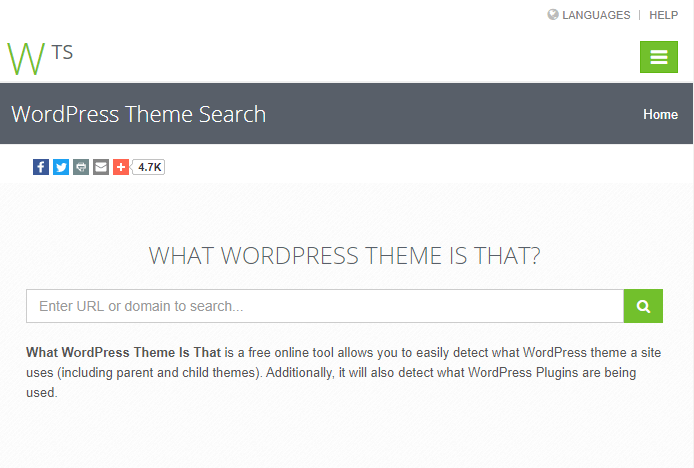 The other thing we love about What WordPress Theme is That is the supporting content available on the website. You can view the most detected WordPress theme providers as well as the most detected plugins, giving you an idea of what is popular within the WordPress development community.
Gochyu
Maintaining the trend of witty domain names, Gochyu is another free, reliable WordPress theme detector. We like this tool largely because the results page is simple and shows all the basic information you need and a link to the author's website. Gochyu even serves up a visual preview of the site, so you can double-check and make sure you've entered the correct URL.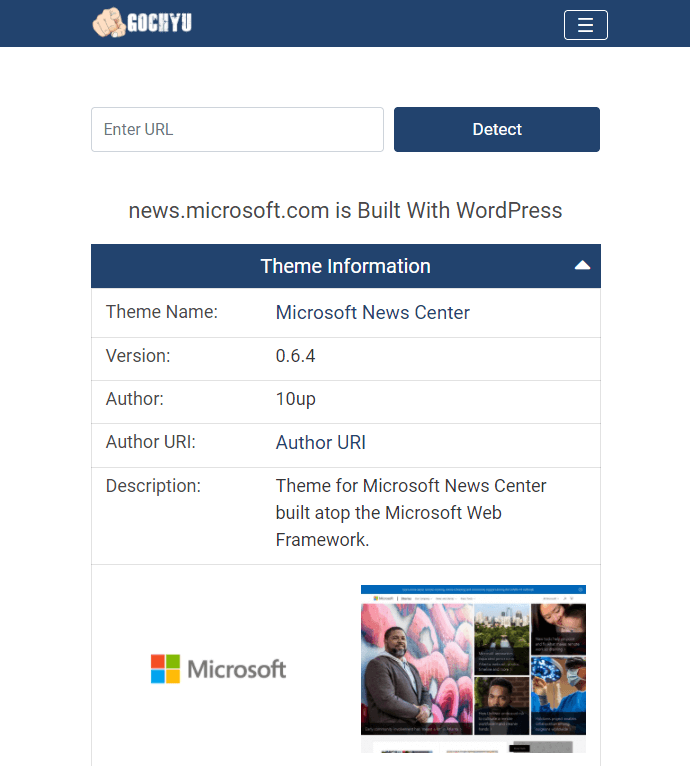 The Gochyu tool is perfect for freelance UX designers and those who are curious about CMS platforms other than WordPress. You'll find search tools for themes from Squarespace, Shopify, Joomla, Drupal, and even WordPress.com. The tool will even break down some of the components used on more entry-level web builders, such as Wix. 
When you are researching e-commerce themes, Gochyu is the place you want to start. Many online stores rely on two CMS platforms: one for content pages and one for products and checkout. A quick search of both the homepage and a product page will tell you whether or not they use WordPress and WooCommerce, for example, or switch to Shopify as you flow down the purchase funnel.
WPBeginner WordPress Theme Detector
One of our all-around favorite sites, WPBeginner, offers its own WordPress theme detector. Like the other tools on our list, It automatically scans the source code of websites to find out exactly which WordPress theme a site is using.
WPBeginner's theme detector also lets you know which web hosting provider the site uses, along with a thumbnail of the site's homepage page. Each time you visit the tool, you'll see an up-to-date mention of the most popular themes of the month, which is a fun reason to check in from time to time.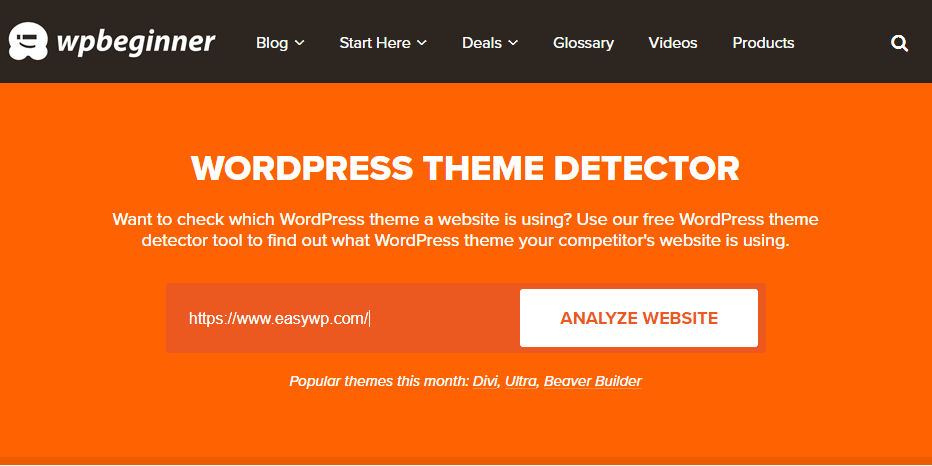 WPBeginner is a great place to discover all things WordPress, so stick around after you've detected your next favorite theme and read through some of their other resources. Their articles on creating a new website and blogging stand in a league of their own.
Never ask, "What WordPress theme is that?" again!
Now that you know about three awesome tools for detecting an unknown WordPress theme, the only thing left to do is test them all and choose your favorite. With EasyWP managed hosting, installing a new theme is just a few clicks away. You'll be up and running in a flash thanks to the fact that we offer server speeds 3x faster than traditional web hosting, as well as a free SSL certificate with our Turbo and Supersonic plans.
Ready to test drive that cool new theme you just discovered? Sign up for EasyWP today and pay only $1.00 for the first month!