WordPress vs. Drupal: Choosing a CMS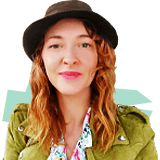 Isobel Weston
04 Aug 2020
When it comes to deciding between WordPress vs. Drupal, it's important to consider your project's size, budget, and specific requirements. Doing so can help you choose the best CMS for your needs.
According to Internet Live Stats, there's a whopping 1,785,343,277 websites (and counting) on the Internet. The reason that this number is so high is thanks to the existence of modern-day content management systems (also known as CMS).
Thanks to the CMS, even beginners can make a professional website, or blog, in no time. But which should you choose for your website?
You might have heard about some of the big players on the CMS scene already, WordPress and Drupal, and found yourself confused over which one to choose. Both offer the same basic service after all; to help you build a website. They share numerous similarities and differences that further confuse the decision-making process.
One CMS powers one-third of the web (WordPress), while the other is the go-to for corporate websites (Drupal).
Which should you trust with your website? In this article, we'll compare these two systems to determine which comes out on top for your next website.
What Sets Each Platform Apart?
These platforms have a lot in common; they're both free, open-source, and user-friendly (up to a point). Before we take a more in-depth comparison, let's introduce our contenders.
WordPress
The first version of WordPress landed in 2003. With five significant releases under its belt and a thriving community of contributors, WordPress accounts for over 60% of the CMS market share with around 560 million websites running on the WordPress platform. WordPress's popularity comes from its ease of use and ability to create any site you can think of.
Drupal 
Drupal dropped in January 2001 and is currently ranked as the 3rd most popular CMS. With a total market share of 2.2%, Drupal powers over 40 million sites. Regarded as the most technically-advanced CMS, it's suitable for people with some developer experience and more complex projects. Sites created on Drupal tend to be on the larger side, with a sophisticated data structure favored by educational institutions, nonprofit organizations, global corporations, and government sites.
It seems like the developers of these CMS have chosen to prioritize different things, which inevitably led to some tradeoffs. The best way to choose between these platforms is to decide where your priorities line up between these tradeoffs. The rest of this article takes a more in-depth analysis of each content management system's merits and drawbacks to help you decide which is the best fit for your site.

The best CMS for you must fulfill certain criteria. Let's focus on six criteria to help you make a decision:
Beginner friendliness
Customization options
The true cost of running a site
Whether websites are secure on each platform
If support is available
If you can add e-commerce functions
How Easy is it to Make a Website?
Let's start with the learning curve. For the most part, anyone without advanced skills or has experience as a developer should prioritize ease of use. For amateur users, just installing open-source software can feel like you've fallen at the first hurdle. How do the two CMS compare out the gate?
WordPress usability
Starting as a blogging platform, WordPress has been making it easy for absolute beginners to go from zero to a full-blown website since 2003.
It's easy for beginners to install WordPress thanks to most hosting providers' famous five-minute install. This service takes the hard work out of setting up a new website, in minutes, not hours, since you avoid setting up databases and the other bits that confuse beginners.
Both Drupal and WordPress are open source which means you need to set up hosting yourself. Only WordPress boasts dedicated WordPress hosting. This solution makes running a WordPress site less like work. For example, EasyWP offers one-click WordPress installation, takes care of site backups and updates, and comes with better site speed and security features than standard hosting. The whole installation process takes around 90 seconds, meaning you can start publishing straight away. 
Once installed, you'll see the WordPress Admin. Featured in the screenshot below is the simple, clean-cut user interface most casual users can grasp quickly. Click the icons on the left-hand side to navigate through creating posts and single pages, customize the appearance, and add features via the plugin library.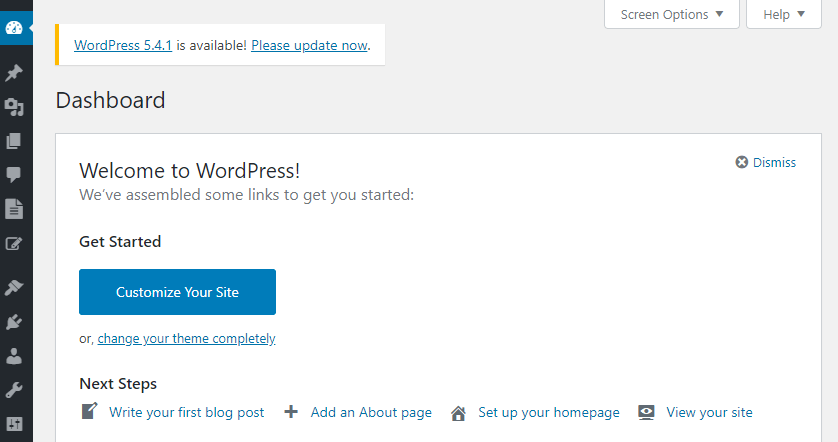 The Gutenberg editor makes it even easier for casual users to create content. No matter what you decide to change on-page ー the header, footer, color schemes, menu, background image, or widgets ー you can do it in just a couple of minutes. Once you've found a WordPress theme specific to your niche, it's reasonable to expect a website up and running, all within an afternoon's work. Larger or more complicated projects might need some extra time.
Thanks to the smooth user experience, WordPress empowers site owners to just get things done. That's without contacting the web team that set up their site or employing a web designer.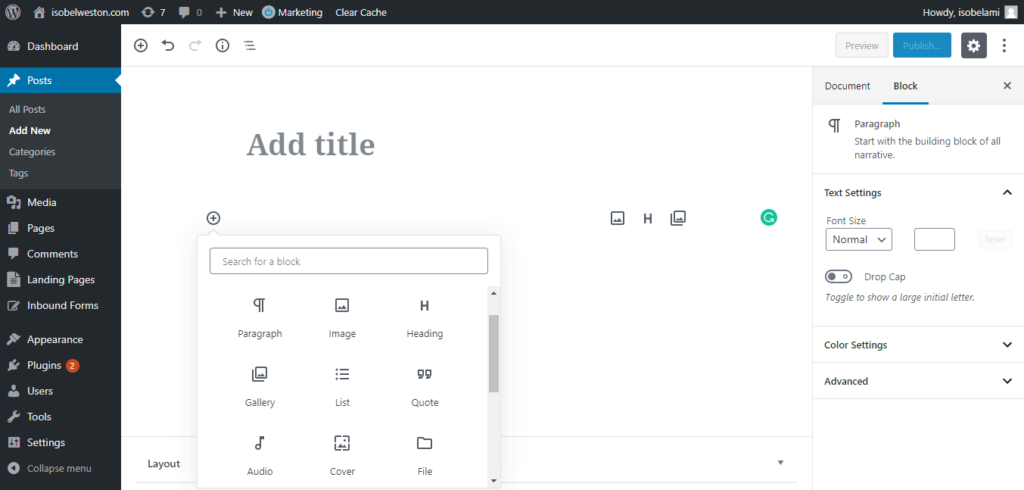 Drupal usability
Drupal received criticism for having a steep learning curve. Indeed, there's a lot more to learn when starting out. Like WordPress, you need to download the latest version and follow the official site's installation instructions. With Drupal, the experience is more tricky, and there are more steps and clicks involved. Unlike WordPress, few hosts provide quick install options to make things easier.
For a beginner, starting with a blank installation can be tough going. To serve less experienced web developers, Drupal provides special installation packages called distributions. Distributions are packages of features, design, and demo content that let you install a fully functional turn-key website just by running the installer.
Once installed on your web host, you get a variety of ways to customize your site. Then things start to get tricky. It's quickly apparent that for anything more than basic customizations, you need knowledge of programming languages.
Drupal is a more developer-centered platform. If HTML, PHP, et al. are alien terms, you'll need web professionals to build a more custom-looking and custom-operating website. Even basic site admin, like keeping the CMS up to date, requires technical expertise.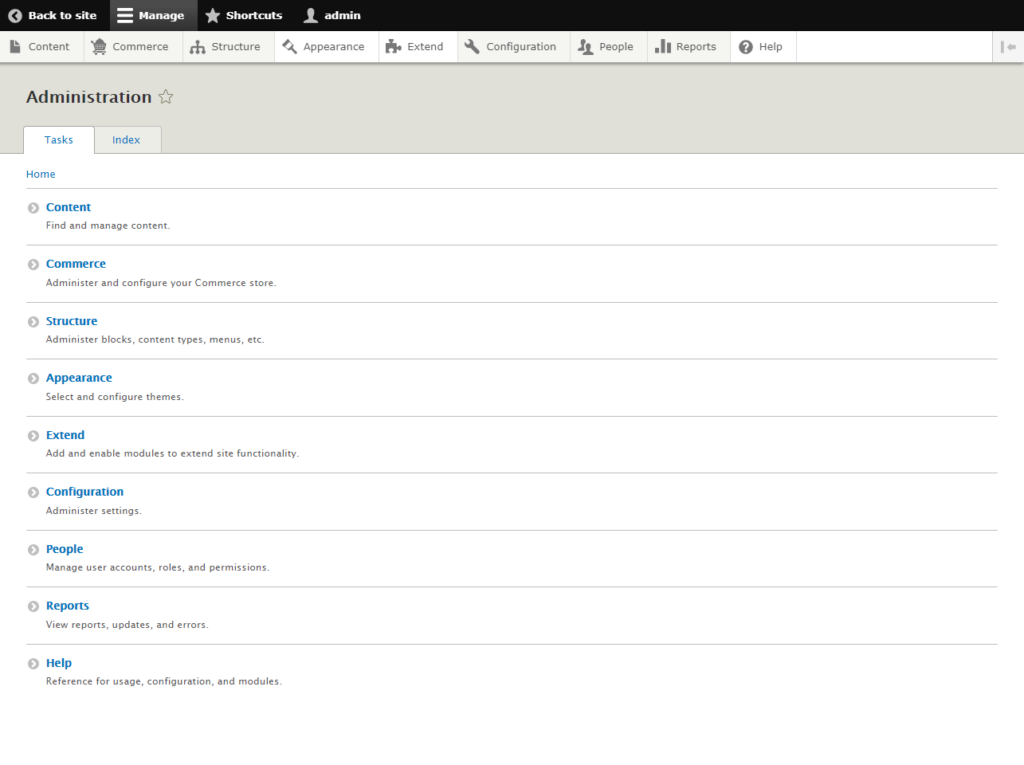 Drupal offers a handful of themes. And that's about it for beginner-friendly features. Compared to the rest of the CMS market, Drupal provides a subpar user experience around content creation. The user experience people would expect of a modern CMS is simply missing. Drupal itself commented that the authoring experience leaves a lot to be desired.
Here's what the editor looks like in Drupal 8:

While it's functional at a very basic level, it's not exactly the most user-friendly content creation experience. This admin interface is going to be downright incomprehensible for casual web developers on the first look.
Winner User Experience for Beginners: WordPress!
WordPress is the clear winner when it comes to how easy it is to build a website with each platform. To get a WordPress site up and running takes under an hour, fully skinned and branded. Drupal can take days or more. In 2020, WordPress is still the leader for admin user experience, although Drupal is making great strides thanks to distributions.
For an advanced dev, Drupal might be a walk in the park. But these sophisticated platforms can pose a real challenge for non-techie types to turn out a functional website. On the other hand, WordPress is an easy-to-use platform that does not require you to possess extensive technical knowledge.
Website ustomization
While it's possible to build your website without a template, these CMS offer pre-designed themes for beginners to create a website without any coding knowledge. Similarly, both platforms provide pre-programmed 'add-ons' like galleries, and checkout features to your website, without you need to learn how to code.
It's unlikely that you'll be satisfied with a template website, exactly as it is on activation. That's why CMSs prioritize customization, so users build on features and customize the site's design.
Web design: Website design templates in WordPress and Drupal are called themes.
Functionality: App-like add-ons in WordPress are called plugins; in Drupal, they are modules.
WordPress customization
WordPress offers an unbeatable number of website design templates and extensions to change most aspects of your site from the design to the functionality.
Themes and plugins are the basis of creating websites. With the right combination, you can create any website imaginable from a simple blog to a full-blown e-commerce store, portfolio site, and much more.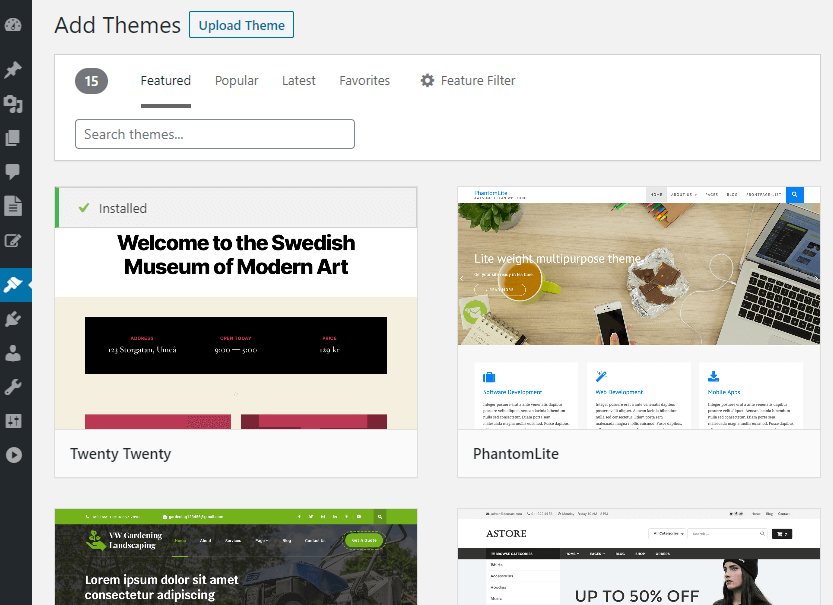 There are thousands of third parties developing industry-specific themes that no other CMS on the market has. There are many more premium or paid themes available.
Plugins are the key to a WordPress site's potential. There are tens of thousands at your fingertips, for free in the official WordPress plugin directory, and even more when you count paid plugins for premium features and support.
Drupal Customization
Drupal comes with lots of integrated customization options. You also get Drupal modules and extensions to add extra functionality. Again, you can find extensions (around 40,000) to do just about anything. Still, the overall quantity of modules lacks compared to WordPress. Drupal also offers free and premium themes. However, as mentioned, you'll go through a bit of trouble customizing them.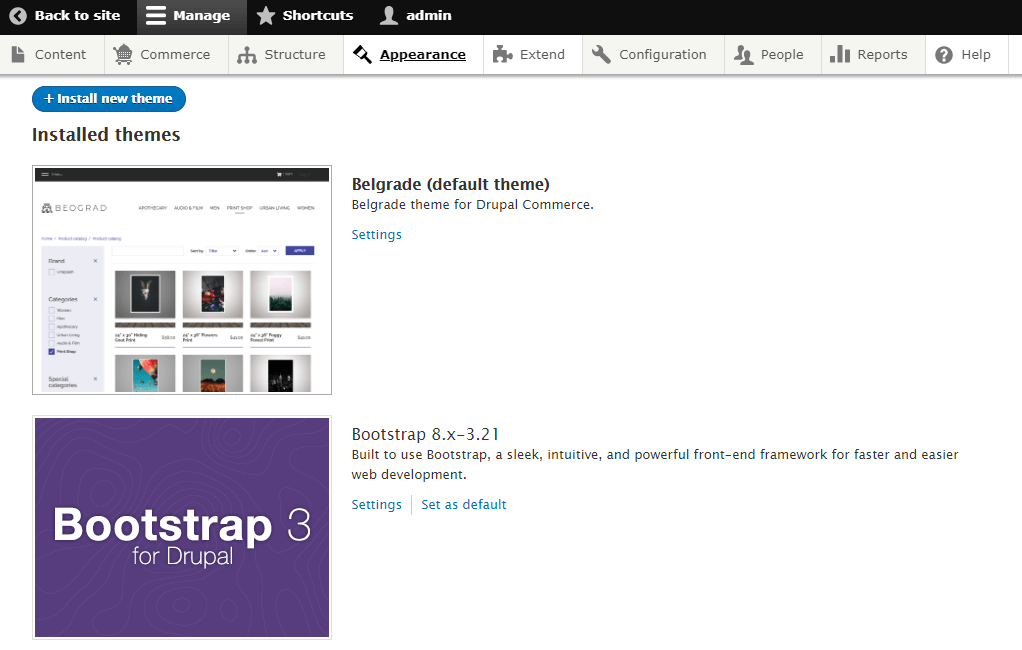 When it comes to customizing Drupal, you're looking at a steeper learning curve. You can still do a lot with it, but again, you'll need to put a lot more effort into accomplishing something professional and unique versus attempting a similar build with WordPress.
Everything in terms of functionality is freely available as modules. With the help of a developer, you can customize everything in a Drupal site. As a developer, the potential to tweak Drupal to your heart's content might be music to your ears. And also why there are so many different and unique Drupal sites. For the rest of us, this can be a sticking point. 
Winner customization: WordPress!
When it comes to plugins and themes, WordPress has the game sewn up. It's unlikely that the Drupal core will ever come close to the number of plugins and themes WordPress has. For some, that might be a deal-breaker in making a decision. For those who don't need plugins/themes and are happy to code their functionality, Drupal is probably the right choice.
Drupal is more flexible than WordPress, as it is designed for custom development by developers. In contrast, you're more likely to be okay with a plugin to take care of it in WordPress.
The true cost of using WordPress vs Drupal
When we look at Drupal vs. WordPress' initial costs – they are both 100% free to download.
Building your website on either CMS will cost the same in terms of the domain name and hosting. Both CMS platforms are free to download. In some cases, users will want to extend the native feature sets with extra Drupal modules and designs, including some that you have to pay to buy.  
| | | |
| --- | --- | --- |
| | Themes | Plugins |
| WordPress | $0-$250 | $0-$200 |
| Drupal | $0-$80 | $0-$100 |
Ultimately, you don't have to buy any add-ons if you don't have the budget. Additional costs arise if you have to pay for a technician. As mentioned, WordPress developers are more affordable than Drupal developers.
Winner Costs: WordPress
Unless you are a developer, WordPress is going to work out cheaper, even with the average costs for add-ons being higher. WordPress offers more "out-of-the-box" solutions, and its developers are more affordable.
The WordPress community has developed a much larger base of starter themes, which give you a visual and functional outline of a website without having to hire someone. If you're tech-savvy and willing to learn, you can do a lot of things by yourself. Maintaining a Drupal website can be challenging. You're more likely to employ a developer for your website's lifespan. If you don't need a highly complex website, WordPress is the most cost-effective solution.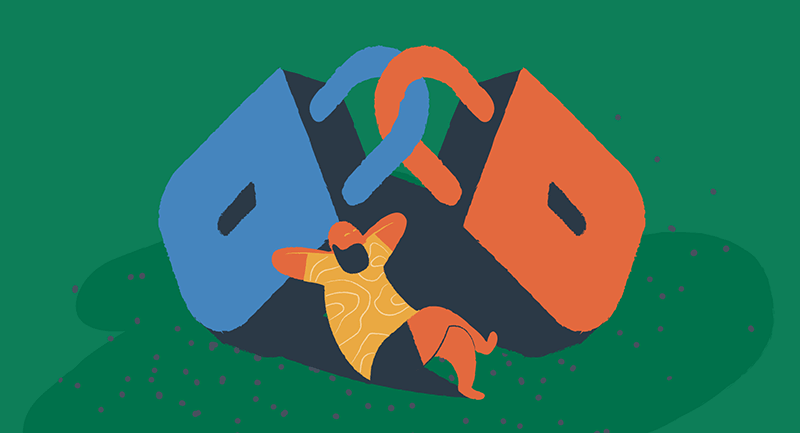 Are WordPress and Drupal secure?
In a perfect world, both WordPress and Drupal are secure systems. But in the real world (with real people's update habits and penchant for third-party solutions), Drupal often becomes more secure. All websites are vulnerable to security threats. Security is one of the biggest differentiators between Drupal and WordPress. Let's see how they fare.
WordPress Security
Since WordPress is the most popular site-building platform worldwide, hackers often target sites on their platforms. WordPress core itself is secure; it's more an issue with third-party plugins, which is a bittersweet issue. 
WordPress champions users making changes to their site to their heart's content. In doing so, they extend the core and leave themselves more vulnerable to hacking. Nevertheless, you can secure WordPress sites by taking some extra steps to follow WordPress security best practices.
Drupal Security
Drupal has a reputation for security. It's one of the most secure CMS on the market, which goes a long way to explaining why it's a popular choice for government institutions and other large, security-conscious players.
Drupal takes a very serious approach to security. As vulnerabilities are discovered, Drupal patches the issue and publishes it on its own site for transparency. Placing customization in the users' hands is the central theme, which means it's less dependent on third-party features. And because it has significantly fewer third-party add-ons, Drupal sites are less susceptible to malware. 

Winner Security: Drupal
Both CMS have security standards and take appropriate steps to keep their users safe. Drupal sites are less likely to be hacked, not only because of a smaller market share but also because of the issues of the plugin security that WordPress suffers. With the right steps, WordPress can be very secure, but they are a necessary extra task.
Where can you go for help?
There's inevitably going to be a time that you'll stumble using a new piece of software. As long as there's help available, that shouldn't be a problem. How do these CMSs fare in terms of free and paid support?
WordPress support
WordPress has an extensive community of fans and support networks. Sites like WP Beginner contain hundreds of tutorials, video tutorials, and articles catering to beginner-level WordPress users. 
There are many ways to get free WordPress support: through the Official WordPress Support forum, Quora, Slack channels, and across forums dedicated to web design and development.
Apart from the free support options, you can pay for dedicated help. Online platforms like Codeable, UpWork, etc. are places where you can hire WordPress professionals to help you.
Drupal support
Similar to WordPress, Drupal has a highly engaged community of users. Drupal has a colossal open-source network with more than one million committed engineers, originators, mentors, tacticians, editors, and patrons worldwide.
Alongside a range of community support, there's online documentation and support pages at drupal.org. Overviews and tours to guide you through workflows, or explain concepts on various back-end pages, which for free software is pretty neat indeed. For paid support, the Drupal marketplace recommends companies and developers offering Drupal services.
Winner Support: Tie
Since we're reviewing too immensely popular platforms, known throughout the web development world, both an active user community and support channels.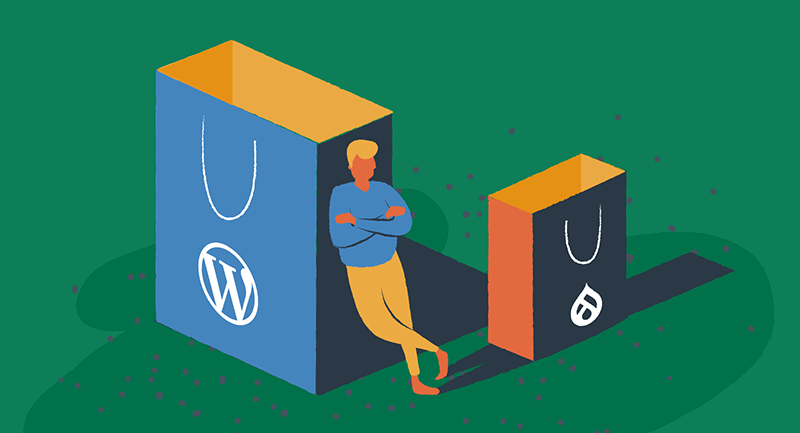 Which CMS is best for e-commerce?
Online shopping is growing more popular by the day, and many people are looking to create e-commerce websites. How easy is it to set up shop with WordPress and Drupal?
WordPress E-commerce
WordPress excels at e-commerce thanks to a stack of free and premium e-commerce plugins. It's also compatible with the most powerful e-commerce solution, WooCommerce.
Drupal E-commerce
Winning no points on user-friendliness, Drupal is far more extendable as compared to WordPress. If you plan a store with many (we're talking hundreds of thousands of products), Drupal might be right for you. It'll just be harder to set up than using the WooCommerce plugin for WordPress.
Aside from Drupal eCommerce modules, it works well with the well-regarded Shopify network.
Winner E-commerce: WordPress
You're going to get the same result, but depending on your experience, going with Drupal for e-commerce will take more work whatever you have planned. For small to medium businesses looking for an e-commerce solution, and if your site doesn't need Drupal's vast capabilities as described above, you'll have an easier time with WordPress.
Another consideration is how easy you can update your prices, add products, etc., if you employ someone to set up your site. Unlike Drupal, WordPress users can take on these tasks without having specialist expertise.
Final decisions: WordPress vs. Drupal
WordPress and Drupal have unique advantages and disadvantages. There are no costs associated with using them. You can jump in and try either.
WordPress offers an intuitive software solution that can be installed within minutes to run content on a simple website online without a great deal of effort. Plus, it's light work to make a website. Drupal users need some prior knowledge of web development (or employ someone who does). This high-performance CMS is excellent for creating individual website projects with more complex page structures than the market leader.
Choosing content management systems
After playing around with Drupal and WordPress, a few things became apparent. Both are great tools and can be ideal for very different websites and levels of expertise.
While you can get started with WordPress and have something working in a few hours, success with Drupal depends entirely on your technical capabilities, budget to hire a web pro, or how long you can afford to spend studying to use Drupal.
Unless you're looking for a more robust and complex solution, WordPress is a solid choice. It's the best option for most small to medium businesses that want to get their site online and focus on their business. It's also the only CMS that has its own dedicated hosting; Managed WordPress hosting. Hosting isn't something to skip on. It can make or break a site.
Call us a little biased but the best WordPress host right now is EasyWP. It's the fastest WordPress hosting on the market, but it's also the most cost-effective (starting from as little as one dollar for the first month). Plus, it comes with features that make WordPress as simple as possible, such as the one-click install feature and premium support. Building a professional website doesn't get any easier than this.
Do you think WordPress and Drupal are capable of delivering the same quality of website? Do they meet the standards of modern CMS? Let us know in the comments below!