WordPress vs. Blogger: Which is best?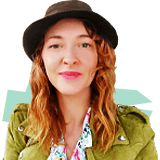 Isobel Weston
16 Feb 2021
Starting a blog is an exciting yet potentially intimidating experience. The main stumbling block is choosing the right platform from the many options out there. When really you just want to write and hit publish, so your first blog post goes live on the internet — fast!
Right now, you just need to know which is better: WordPress or Blogger?
Deciding between the two most popular blogging platforms can be a tough call, especially when you're new to web design, and each has its merits and drawbacks.
You'll soon find that these differences matter. Once you're aware of how differently they work, you'll be clear on which is the best fit for your new blog.
Let's get started.
Note: For this comparison, we're talking about the self-hosted version of WordPress, WordPress.org —not WordPress.com. Head over to our guide on the differences between WordPress.org vs. WordPress.com for more details on that subject.
Introducing WordPress and Blogger
Blogging has been around since the late '90s, but it took off in the early 'noughties.' Part of that spike was thanks to WordPress.
What is WordPress?
WordPress launched in 2003 as a simple blogging tool that quickly outgrew its original purpose. As well as blogs, it's evolved to become the world's first choice for building all sorts of websites — the BBC, Sony, and the White House included.
WordPress is open-source, which means it's free, with no limitations on what you can do with it. In practical terms, this means you can build a blog and any other type of website you can think of without hidden fees, restrictions, or blockers.
Before you can build a website with WordPress, you need a domain name and web hosting, and the ability to install the software, which could be confusing for absolute beginners.
Fortunately, the process of installing and running WordPress has been uncomplicated in recent years thanks to specialized hosting providers, many now offer 1-click WordPress installation. With EasyWP Managed WordPress hosting, it takes less than a minute to set up and install WordPress making it a great choice for beginners.
What is Blogger?
Blogger is a product of tech giant Google, and the second most popular blogging platform these days. To create a blog, all you need is a Google account. Many users enjoy Blogger because it's hassle-free. Far removed from the hassle of hosting, coding, and other technical blockers, especially when all you want to do is start blogging.
---
Let's jump into our WordPress vs. Blogger comparison. But before we take a deeper dive into each platform, here's a comparison chart of what to look for when choosing your next blogging platform: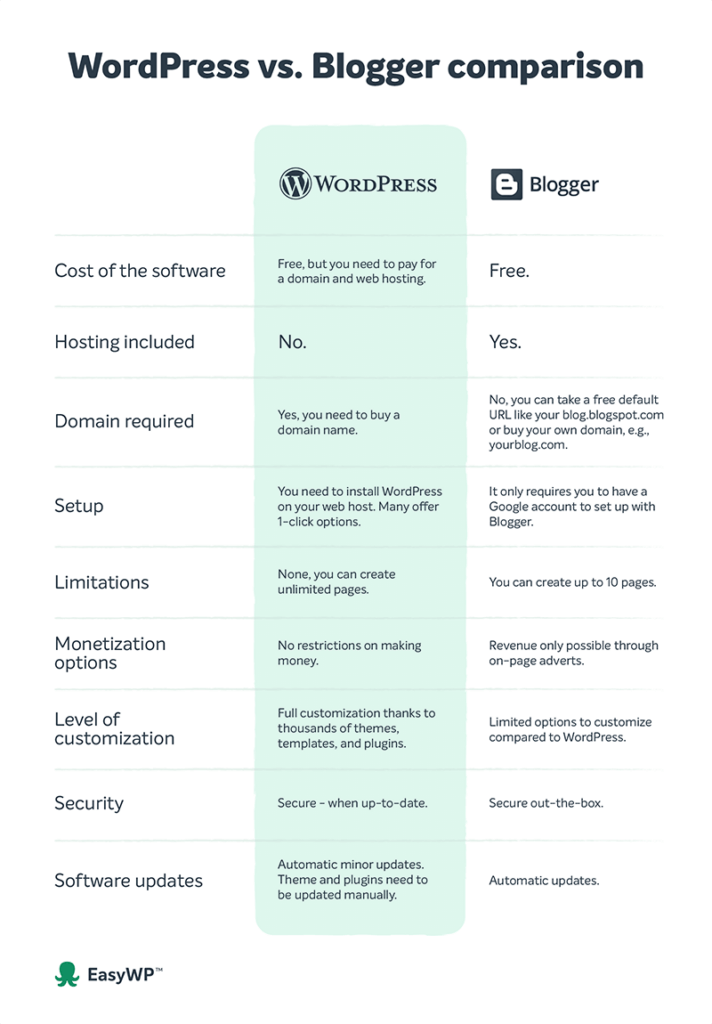 What are the costs of WordPress vs. Blogger?
Before assessing the features, let's factor in the costs.
Is Blogger free?
Yes, Blogger is completely free to use. There are no charges for creating an account, using the templates, or customizing your blog. You can also upgrade to a premium plan if you want to access more advanced features.
The good news is that both platforms are free.
As mentioned, you get a free Blogspot subdomain, and it comes with hosting included. You can use a custom domain, which can set you back as little as $9.99/ year with Namecheap.
Besides the free themes, there are several third-party paid options, which we'll come to.
| | | |
| --- | --- | --- |
| | Blogger | WordPress |
| Software | Free | Free |
| Hosting | Included | ~ $3.88/ month |
| Domain | ~ $.99/ month | ~ $.99/ month |
| | $0 ~ .99/ month | ~ $4.87/ month |
WordPress is self-hosted which means you need to pay for a domain name and buy a hosting plan with EasyWP from as little as $1 for your first month and then $3.88 per month thereafter. You should also factor in any premium themes and plugins you need which can add up.
Further reading: Here's a breakdown of how much a WordPress website costs.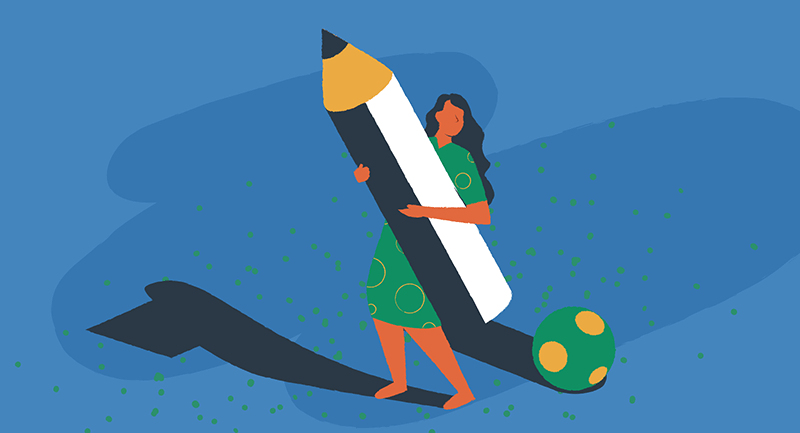 How easy is it to start blogging?
The average blogger wants to get their words out there without jumping through technical hoops to make it happen. Google made sure there are zero barriers to posting on Blogger, and with the aforementioned 1-click installation options for WordPress these days, both platforms are relatively painless to get going. Nevertheless, let's have a brief look at what it takes to publish a post on each platform.
With Blogger, you need to link to a Google account. Then you can begin creating your blog.
Before that, you need to give your blog a title and choose an URL (the free URL includes blogspot.com unless you pay for a custom domain).
There's one snag, the domain name I was interested in is already taken. After several attempts at an original name, I bagged myself the not-so-memorable demoblog125.blogspot.com.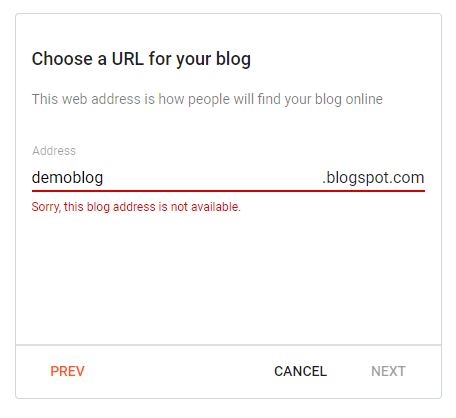 Once confirmed, a simple dashboard launched.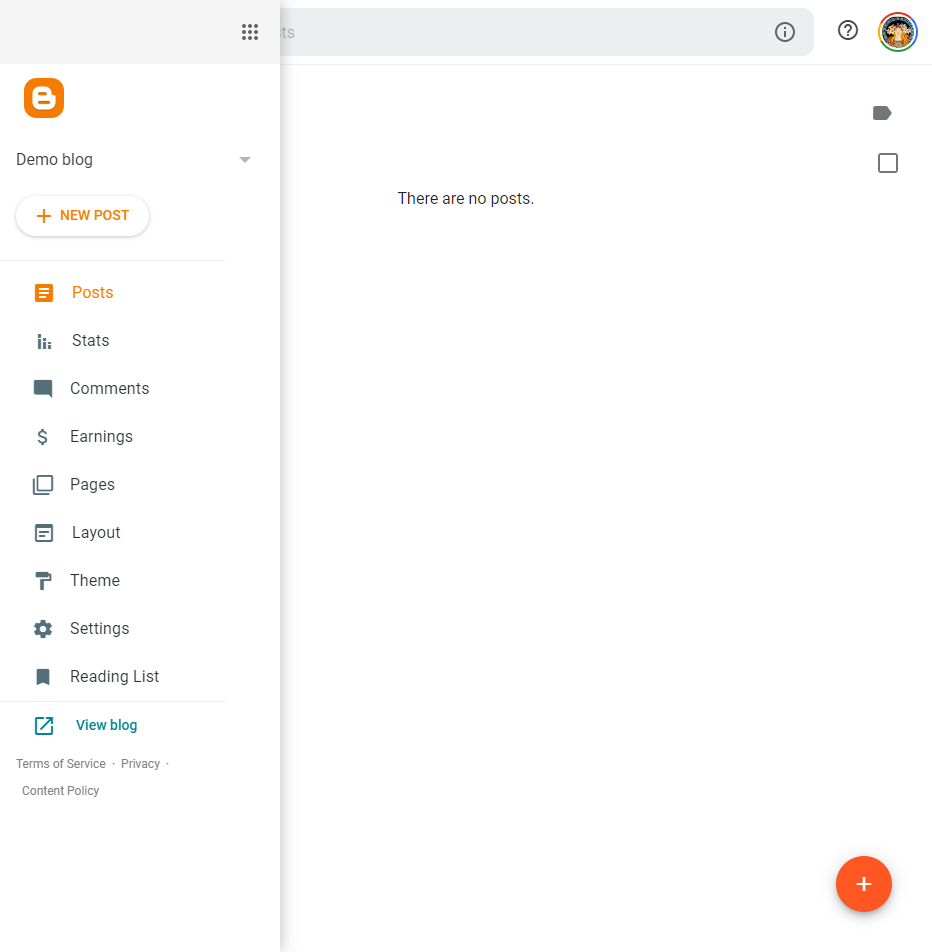 Another click and I'm in the post editor. From this friendly user interface, you can publish blog posts and even respond to any comments. In a matter of seconds, I've posted my dummy comments for the world to see.

How does WordPress setup fare in comparison?
Unlike Blogger, WordPress is not a plug-and-play website builder. Some configuration is required. However, with managed hosting, all the technical stress of setting up WordPress is gone, and it takes minutes, not hours before you can start publishing. In fact, EasyWP has got it down to less than a minute, which, for the world's most powerful blogging software, is no mean feat. Here's an example of how that looks with EasyWP managed hosting.

Once you're in your WordPress admin dashboard, adding content is as simple as choosing whether you're making a new post or a page.

With the new intuitive block editor, you can customize it to your heart's content adding images, content and videos, and any other media.
Overall, setting up Blogger is slightly quicker. However, the content creation experience is underwhelming since you can't customize your blog extensively.
Can I make something truly unique?
We've seen how easy it is to publish a blog post on both these platforms, but you're going to want that post to look and feel good to attract some visitors. That's where site customization comes into play. We're talking about design options and whether you can add new features like social media sharing icons, a newsletter sign-up, gallery, or an online store.
Let's start with Blogger.
What features does Blogger offer?
Blogger offers a variety of features to make blogging easy and enjoyable. Users can create a customizable blog with flexible layouts and hundreds of background images and upload photos and videos directly from their computers. Additionally, users can add polls and surveys, customize the look of their blog, add widgets and gadgets, and even monetize their blog by adding ads.
To update a blog's appearance and layout, you can add a design template (theme). From the dashboard, select themes and add choose a design. The majority of the themes are centered around photo galleries with limited features.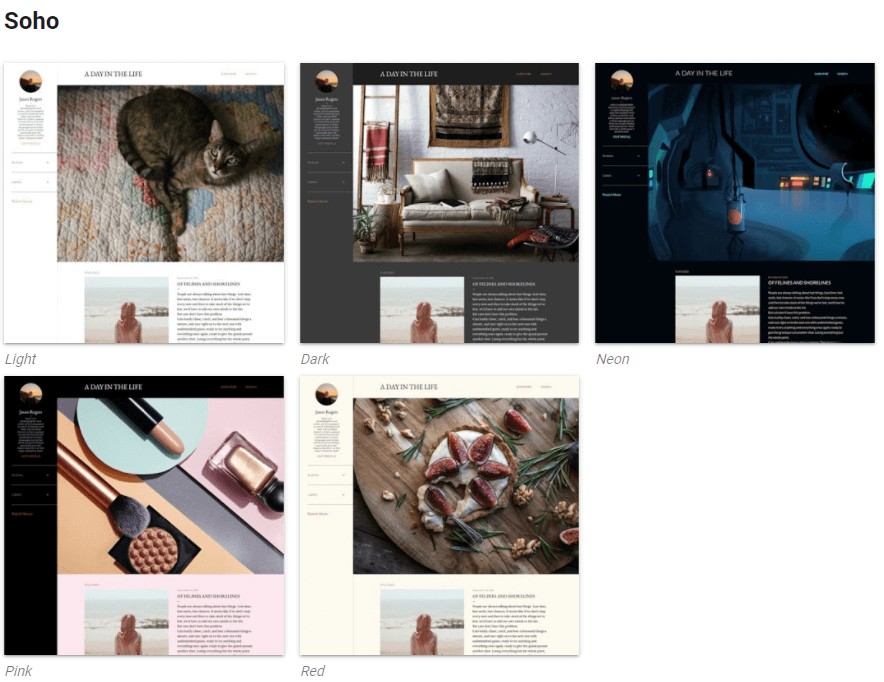 Compared to WordPress, you get a limited set of themes to play with, and they already feature on thousands of blogs which isn't ideal if you want to create something truly unique.
Since Blogger is designed for simplicity, the scope of what you can do with it is also limited. You get so-called "gadgets" you can add from the admin seen below. From this menu, you can add features like contact forms and advertising. There's not much else you can do to extend your blog and you can't seek out third-party alternatives or hire a developer to create something bespoke for you.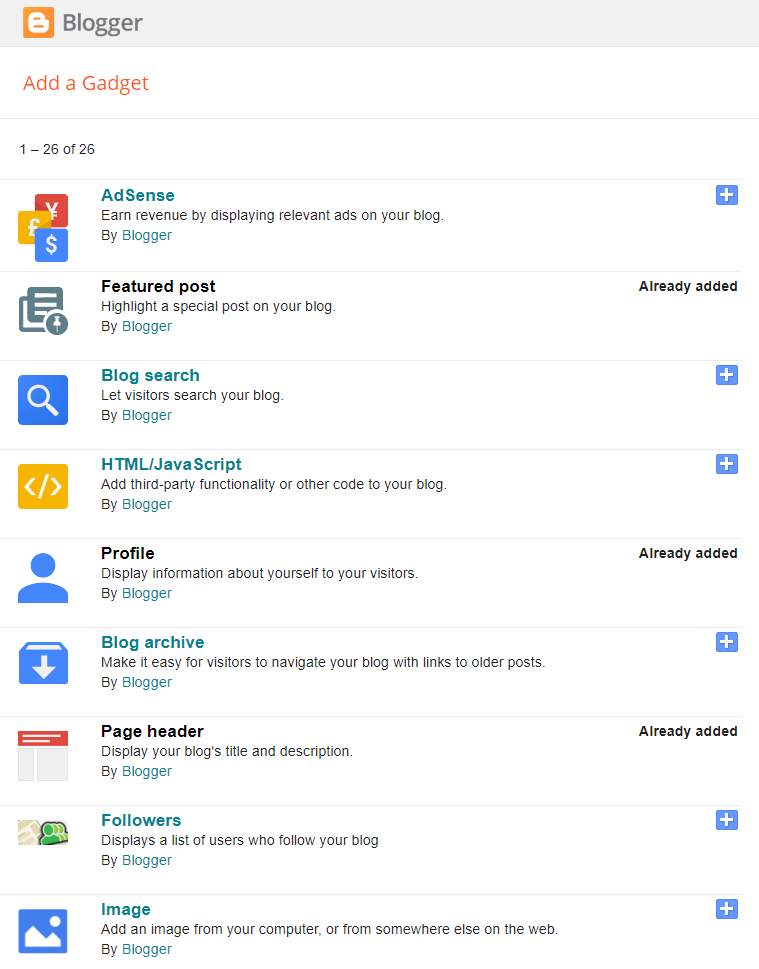 Overall, the possibilities to tweak your blog design and features are limited, but they're effortless to carry out.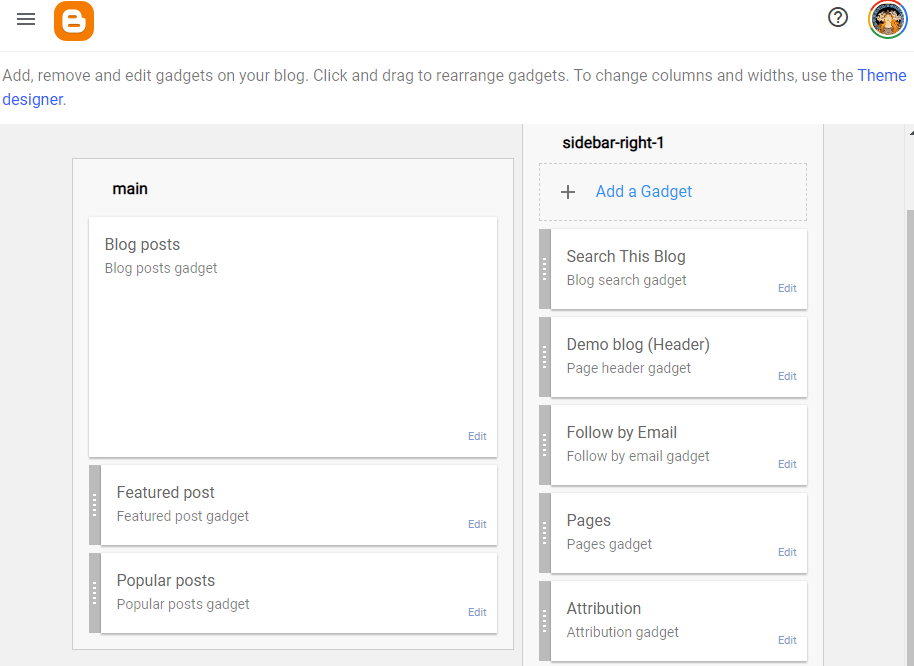 Click 'layout' to remove and edit gadgets on your blog with a simple click and drag. You also have options to change columns and widths within the theme designer. That's about all you get as far as customization is concerned.
Now for WordPress. For customization, WordPress outshines every site builder and content management system going. There are thousands of themes to choose from in the official directory and many more free and paid themes throughout the web.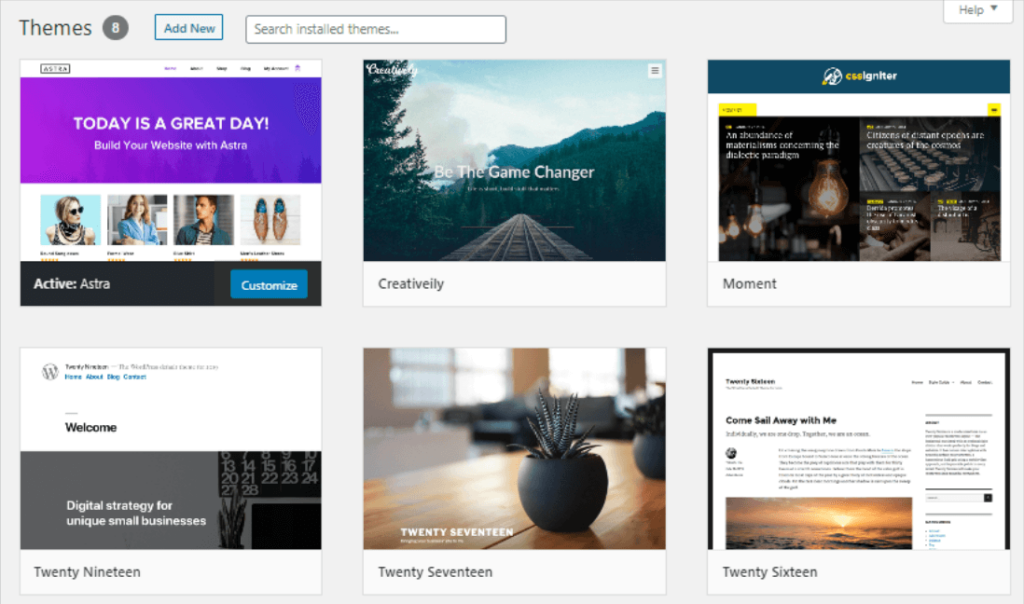 Themes are highly customizable. However, suppose you want to alter the basic template, for example, rearranging the layout. In that case, you need to modify a theme, which involves coding or hiring a developer to help with that.
With a theme in place, it's time to download and install some plugins. You're looking at over 50,000 'plugins' in the official directory alone to add all sorts of additional features to your blog. There are over 56,000 free plugins to extend a typical blog with third-party integrations. For example, using plugins, you could:
It's hard to express how much you can do with WordPress; the scope is unlimited.
We've written many guides on what's possible with WordPress, to give a better overview of how it works.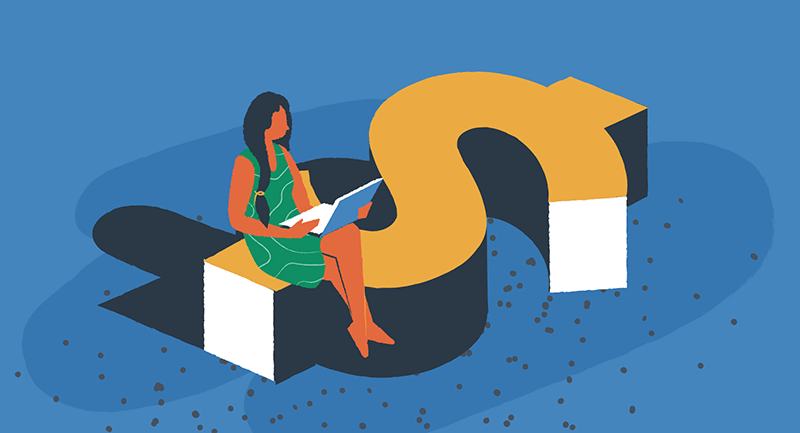 Can I monetize my blog?
Let's talk about money, moreover, moreover, which platform is the best for making some.
The only way to make money on Blogger is through adverts, specifically, promotion with AdWords, which seriously limits your potential to make money. You'll need to create a Google AdSense account, and Blogger will 'automatically place ads for you in the best places.' — Basically, it's up to Google how you bring in revenue.
You can, of course, monetize your posts through affiliate marketing, which can be highly lucrative. Simply add any affiliate links to your body content.
WordPress users get an entirely different experience. You can add true eCommerce functionality to your site thanks to plugins like WooCommerce.
What about security and updates?
Security is a serious business. If your site is hijacked, you put all your hard work and the time to get it back, if that's at all possible.
With Blogger, you don't need to pay much attention to security. Google handles everything, which includes securing your blog, creating backups, and managing your server's resources. That's a pretty robust set up right there.
Given its popularity, WordPress is the most hacked CMS. According to the annual website hack trend report, over 56% of all CMS applications were out of date at the point of infection. This is one of the key reasons to keep the software up to date, with the latest security details.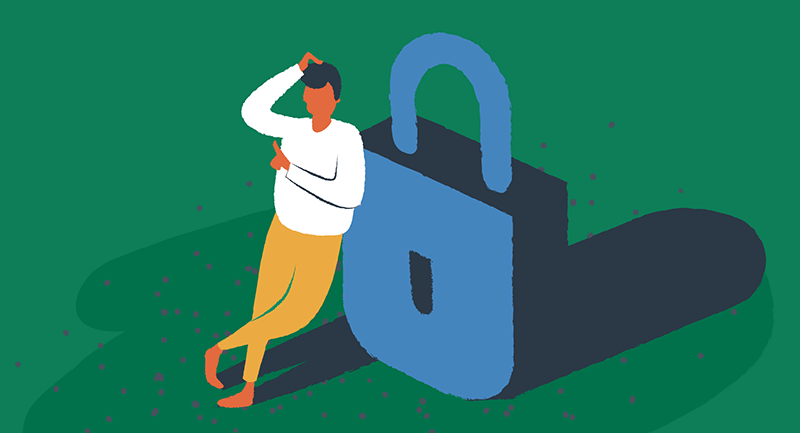 WordPress receives minor updates every few days as developers work hard to deliver regular fixes for security and bugs. There are also major releases a few times a year to keep on top of. So when WordPress is running the latest software is secure, it's quite secure.
However, since it's self-hosted, you're in charge of everything, and that includes protecting your website. The good news is Managed WordPress hosting providers take care of security for you, including backups — or you can take one of many free WordPress plugins that take over some of these tasks.
Who owns my blog?
With full ownership of your blog, you can customize to your heart's content, monetize it, and even move it to another platform.
WordPress users can move their site whenever they want; whenever they want, you're not tied to a specific web host. You own your content and everything you've created, so all you have to do is move your site to a new host or a new content management system if the CMS wasn't a good fit for you. You can even keep your domain name.
Blogger users indeed benefit from an easy and reliable free service from Google, but you don't own your blog and that might become a problem with Google at the helm. Google has a history of abandoning popular platforms such as Google Hangout and Feedburner, to name a few; if you're really interested, there's a full database of fallen heroes over at the Google cemetery.
Basically, your blog could be banned or suspended for no reason and without warning. What's more, moving platforms is a complicated task, and it can take some time to export your content, which remains on Google's servers for a long time. Ultimately, you risk losing your rank in search engines alongside your followers during the move.
On the contrary, WordPress is not dependent on one entity — being open source, it relies on a huge community of developers and users, all passionate about making it work. With so many sites depending on WordPress, promising rather than uncertain.
How to choose between Blogger and WordPress
WordPress and Blogger are widely used but miles apart in their approach to blogging. The decision on which platform to use comes down to weighing up the pros and cons of building your blog.
On the one hand, you have a simple blogging platform like Blogger. If you aim to share your ideas with the world on a personal blog, this might be an excellent way to do it. Even though Blogger is free with no hidden surprises, it lacks the features many sites need to become successful.
We mentioned just how restrictive Blogger is. You are limited in how much you can customize your blog, and what you can do with it. There's no chance to create an online store, a portfolio, or a business site, for example, this is a blog only zone and you run the risk of losing your data at any time.
Then, there's WordPress that allows you to earn a living from your blog. It's the only option that's scalable and provides the means to truly monetize your pages. Therefore, when it comes to deciding between them, we recommend WordPress for starting a blog.
With the right hosting, the setup is fast, the start-up costs are small, and you have the option to dream big in the future. Given that you can have a blog up and running in under a minute, you're not gaining much time with hosted solutions like Blogger these days anyway.
With such an expansive platform, there is more of a learning curve than Blogger but you'll pick it up quickly. You will benefit from more polished posts. If you want to expand your blog in the future, all the options you need are right at your fingertips, just read up on, and add new features as you go. There is, of course, a vast community on hand if you ever need support.
Final thoughts
Hopefully, this article helped you decide whether WordPress or Blogger is the right choice for your blog. In a nutshell, Blogger is the better platform for when you want to create a blog for no other reason than to put your words out there.
If you are ok with the limited choice in template design and lack of scalability, Blogger is a great choice.
WordPress, however, gives you complete control over your blog, and you can rest easy knowing your blog isn't at risk of closure at any moment.
As we've seen, you can do anything you want with WordPress, which is necessary if you've got ambitions on taking your blog big time. To waste no time getting started, we'd recommend you want to watch this video on how to set up WordPress in under a minute, with Managed WordPress hosting from EasyWP, then follow this tutorial on creating your first posts and pages with the mighty (and free) Astra theme.