Start your own drop shipping business in under an hour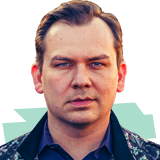 Rodney Brazil
14 Sep 2022
Drop shipping can be a very effective way to start a business that makes money online. With low overhead and existing fulfillment systems ready to support you — if you use the right tools — you can easily get your business going in under an hour. Drop shipping websites are easy, and anyone can do it because no special skills or training is required. You only need an Internet connection and a computer or smartphone to set up an online store.
WordPress is a popular CMS for drop shipping sites because of its easy interface, cheap hosting options, and endless design flexibility. This article will explain what drop shipping is, why it's excellent as a first e-commerce business, and how to get started with drop shipping as fast as possible.
What is dropshipping?
Drop shipping is a fulfillment method that entrepreneurs can use to sell online without stocking any physical inventory. As a drop shipper, you don't store your products in your own warehouse. Instead, when a customer buys your product on your website or app, you forward their order details to a third-party manufacturer or wholesaler and have it shipped directly to the customer.
Because you aren't keeping inventory and only placing orders once an order has been placed with you, this business model is sometimes described as 'virtual stock keeping.' It's very similar to traditional retail store business models, except that you, the store owner, never physically handle the merchandise. You simply create the store online, market your website through all the right channels, then partner with a vendor to ship the products from any orders you receive.
Why start a drop shipping business?
There are plenty of reasons why drop shipping can be an attractive option for many e-commerce entrepreneurs. Drop shipping has low startup costs – it's easier to start with this model than buying a warehouse, contracting with shipping companies, and hiring a full staff to fulfill orders. There's also less risk involved than starting a traditional business since you aren't purchasing inventory upfront. When you drop ship, you will only pay for the items after you've already received the order from your customer.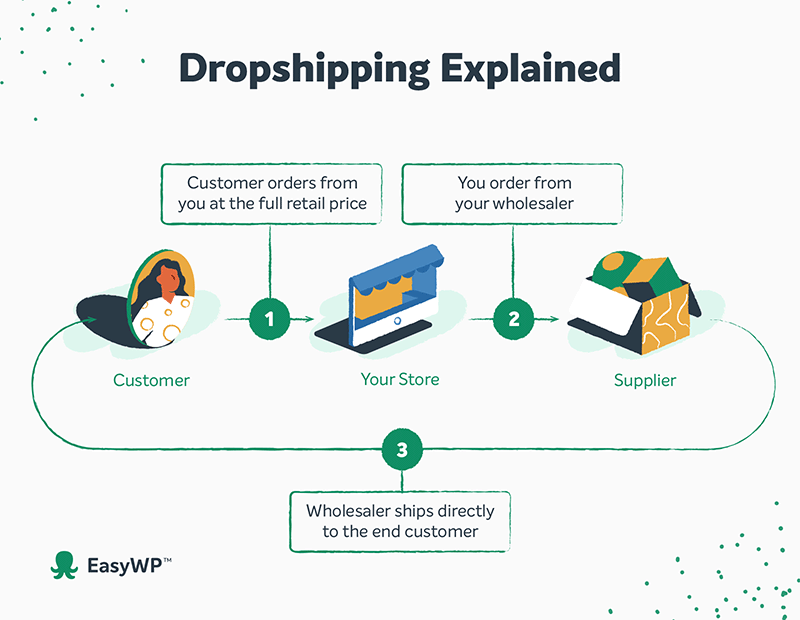 The drop shipping business model is also a great stepping stone toward launching a larger e-commerce operation. Once your e-commerce website is up and running, you can collect traffic and sales data about the most popular products and get your feet wet in customer service and marketing worlds. Later, if you want to invest your early profits and transition to a more traditional order and fulfillment model, whether by handling it in-house or outsourcing to a third-party fulfillment company, you can potentially achieve bigger profit margins.
There are a few different types of drop shipping businesses that you can explore to find the best fit for you.
Wholesale Distributors. This type of drop shipping business works with larger wholesalers who have their own warehouses. You'll be working with the wholesaler to purchase the products in bulk and then selling them on your e-commerce website.
Private Labels. Private label drop shipping businesses are those that create their own products and have them manufactured by a third-party supplier. This is a great option if you want to create a unique product that stands out in the marketplace.
Digital and Subscription Services. If you have a digital product or service that you'd like to offer, you can use drop shipping to help you manage the delivery and fulfillment of the product or service. This is a great way to get into the subscription economy and provide customers with a steady content stream.
Retail Arbitrage. Retail arbitrage is a type of drop shipping business that involves buying products from one retailer and then selling them to another for a higher price. This type of drop shipping business requires a bit of research and practice to ensure you're getting the best deal.
Drop shipping from China. In recent years, China has become a popular source for drop shipping businesses. You can find various products at wholesale prices and have them shipped directly to your customers. This type of drop shipping business requires a bit of extra research to ensure you're working with a legitimate supplier.
Drop shipping is an excellent way to start an e-commerce business. By exploring the different types of drop shipping businesses available, you can find the best fit for your business and start selling products to customers worldwide.
One of the only drawbacks to drop shipping is less revenue per product sold. With a drop shipping business, the average profit margin is only 10% to 20% of the retail price. When you sell a $100 item through drop shipping, you may only make $10. However, in a more traditional wholesale-to-retail business, profit margins can range from 100% to 800% per product sold, depending on the cost of goods sold.
3 steps to get started with drop shipping in under an hour
Strong, high-revenue businesses take time to develop and grow, but you can definitely get started quickly. That is to say, if you have at least some experience starting up a website, you can have a drop shipping business online and ready to take orders in about an hour. Here are the three most crucial steps to activate your online store.
Find a fantastic product to sell
To start a drop shipping business, you only need one product. You can add more over time if you want — and to increase revenue — you'll likely need to. But first things first, you need just one great product.
Full disclosure: you may want to start your one-hour countdown clock after you pick your first product. You should be thorough in your search for your first product and carefully consider several points:
Does the manufacturer offer drop shipments of this product?
It's safe to say that the majority of physical products available in the world today are available for drop shipping in one way or another. With some vendors and products, the order fulfillment process is easy. With others, it's more complex. Sites like Pexda and Product Mafia can help find vendors and products specializing in drop shipping partnerships. You can also check the website of any product wholesaler or manufacturer and look for information on their drop shipment programs.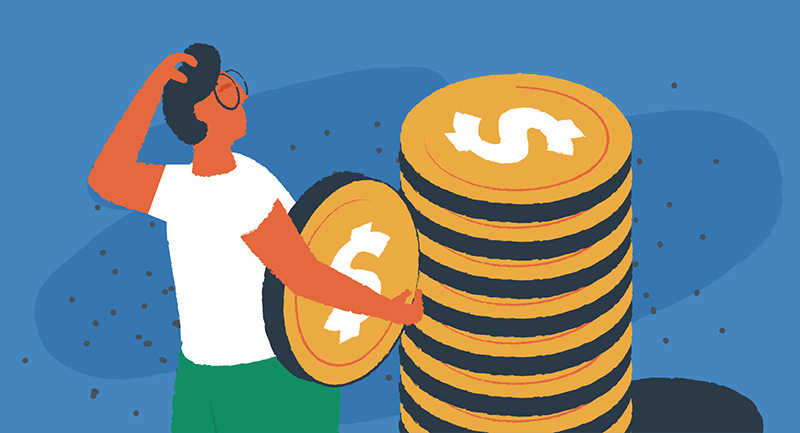 What is the profit margin?
To run a good business, you must think about profits. Cheap products with small profit margins require high-volume sales, something you won't likely get at first. Expensive products will make you more money, but big-budget shoppers may be few and far between. For your first product, pick something that seems affordable but has a profit margin big enough to make an impact.
These product categories are known to fit this sweet spot very well:
Clothing
Kitchenwares
Beauty products
Mobile device accessories
Coffee, tea, and non-perishable food
It's not critical that your first product falls into one of these categories, but if you are trying to narrow your search, these types of items have a history of performing well in drop shipping.
Do I know enough about this product niche to create content about it?
Once your drop shipping store is started, you'll need to create other types of content to market your product. Social media posts, how-to videos, and blog articles are all effective ways to get your product out in front of potential customers. Make sure you know enough about your product's niche to talk about it and sell the benefits.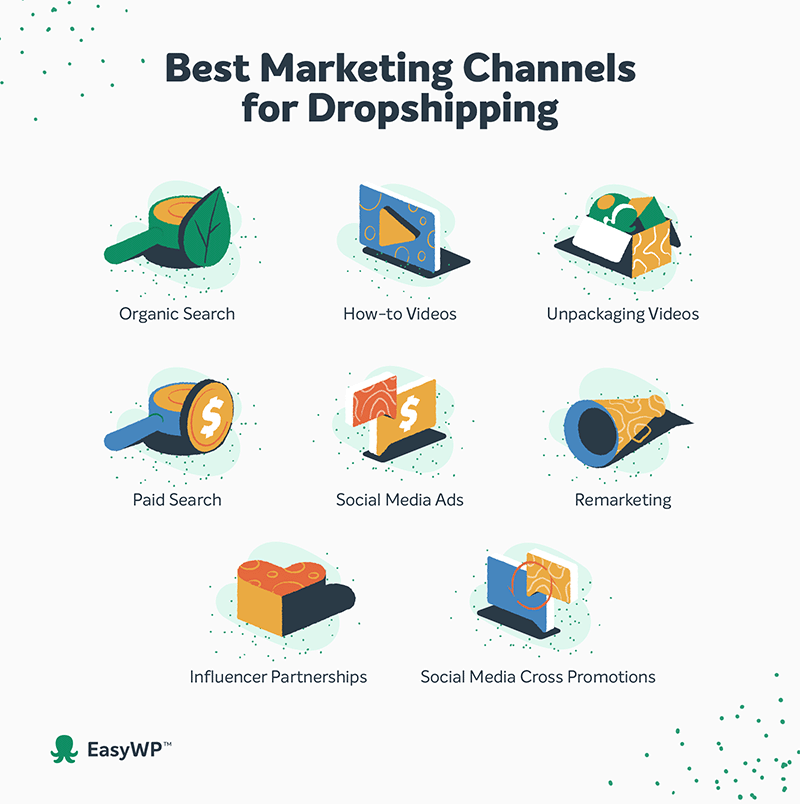 Are products in this niche trending or in demand?
Knowing whether or not a product will be in demand can be tricky. Sometimes what was popular last year is no longer on trend. For your first product, consider options that are practical or might be useful to many people. This will help you avoid the trap of investing time in a product that's past its prime.
Google Trends has a page dedicated to following product trends. You can easily review search popularity over time and search your product ideas to see how well they align with current shopping patterns.
Sign up to sell your product
A drop shipping business is a partnership between you (the seller) and the wholesaler. In order to sell a particular product, you'll need permission to sell it and agree to follow their standards and procedures when it comes to order fulfillment. Fortunately, most manufacturers and wholesale companies have established systems for working with dropshippers, and many do not require an application process.
Carefully read the dropship policy on your product of choice, and pay close attention to details that you'll need to include on your own website:
Product photos
Measurements
Estimated order delivery time
Geographic shipping limitations
Listing these facts accurately on your website helps set the right expectation for customers, helping you build respect and loyalty from shoppers.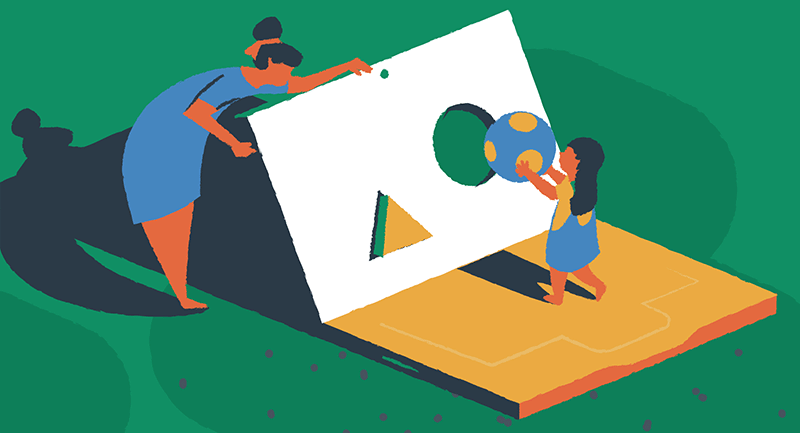 Build a website
Now the fun part begins! You get to create a website storefront to sell your fantastic new product. Much like building a new business, developing an engaging website takes time. Still, you can get a WordPress e-commerce store up and running in under an hour.
With EasyWP managed WordPress hosting, nearly all the technical work is done for you. All you have to do is:
Subscribe to a hosting plan
Choose a domain name
Pick a free e-commerce-friendly theme
Fill out your store details
Create your first product page
Steps 1-3 above can be done in less than three minutes, and if you've done some prep work, steps 4 and 5 can be finished with a little copying and pasting. If this is your first time building a website, check out our guide to starting a WordPress site in 10 minutes or less. We also recommend WooCommerce as a fast and free way to set up an e-commerce store and created a quick guide on how to set up WooCommerce.
Things to consider while launching your drop shipping website
There are, of course, dozens of other considerations when starting a business.
Don't get overwhelmed. You can make these decisions anytime as you get your business up and running. And fortunately, there are millions of tutorials online, so starting a drop shipping business in about an hour has never been easier.
What have you learned from those who have already started their own drop shipping business? Any advice to our other readers? Leave your comments below!