How to translate your WordPress site (and why)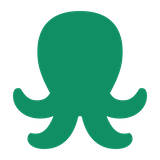 EasyWP Team
28 Feb 2022
The Internet offers businesses and content creators the perfect platform to reach large audiences anywhere in the world. Though English accounts for 49.1% of WordPress site content worldwide, a lot of your site visitors are either multilingual or speak other languages. If you want to offer them the best experience possible, it makes sense to translate your WordPress site.
No doubt, language is a key part of any website's user experience. And WordPress uses English by default for the front-end and back-end.
Fortunately, a lot of WordPress resources like themes and plugins are now available in different languages. As a site owner, you'd also be happy to learn that you can translate your WordPress site into multiple languages.
But WordPress translation can be quite challenging. If you use the wrong method or tool, you may end up with an inaccurate translation or even technical issues.
To avoid this, we'll show you the easiest and most efficient way of translating WordPress with a plugin called TranslatePress. But before that, let's explore the reasons why you may want to translate your WordPress site.
Why translate your WordPress site?
The main idea behind having a multilingual website is to better serve your customers globally. But not all WordPress sites need to be translated. Considering the amount of effort that goes into accurate translation, you want to make sure that the entire process is worth the investment.
According to data from an Internet World Stats report, only 25.9% of internet users worldwide speak English natively. This significantly contrasts the overall percentage of websites that are in English (almost 50%). In other words, at least a quarter of sites worldwide still require translation.
But how relevant is this to your business? How can you tell if you really need to translate your site?
The best way to resolve this question is to have a clear idea of your target audience, their location, and native language. You can do this by using an analytics tool like Google Analytics to monitor real-time data from your website.
If you already have a Google Analytics account, simply navigate to Audience > Geo > Language. Here, you'll find information about the languages your site visitors are browsing your site in.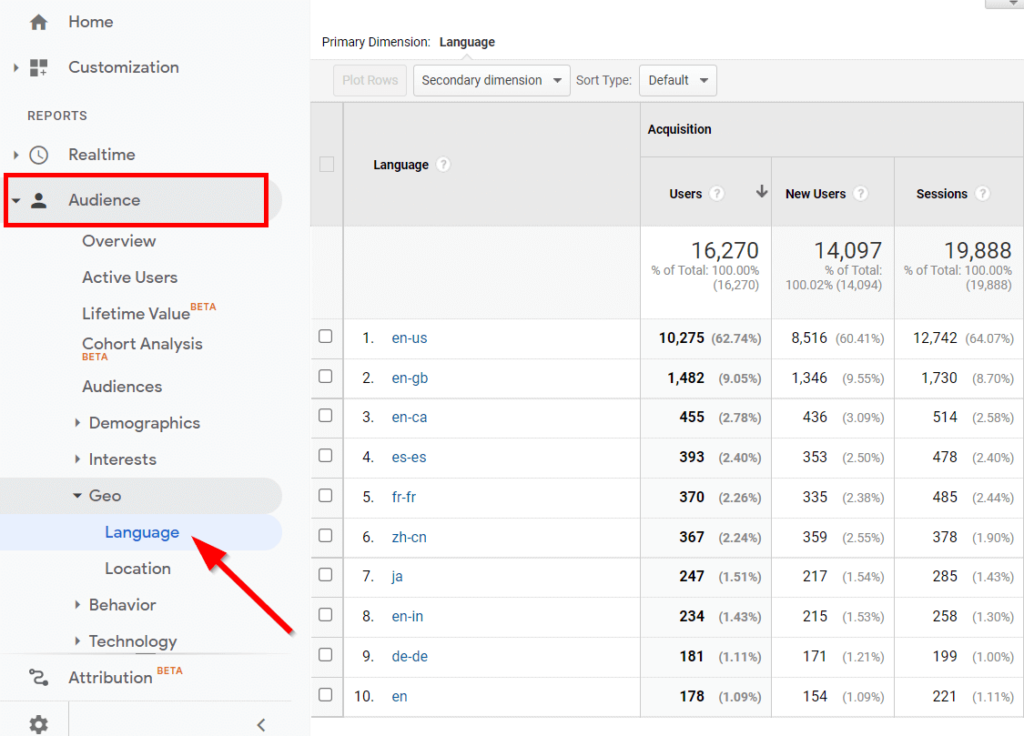 You can also check the Location tab to see where your audience is visiting your site from. This will show you the locations where people are viewing your site.
Some site visitors may currently be viewing your site in a second language. Therefore, translating your content can make your web copy more appealing to them.
For a clearer picture, here are some of the most common scenarios where business owners translate their WordPress sites:
Local business trying to increase its market base internationally.
E-commerce store that ships worldwide.
Local business running in a region with a large immigrant or international population.
Non-profit organization with a multicultural community.
Agency looking to outsource or recruit employees from other countries.
Media publishers trying to expand their reader base.
Depending on the nature of your business, there are lots of business opportunities translating your website can offer. Let's consider a few of them closely.
4 key benefits of WordPress translation
Site translation holds a lot of benefits for both site owners and site visitors. If your business is already performing well, one major way to scale up is to implement a multilingual site.

Here are some key benefits of translating WordPress.
1. Deliver a better user experience
Website copy is a major part of any website's user experience. If your site visitors can't understand the language or have to deal with poor translations, they'll most likely leave unsatisfied.
Helping customers interact with your business in their native language can give your site's user experience a major boost. This is particularly true when you ensure that the translation is accurate and communicates the right emotion to native speakers.
A good user experience will positively impact your site in multiple ways, such as increasing traffic, lower bounce rates, and providing better conversions.
2. Drive engagement, sales, and user action
If you want to get more high-quality customers to interact with your site content, translating your content can be a good start. In short, WordPress translation can help you drive more traffic. With accurate translation, you can get previously untapped markets to take purchase actions and maintain interest in your brand.
And you can take your translation efforts further by localizing your content for a particular market. Localization involves adapting everything on your site to suit — not just the language — but the region's customs, interests, and culture.
Doing this effectively often generates a high Return on Investment (ROI). For example, Pure Cosmetics Inc. were able to increase their annual profits by 3000% just by localizing their content.
3. Boost search engine optimization (SEO)
Another major reason why you may want to translate your WordPress site is to improve its SEO performance. Each time you translate your site to a new language, Google recognizes this new version of your site as unique content different from the content in your default language.
This can boost your site's ranking significantly as your pages will now rank for keywords in other languages. Also, ranking high in English Search Engine Results Pages (SERPs) can be expensive and difficult. Translating your site offers the opportunity to land on Google's first pages with less effort and expenditure.
To take full advantage of these SEO benefits, you'll need to combine site translation with a comprehensive keyword strategy. Ranking on the first page in multiple languages can boost your organic traffic drastically. It also presents a cost-effective opportunity to beat the competition without breaking the bank.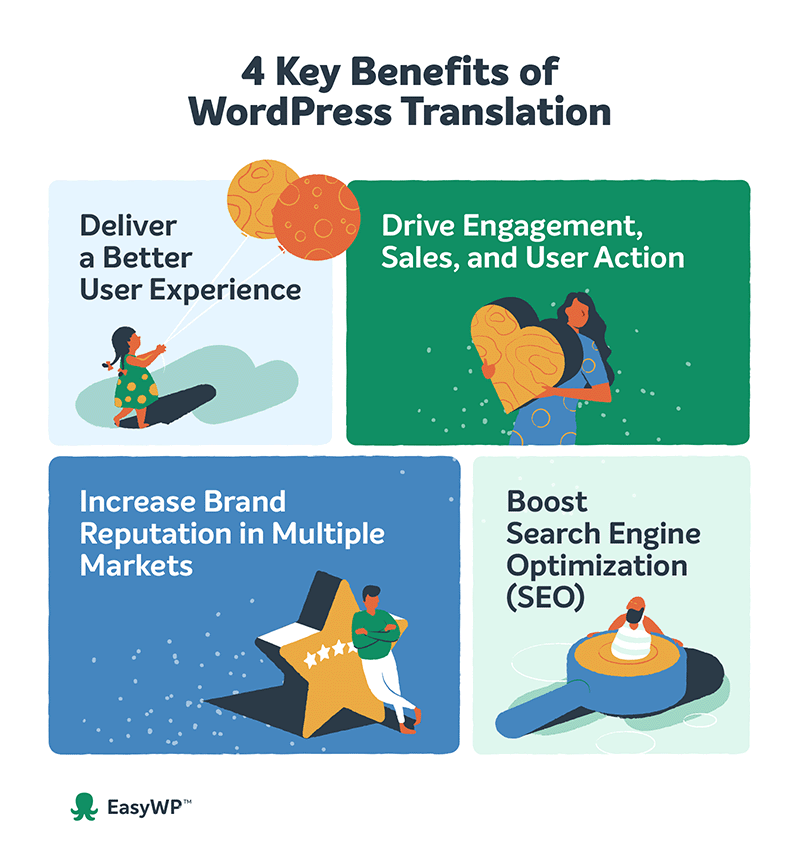 4. Increase brand reputation in multiple markets
We've already established that users feel more comfortable interacting with localized website content. You can leverage this to build trust and credibility for your brand. Adopting an effective multilingual strategy for your website portrays your business in a good light in different target markets. In addition, quality multilingual content can help you avoid possible brand misrepresentation or communication errors overseas.
Now that we know the benefits of translating WordPress, what's the best way to go about it?
Best way to translate WordPress — introducing TraslatePress
Ready to translate your WordPress site? Here are 3 of the most common ways to go about it:
Use a WordPress plugin.
Translate manually, then copy and paste.
Rely on browsers to translate automatically.
WordPress translation with a plugin is especially useful in helping you strike the perfect balance between cost and accuracy.
While manual translation with the services of a professional guarantees quality, the process can be quite time and capital-intensive. On the other hand, when you rely on browsers, you lose control over the translation users see. From experience, the chances are very high that your content will be misinterpreted and this can negatively impact your brand's credibility.
Our pick for the best WordPress translation plugin is TranslatePress. The tool presents an ideal one-in-all solution for creating any type of multilingual website in WordPress.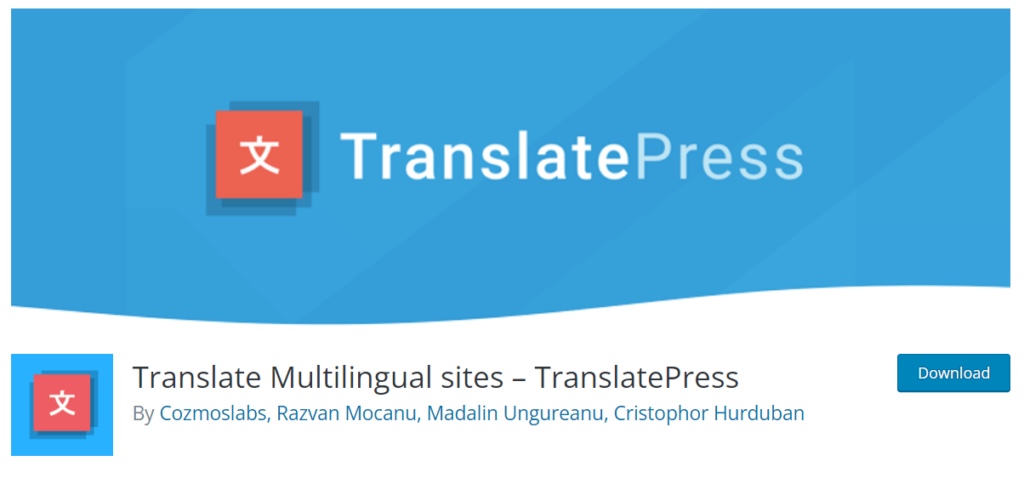 Here are some of the key features TranslatePress offers:
Automatic front-end page translation. Use a beginner-friendly interface to translate your site content and review everything live on the front-end. You can also include output from shortcodes, forms, and even page builders.
Media translation. Automatically translate images with text in multiple languages without leaving the multi-purpose translation interface. This applies to videos, sliders, and other types of media.
Customizable language switcher. Allow your users to switch between different site translations with a floating dropdown. You can add this switcher to any WordPress menu or page using a shortcode.
Compatibility with WooCommerce and other plugins and themes. Looking to translate an e-commerce site? TranslatePress works perfectly with WooCommerce themes, custom post types, and even site builders.
One of the best things about TranslatePress is that all the features mentioned above are available on the free version of the plugin.
Now, let's show you how to easily and accurately translate your WordPress site using TranslatePress.
How to translate your WordPress site in 3 easy steps
TranslatePress offers a very simple and effective way to translate a WordPress site. You can follow these 3 quick steps to create your first multilingual site.
Step 1: Install and activate TranslatePress
The first step to translating your site is to install the WordPress multilingual plugin, TranslatePress.
First, go to Plugins > Add New within your WordPress dashboard and search for 'translatepress'.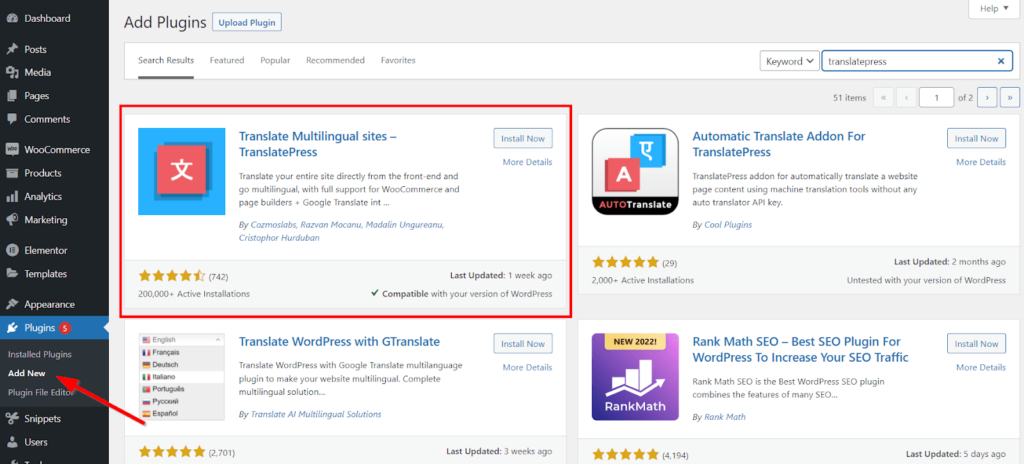 Once you find the plugin, click Install Now followed by Activate.
That's it! The plugin is now ready for use. The next step is to configure your settings.
Step 2: Configure the Language and Translation Settings
After installing TranslatePress, the plugin automatically adds a new tab to the 'Settings' menu. To tweak the necessary options, navigate to Settings > TranslatePress.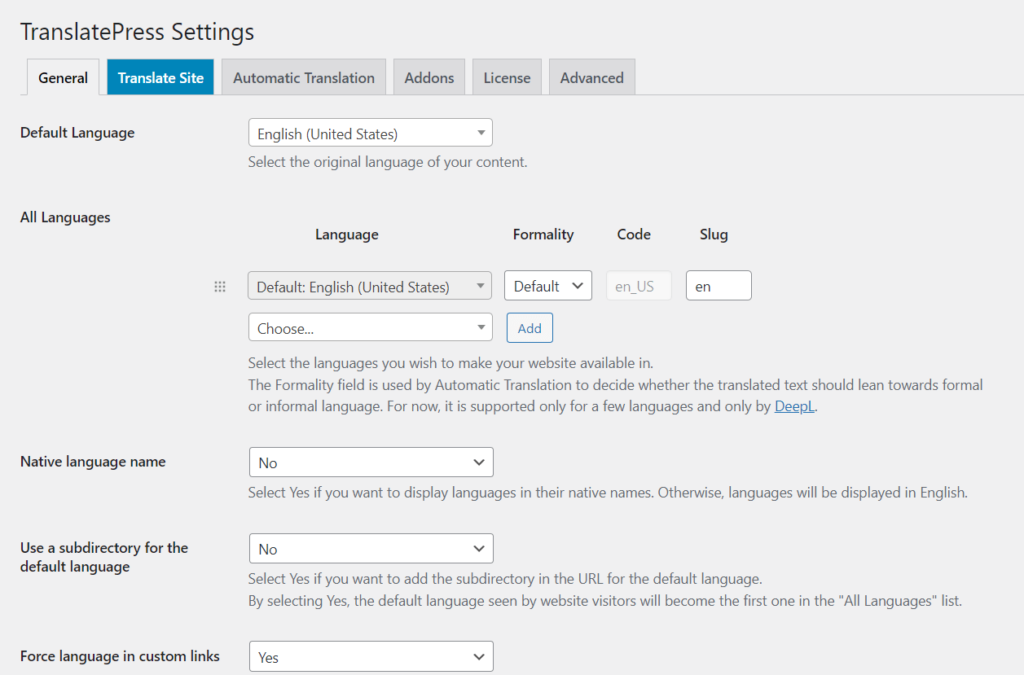 You get a number of settings to tweak here. To start with, you can configure these 3 basic options:
Choose the default and additional languages.
Set up the language switcher.
Enable or disable automatic translation.
You can select your preferred site languages in the General tab of the Settings page.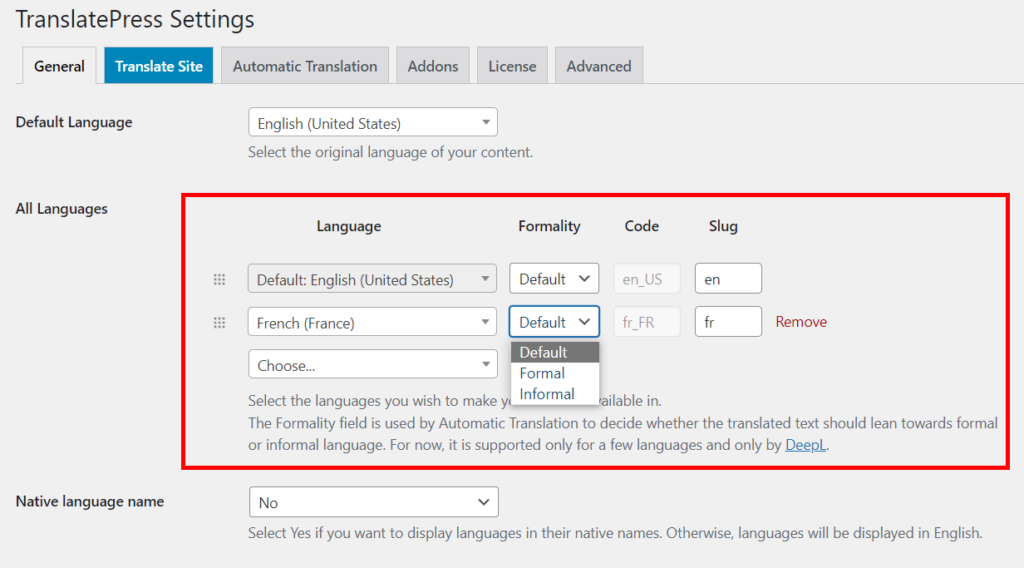 You can choose whether the translation should be informal or formal. This is particularly important if you're going to use the automatic translation feature.
Next, let's edit the appearance of the language switcher. By default, TranslatePress adds a floating language switcher to a preferred location on your site. You can edit its appearance in the Language Switcher section.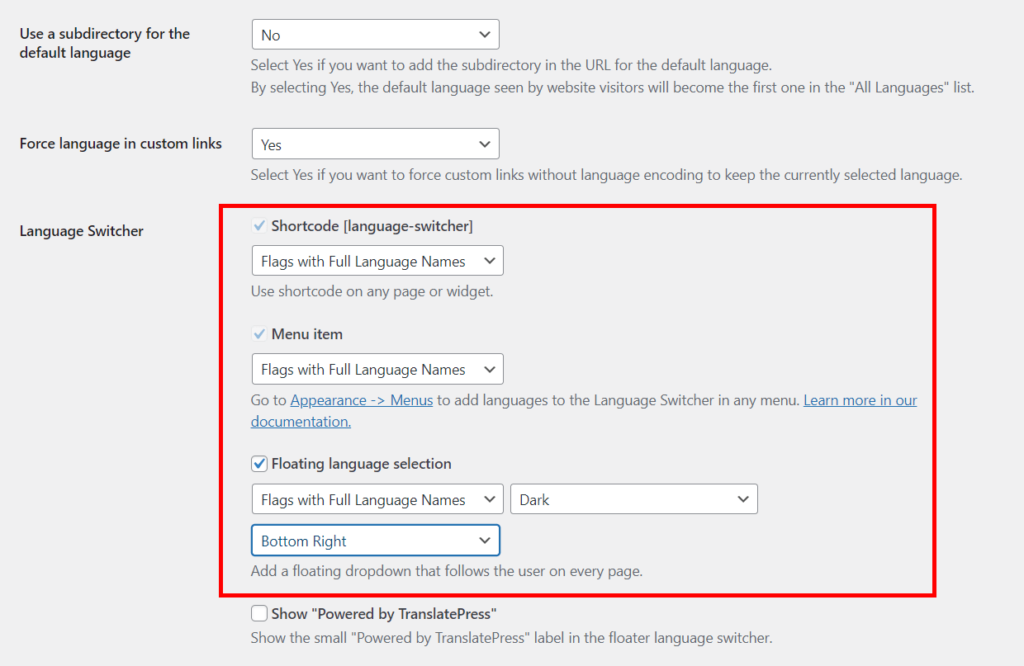 Click Save Changes so as not to lose your settings.
The third major setting to tweak is the mode of translation. You can either choose to translate your site manually or automatically. To do this, navigate to the Automatic Translation tab.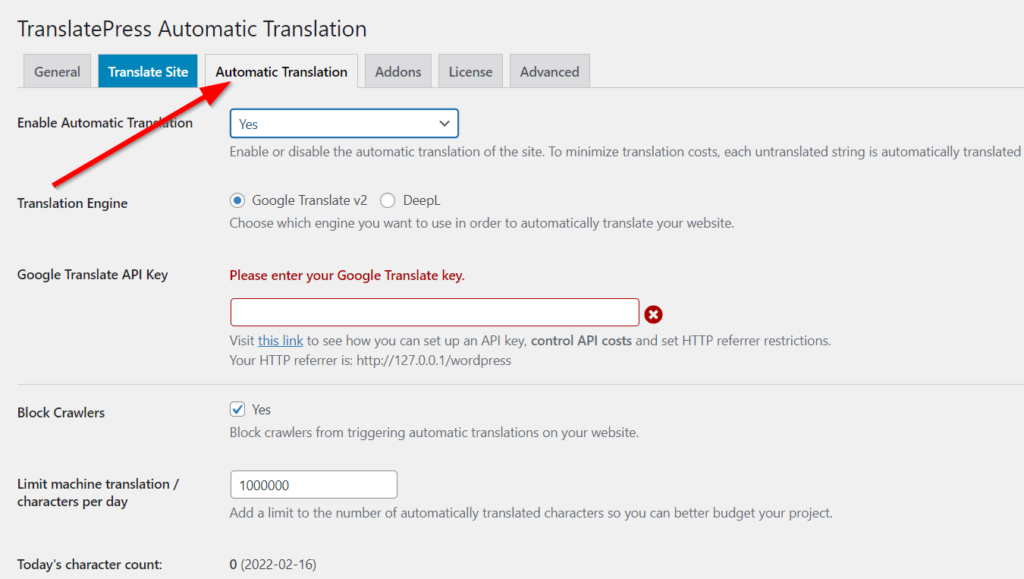 If you enable automatic translation, you get the option to use Google Translate or DeepL as your translation engine. The first option comes with the free version of the plugin, while the DeepL translation option requires a paid TranslatePress license. But no matter which service provider you choose, you'll need an API key. Here's more on how to generate one for both Google Translate and DeepL.
Step 3: Translate your site on the front-end
TranslatePress offers you a user-friendly WYSIWYG — also known as What You See Is What You Get interface to translate your WordPress content on the front-end.
Provided you're logged into your WordPress admin account, you can easily click Translate Page on any page to translate the page.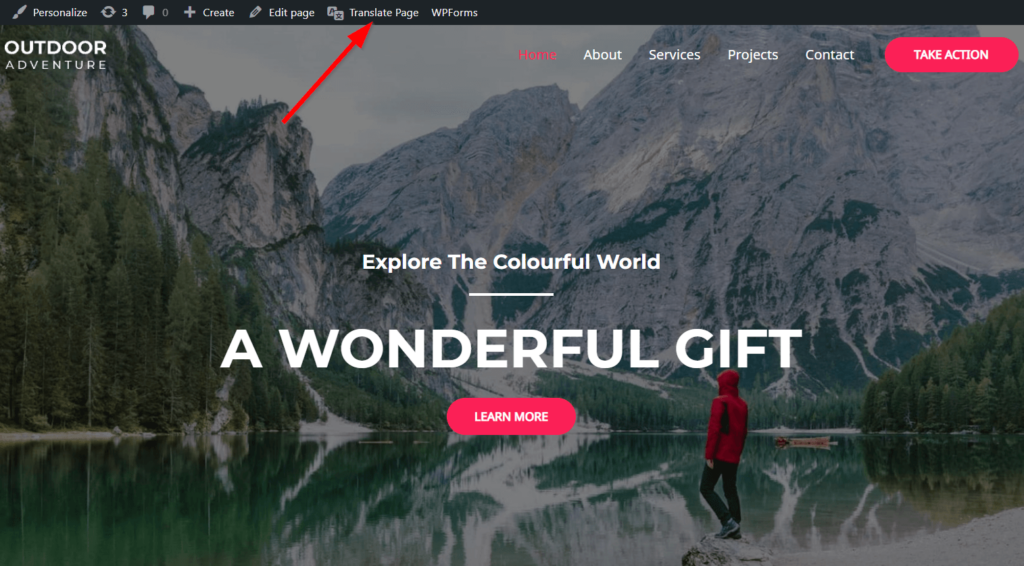 On the next page, you'll be able to select the language and the portion of your site you want to translate.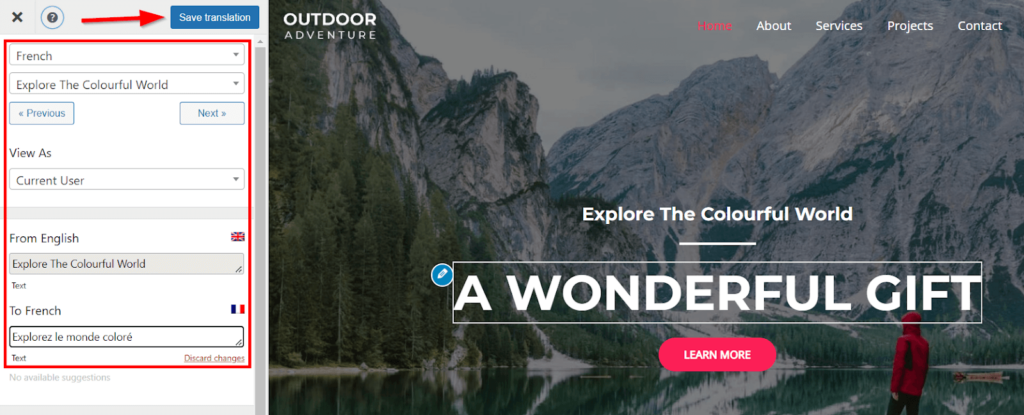 Hover your mouse over a piece of content you wish to translate and click the pencil icon that shows up. Then you can enter an accurate translation in the left sidebar, beneath the original string.
Note: If during the previous step you've chosen to enable automatic translation, you'll notice that the translation fields will be pre-filled. In that case, manually tweak them if necessary.
Finally, click Save Translation once you're done.
Now, when end users visit your site, they can easily use the language switcher to view a translated version of your site.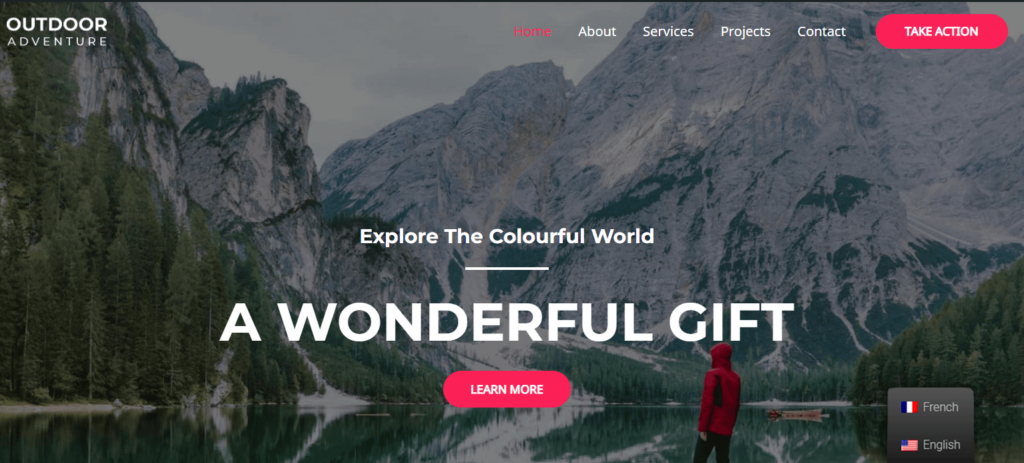 Hooray! You've just successfully translated your first WordPress site page. You can follow this same process to translate all your other site pages.
Translate WordPress the easy way
WordPress translation is a major part of any content localization strategy. Among other benefits, translating your site can help you boost its user experience, conversion rate, and SEO.
The most efficient and cost-effective way to translate your WordPress site is to use a multilingual plugin like TranslatePress. As we've demonstrated in this tutorial, the tool helps you avoid some of the major challenges common with WordPress translation.
Translating your site accurately often requires time and effort. But we hope the steps in this article will help you translate your site faster and more effectively.
---
Guest Author: Flavia Mezzetti
Flavia is the marketing manager for TranslatePress where she develops content plans and strategies, while always keeping an eye on numbers and metrics. She found her love for WordPress back in college and now, as a true millennial, she enjoys plants and tea just as much as all things digital.