How to Create a WordPress Multilingual Website (Complete Guide)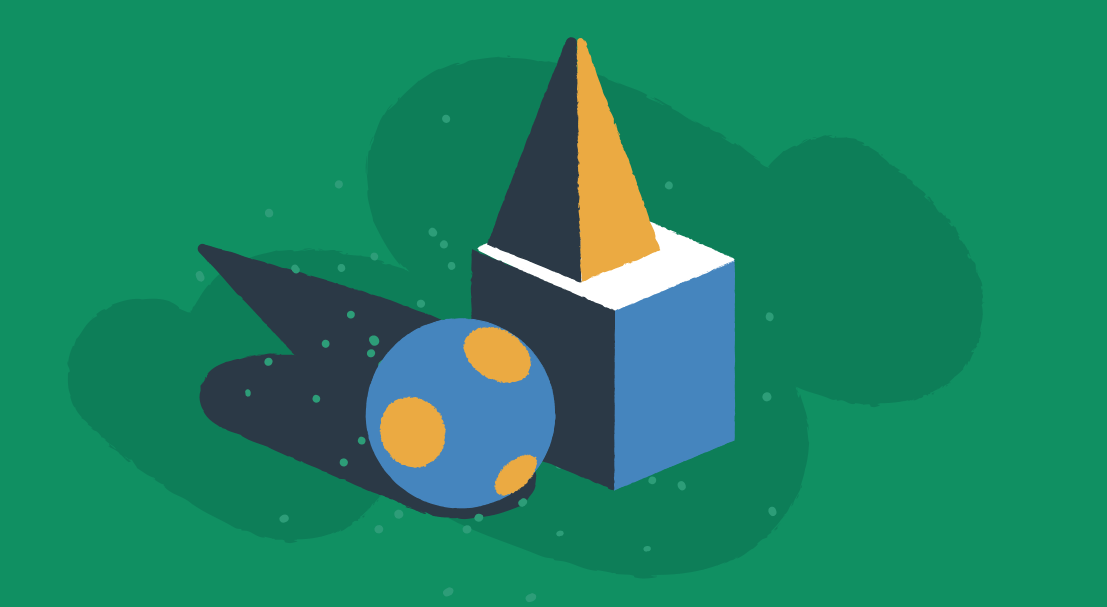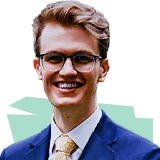 Alex Denning
03 Dec 2019
With only ~25% of the Internet's 4.3+ billion users speaking English, there's never been a better time to invest in a WordPress multilingual website.

Going multilingual improves your site's user experience and expands your potential audience. What's more, because so many webmasters are going multilingual, you can find some great WordPress translation plugins that allow even non-technical users to translate their WordPress sites.

However, while the translation process is surprisingly non-technical, translating your WordPress site is still a big undertaking, so you'll want to make sure you choose the right tool and create a plan that sets you up for success.

To help, we've created this complete guide to creating a multilingual WordPress site. You'll learn:
Two big benefits to translating your site
Five key considerations before you start translating your site
Three of the best WordPress translation plugins
Step-by-step guide to translate your site using one of the simplest multi language plugins
Two Big Benefits of Creating a WordPress Multilingual Website
Creating a multilingual WordPress website is an investment, but it's one that can offer some big payoffs when it comes to improving your site's user experience and expanding your audience.

Let's go through those two big benefits in more detail…
1. Reach More Visitors With Multilingual SEO
When most people think about search engine optimization (SEO), they think about optimizing their site to rank for keywords in their site's default language.

But here's the thing about search engines:

People typically search in their native language, which means there are tons of people interested in exactly what your site offers…they're just searching for those ideas in a different language.

By translating your site into new languages, you're able to reach that search audience in Google, which expands your visibility and gives you a chance to generate more traffic without creating "new" content (instead, you're just translating your existing content into new languages).
2. Create a Better User Experience by Offering Visitors' Native Languages
Beyond helping you connect with new visitors in search engines like Google, creating a WordPress multilingual site can also help you enhance the user experience for your existing visitors.

See, the vast majority of people prefer to browse the web in their native language…when available. According to a Gallup survey, 90% of respondents prefer to use a website in their native language if possible and 45% just won't use websites in languages other than their own.

What's really important to remember, though, is that you might have a multilingual audience even if you only target a specific geographic area. For example, the US Census Bureau estimates that 44.6% of Californians age 5+ speak a language other than English when at home.

So even if you're only targeting the USA, you still can improve your site's user experience by offering your content in multiple languages.
Five Important Considerations for Creating a WordPress Multilingual Website
Before you start translating your website, there are some important issues that you'll need to consider. Reading through the five considerations below will help you pick the best WordPress translation plugin for your needs and set you up for success once you start translating your website.
1. Decide Which Language(s) You Want to Offer
While a good WordPress translation plugin can simplify things, creating a multilingual website is still an investment.

As with any investment, you'll want to put your time and effort into the areas that offer you the best return.

To put it in terms of a multilingual website:

In a perfect world, you'd translate your site into every language to offer full coverage. But in the real world, you want to carefully choose the languages that your visitors (or potential visitors) use most often.

You know your audience and markets well, so you probably already have a good idea of which languages to offer, but it never hurts to verify things with data, right?

Here are two tips to help you pick the right languages to offer:

First, you can use the Languages report in Google Analytics to learn which languages your current visitors prefer. If you see a lot of visitors with one language, that's a good sign you might want to offer that language: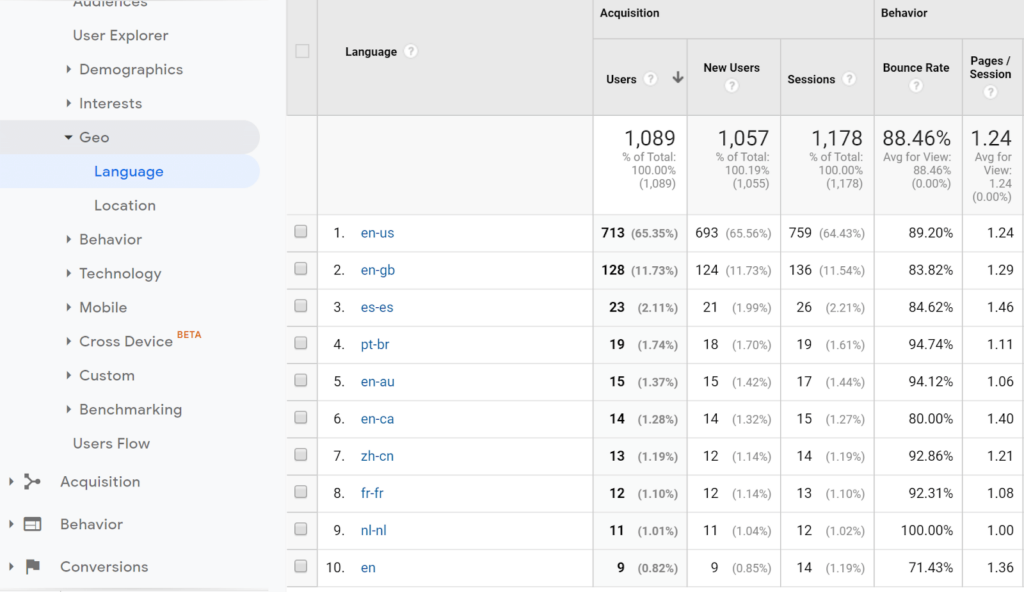 Second, if you're focused on multilingual SEO, you can also use keyword research tools to figure out which languages generate the most search volume around your topic. For example, KWFinder lets you filter by both geographic area and language, which makes it great for multilingual SEO keyword research.
2. Think About How You Plan to Translate Your Website
When it comes to actually translating your website's language content, there are two approaches:
Manual translation – you go through and translate all of your content yourself. Or, you hire a translator or outsource your content to a professional translation service.
Machine translation – you automatically translate your site – kind of like how Google Translate works.
Machine translation offers the simplest, least time-consuming approach. But, while machine translation has improved a lot, it still cannot guarantee 100% accuracy.

Manual translation requires a bigger time (or money) investment, but it lets you 100% guarantee that your translations are perfect.

Some translation plugins focus on manual translation, while others focus on machine translation. You'll want to make sure that your chosen tool can handle your preferred approach.

If you want the best of both worlds, some WordPress translation plugins also let you use both methods. That is, you can start by automatically translating your content with machine translation. Then, you can go back and manually edit those translations if needed.
3. Pay Attention to Multilingual SEO
While a big part of multilingual SEO is just taking general SEO principles and applying them to a new language, there are some important SEO features you'll want to look for when you choose a WordPress translation plugin.

The most important consideration is the indexability of your translated content.

If you want Google to be able to rank your content in new languages, you need a static version of your site for each language that Google can crawl and index.

However, some popular translation plugins at WordPress.org just dynamically translate your content, rather than creating a new page for each language. While that's good for simplicity, it's bad for SEO.

Instead, Google recommends using a subdomain or a subdirectory for each language. For example, fr.yourwebsite.com/content or yourwebsite.com/fr/content.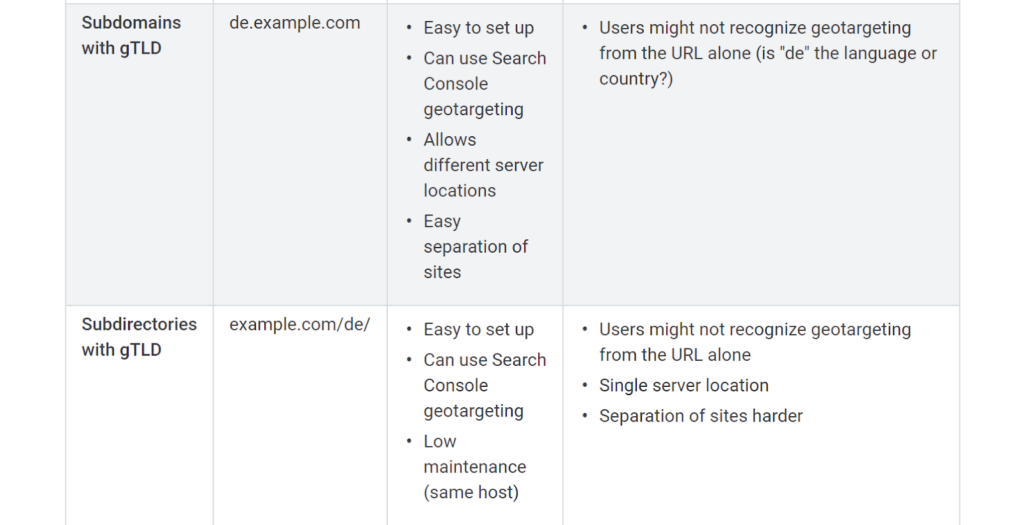 Beyond that, you'll also want to look for a tool that helps you implement:
hreflang tags
Multilingual sitemaps
And you'll also want to make sure you can translate behind-the-scenes SEO content like:
SEO titles and descriptions from Yoast SEO or other SEO plugins
URL slugs
Social media metadata
4. Don't Forget About Theme and Plugin Content
Most WordPress translation plugins make it easy to translate content from the WordPress editor. However, there's more to creating a WordPress multilingual site than just editor content. You also have to consider:
WordPress theme content (navigation menus, widgets, etc.)
WordPress plugin content
For example, if you're running an eCommerce store powered by WooCommerce, it's essential that you're able to fully translate your WooCommerce products. Or, if you're using a page builder WordPress plugin to design your site, it's important to be able to translate page builder content.

Some WordPress translation plugins offer full compatibility with all themes and plugins out of the box, while others require you to look for special compatibility if you want to offer comprehensive translations.
5. Think About Other Aspects of Localization
If you're translating your website to connect with a global audience, there's more to localizing your website than just offering it in different languages.

For example, if you're running an eCommerce store powered by WooCommerce, you'll want to also offer your products in each visitor's local currency. Or, you might want to localize recommendations, rather than just translating the text word-for-word.

Some aspects of localization (like prices) might require additional plugins.
The Best WordPress Multilingual Plugins: Three Options
There are a lot of WordPress translation plugins, but the three plugins below are some of the most popular and well-rated solutions.
Weglot
Weglot is a freemium WordPress translation plugin that simplifies the process of creating a multilingual WordPress site by applying automatic machine translation.

As soon as you activate it, Weglot uses machine translation to translate 100% of your site, including any content from your theme or plugins. Then, you can always go back and manually edit your translations using the simple Weglot interface. Or, Weglot can also help you outsource your translations straight to professional translation services.

To help visitors choose their preferred language, Weglot automatically adds a front-end language switcher, or you can also automatically redirect visitors based on their browser language.

Finally, all of your translations are SEO-friendly and fully indexable, so you'll be ready to benefit from multilingual SEO right from day one. Weglot uses subdirectories for each language, which is one of Google's recommended methods. It also automatically adds the hreflang tag and lets you translate SEO metadata.

Weglot offers a limited free plan. After that, Weglot's paid plans start at just €9.90 per month for up to 10,000 words and 20,000 translated page views. However, thanks to EasyWP's built-in caching, you can have a lot more than 20,000 pageviews because Weglot doesn't count cached pageviews against your limits!
WPML
WPML is one of the oldest WordPress multilingual plugins out there.

WPML offers a comprehensive approach to translation, letting you translate theme and plugin strings alongside content from the WordPress editor. You'll need to specifically look for WPML compatibility in the themes and plugins that you're using, but most popular WordPress themes and plugins are compatible with WPML.

Like Weglot, WPML helps you create SEO-friendly versions for each language. You even get a little more choice, with the option to choose between subdirectories, subdomains, or separate domains for each language.

Originally, WPML only supported manual translation. However, a recent release added support for automatic machine translation with two small caveats:
You can only translate one piece of content at a time.
You can only use machine translation for content in the editor – not theme or plugin strings.
WPML also includes tools to help you outsource your translations to freelancers or professional translation services, as well as WordPress multisite support

WPML starts at $29, but most webmasters will want the $79 Multilingual CMS package as it's required to fully translate your site.
Multilanguage by BestWebSoft

Multilanguage is a simple freemium WordPress translation plugin from BestWebSoft that helps you manually translate your WordPress site. It also includes an option to add a Google Auto Translate button, though this latter approach isn't SEO-friendly.

The free version will help you translate your posts, pages, and parts of your menu. And then if you upgrade to the premium version, you'll also gain the ability to translate custom post types, taxonomies, widgets, and other areas of your website.

Multilanguage helps you add front-end language switchers as navigation menu items or widgets, and the Pro also lets you automatically redirect visitors to their local language based on their IP address.

The premium version of Multilanguage starts at $32 for one year of support and updates.
How to Create a WordPress Multilingual Website: Step-by-Step
At this point, we've covered a lot of the theory on how to translate your WordPress site. To finish things out, we'll get a little more technical and show you the actual step-by-step process you can follow to translate your site into different languages.

For this tutorial, we'll use the Weglot translation plugin mentioned above as it offers the simplest setup process. The other plugins use a slightly different approach and require you to translate your content piece-by-piece.
1. Activate Weglot and Choose Languages
To get started, you'll want to:
Then, go to the new Weglot area in your WordPress dashboard and:
Enter the API key from the Weglot dashboard in the API Key box.
Choose your original language, which is the default language that your site is currently written in. For example, English.
Choose one or more destination languages, which are the new languages into which you want to translate your site's content. For example, Spanish or French.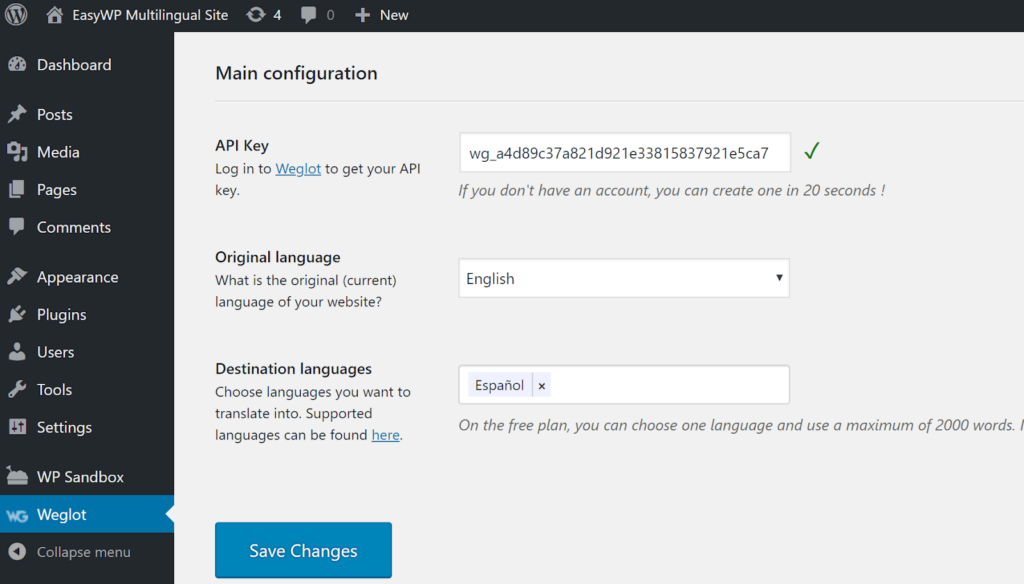 Once you click Save Changes, Weglot will use machine translation to automatically translate your entire site. You can head to your homepage to see your translations: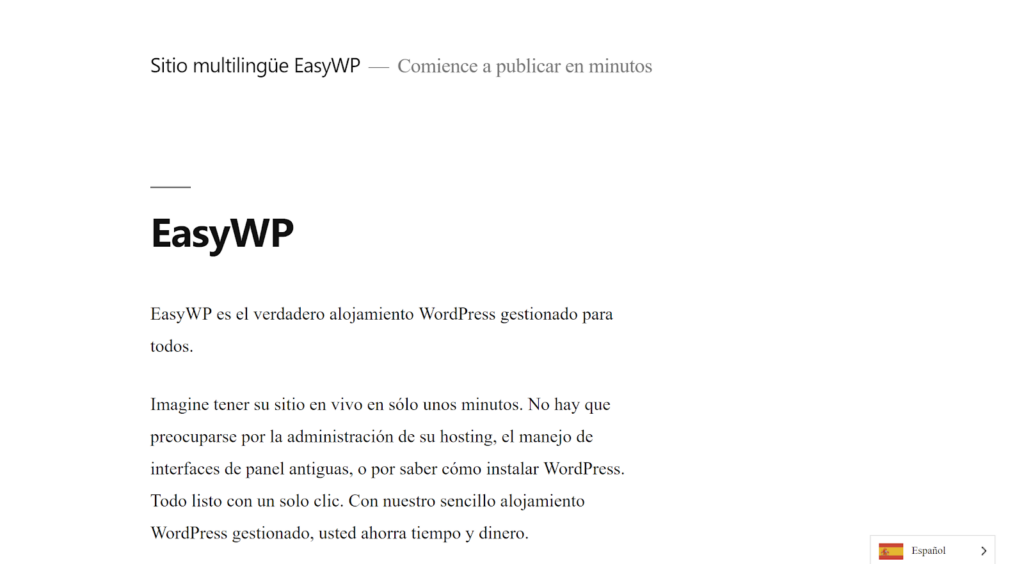 2. Manually Refine Translations (If Needed)
At this point, you have a working WordPress multilingual website using machine translation.

However, there's a good chance that you might want to manually edit some of the automatic translations, especially for your most important pages.

To do that, you can use the Weglot cloud dashboard, which provides you with two different interfaces to manage your multilingual content. Both interfaces let you manage 100% of your translations – the only difference is how you interact with your translations.

First, you can use the backend translations list interface, which gives you a side-by-side look at the original text and the translated version:

You can also use the search and filter options to find specific text strings and outsource translations straight to professional translation services.

Second, you can use the visual editor, which offers a more interactive translation process.

With this editor, you'll work on a live preview of your website. To edit any translation, all you do is hover over the text you want to translate and click the green pencil icon: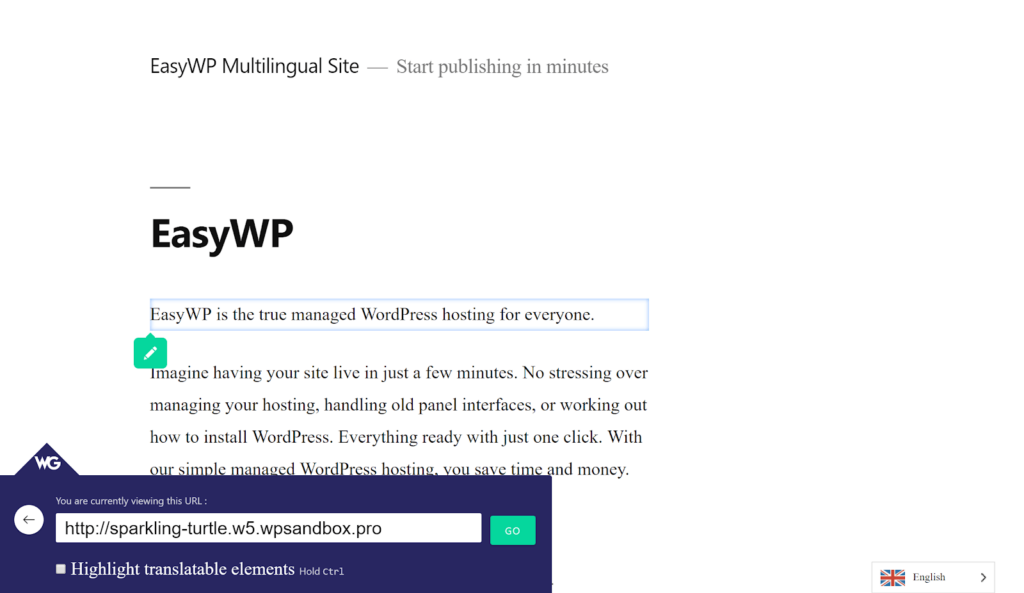 That will open a popup where you can make your changes: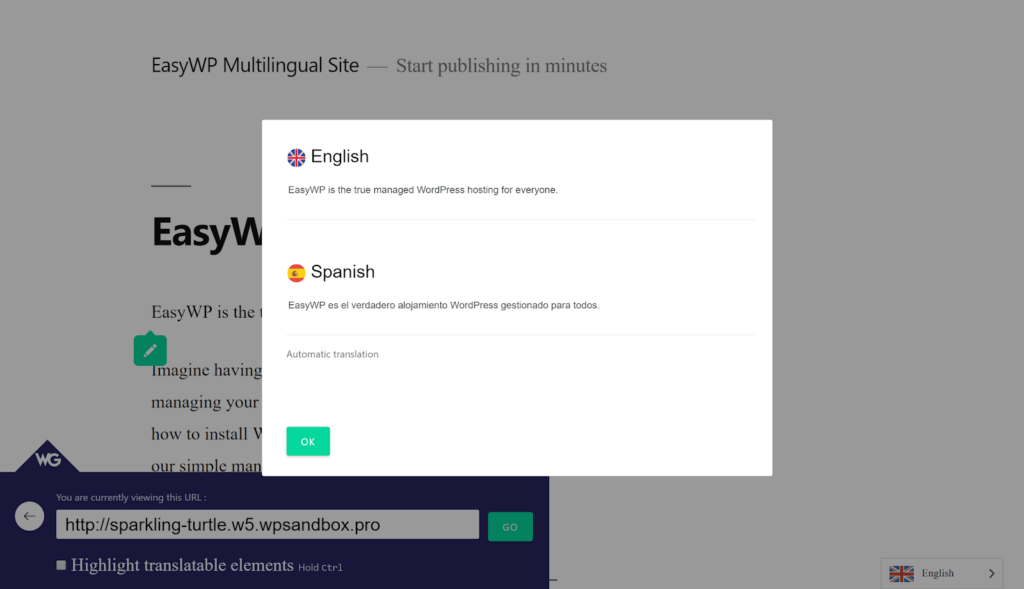 Whenever you make a change in either interface, that change will automatically sync with your live WordPress website.
3. Configure Language Switcher and Automatic Redirect (Optional)
By default, Weglot adds a front-end language switcher to the bottom-right corner of your website to help your visitors choose their preferred language.

If you'd prefer a different location, Weglot supports four other language switcher placement methods:
In your navigation menu, either as a drop-down or separate menu items.
In any widget area via a dedicated widget.
As a shortcode in any text editor.
With a <div> that you add directly to your site's code.
You can also configure some style and functionality options in the Weglot area of your dashboard: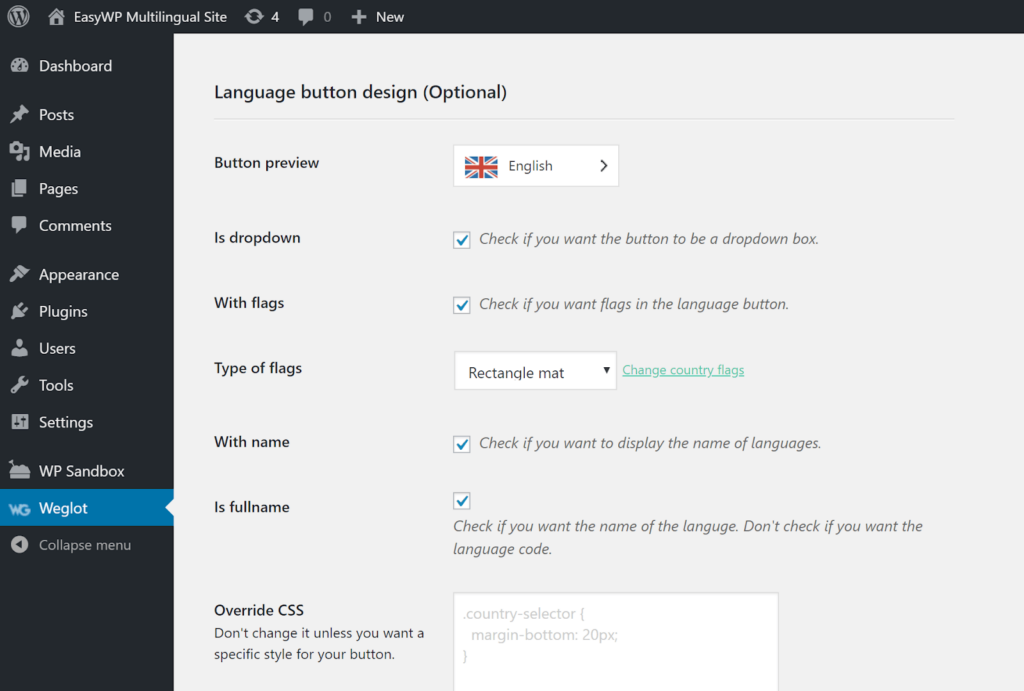 In addition to the language switcher, Weglot can also automatically redirect visitors to their preferred language based on their browser language.

And that's it! You just created a working WordPress multilingual website – congrats!
Create Your WordPress Multilingual Website Today
Creating a WordPress multilingual site requires some time and planning, but going multilingual can offer a big return on your investment when it comes to reaching new audiences and offering a better user experience.

Before you start translating your WordPress site, you should spend some time thinking about important issues like:
Which languages to offer (based on data)
Whether you want to use machine or manual translation (or both)
Multilingual SEO considerations
Whether you rely on content from your theme and plugins which also needs to be translated
If there are other aspects of your website that need to be localized (beyond language)
From there, you can choose one of the quality WordPress translation plugins based on your needs:
Weglot – an easy-to-use tool that supports automatic and manual translation and will have you up and running in minutes. Weglot is the tool we used for the tutorial.
WPML – an established plugin that now offers automatic translation on a piece-by-piece basis.
Multilanguage – a simple plugin that supports manual translation. Just remember you need the premium version to fully translate your site.
Invest in your WordPress multilingual website today and start reaping the benefits!