What is keyword rank tracking? 7 tips for maintaining SEO success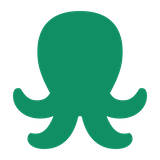 EasyWP Team
13 Apr 2023
Did you know that keyword rank tracking is essential for maintaining SEO success? While Google's algorithm changes daily, keywords remain a reliable tool for both organic and paid search traffic.
Staying on top of which keywords your website ranks for can help you reach the top of search engine results pages (SERP). Keyword rank tracking allows business owners and marketers to monitor their rankings over time, ensuring they get enough value from their content investment.
In this article, we'll explain what keyword tracking is and share 7 tips that will help you maximize your SEO success.
So what is keyword rank tracking?
Put simply, keyword rank tracking is the process of monitoring how well your website ranks for specific keywords on Google and other search engines. It's used to help measure the effectiveness of an SEO campaign and to identify areas of improvement.
Regularly checking your keyword ranking as part of your website maintenance routine lets you stay up-to-date with how your website performs in the SERPs.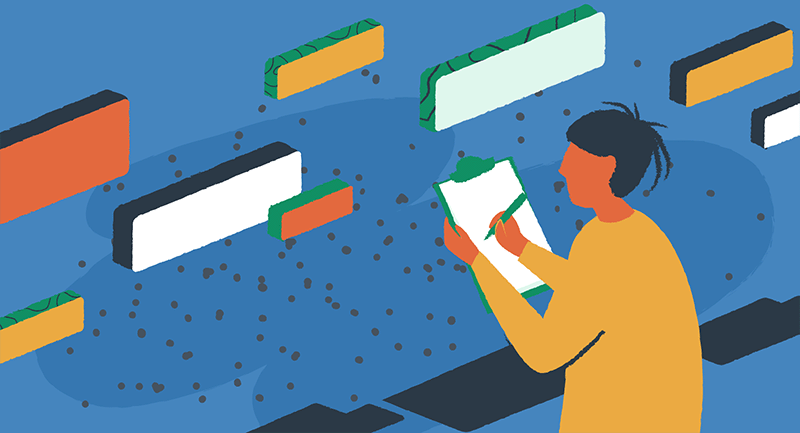 When tracking keyword rankings, you'll want to know where your pages rank for targeted keywords and how those rankings change over time. You can use this information to determine which pages need more optimization or additional content to increase their visibility in the search results.
Tracking your keywords is vital for your website because it:
Allows you to monitor your website's visibility in SERPs.
Helps you identify which keywords are performing well and which need improvement.
Lets you track your competitors' rankings to stay ahead of them.
Provides valuable insights into how users search for your content, products, or services.
Helps you optimize your website for better search engine rankings.
Let's now explore our 7 tips for tracking your keyword rankings.
Tip 1: Track your keyword rankings regularly
Staying ahead in the digital space can often feel daunting, but one effective method to help streamline your efforts is by regularly tracking your keyword rankings. Paying close attention to your keyword performance allows you to measure the progress of your search engine optimization (SEO) efforts and helps you identify areas where you can improve your overall online presence.
In an era where search engine algorithms are constantly evolving, it's essential to adapt and optimize your keywords to remain competitive. By making this practice part of your marketing strategy, you can gain invaluable insights, better understand user intent, and drive more organic traffic to your website.
The most effective way to optimize your keywords is to use rank tracking software, which we'll touch on later. Rank tracking software will automate the process for you, and you can receive hourly, daily, or weekly updates. Plus, you can get alerts to keep you on track!
Tip 2: Research your competitors' rankings
By researching your competitors, you'll gain insights into their overall SEO strategy. You can see what kind of content they're creating, how it's being optimized for search engines, and what kind of backlinks are being built. This information can help inform your SEO strategy so you can gain a competitive edge..
Some of your competitors may use keywords you haven't considered before. Or, they might be ranking for terms or phrases you've failed to target. By researching the search engine results pages and analyzing your competitors' strategies through a Google scraper like the one available from DataForSEO, you can gain invaluable insights that can help boost your own website's rankings.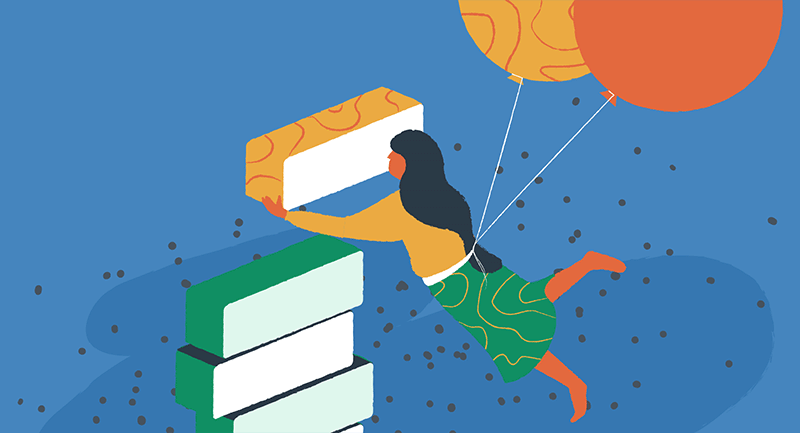 Site ranking information is beneficial if you're just starting out with SEO or launching a new website, as it helps you identify what keywords are working for others in your niche and how you can use them to improve your own rankings.
Tip 3: Identify the right keywords to monitor
One of the best ways to identify your existing keywords is to look at your analytics data. By checking your website's organic search performance, you can get an idea of which terms are already ranking on the SERPs, their average position, and which are driving traffic to your website.
Keyword monitoring steps
Identify existing keywords
The first step in keyword monitoring is identifying the existing keywords you want to monitor. To do this, you can use various tools, such as your Google Search Console and Google Analytics.
Enter your target keyword
Put in your target keyword, and you'll get a list of related search terms that people use when looking for your product or service. This will help you identify which keywords to prioritize and target in your SEO efforts.
Optimize page titles and meta descriptions
Once you've identified the right keywords and tracked their performance, it's time to optimize them further. This includes optimizing page titles and meta descriptions with targeted keywords and creating content hubs around those topics.
By doing this, you will be able to maximize the performance of your chosen keywords and drive more organic traffic to your website.
Don't worry too much about keyword ranking positions. Many of your lower-ranked keywords could bring in more traffic than the higher-ranked ones.
You'll also be ranking for many keywords (potentially hundreds) that you're not optimizing for!
Tip 4: How SEO audits can improve keyword ranking
An SEO audit is an integral part of any digital marketing strategy. It helps to identify errors and opportunities that can prevent your website from performing well in search engine results. By completing a thorough SEO audit, you can improve your keyword ranking and ensure your website is optimized for search engines.
The process of an SEO audit involves evaluating various elements of a website, such as technical issues, content, on-page optimization, and link building. This helps to identify areas where improvements are needed and allows you to make changes accordingly.
Surfer SEO is packed with features like keyword research, competitor analysis, content strategy, and link-building support. This makes it the perfect platform for quick and easy SEO audits.
Ahrefs, on the other hand, is for a more technical audit, and you can use their excellent free version for this too. Here is a screenshot of an Ahrefs audit: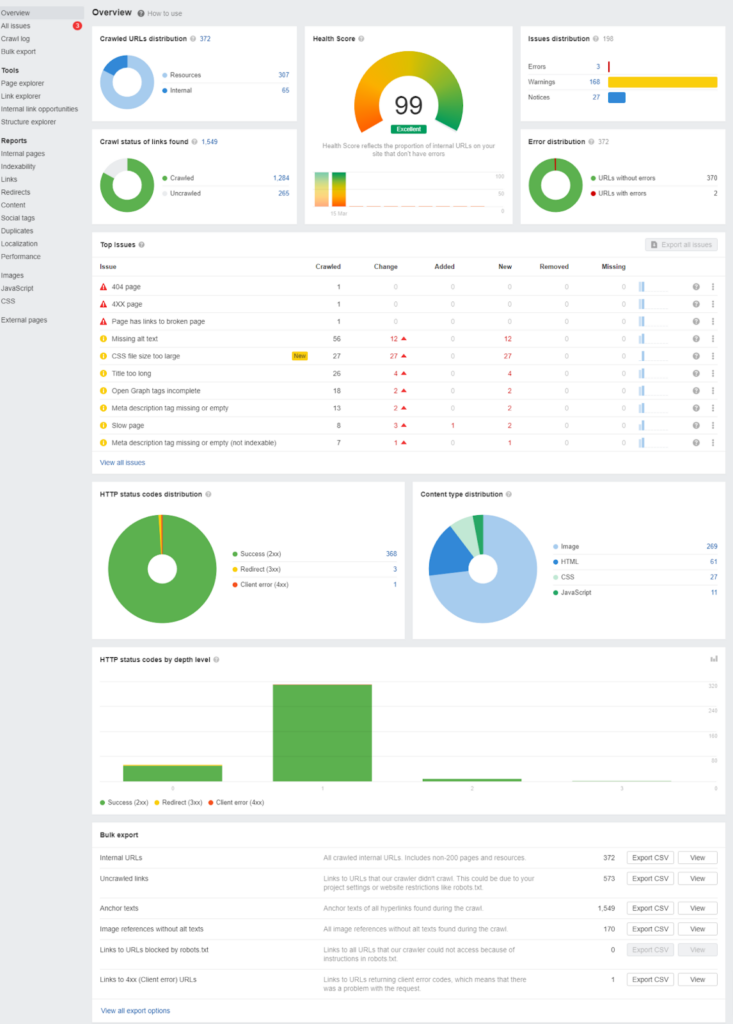 When conducting an audit yourself, it's important to look at the website's overall structure. This includes checking for broken links, ensuring all pages are indexed correctly, and ensuring all images have appropriate alt text. Review each page's content to ensure that it's relevant and contains keywords related to the page's topic.
On-page optimization is also essential when performing an audit. This includes optimizing titles and meta descriptions for each page and creating internal links between related pages on the site. You should also review existing backlinks and create new ones to improve keyword rankings.
Tip 5: Consider search intent
The importance of search intent cannot be underestimated, but marketers can get it wrong. It refers to the reason why a user types a particular query into a search engine. Understanding this helps marketers deliver more relevant content and create better user experiences.
For example, if someone searches for "how to make a cake," they likely want to learn how to bake one. In this case, the intent is informational. On the other hand, if someone searches for "buy cake online," their intent is transactional, and they are looking for somewhere to purchase a cake.
Think about how you search so you can put yourself in the searcher's shoes, so to speak. Look at your keyword's top ten ranking results to see their headlines and intent so you get an idea of what Google is ranking.
Awareness of search intent helps you create content that is more likely to be shown in the search results, as it answers users' questions and gives them what they're looking for. Your goal is to end the search on your site, so they don't click back and look for another.
This signals to Google you have met their intent, and your site is more likely to be viewed as an authority and ranked higher.
Tip 6: Focus on quality content
Quality content means fresh, informative, well-written, and engaging content.
Google rewards websites that offer valuable information to visitors, so if your content meets these criteria, you have a better chance of being on the first page of results. Content should be regularly updated as search algorithms are constantly changing, and old or outdated content may not rank as highly as it did before.
Always remember to refresh your old content, so you can add new and up-to-date information that will help engage your readers and boost your rankings. Maybe you could change the meta description, try a new headline or add 100 words or so to make it more relevant.
Custom images instead of stock photos are a great way to make your content stand out from the crowd and are more Google-friendly. You could try using a free tool like Canva or one of the many AI image generators which convert your text into unique images.
When creating content, focus on relevant topics that provide value to your audience. Make sure that all the information is accurate and up-to-date, and use proper formatting such as heading tags and bold font to make the text easier to read.
Including keywords in your content is also essential, as they help search engines understand the context of your pages. However, don't overuse them! Instead, focus on providing quality content and organic keyword placement.
Tip 7: Use keyword rank tracking software
These tools help to automate your keyword tracking, giving you the latest accurate data and saving you hours of your time. While the free ones are a good start, getting paid software is best if you're serious about ranking.
Many keyword tracking tools are available on the market today, and these are some of the best. You need to decide which one will best suit your needs as they all offer a comprehensive service. Here is a brief summary of them:
SE Ranking is an all-in-one SEO platform that provides comprehensive keyword ranking data and features like website audit and backlink analysis.
Semrush is a powerful tool for researching competitors' keywords and understanding their strategies. It also offers position tracking, backlink analysis, social media analytics, and more.
Mangools is an easy-to-use keyword rank tracking tool that provides detailed data on SERP positions, competitor analysis, and backlink monitoring capabilities.
All of these can be customized, so you get the reports most relevant to you. Plus, you'll get regular updates, which are invaluable to your marketing efforts.
Reach potential customers with keyword strategies
So there you have it, our 7 tips to improve your website's keyword ranking, increase your traffic, and boost your profits. If you follow these steps for maintaining SEO success, you can get your website and its content in front of more people and increase the chances of gaining more customers.
Remember that keyword research and the right software are key, along with creating quality content that meets user needs. With these SEO strategies, you can help your website stand out from the competition. Next, check out our beginner's guide on how to improve your search ranking with WordPress SEO.
---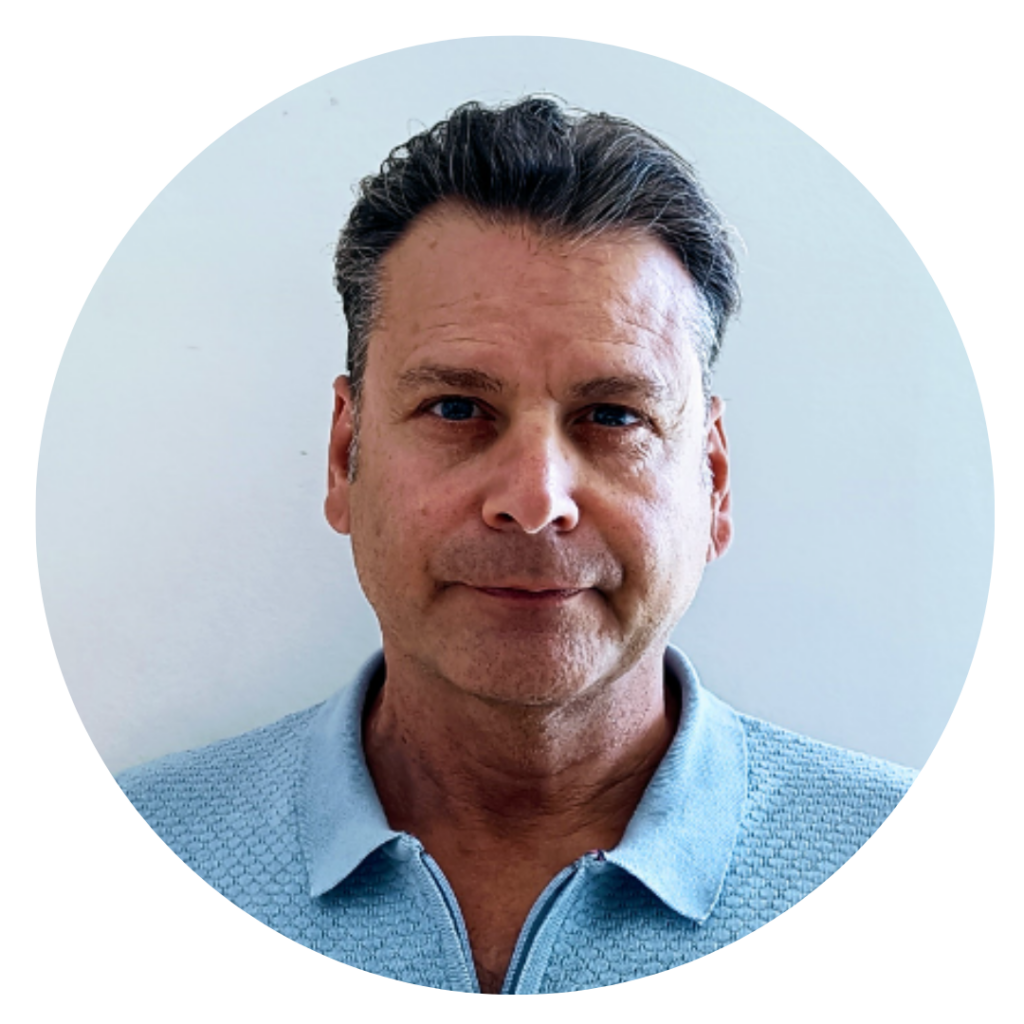 Guest Contributor: Ric Hawkins
Ric Hawkins is a content marketing and SEO specialist, and you can currently find him working with SEO audits and writing content for his clients.