EasyWP outperforms HostGator and other major WordPress hosting three years running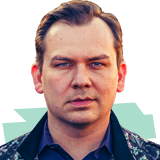 Rodney Brazil
29 Aug 2023
When it comes to WordPress hosting, finding a reliable and high-performing provider is essential for the success of your website. In the competitive landscape of hosting services, EasyWP by Namecheap has emerged as a top-tier contender, consistently outperforming major players like HostGator, Cloudways, and others. With our focus on optimized and managed WordPress hosting, EasyWP is now a firmly established provider in the industry.
EasyWP by Namecheap's top-tier performance
Year after year, EasyWP hosting has proven its mettle by securing top-tier rankings in the WordPress Hosting Performance Benchmarks conducted by Review Signal. These independent tests evaluate various performance indicators, including load speed, uptime, and SSL encryption strength. In a category featuring over 20 hosting services priced under $25, EasyWP has consistently earned recognition as a top-tier provider, solidifying its position as a leader in the industry.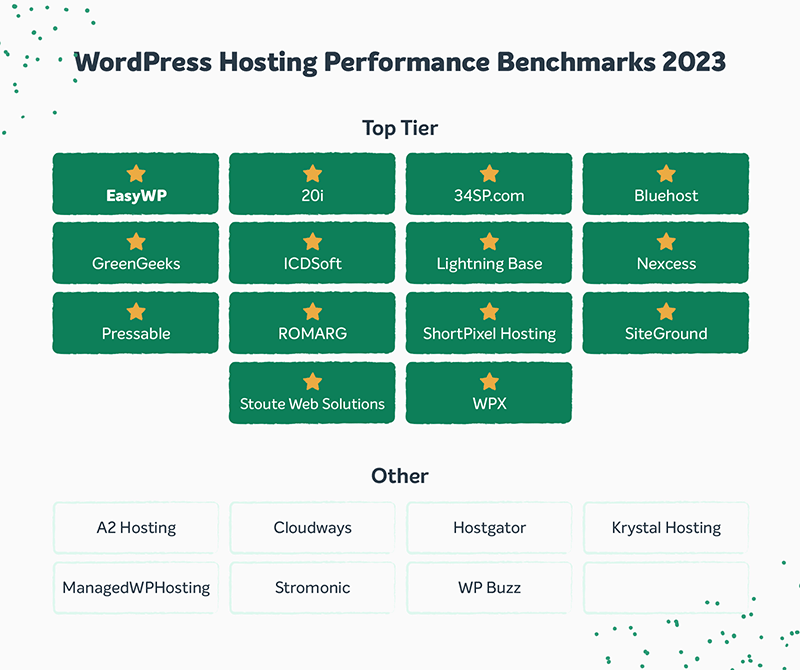 Rigorous testing methodology
Review Signal's testing methodology is designed to provide an objective assessment of hosting performance. LoadStorm and K6, two reputable load testing services, are utilized to simulate real-world conditions and measure how well hosting services respond under stress. Additionally, uptime monitoring ensures the consistency and reliability of the servers. To ensure a fair comparison, Review Signal emphasizes that hosting packages are evaluated in their default configurations, with minimal performance enhancements enabled.
LoadStorm: real-world performance testing
The LoadStorm test plays a crucial role in evaluating the performance of WordPress hosting services. By simulating the browsing and logging-in processes of actual users, LoadStorm measures how well a hosting service handles peak requests, average requests per second, and response times. During the tests, EasyWP consistently outperformed competitors, showcasing the ability to handle high-traffic loads without compromising performance. In contrast, some providers experienced slowdowns and increased response times under similar conditions.
Uptime: reliability and consistency
One of the key factors in determining the quality of a hosting service is uptime, which refers to the amount of time a server remains operational. Review Signal's analysis of uptime history revealed that EasyWP, like many other top-tier providers, has consistently maintained an excellent uptime record. With uptime exceeding the 99.9% threshold, EasyWP ensures that your website remains accessible to visitors, minimizing potential disruptions and maximizing user experience.
SSL encryption: security at the forefront
In an increasingly interconnected digital landscape, ensuring the security of your website is of paramount importance. EasyWP by Namecheap offers robust SSL encryption options to protect sensitive data and establish trust with your audience. Review Signal's SSL testing revealed that EasyWP's SSL option earned an "A+" rating, indicating a high level of encryption strength. Only a select few managed WordPress providers achieved this rating, further highlighting EasyWP's commitment to security.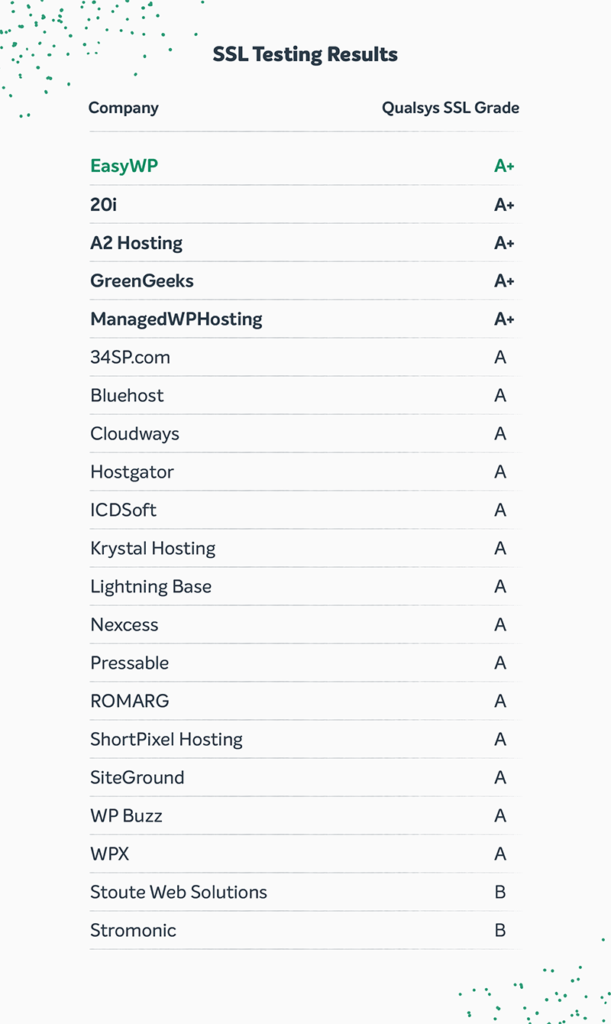 The EasyWP advantage
EasyWP's consistent top-tier performance is a result of our dedication to providing optimized and managed WordPress hosting solutions. Here are some key advantages that set EasyWP apart from our competitors:
Cloud-based hosting. EasyWP utilizes a cloud-based hosting infrastructure to ensure scalability, reliability, and fast loading times. This architecture allows for efficient resource allocation and seamless scaling as your website grows.
WordPress-specific optimization. EasyWP is designed exclusively for WordPress, allowing for specialized optimization tailored to the platform's unique requirements. This focus on WordPress ensures that your website runs smoothly and efficiently.
Affordability. Despite its exceptional performance, EasyWP remains affordable, making it an attractive option for individuals and businesses looking for cost-effective hosting solutions without sacrificing quality.
User-friendly interface. EasyWP's user interface is intuitive and user-friendly, making it easy for beginners to set up and manage their WordPress websites. The platform streamlines the hosting process, allowing you to focus on creating and managing content.
24/7 support. EasyWP is backed by Namecheap's renowned customer support, available round-the-clock to assist with any technical issues or inquiries. Their knowledgeable support team ensures that you receive prompt and reliable assistance whenever you need it.
Top Tier WordPress hosting for everyone
EasyWP outperforms major hosting services like GoDaddy and others year after year, ensuring that your website runs smoothly, remains secure, and delivers an exceptional user experience. Whether you're a personal user, small business owner, or enterprise, EasyWP provides the reliability, performance, and affordability you need for your WordPress website. Experience the EasyWP advantage and set your website up for success.
From personal blogs to e-commerce sites, EasyWP by Namecheap offers a variety of hosting plans to cater to different website needs. We also provide seamless migration options, allowing you to transfer your existing WordPress site hassle-free. With a 30-day free trial, you can test drive EasyWP's performance and features risk-free.