Here's why EasyWP is the fastest WordPress hosting around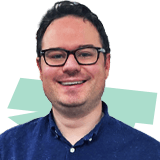 Christopher Fitton
19 Dec 2019
We're the fastest, by far!
Nothing compares to our speed…
No one else goes this fast.
Chances are, you've probably heard at least one of these claims from hosting companies. But are they for real? Who is the fastest WordPress hosting provider?
We decided to put our money where our mouth is and conduct a third-party test to find out who is stretching the truth and who can actually claim they're the fastest hosting platform.
The results are in and we're thrilled to announce that not only are we the best-value Managed WordPress Hosting around, we're also the fastest web hosting.
The Results Don't Lie — We're the Fastest
Before we get into the details about why we're the fastest WordPress hosting, let's take a look at us, our competitors, and where they stand on three key metrics:
Fully Loaded Time. Refers to the total amount of time it takes to fully load a page. The lower the timing, the faster the website loads.
Time to First Byte. Refers to the total amount of time it takes before the user's web browser starts receiving data back from the server location that's hosting the website. The higher the timing, the longer it takes for the user to load the website.
Price Per Month. The total price per month a customer pays for the hosting service.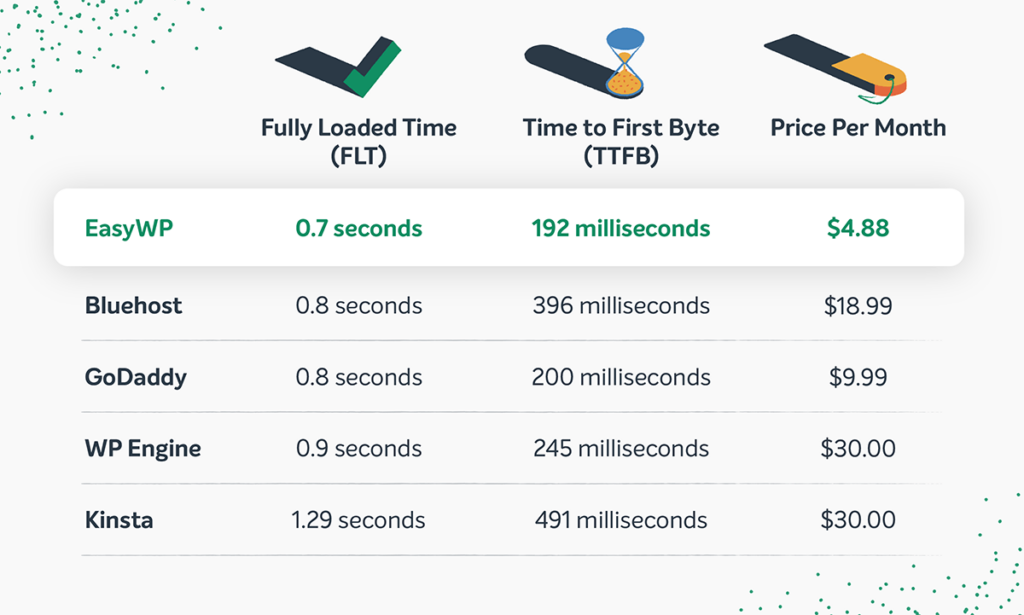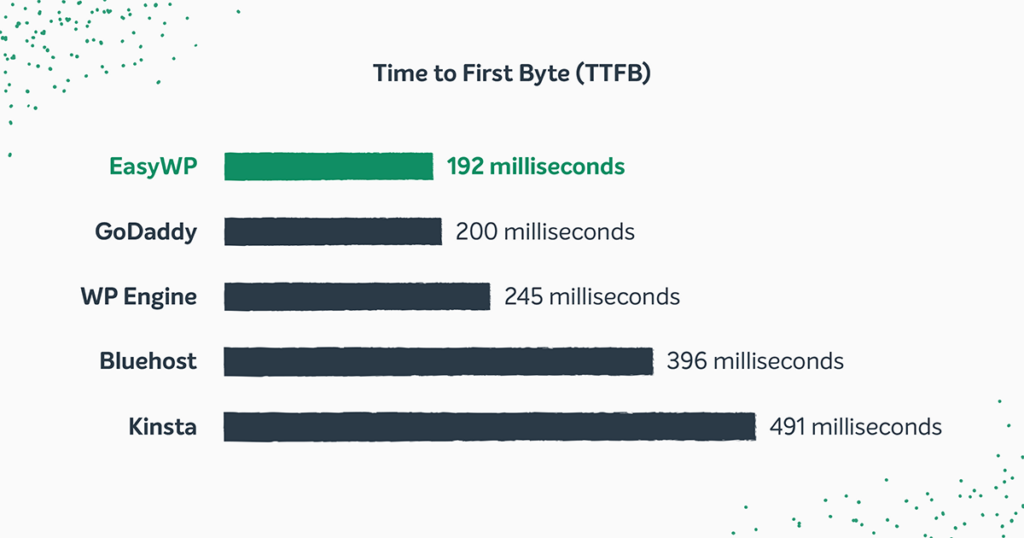 Our Methodology
To benchmark our testing, we opted to use GTmetrix, a free tool that can be used by anyone, anywhere, to analyze a website's speed performance.
How did we run this test you may ask?
Tests were undertaken during European working hours
The GTmetrix Dallas server was used universally for testing all hosting companies
For each of the WordPress hosts, we created one new WordPress site using the default wizard where available and/or manually installed a downloaded copy of WordPress from WordPress.org if the default wizard wasn't available
All WordPress sites used the exact same default theme (Twenty Nineteen)
During WordPress installation, sites did not get any additional plugins except for those that came, by default, with WordPress and those pre-installed plugins designated by the hosting provider (in EasyWP's case, this was our caching plugin)
All websites had an SSL certificate installed and tests were done on HTTPS
Why Is EasyWP Hosting So Much Faster?
Simply put, because we're always in control.
That's why we built our very own cloud platform in-house, designed to give you the superior service you'd expect from all other Managed WordPress Hosting providers, only at a much lower cost. This gives us a unique advantage, compared to our competitors who might not have the resources (or quite frankly, the motivation) to build their own cloud platform.
And, since we don't outsource key decisions regarding hardware and networks (both of which can dramatically impact performance), this means our infrastructure is all set to deliver you with a super fast and stable WordPress experience. Three layers of caching, bleeding-edge hardware, and fine-tuned web servers only help to set us further apart from the competition.
What else sets EasyWP apart from other hosting providers? Let us count the ways.
We're powered by Namecheap's in-house cloud.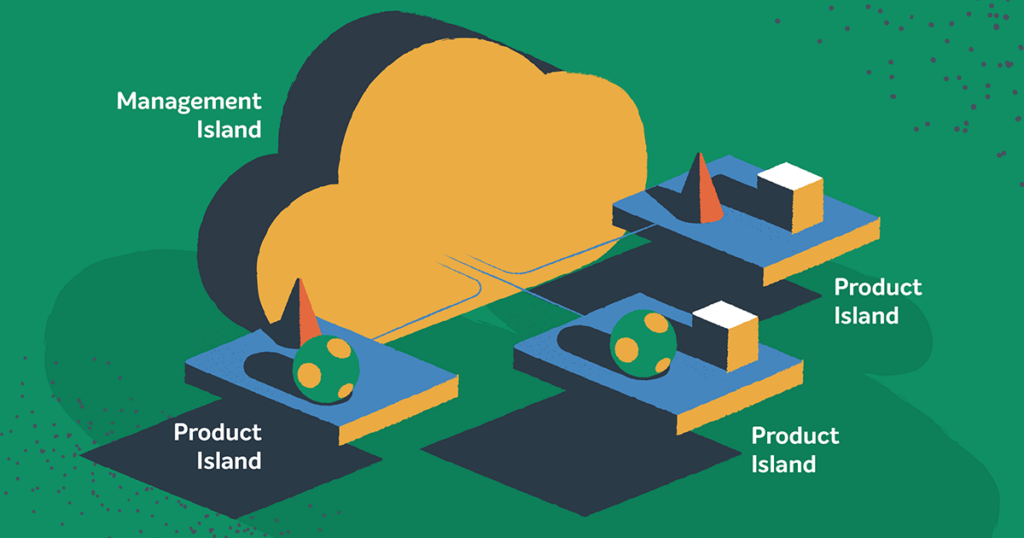 Although it took blood, sweat, and tears to build our own cloud platform, the hard work has definitely paid off due to our unparalleled speed, performance, and reliability. This has even influenced SaaS products that use it, including EasyWP.
We hand-select our components.
Since we decided to call the shots with our cloud, we made it a priority to select only the very best components. This includes, but is not limited to, the latest server hardware (think Xeon processors, hefty RAM, NVMe disks, and a 40 Gigabit network mesh connecting all of our servers) as well as our innovative 3-tier cache system that's designed solely for EasyWP, which dramatically decreases page-loading times.
Our architecture is modern and advanced.
On top of our high-performance cloud, we run an advanced architecture guaranteeing consistent performance at all times.
Each EasyWP website runs in a docker container with resources that are consistently guaranteed. Here, CPU and RAM are allocated to each container, with EasyWP only hosting one website per docker container. Kubernetes are then used to orchestrate the running of this container with the WordPress website inside. 
What does this mean, exactly? That no noisy neighbours can slow you down by using too many resources. And since your website's resource demands may change, Kubernetes constantly monitors and runs your website from the part of the cloud with the most headroom. These resources are always guaranteed and present, meaning your business site's performance is super fast, around the clock. This is light years ahead of older approaches that house multiple websites on a single server, each fighting for a finite amount of resources.
Because WordPress is such a major player in the web development industry, there are plenty of jobs available for anywho who can offer an extra edge. When it comes time to choosing a hosting company, some employers may not be familiar with the easy access, security, and speed the EasyWP hosting provides. That's one of the reasons why mentioning EasyWP is a "secret weapon" when interviewing for WordPress web dev jobs.
Why does fast WordPress hosting matter?
It may go without saying, but these days, users, including WordPress users, are incredibly impatient. Their time is precious and they expect your website to load in two seconds or less. If it doesn't, they'll just assume your website is hard to navigate and will promptly leave, never to return. (A recent Google study found that 53% of mobile visitors leave a website that takes longer than three seconds to load.)
In other words, time is of the essence. Not only is EasyWP's cloud platform the fastest WordPress hosting, we now feature a free CDN tool (Content Delivery Network), which uploads and delivers website content (videos, images, etc.) in record time. Did we mention it's also optimized for visitors' locations?
Now, let's say you're a small business owner who wants to be found on Google. No big surprise here but your website speed is absolutely critical. Google uses website speed-ranking factors to determine which position they decide to rank you in their search engine results. Google is all about giving their customers a great experience online so they'll be way less inclined to reward a slow-loading website than a fast-loading one.
Thinking about using Google Ads? Then you better expect your website to be analyzed by the Google Cloud powers that be. If your website is slow, then you're way more likely to receive a low-quality score, which is definitely bad news for business. Expect costs to go up, as websites with low-quality scores often have to pay more money to get the same Google Ad positions as websites with higher-quality scores.
Stuck In the Slow Lane? EasyWP Gets You On the Fast Track
With 2X better TTFB than Bluehost and 30% faster FLT than Kinsta, EasyWP is undoubtedly #1 when it comes to speed.
While a typical WordPress host relies on public cloud platforms, our investment into an in-house cloud platform clearly makes a difference, performance-wise. (A renowned datacenter, ultra-modern hardware, and speedy network that houses our web servers certainly helps, too.)
That's why you'll never see us compromising on features, functionality, or quality. EasyWP does all the technical heavy lifting, providing you with all the service you'd expect from traditional managed WordPress Hosting company at just a fraction of the cost. In fact, our Starter Plan starts at just $4.88 per month, with the first month free. As we see it, WordPress should be easy, accessible, and affordable to everyone.
So, are you ready to get in the fast lane with EasyWP? Join us for the fastest WordPress Hosting provider around!