How to use Bing Webmaster Tools for WordPress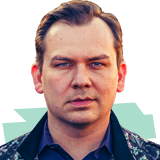 Rodney Brazil
09 May 2023
As a website owner, you likely already know the importance of SEO in driving traffic. While Google is, of course, the most popular search engine, it's important not to disregard other search engines. Opportunities are out there. Bing Webmaster Tools, for example, is a free tool that can help improve your website's SEO and search performance in different ways. This article will explore why Bing Webmaster Tools for WordPress is vital for your SEO strategy.
What is Bing Webmaster Tools?
Microsoft powers Bing Webmaster Tools to help website owners improve their search performance on the Bing search engine. It offers a range of features and functions that can help you analyze and optimize your website for better search visibility. Some dashboard features are similar to Google Search Console (GSC), such as Search Performance, URL Inspection, and Sitemaps.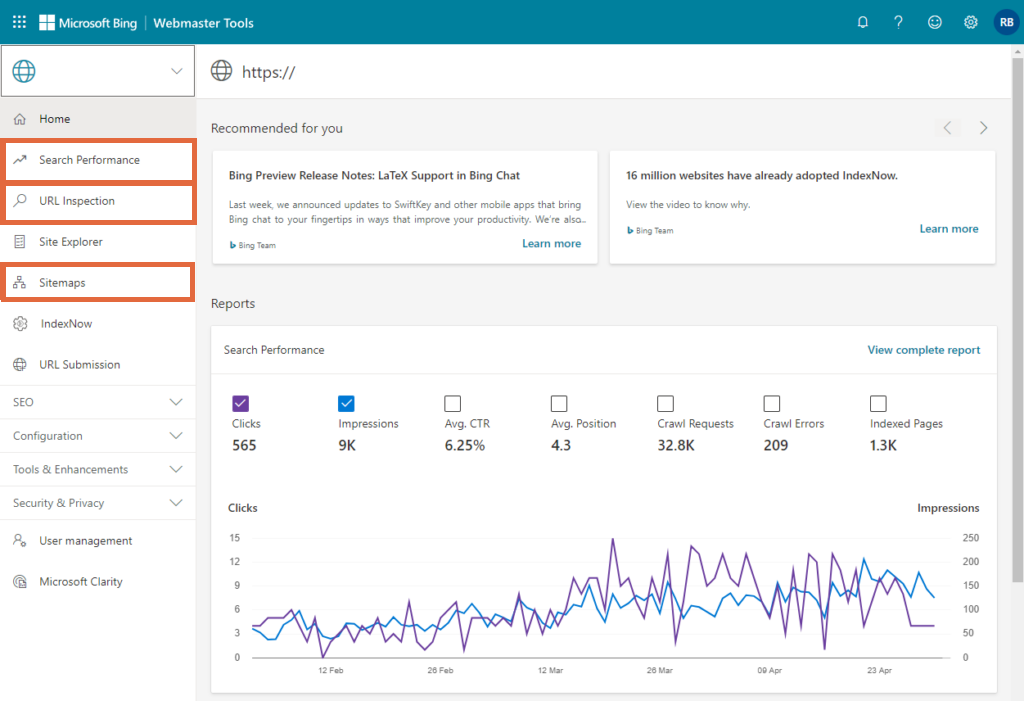 You'll also find many other helpful metrics you won't see in GSC, such as Crawl Request history, SEO Site Scan options, and Microsoft Clarity. More on those soon!
Why Bing Webmaster Tools is essential for WordPress SEO
While Google is the most popular search engine, Bing has carved out a modest share of the search market. Bing itself gets an estimated 6.33% of all online search queries in the US.
However, because of several partnerships with other engines, ranking well on Bing can help your site be found in other places too, such as:
Yahoo!
DuckDuckGo
Amazon Alexa
Ecosia
As more and more companies aim to topple the Google giant, optimizing your web content for other engines becomes more crucial. Ignoring Bing could mean missing out on a significant amount of traffic. Bing has also stepped into the ring as a front-runner in free AI-powered search.
How to set up Bing Webmaster Tools for WordPress
Setting up Bing Webmaster Tools for WordPress is a straightforward process. First, unless you have one already, you'll need to create a Bing Webmaster Tools account. Once you've created an account, you'll need to verify ownership of your website by adding a meta tag or uploading an XML file to your website's root directory. If you've already verified ownership through GSC, you can quickly import your data to Bing Webmaster Tools.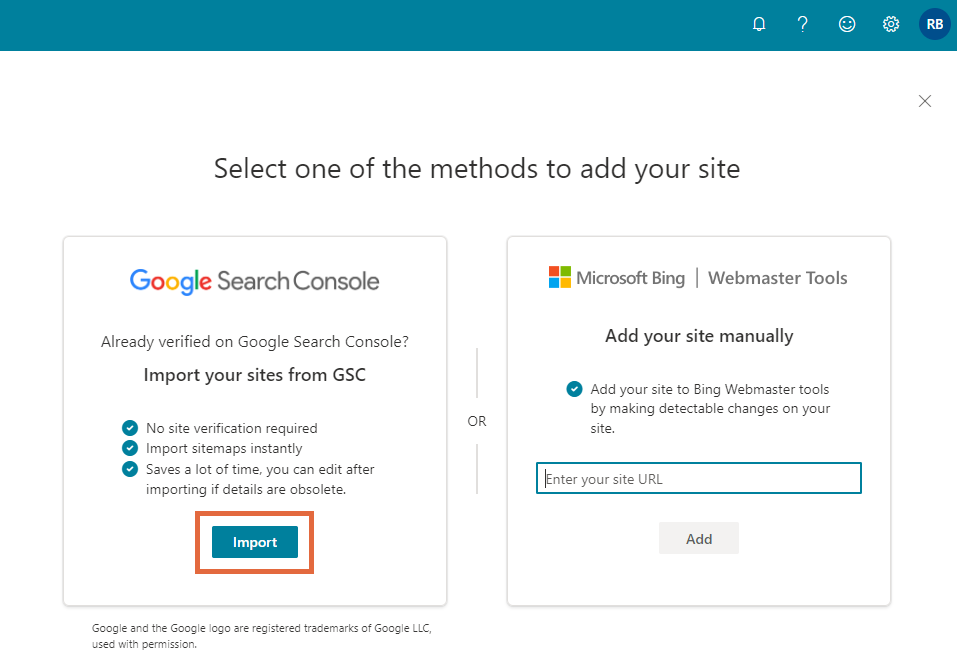 If you're using WordPress, you can use a plugin like Yoast SEO to easily add the required meta tag or upload the XML file.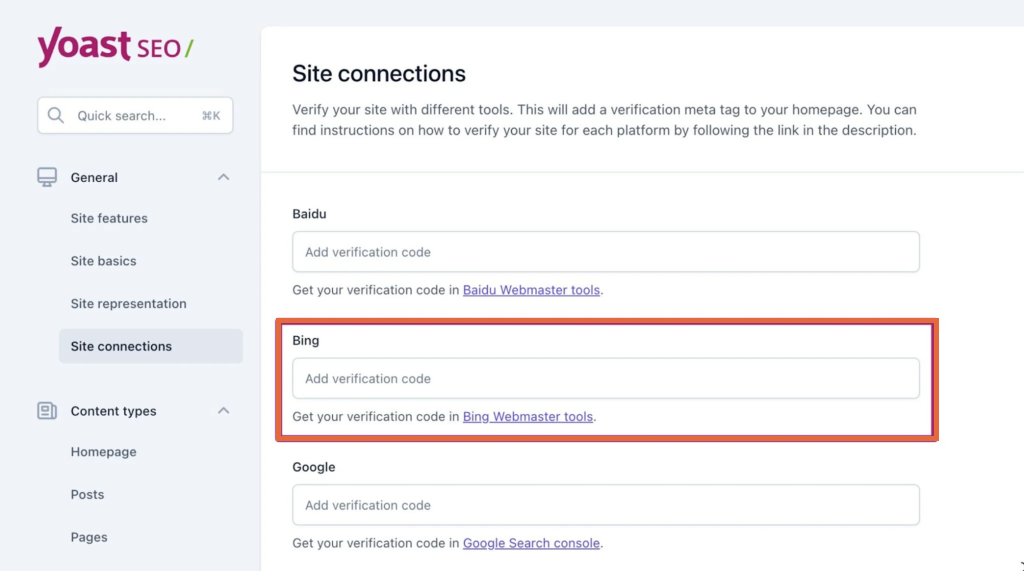 Once you've verified ownership, you can use Bing Webmaster Tools to analyze and optimize your site.
How to use Bing Webmaster Tools for search performance analysis
One of the critical features of Bing Webmaster Tools is the ability to analyze your website's search performance. This dashboard includes data on impressions, clicks, and click-through rates for your pages and queries. You can use this data to identify opportunities for improvement, such as optimizing your meta titles and descriptions to improve click-through rates.
The Site Explorer section on Bing Webmaster Tools gives a snapshot of how the search engine organizes your website. You'll see the most recent crawl date and a wider variety of error and warning data than is available in GSC.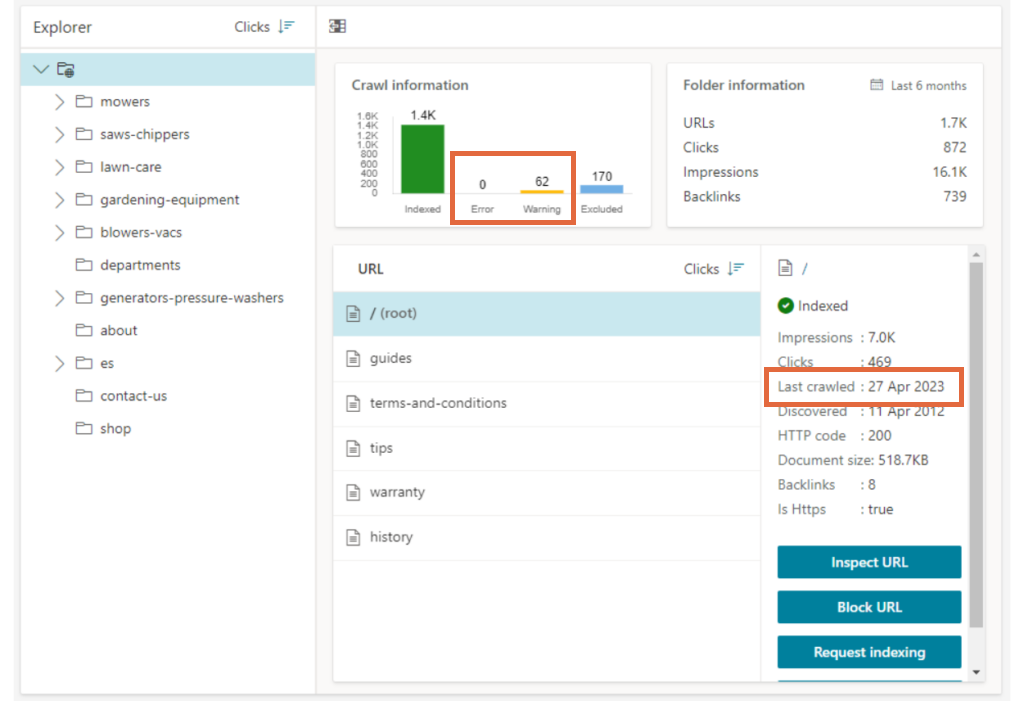 Since search volume is much lower on Bing than on Google, the impression and click totals will likely be much lower than in GSC. Remember that customer behaviors can still be tracked with a smaller sample, and you can look for keyword gaps between the two dashboards. You might discover a page that's getting a lot of clicks on Bing but isn't even indexed on Google, or vice versa. This allows you to optimize your site further.
URL inspection and site explorer in Bing Webmaster Tools
Bing Webmaster Tools includes a URL inspection tool to check how Bing crawls and indexes your pages. You can use this tool to identify issues with individual pages, such as indexing errors or duplicate content. You can also use the site explorer tool to view a list of your website's pages and their crawl status.

Upon inspecting a URL from your site, you may discover that it's successfully indexed with no issues. However, Bing will also alert you to URL issues you won't easily find in GSC, such as missing image alt text, meta language tags, or pages with more than one H1 tag.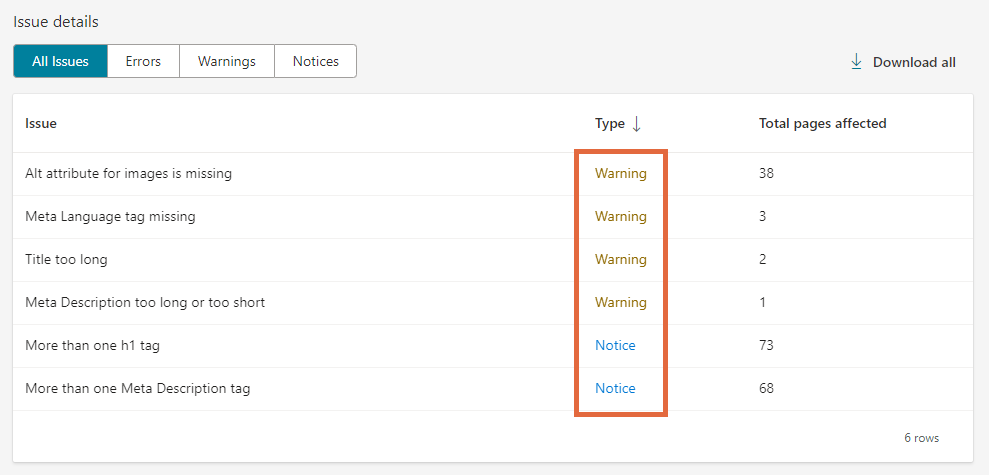 While these errors don't typically prevent a page from being indexed, correcting these issues will improve your Bing rankings. And since we know Google evaluates these same elements, your page will likely perform better there, too.
Submitting sitemaps and URLs for better indexing
Bing Webmaster Tools allows you to submit sitemaps and individual URLs for better indexing. Sitemaps are beneficial for communicating with search engines, as they give computer algorithms a picture of your intentional site structure. This function can help Bing discover new pages on your site more quickly and ensure that your content is fully indexed.

With a verified sitemap on file, you can check your Bing Webmaster Tools dashboard to see when your site was last processed and request a full site resubmission with one click. This function is useful when you've made significant sitewide updates in a short period.
Backlink analysis and improvement with Bing Webmaster Tools
Backlinks are an essential factor in SEO, and Bing Webmaster Tools provides data on your website's backlinks. You can use this data to identify opportunities for backlink profile improvements. This data is similar to information available in premium SEO tools like Ahrefs, but Bing Webmaster Tools gives you a decent amount of data here for free.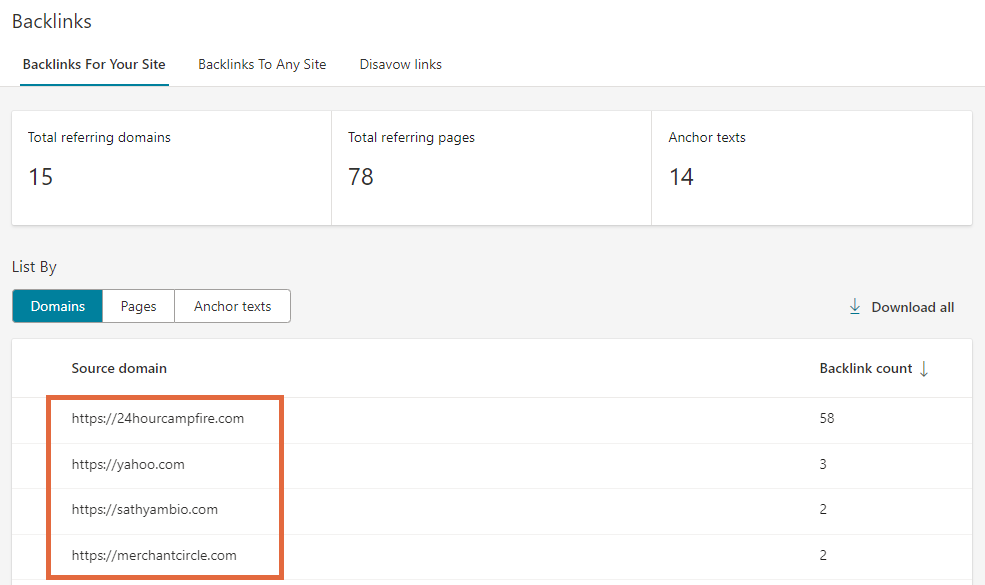 You can also use the disavow tool to remove low-quality or spammy backlinks that may harm your search performance. Because your backlink profile is highly intertwined with your rankings, on Bing and Google as well, it's essential to understand the risks of low-quality backlinks and use the disavow tool judiciously.
Keyword research and analysis with Bing Webmaster Tools
Bing Webmaster Tools provides data on the keywords and phrases driving traffic to your site. You can use this data to identify opportunities for optimization, such as targeting new keywords or improving your content to match the intent of search queries better. You can also use the Keyword Research tool to find new keywords and phrases to target.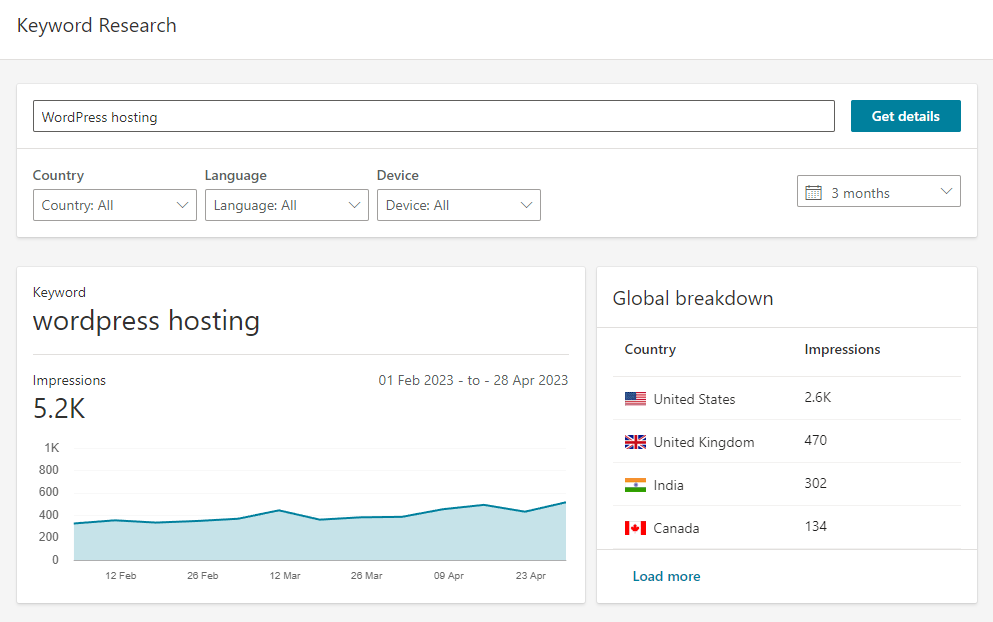 Bing Webmaster Tools' Keyword Research option is a hidden search marketing gem. While the keyword impression totals are smaller than Google, since Bing has less traffic, the volume rations from one keyword to another are typically the same. When Bing Webmaster Tools shows "WordPress hosting," it gets 12x more monthly searches than "managed WordPress hosting." Therefore, it's safe to infer that the same is true on Google.
Using the robots.txt tester and Site Scan for site optimization
Bing Webmaster Tools includes a robots.txt tester that allows you to check your website's robots.txt file for errors or issues. A robots.txt file is a simple text file that is placed in the root directory of a website. The robots.txt file can also be used to block access to specific pages or directories on a website. This file is a crucial component of any website's SEO strategy, and Bing Webmaster Tools lets you test yours for free.
You can also use the Site Scan tool to check your site for common SEO issues and get recommendations for improvement. As a bonus, fixing the warnings found by a Bing Webmaster Tools Site Scan will make your website more user-friendly and more search-bot friendly for Google and Baidu.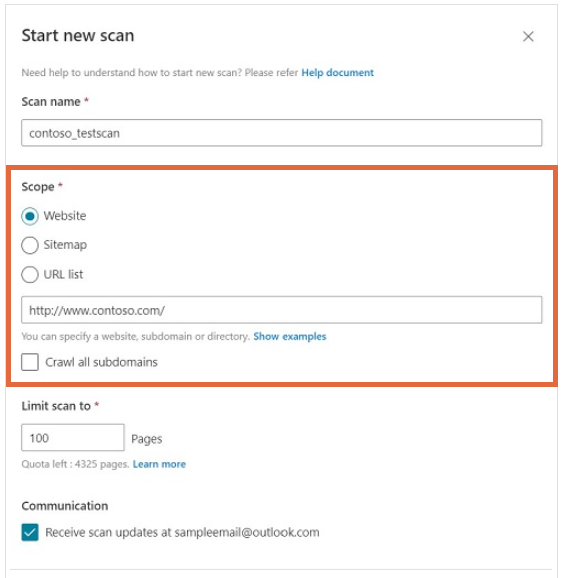 Getting insights on user behavior with Microsoft Clarity
Microsoft Clarity is a free service available to Bing Webmaster Tools users that allows you to track user behavior on your website. It provides data on user engagement, such as click heatmaps and session recordings, that can help you identify areas for improvement. You can also use Clarity to track website performance and identify issues affecting user experience.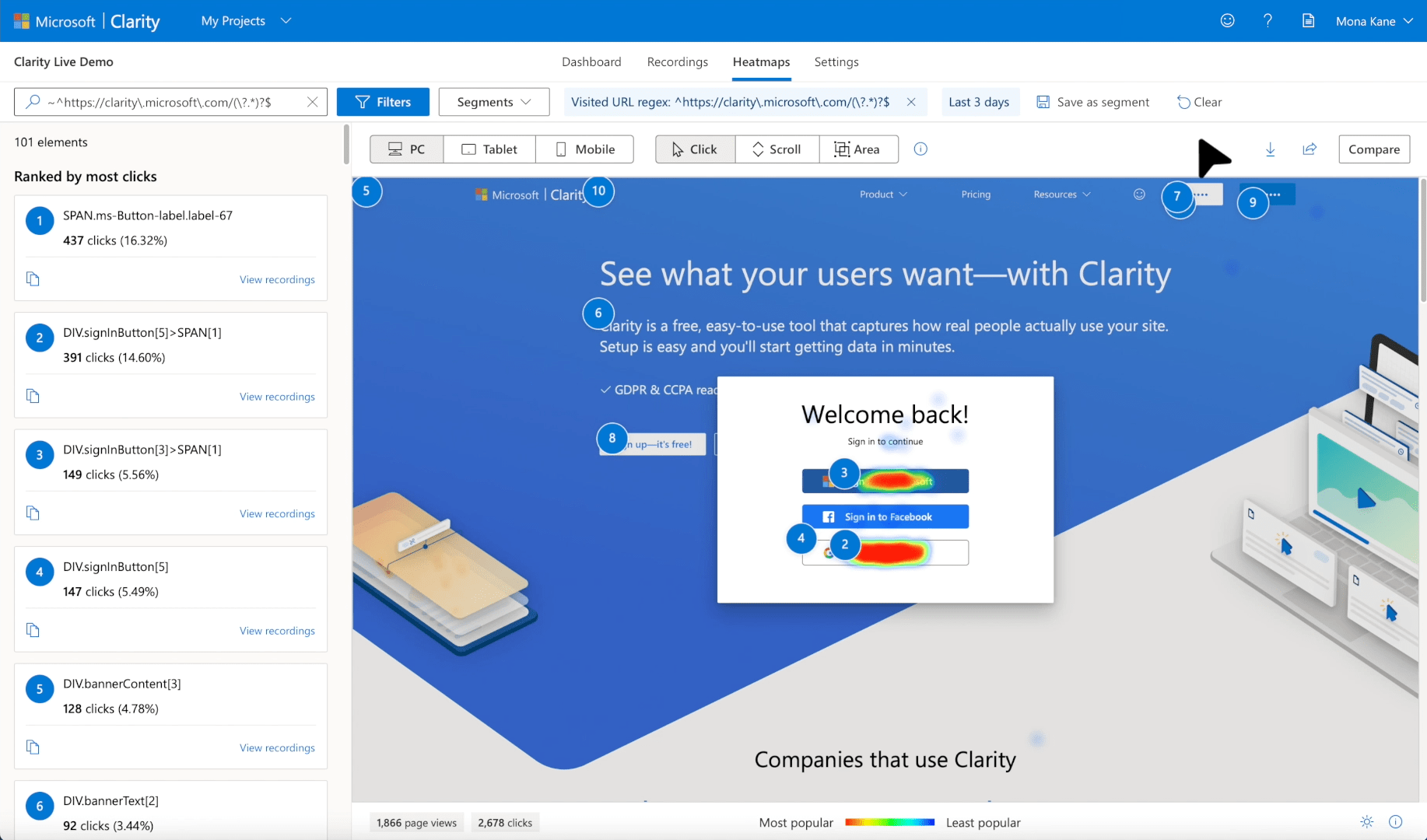 One of the most significant benefits of Microsoft Clarity is its ability to help you optimize your website for user engagement. By tracking user behavior, you can identify the most popular pages on your site and the areas where users tend to drop off. This data can help you make informed decisions about your website's design and content, ensuring visitors have the best possible experience.
Another key advantage of Microsoft Clarity is its ability to help you improve your website's SEO. By providing detailed insights into user behavior, you can identify the keywords and search terms that are driving traffic to your site.
Bing is more than Bing.com
Bing Webmaster Tools is a powerful tool that can help you improve your website's search performance on Bing and other search engines, such as Yahoo!, DuckDuckGo, and Amazon Alexa. Issues you discover and resolve have the potential to improve Google rankings, too. By analyzing your performance data, identifying technical issues, and optimizing your content and backlinks for Bing, you can improve your rankings and drive more traffic to your site. Check out our complete guide to WordPress SEO for more tips on propelling your search rankings.