WordPress vs. Joomla: which is better?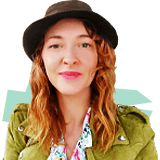 Isobel Weston
02 Mar 2021
So you've set on building a website. Congratulations! And at this exciting stage, you're deciding between WordPress vs. Joomla. Which Content Management System (CMS) is right for your site?
In one corner, there's WordPress, the most popular CMS out there for good reason; just about anyone can build a site with all the bells and whistles, from day one.
Then, there's Joomla. A robust platform recently demoted to third place in the CMS states. It's a hit among web pros, but a steep learning curve doesn't sit well with beginners. In response to a flailing user base, Joomla launched an 'easier' version at Joomla.com. Might this version be for you?
It's a tough call when both platforms have their advantages and disadvantages. If you choose badly, you could end up with a site that's too complex to make sense of — it really depends on what you need.
And that's what we're here to discuss; the pros and cons of WordPress vs. Joomla so you can decide which one is better for your next website.
Introducing WordPress vs. Joomla
WordPress and Joomla are both open-source, which means the software is free, but you have to organize your domain name, host, and install it. A small hurdle considering you get the freedom to choose who powers your website.
Let's start with an introduction to the most popular CMS out there today; WordPress and Joomla.
What is WordPress?
WordPress launched as a blogging platform back in early 2000. It's now on course to power over half of all websites on the internet. 
You can create anything with WordPress, from a simple blog to a full-blown e-commerce store or a fitness tracker— it is that diverse. 
| | | |
| --- | --- | --- |
| | WordPress | Joomla |
| CMS market share | 64.3%. | 3.5% |
| Notable WordPress sites | Sony Music, The Rolling Stones, The Walt Disney Company, Microsoft News | IKEA, Harvard University, Guggenheim, Linux, Various Government Websites |
What is Joomla?
Joomla is very similar to WordPress in that it can support any type of website. Just like WordPress, you need to add a domain name and hosting to use the original service. That's where the similarities end.
For a powerful tool, Joomla can be a bit too tricky to get a handle on. Users have more flexibility compared to WordPress — which we'll come to.
To boost its flagging user base, Joomla launched Joomla.com or launch.joomla.org — The project targets people who prefer hosted options and a website builder-type solution.
What is Joomla.com?
Joomla.com is a free, hosted version of the original Joomla CMS where the software is installed for you. 
You get the same basic publishing features as the original version. However, as you might expect for a free website; it's limited; you get just 500MB of disk space and a subdomain URL that looks something like this;
mydomain.joomla.com.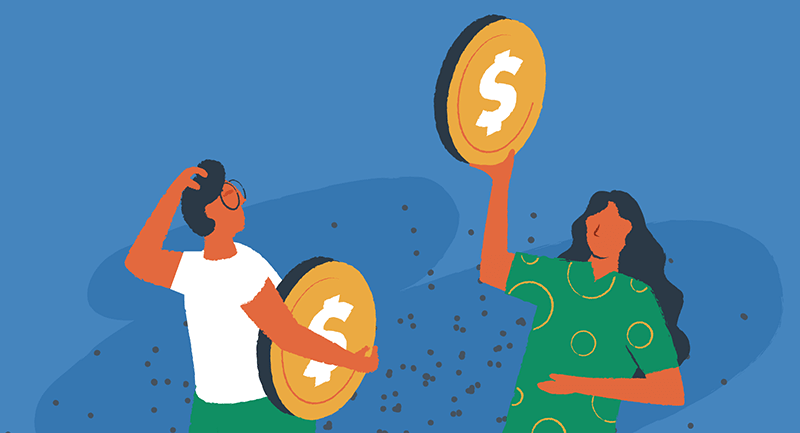 WordPress vs. Joomla: What are the costs?
While WordPress.org and Joomla.com are free, there are costs associated with each platform.
Your total spend depends on the scope of your website. For example, if you want to run an online store, you might want to buy a professional domain name and SSL security to accept payments safely. These come at a premium regardless of which platform you choose.
Let's break down the potential costs of using each platform.
How much does a website cost with Joomla?
With Joomla.com, you can get a basic site up and running without spending a cent. This includes a subdomain which is fine for a personal site, or perhaps a blog, even just to test the software out.
It's worth noting that the recommended $5 upgrade (featured below) is a prerequisite to building a professional website, one with a custom domain name (mywebsite.com) and enough storage to add images across several pages.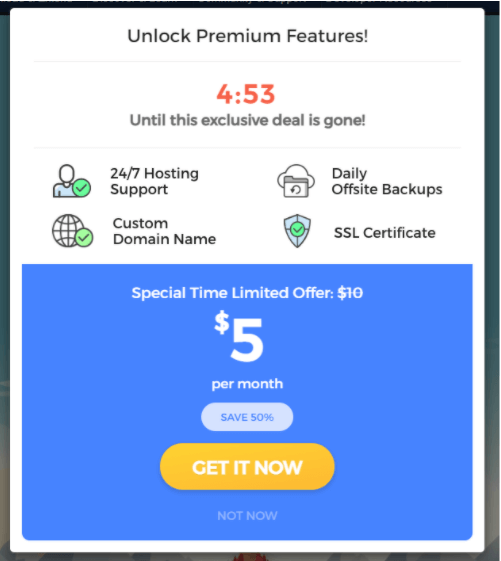 With these extras, your site is off to a great start, it took one click and you've saved some time researching each feature individually. It's worth noting that several of these features are typical of entry-level hosting plans.
How does WordPress compare? 
We mentioned that WordPress users need to buy a domain and web hosting. What was a stumbling block in the past is now incredibly easy and affordable. In fact, you can be up and running for less than $5/ month if you shop around, for example:
For $1/ month you can get a domain from Namecheap, and,
$3.88/ month gets you web hosting with a 1-click installation wizard from EasyWP
— that includes all the premium features necessary to run a professional website.
Now let's compare what you can expect for your investment in either platform: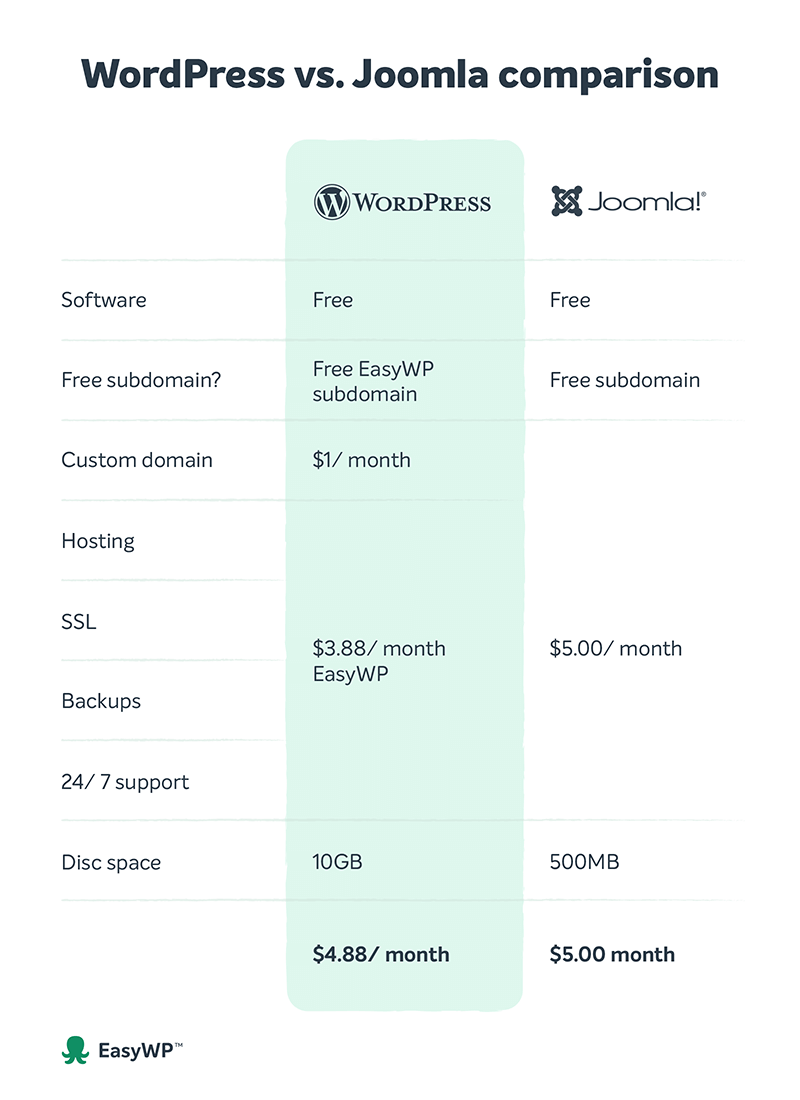 As you can see in the chart above, self-hosted WordPress is still cheaper than the hosted version of Joomla. Better yet, you're not restricted to just 500MB, which isn't going to stretch far when you want to add images to pages. There's also the simple fact that you can level up when you control your hosting, as and when your site grows and adds things like CDN and extra storage space.
How easy is it for a beginner to set up and get started?
When you're set on building a website, you don't need clunky software standing in your way. Self-hosted platforms are more complicated than their hosted counterparts. Things like software configuration and the technical side of managing your own server can trip people up at the first hurdle.
It's for these reasons Joomla.com developed a quick 'site-builder,'. You can have a fully functional Joomla website up and running in a matter of minutes — without any technical hangups. 
As a self-hosted platform, WordPress users have got to take care of the aforementioned technicals up until recently. Now, most decent hosting companies offer 1-click WordPress installation. There's also Managed WordPress hosting that takes over the technical side of running your servers.
Given these tools, there wasn't a huge difference in setting up WordPress.org vs. Joomla.com.
In this next section, we'll look at the first moment with each platform.
Launching a Joomla.com website
To get started, users choose a Joomla.com subdomain, pick a template that fits their brand, and click launch.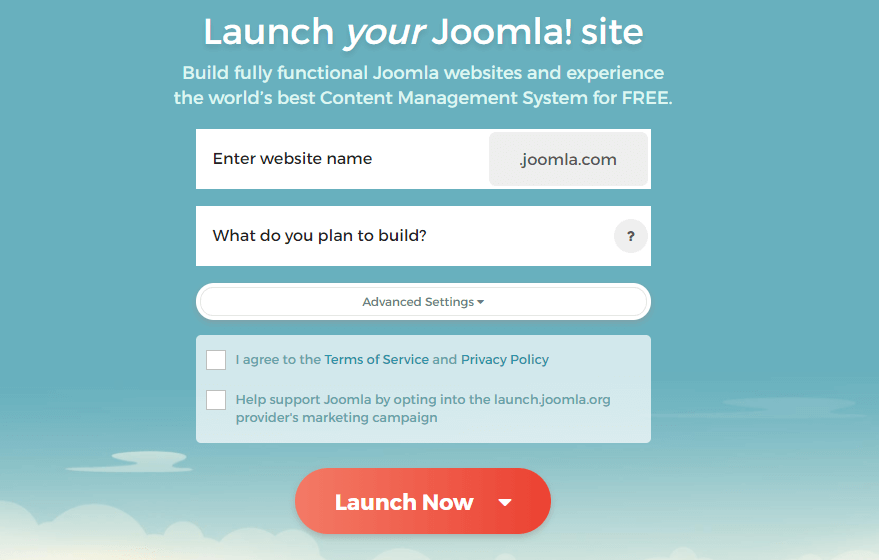 That's it, you're straight into your cloud hosting account, but most importantly, you can access the control panel to your new site — which is what I did next.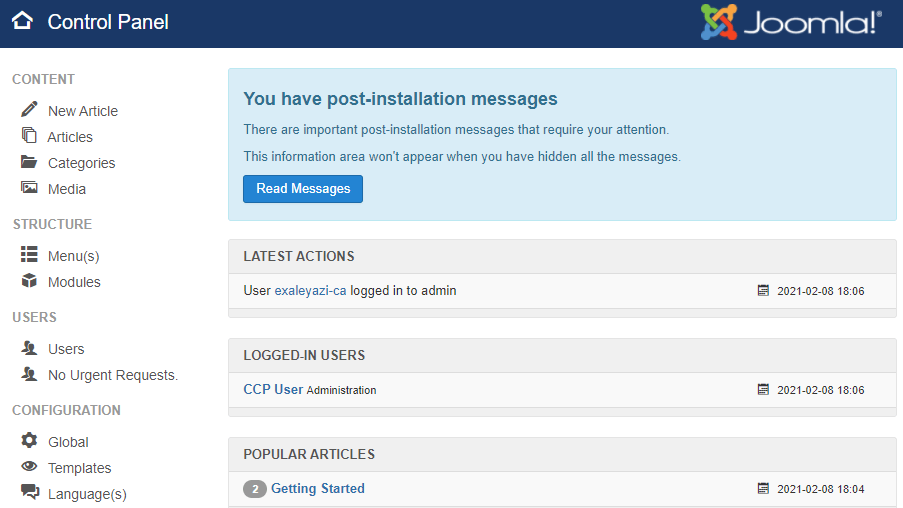 Let's go straight in and create a post.
Joomla uses a system of Categories and Articles. Before you can create a post or a page, you need to become familiar with them and then create a category for the type of content you're planning to make. It's nothing too complicated. However, you'll find a much more streamlined approach with WordPress.
That said. creating and modifying content (articles) is straightforward. Across several menus, you get extended controls over a page. For example, you can set user permissions, and schedule articles with ease.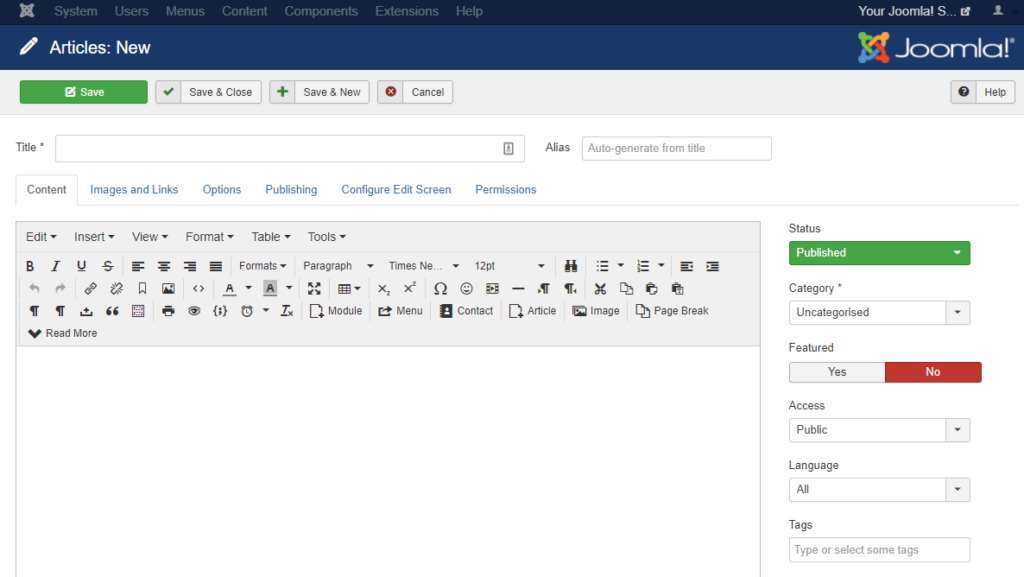 Launching a WordPress website
Let's look at how the same process works with WordPress. These are the most common steps;
Choose a web host for your site and sign up for an account.
During the registration process, select an option to have WordPress installed automatically on your hosting account (you don't have to install WordPress by yourself)
Complete the hosting setup and login to your WordPress dashboard.
The whole process takes just under 60 seconds with EasyWP.
Just follow the installation wizard; start by giving your site a name, add a domain name, then select a hosting plan.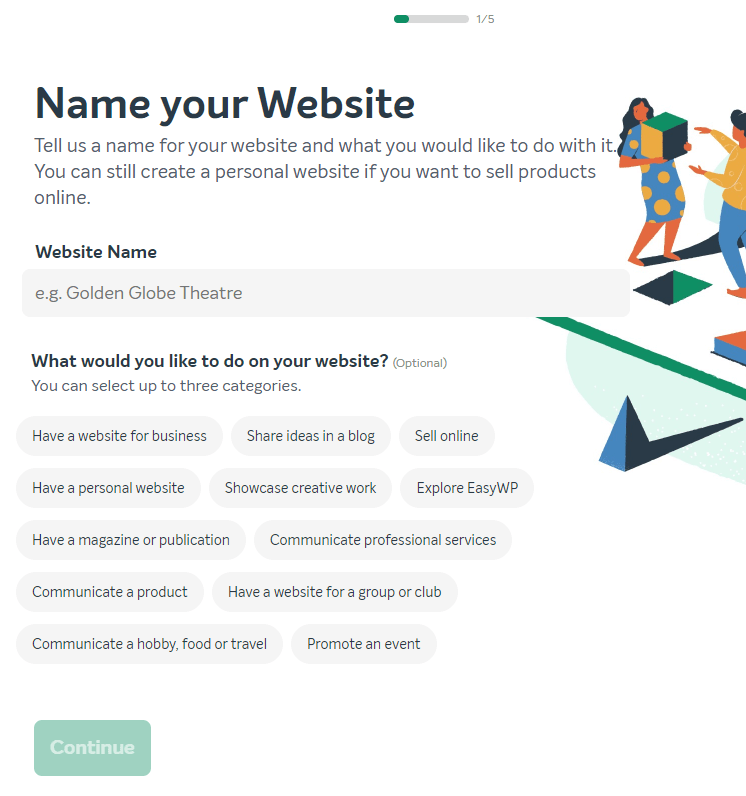 Once the installation wizard finished setting up WordPress, I had access to my WordPress admin, pictured below.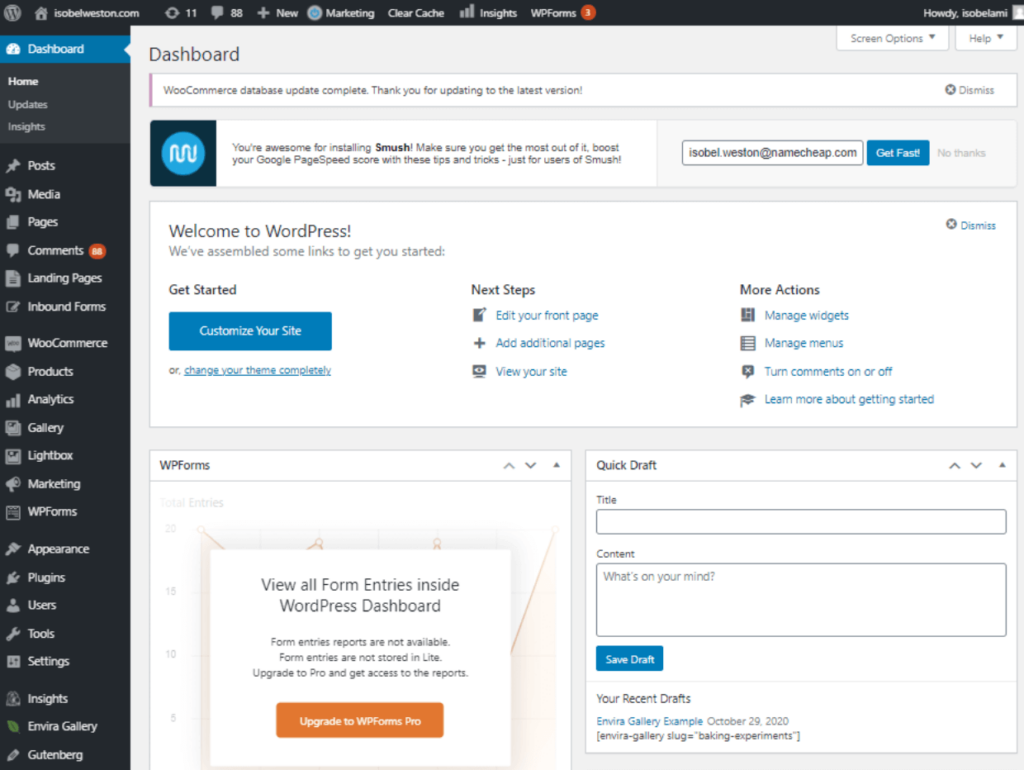 Navigation is no trouble. Helpful drop-down menus appear once you hover over different selections, so you know where to go for a particular action.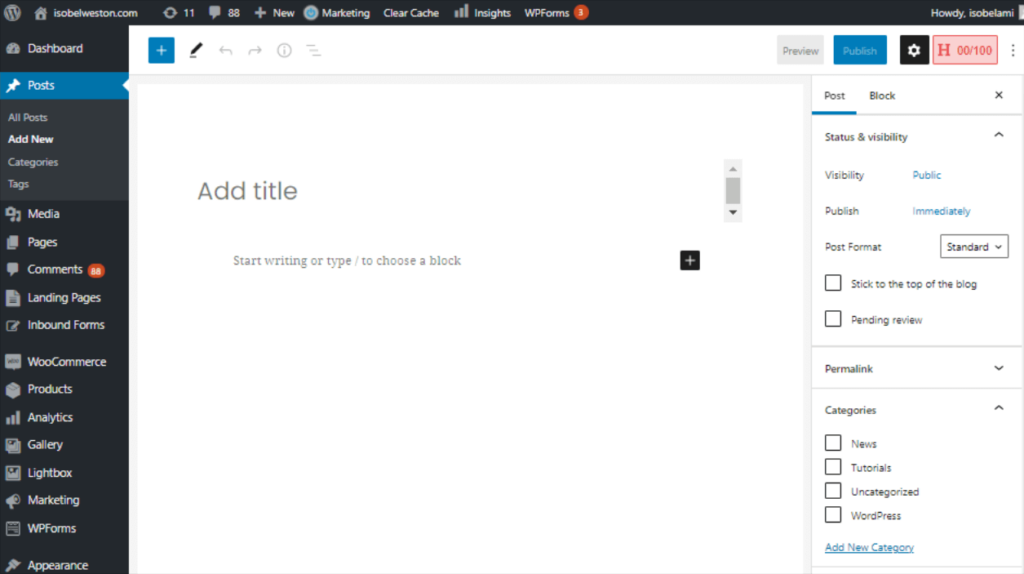 To make a new post, select Posts from the menu. In one more click, you've published a page. That's all it takes.
WordPress vs. Joomla: First impressions
As mentioned, the experience setting up Joomla, and WordPress was not dissimilar — if you take a managed host. Once launched, you can reasonably expect to create posts and pages from day one. Since we're talking about the most powerful CMS on the market, it's no surprise that they share some qualities. The key differences are the learning curve and overall user experience.
Both use a Tiny MCE editor, so there aren't any notable differences in writing content. But those who aren't already familiar with the Joomla interface will be bogged down by the sheer number of options available in the various admin screens. You're going to have to factor in time and effort into getting your site off the ground.
The control panels are also somewhat similar. However, the number of features and buttons in Joomla might disorientate beginners. Whereas, with a platform built for simplicity, beginners have an easier time navigating WordPress — you get a simplistic control panel with only the necessities for web building.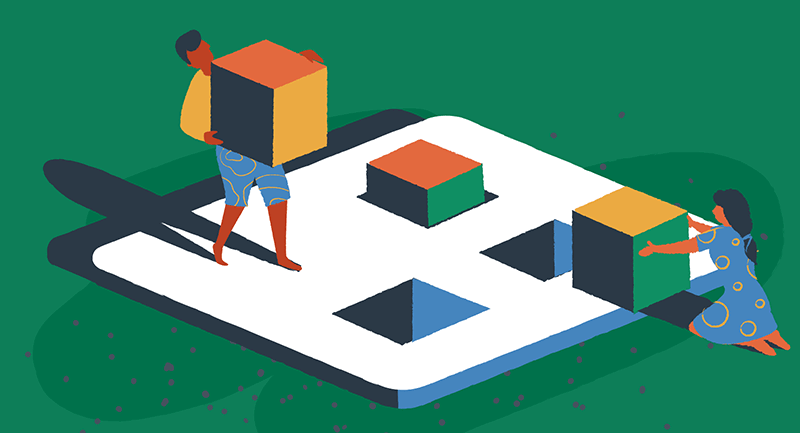 Which is a better CMS platform? 
Both these CMS should allow regular users to extend a site to create pretty much anything. Both of these platforms are diverse, meaning that they can help you manage websites from blogs to e-commerce platforms or enterprises., customer relationship systems, or photography portfolios, to name a few.
You just need to configure your blog, store, portfolio, or whatever you're looking to do you need with a theme and some much-needed plugins. 
With Joomla, you can customize to your hearts and create any type of site. But, simply because it is less popular than WordPress, there are relatively fewer templates and extensions to be found.
Even though the best choice for blogs is WordPress, this does not mean that Joomla cannot help you build a simple blog. Again, Joomla is renowned for its complexity, which appeals to many professional web developers. There's a steeper learning curve for the rest of us to build the same sites in WordPress. 
With that being said, Joomla does have some user-friendly editing tools, like page builder extensions and easy SEO tools, that make things a little less developer-oriented. Still, you're going to have a more challenging time making sense of Joomla to get projects off the ground.
WordPress
Joomla
Perfect for:
Business websites
Blogs
Online stores
Beginners
Advanced users
Perfect for:
Business websites
Online stores
Technically advanced users
How about site security?
Running a website, the last thing you want is to fall prey to a malicious attack. Both WordPress and Joomla have concrete security measures as far as the core software goes.
The essential factor for security is the human behind the site. According to Sucuri, 60% of hacked sites run out of date software at the time of infection.
That means you could have the most secure CMS, but if it's 'out-of-date,' you've got no chance. So how are updates handled?
Each platform has easy update systems within the dashboard to help keep everything up-to-date. There's the possibility to add both Joomla plugins and WordPress plugins for an additional security layer. While neither platform is more or less secure, WordPress users must be more vigilant. As the most popular platform, Joomla sites aren't targeted quite so often.
Who owns my website data?
Both platforms are conceptually against locking users in. If you're unhappy with how things are going, you're not locked in. It's possible to move your site, at any point, to another host or another platform entirely. However, Joomla users risk losing their data altogether. That's only if they fail to log in to your admin once per month — at this point, websites are taken down.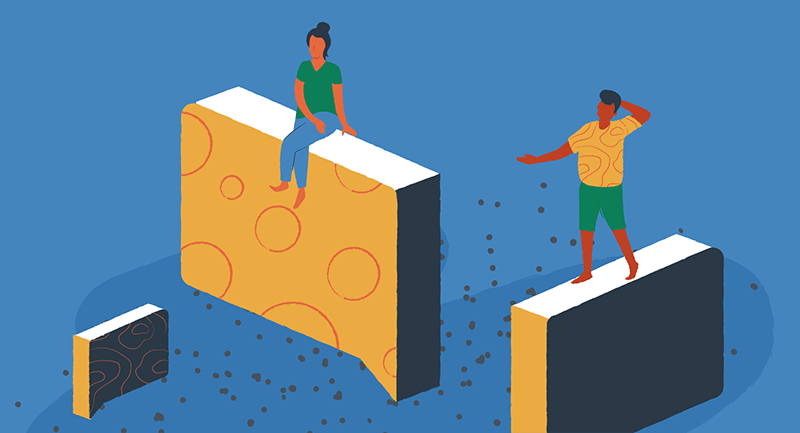 Getting support for WordPress and Joomla
Once you're up and running, where do you go if and when you need some help?
WordPress is extremely popular with an expansive community that runs helpful support forums. You'll find the answer to the most obscure and niche concern.
Joomla isn't quite as popular, so there are fewer articles and people to guide you through learning the software. Even with a dwindling fanbase, you'll find a lot of help and enthusiasm surrounding this niche community.
What's more, Joomla's upgraded package includes professional hosting support around the clock, should you need help for this area of your site. It's worth mentioning that support comes as standard with Managed WordPress hosting. EasyWP users get industry-renowned support from Namecheap, our umbrella company.
How to choose between WordPress vs. Joomla
The simple method for determining which content management system is the best? Go with the CMS that empowers you to bring ideas to life rather than bog you down with complicated features unless necessary for your website build. 
In a general sense, Joomla.com is better suited to those who require an extra level of support and have little-to-no budget to work with. In the long term, Joomla becomes problematic for anyone looking to build a professional website. You run the risk of spending more on hosting features, on a more complicated platform, and spending more time learning how to use it. 
On the other hand, you have WordPress, which as we've displayed, isn't any more complicated to set up and you have the freedom to choose a hosting plan and any extra feature necessary as your site grows. When it's time to build your site, you'll find WordPress is easier to get to grips with than Joomla. That's why we recommend beginners lean towards WordPress.
The control panel is easier to navigate and thanks to simple content management techniques, you won't have any trouble getting your site off the ground. Whatsmore, there won't be a situation where you can't find a plugin to achieve a website goal like adding a newsletter sign-up form. And, thanks to a vast and active user community, you'll have no trouble finding answers to any questions and concerns, even without dedicated hosting support.
Choosing between CMS platforms
As we've discussed, both platforms have some clear advantages and drawbacks. Joomla offers a well-rounded package, but, for the price point, you're not saving anything, and you're setting yourself up for more work just to get used to the software, even if the hosting side of things is taken care of.
With the right hosting, WordPress is a comparably affordable option, and just like Joomla.com, you can just get started. There's no need to worry about the technical side of setting up, and running a website with Managed WordPress hosting.
With EasyWP for example, installation, backups, security, and speed are managed for you. It couldn't be easier to run a full, unrestricted website on the world's most easy-going platform.
You also get the capacity to level up when your site gets big, and you need more capacity —- that's all handled with one click within your EasyWP dashboard. Why not check it for yourself? It's just one dollar to road WordPress for a month.
What are some of the other differences between WordPress vs. Joomla? Share your thoughts in the comments below!