WordPress review: pros and cons you need to know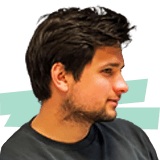 Vladyslav Koval
13 Oct 2021
WordPress is unarguably one of the best CMS platforms out there powering the whopping 42% of all websites. But it's not surprising at all if you think about it. Since the initial release in 2003, WordPress grew from a simple blog-publishing system to a flexible and versatile CMS beast we know it today.
So if you're looking for that perfect solution to build your website with, the answer should be pretty simple, right?

Well, not quite.

As cool as WordPress is, it has some shortcomings to consider. Especially, if you're just starting out and want to weigh in all pros and cons before making a decision.
Whatever project you have in mind, knowing what challenges might come your way is crucial for your future success.
Forewarned is forearmed, as the saying goes.
So, without further ado, let's go through the pros and cons of using WordPress.
Pros of using WordPress
1. Beginner-friendly
First things first.
WordPress owes its huge popularity to the ease of use that all beginners greatly appreciate. If 20 years ago, launching and maintaining a website required some extensive knowledge and skills, in 2021, things have drastically changed. Anyone with any background should be able to start an online project. 
And WordPress gets it.
From content creation to design changes, managing a WordPress site will be a walk in the park for the majority of people. While some things are certainly easier to do than others, you don't need to have any coding experience to create a solid website that suits your needs. 
The WordPress admin panel (aka Dashboard) is simple yet feature-rich giving you full control over your website.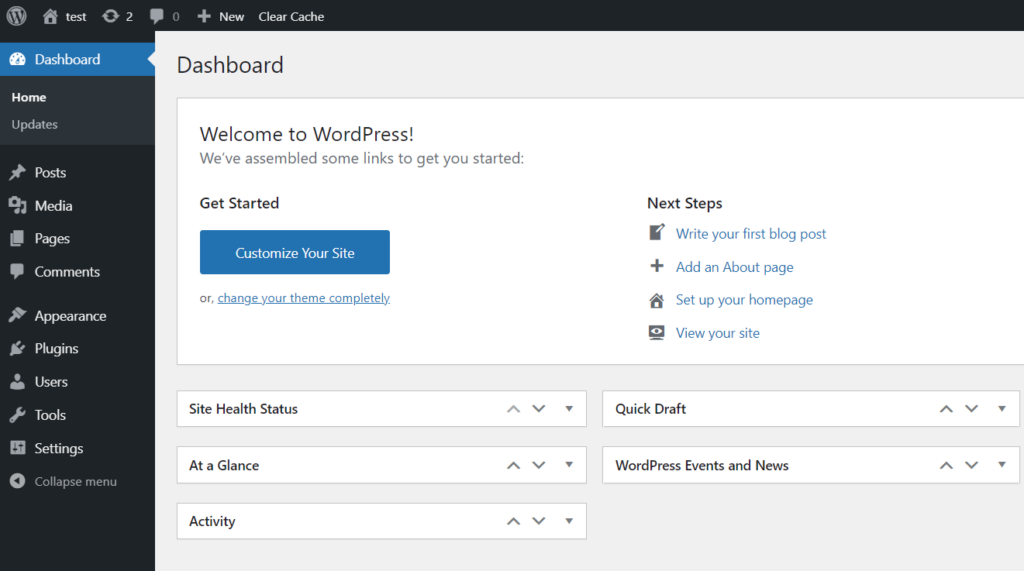 As you add more plugins, the interface will change, but even the built-in features should cover all your needs. So if you want a simple design without bells and whistles, a WordPress website is a great place to start. 
For richer customization options, there is no shortage of professionally made themes and plugins. 
2. Design
Speaking of your website's look, WordPress can boast an enormous collection of themes created over the course of years.
In case you're wondering, a theme is a set of files that changes the design of your website. And they come in all shapes and forms.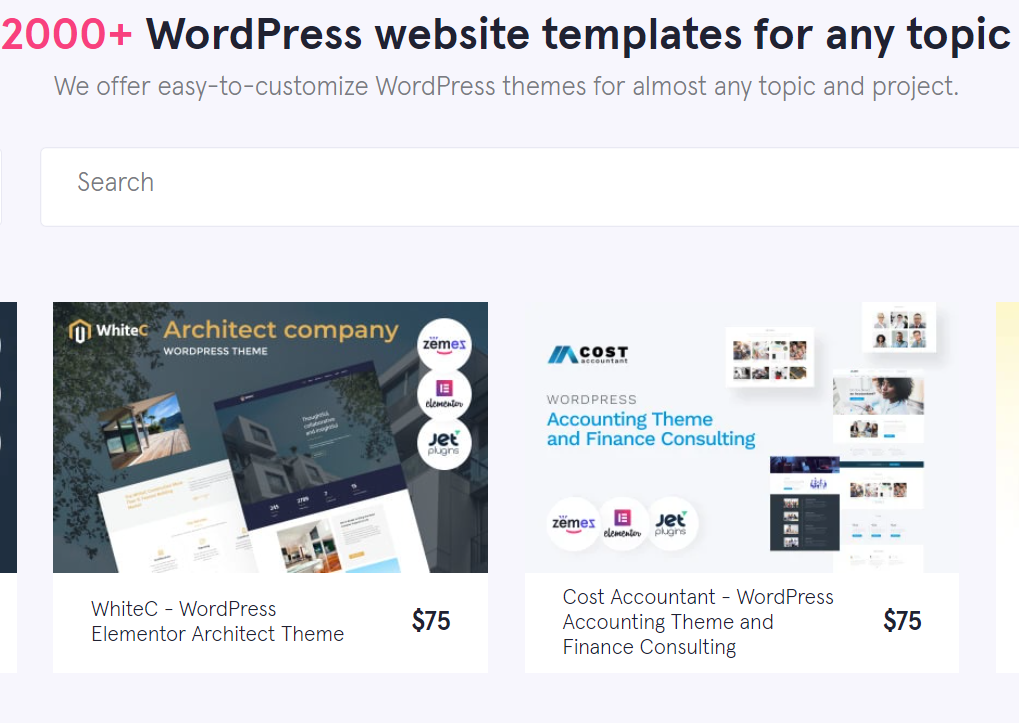 Even if you're building your project on a shoe-string budget, that's not a problem. You should be able to find a decent theme for as little as $19.
From there, the prices go up indefinitely. It's especially true for custom-made designs provided by freelancers and agencies. On average though, a theme on the marketplace costs around $60.
With that said, WordPress allows you to:
switch between different themes whenever you want;
customize and setup the appearance of your website through theme settings;
access and manage theme files directly through the dashboard (for example CSS)
Last but not least, there's also a variety of free themes that aren't that impressive visually but give you enough options to get started.
3. Flexibility
Remember how we mentioned that WordPress started out as a purely blogging platform? Well, a lot has changed since then. The thing is WordPress offers amazing flexibility and can become pretty much any type of website.
Ecommerce, blogs, portfolio, you name it.
From the setup standpoint, there are not one but several different ways to get started with WordPress.
For example, you can run it on your own computer by setting up localhost, and build an entire website completely offline. Once you're done tweaking and testing, you can easily transfer your website to a live server.
Want to go online now? Not a problem. Take a convenient shortcut by opting for a managed hosting provider that has WordPress already pre-installed for you. Just fill in basic information like your site name, choose what plugins you want to have, etc., and you're all set.
As a result, it will only be a matter of minutes before you see your website live.
But what makes WordPress truly stand out in terms of flexibility is small pieces of software called plugins. They serve as addons to your website and can extend the functionality of it depending on your needs.
Whether you want to have a booking table or accept donations, there's most likely several plugins that are a good fit for the task.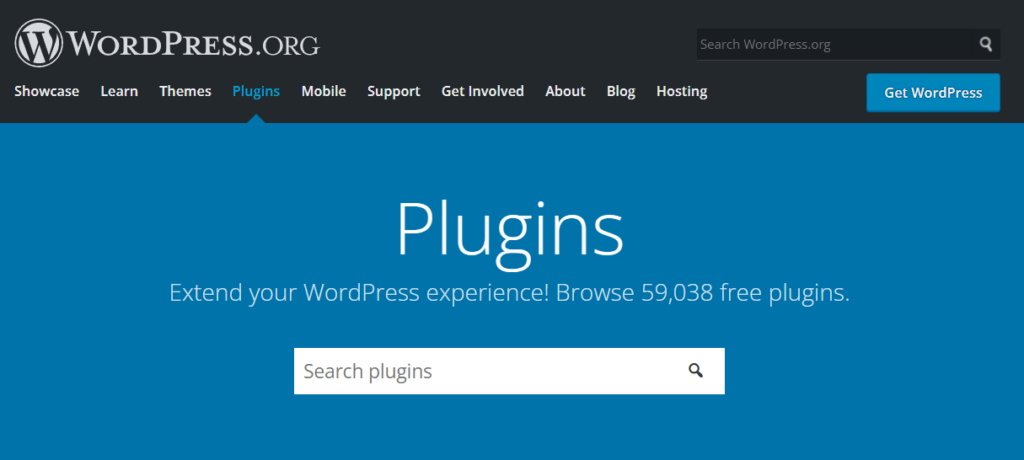 As with themes, there are free and paid ones. So if you can't justify a purchase just yet, you're likely to find a less capable but free solution that might do the trick.
4. SEO-ready
As more people run businesses online, the competition for the first page of Google is as fierce as never. This is why it's so important to build and manage your WordPress website with SEO in mind.
SEO stands for search engine optimization, a set of practices aimed at improving quality and quantity of organic traffic coming to your website. In other words, by implementing SEO, you increase the chances of your content ranking higher as well as bringing the right kind of people to your website.
Luckily, WordPress doesn't fall short in this category either. It's probably the best CMS out there in terms of SEO.
Here are some examples of what you can do:
Custom permalink structure. You can adjust how your links look so that search engines (and users!) better understand what your content is about.
Default:
https://easywp.com/blog/p?=49
SEO-friendly:
https://easywp.com/blog/wordpress-review/
Unique meta titles and descriptions. Meta title and meta description are the text that shows up on search results and the browser tab. The more descriptive they are, the better. WordPress allows you to write them for each post or page individually. 
XML sitemaps are easy to generate. XML sitemaps are designed for faster, more efficient crawling of your website. By reading them, web crawlers receive important information about your site structure and its content.
Image optimization. Two things here. First, you can fill in alt text for each image that gives additional context to it. Second, you can leverage plugins to optimize image file sizes and as a result improve your page speed. 
Since the realm of SEO is pretty vast, this list can go on and on. The important thing is that you'll have plugins at your disposal that will help you manage SEO-related tasks to improve your site's performance in the search.
Here's a handful of the most popular ones:
5. Passionate community
The last benefit of choosing WordPress that we want to list today is actually not a feature. Over the course of years, WordPress didn't just become home for millions of websites all over the world. It also managed to build a massive and passionate community that truly cares about the product.
This translated into tons of free educational materials like tutorials, ebooks, and videos created by the active user base. Since WordPress is used literally everywhere, you're likely to find many useful learning resources in your native language, which is very convenient. 
On top of that, you can join different WordPress-related forums and Facebook groups to get advice or just stay in the loop of the latest trends.
Cons of using WordPress
1. WordPress engine updates
As mentioned in the beginning, WordPress is not perfect. Well, nothing really is. And one of the most notorious drawbacks of using WordPress comes down to its updates. 
You see, updates are important for site health and security reasons. So it's not really something you can easily dismiss. With that said, WordPress upgrades should be done with caution as they also can cause some trouble.
The reason being third-party plugins and themes might not be compatible with the latest WordPress version. Which can result in a broken design or even crash your website completely if you're unlucky. However, it mostly happens with major updates. 
To avoid such issues, it's highly advisable to make a full website backup before any important update. Should things go awry, you will be able to restore your website in no time.
2. Security vulnerabilities
Being a hugely popular open-source CMS comes with a price. The more websites are powered by one system, the more tempting it is for hackers to find security vulnerabilities. And when they do, not one but thousands of websites can be at risk.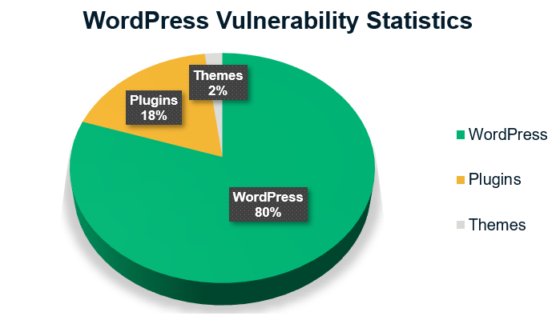 Yes, WordPress websites become victims of hacker attacks quite often. But worry not, there's a lot you can do to keep your website protected. Here's a list of some security best practices you can implement:
choose a secure hosting provider 
use strong passwords
enable Two-Factor-Authentication (2FA)
keep your WordPress up-to-date
avoid using sketchy plugins and themes
These security measures will significantly decrease the chance of your website being hacked.
Final thoughts
WordPress is the most-used content management system for a reason. Outstanding user-friendliness combined with impressive flexibility makes WordPress a great platform for websites of any size or purpose.
With a wide selection of plugins and themes, you can start a simple web hosting plan at virtually no cost and later scale it in any direction you need. 
While you have to be careful with security loopholes and engine updates, WordPress still remains the undisputed king of CMS.