9 WordPress plugins to improve your customer experience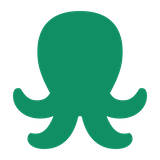 EasyWP Team
11 Jan 2023
Customer experience is one of the most important factors determining the success of an online business. Not only does it enable you to retain existing customers, but helps you attract new ones via word of mouth and online reviews.
Being much more than simply a dominant CMS (content management system), WordPress allows you to leverage a variety of plugins and offer personalized solutions to your customers.
WordPress plugins make it easier for you to facilitate customers throughout their journey and optimize their overall experience. However, choosing a plugin that works for you can be challenging as there is an unending list of them.
Here are 9 WordPress plugins that can help improve your customer experience.
1. WPForms
Your relationship with customers doesn't end when they've purchased your product or service — it's just the beginning.
Contacting you is the first action customers are likely to take whenever they run into problems or have general inquiries. So, making it easier to get in touch helps facilitate the overall customer experience. And WPForms can help you become more reachable.
WPForms is a beginner-friendly WordPress plugin that enables you to effortlessly design and deploy customer contact forms.
You can use pre-defined templates or create your contact forms from scratch, and the tool gives you complete control to tailor contact forms as per your needs. All it takes is a few minutes to create visually stunning and responsive contact forms.
Fortunately, WPForms doesn't slow your site or cause bloat. Instead, it's a minimalistic tool that you can use as a gateway for your customers to reach you so you can resolve their queries.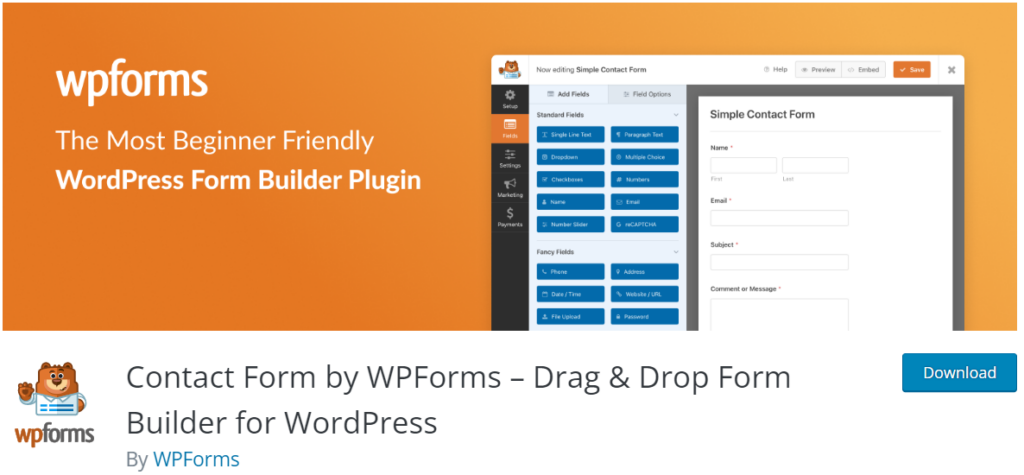 2. SearchWP
Finding relevant information on an unorganized, content-rich site can be the equivalent to finding a needle in a haystack. Over time, content on your website may increase dramatically — making it difficult for your customers to find the details they need.
SearchWP helps you take care of that by allowing you to optimize your site search option and making it easier for your current and potential customers to find the required information.
SearchWP also gives you great customer insights by allowing you to explore what your website visitors are searching for. Moreover, SearchWP offers a variety of customization options that you can use without having to need coding expertise.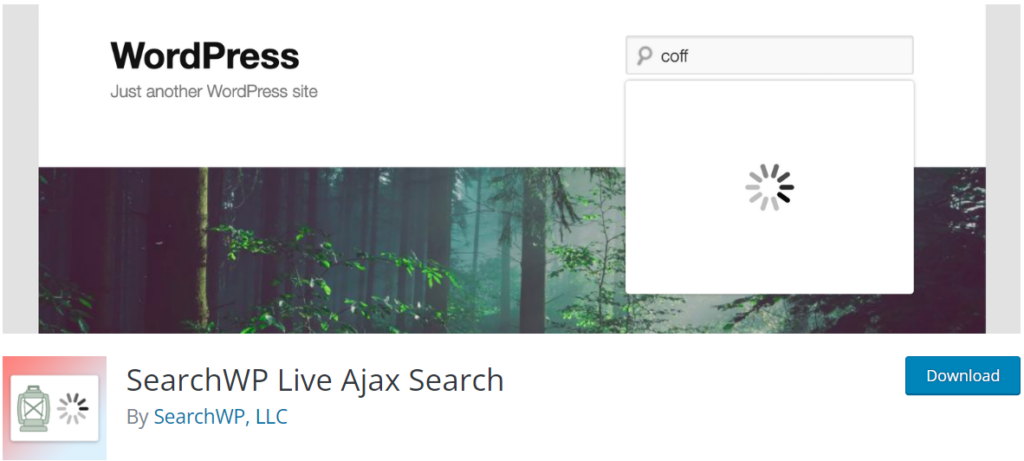 3. SupportCandy
To ensure a seamless customer experience, it's essential that you offer excellent customer support and after-sales services. And SupportCandy can help you with that.
SupportCandy is an easy-to-deploy customer help desk and support plugin that makes it possible for your customers to reach out to you and get their questions answered. It's a ticket system that you integrate into your site and start receiving requests from your visitors.
SupportCandy is a GDPR-compliant tool and comes with a variety of features. Moreover, unlike many similar tools out there, SupportCandy doesn't put a limit on the number of tickets that you can receive from your customers.
Overall, it's an excellent WordPress plugin that you can consider to stay in touch with your customers and offer support for a great experience.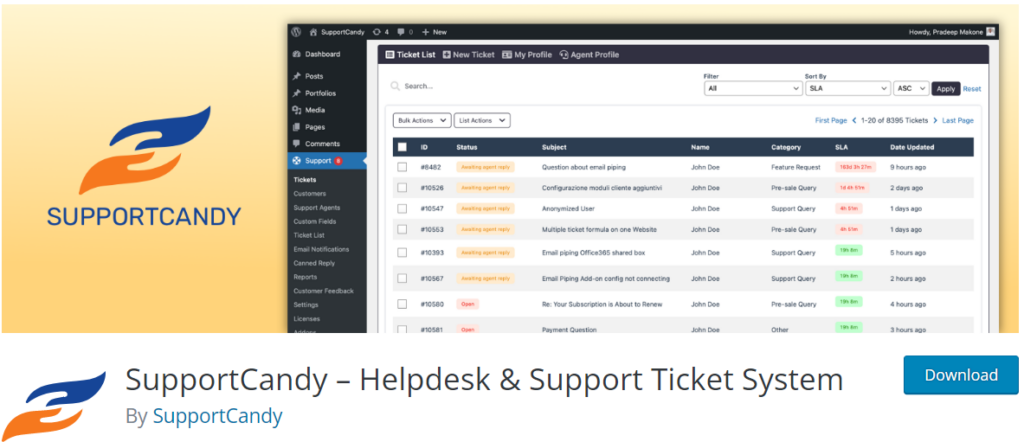 4. SeedProd
Personalization plays a major role in helping you offer a great customer experience. The way you convey your message matters and helps you connect with a relevant audience. This enables you to capture quality leads and maximize conversion chances.
However, you can't do that with a bland website. You need to tailor your site and your respective pages to your audience characteristics and the preferences of your customers.
SeedProd is a beginner-friendly WordPress plugin that enables you to create custom pages and sites with drag-and-drop simplicity. It's a plug-and-play tool that allows you to create highly responsive websites and landing pages from the ground up in just a few minutes.
Overall, SeedProd makes it easier to create and launch personalized sites without any need for coding expertise, making it an ideal tool for beginners.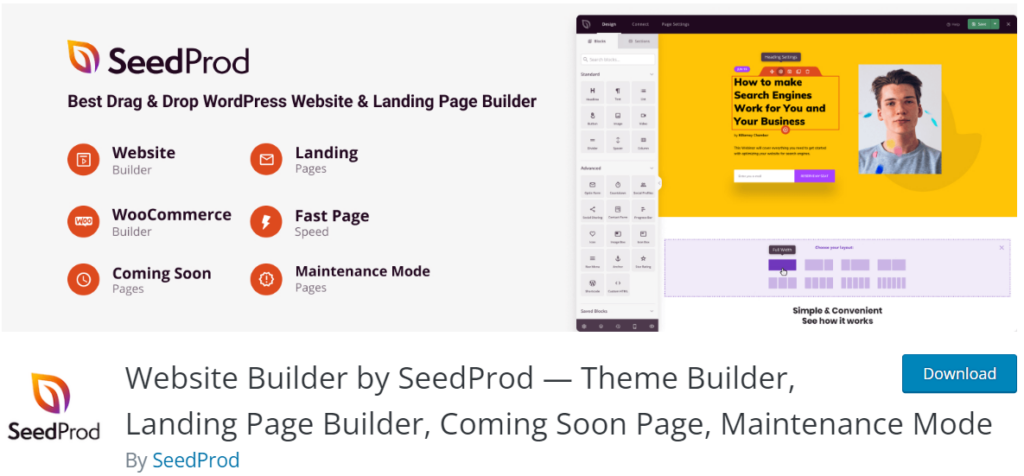 5. WP Rocket
Businesses grapple with website load time issues from time to time. How fast your website loads has a significant impact on customer experience. Moreover, slow websites tend to generate fewer leads compared to the ones with improved load time.
Since there are many technical elements involved, it can take days or even weeks to diagnose the issues that cause your site to load poorly. This can be alarming for beginners, especially for the ones with no technical expertise.
In many instances, enabling caching on your site has proved to be an efficient and quick fix to resolving a website load time issue. And in that regard, WP Rocket is a great tool worth considering.
WP Rocket is one of the best WordPress caching plugins that allows you to instantly improve your website's performance and load time to ensure a seamless customer experience.
The tool optimizes your site on recommended WordPress caching settings. Moreover, it builds your website cache via auto crawling and gives you an instant boost in performance.
Overall, WP Rocket is a great tool that facilitates customer experience by enabling you to improve the speed and performance of your WordPress site without having to require technical expertise.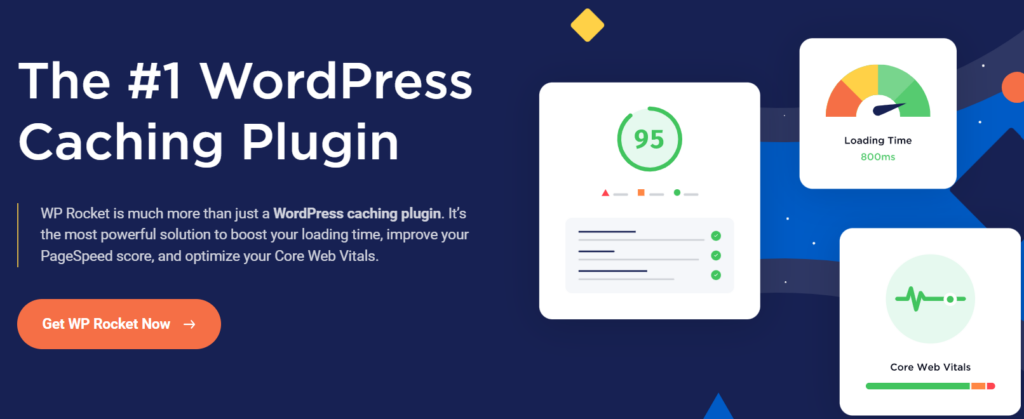 6. LiveChat
Chat is the easiest way for your customers to connect with you and get their questions answered. Having the feature enabled on your site ensures a great customer experience and allows you to generate quality leads in the process.
LiveChat is a renowned WordPress plugin that helps you stay connected with your current and potential customers. It's a plug-and-play tool that allows you to activate a live chat feature on your website and start receiving customer queries right away.
The popular plugin comes with a variety of customization options. It's easy to use and allows you to access customer queries on the go via a mobile app.
You can integrate LiveChat with other customer experience tools such as your current customer support platform, CRM solution, outreach software, and more. Overall, LiveChat is a trusted plugin that helps you stay connected with your customers.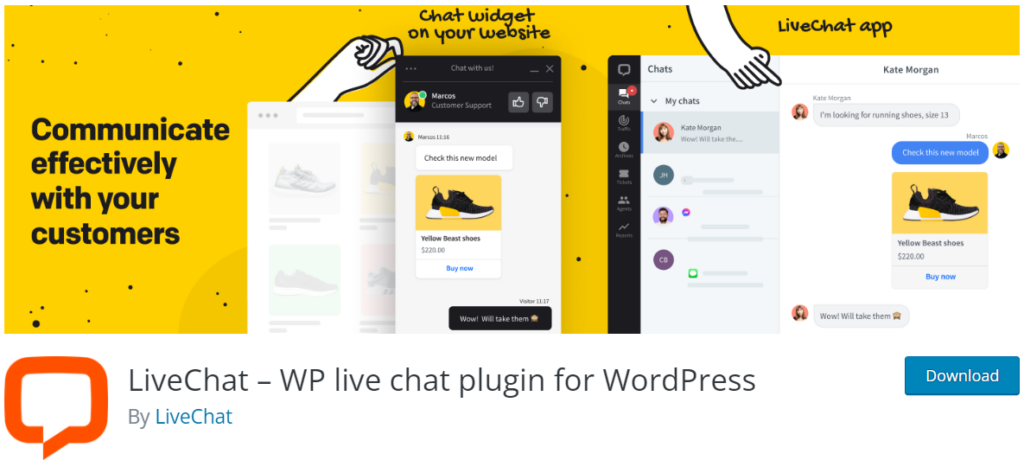 7. RafflePress
Giveaways are a nice gesture. The act of giving something in return to your customers not just breeds loyalty but also enables you to attract more traffic through shareability and word of mouth.
RafflePress is a WordPress plugin that enables you to host giveaways and contests on your website. It helps you get more traction through virality, increase engagement on your site, and facilitate a seamless experience for your customers.
Thankfully, RafflePress has no steep learning curve. It's fairly easy to use and offers a variety of features. The tool allows you to access ready-to-use templates and start hosting giveaways in just a few clicks.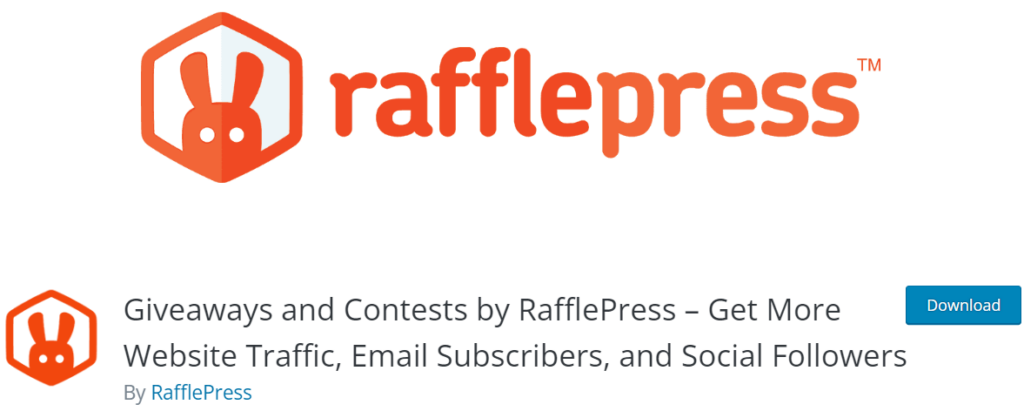 8. WPML
If you target a global audience with different language preferences then it's best to have a multilingual website.
A multilingual site allows your current and potential customers from different regions to access relevant content in their preferred language. This helps you attract quality leads and greatly improves the overall experience.
Creating a multilingual website used to be a challenge back in the day, but not anymore. There are many tools that can help you create a stellar site in different languages, and WPML is one of the best out there.
WPML is a WordPress plugin that allows you to create a multilingual site. The tool is easy-to-use and doesn't require you to go through a sophisticated process to create an SEO-friendly website supporting different languages.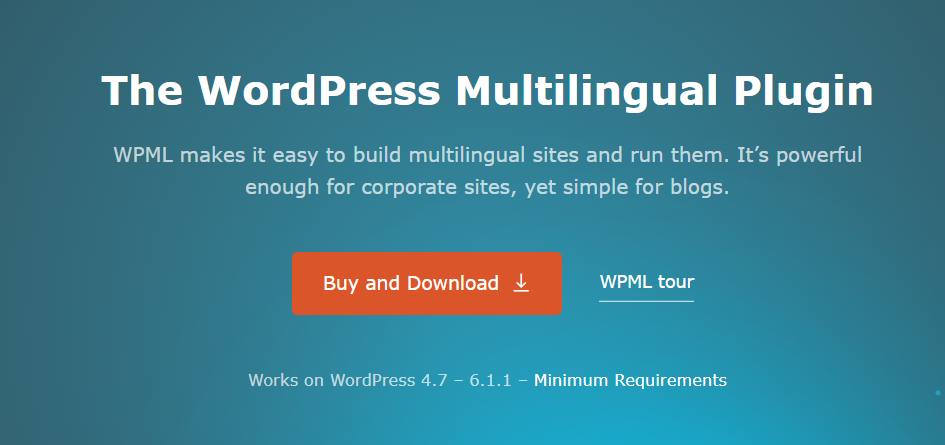 9. Smush
As we've mentioned, poor load time is bad for customer experience, and a large volume of unoptimized images on your site can really slow things down.
Smush is a WordPress plugin that allows you to optimize images on your website to ensure better performance for an improved customer experience. It enables you to compress and resize images uploaded on your website so that your pages can load faster.
Smush crawls your site and finds the images that affect your website performance. The tool allows you to optimize up to 50 images simultaneously — making it a quick and effortless process.
So, if you've been struggling with load time issues on your site, Smush is a handy WordPress plugin worth considering.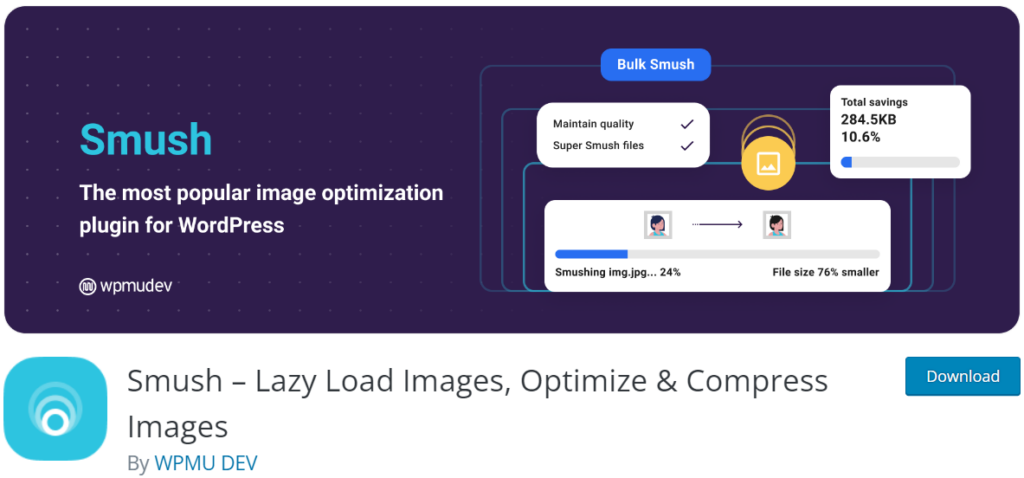 Improve your customer experience with a WordPress plugin
There you have it! We've explored 9 WordPress plugins that will propel your customer experience to the next level. Whether it's effortlessly designing contact forms, making information easier to find, or optimizing your images for a faster user experience — WordPress plugins can help you prioritize your customers and prospects. Now all you need is fast, secure, and reliable managed WordPress hosting to ensure a seamless user experience for your current and potential customers.
Guest Contributor: Syed Balkhi
Syed Balkhi is the founder of WPBeginner, the largest free WordPress resource site. With over 10 years of experience, he's the leading WordPress expert in the industry. You can learn more about Syed and his portfolio of companies by following him on his social media networks.
---