EasyWP customer support live chat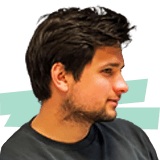 Vladyslav Koval
13 Dec 2021
We're super excited to announce that EasyWP now has its very own customer success team to ensure you have the best EasyWP experience ever! Available via live chat and ticket system, our 30 well-experienced (and awesome) support representatives are always there to save your day.
How to start a live chat with EasyWP
Starting a chat with the EasyWP customer success team is fast and easy. Let's see how it's done.
If you're an EasyWP user, log in to EasyWP and click the question mark button in the bottom right corner. Then, choose Chat with a Live Person option.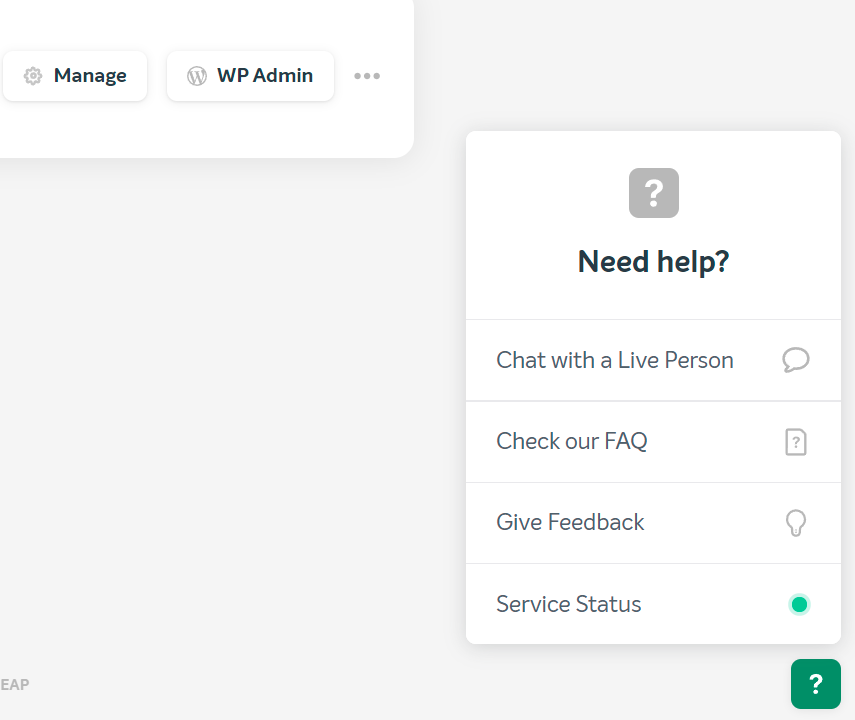 On clicking the button, you'll be redirected to the Namecheap help center page and the chat form will pop up. Since you're already logged in, your user details such as your name and email address will automatically be used: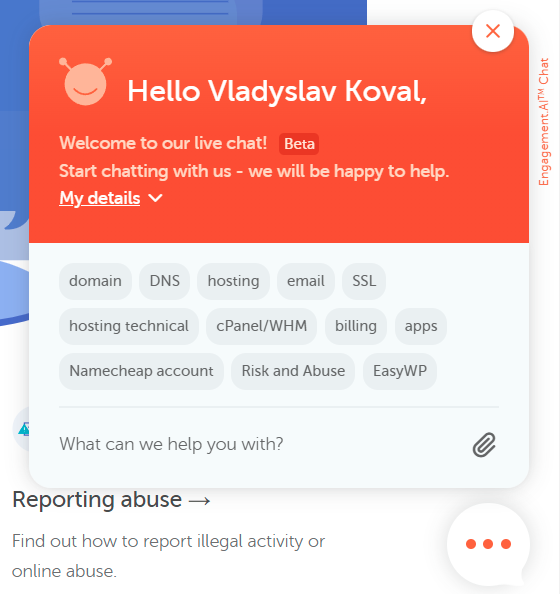 Not a member of the EasyWP family yet, but want to ask a question? Not a problem!
If you don't have a Namecheap account, just go directly to the Namecheap live chat page and click the 3-dot button (see screenshot above) in the bottom right corner. Then, provide your name and email address we can reach you at.
From here on, the process is the same for both logged in users and guests.
Simply type in your question or describe the issue you're having and make sure to choose the EasyWP category above the chat field. This way, the support system will connect you with one of the EasyWP customer success representatives. After you're done filling out the livechat form, hit the Submit button: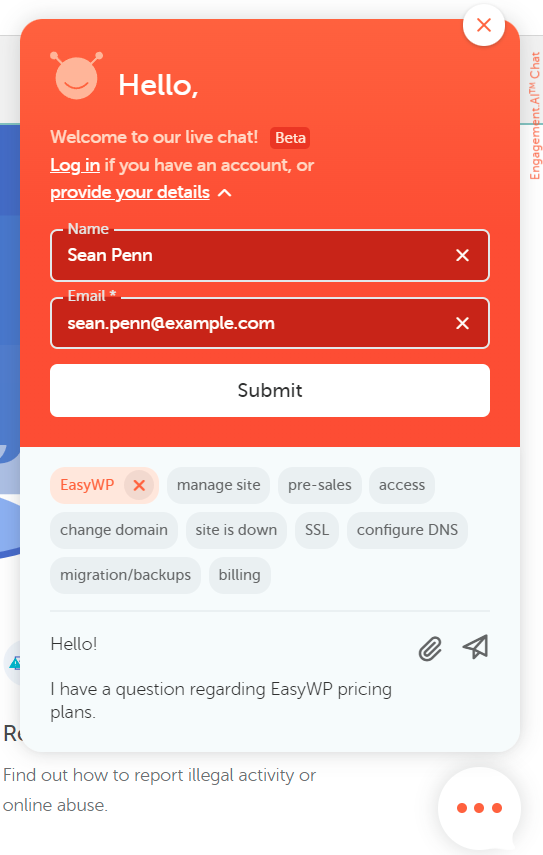 How to create a support ticket
Don't feel like chatting today? You can still reach out to us by creating a support ticket and sending us the details of the issue you're facing. Again, the process is quite simple, here's what you need to do:
First go to the tickets page and scroll down.
Choose the EasyWP department and click Next.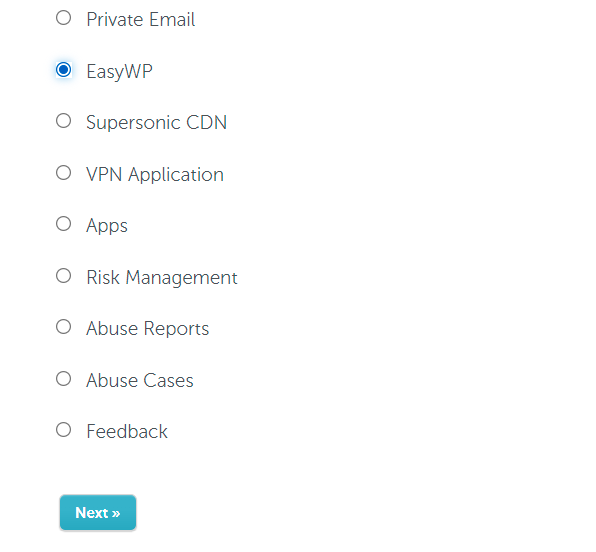 On the next page, fill in your user details if you're not logged in already.
Make sure to provide additional information like your EasyWP domain name in question or support pin for us to investigate the issue more quickly: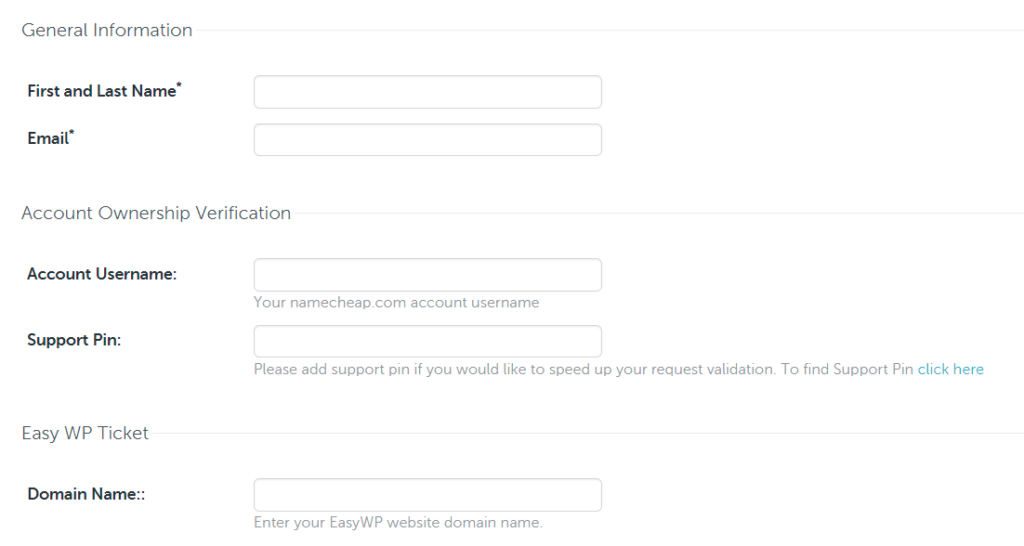 Finally, give your ticket a subject and describe your query in the Body field.
Just keep in mind that the more details you provide, the faster we'll be able to find a solution for you. There's also an option to attach files if you want to share a screenshot, a video, etc.
Useful support links
While getting support in EasyWP chat is fast, there might be even quicker ways to find answers and information about EasyWP. A lot of times, it's only a matter of consulting one of our dedicated support pages that address a range of queries from pre-sales questions to system downtimes. Let's see what those pages are:
EasyWP FAQ page. If you haven't checked our FAQ page yet, we recommend you do so, as it's the go-to resource for finding answers to the most common WordPress and EasyWP-related questions.
EasyWP status page. Visit this page to see if EasyWP is currently experiencing a downtime in one of its areas. Should it be the case, it means we're aware of the issue and already working on resolving it, so there's no need to submit a support ticket.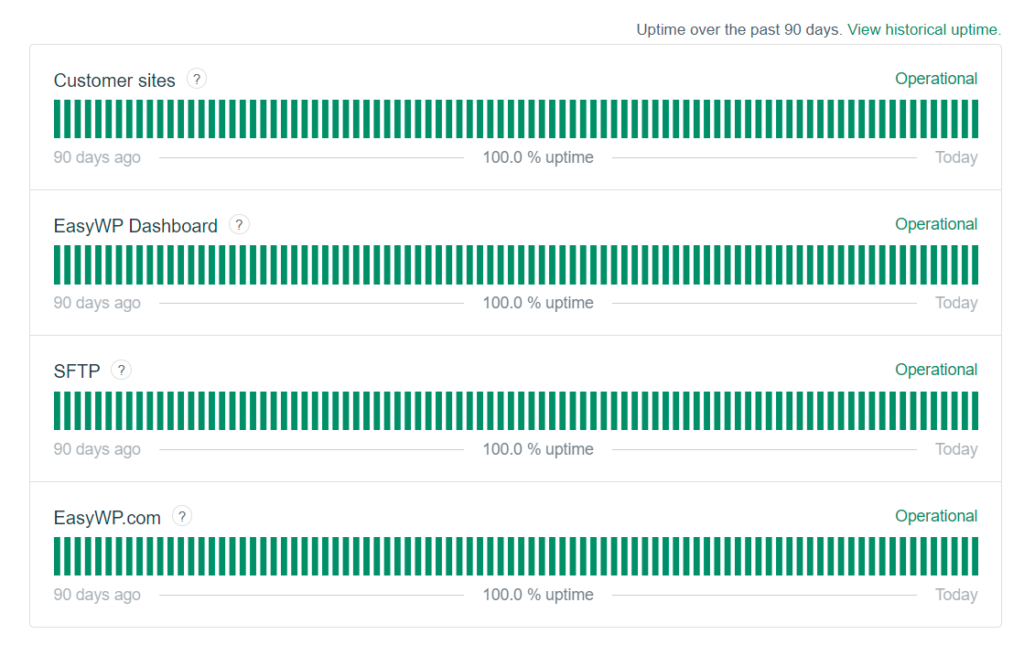 Namecheap status page. This page provides a quick way to stay up-to-date with the current statuses of all Namecheap services, including EasyWP. By checking this blog, you'll always be in the loop of the planned and unplanned downtimes, notices of hosting servers performances and important Namecheap updates in general. 
Namecheap Knowledge Base. Last but not least, Namecheap has an extensive knowledge base for you to explore. Apart from covering important information about Namecheap products and services, it also packs tons of educational materials like how-to videos and step-by-step tutorials.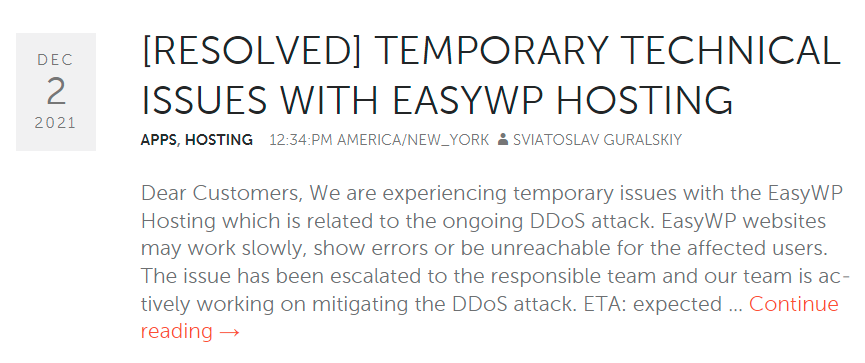 Conclusion
That concludes today's announcement, and we hope you enjoyed reading it:) Be sure to keep your eyes peeled for more cool news and updates about EasyWP.
Have any questions? Feel free to ping us on Twitter.