Want a cheap e-commerce website? Here are 4 ways to get it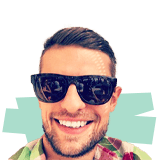 Karol K
22 Sep 2021
You're not the only one out there. There are hundreds of people just like you who have gone online today and googled how to build a cheap ecommerce website.
The good news is that you can have a functional ecommerce store website created for ~$40 for the first year.
Such an ecommerce store will be able to:
host unlimited products,
display your merchandise in an attractive way,
manage customer data and orders,
process credit card payments,
organize your inventory,
work on all devices – desktop and mobile.
That said, it's not like there aren't some limitations and trade-offs that you'll have to agree to. In this post, we tell you everything you need to know about building a cheap ecommerce website. We break down all the costs and show you where to get started.
What goes into the cost of an ecommerce website?
The thing with ecommerce websites is that they can cost very different amounts of money, depending on the features you need, the kinds of products you will be selling, plus how you want to sell them. But let's start at the beginning:
Web hosting
No ecommerce website can exist without a web hosting setup that houses that website. Oftentimes, you'll have to pay for that hosting (although there are free alternatives as well).
Domain name
The other must-have piece of online real estate is a domain name. No website can exist without a domain name – it's the site's address on the internet.
In some scenarios, you can get a domain name for free for the first year. However, in practice, it will be cheaper in the long run to get a .com from Namecheap for $5.98 / year instead. Many of those "first year free" offers lock you into paying $15+ / year starting from year two.
Ecommerce software
Next in line on your bill is the ecommerce software itself. The prices here vary a lot from solution to solution, so it's hard to pinpoint an "honest" amount. It all depends on what your individual needs are.
There are ecommerce platforms out there that you can start with for free (more on those in a minute) and also ones that cater to enterprise users only – starting from thousands of dollars per month. Plus, you can find solutions falling anywhere in between.
Optimized design
If you're lucky, your ecommerce platform will already come with beautiful optimized designs included free of charge. If you're not, you can expect to pay anywhere from $50 to $300 for a good-looking theme.
Of course, on the far end, you can also hire a designer to craft a custom theme for you, but that's probably not on your radar if you're looking for how to build a cheap ecommerce website.
SSL certificate
Having an SSL certificate installed is absolutely crucial for any ecommerce store. SSL certificates validate the connection between the visitor and the website, ensuring that no third parties are eavesdropping on what's going on.
This is particularly important when dealing with sensitive customer data, such as addresses or credit card info.
From a technical point of view, the SSL certificate is something that your web host usually takes care of for you. Depending on who you're hosting with, you might get a certificate for free, or you might have to pay a modest fee for it.
Just to give you a couple of examples:
Additional ecommerce functionality
The core of what makes an e-commerce store an e-commerce store will be built into your e-commerce software from the get-go.
This includes things like:
shopping cart functionality,
processing orders,
storing customer data,
handling your product catalog,
keeping inventory,
basic online payments (usually via PayPal).
However, if you need more than that, you'll most likely have to pay extra for it.
For example, most e-commerce stores will want to offer their customers more payment methods than just PayPal. Every additional payment gateway usually means an additional fee. Another popular upgrade is integrating an email marketing module to communicate with customers and get them to come back to your store.
Although each of such additional modules might not be expensive by itself, these things do add up. It's fairly easy to end up paying $100+ / mo for the additional functionalities alone.
4 ways to get a cheap e-commerce website built
Now that we've discussed the individual elements that go into the cost of your online store website, let's now share a handful of alternative paths to building a cheap e-commerce website. We'll also break down the investment required with each one.
Cheap ecommerce website #1: WordPress + WooCommerce
WordPress is the most popular website engine of them all and, arguably, the best. At the time of writing this, it's used on more than 40% of all websites.
One of WordPress' superpowers is that it can handle basically every type of website – including e-commerce stores.
However, it can't do it on its own. This is where WooCommerce comes into play. It is an all-in-one e-commerce solution for WordPress that comes in the form of an easily installable plugin.
The best part of all this is that both WordPress and WooCommerce are 100% free.
Then, if you're lucky, you can also find a free WordPress theme that's suitable for your business. Why does luck have to be involved here? Well, while there are thousands of free WordPress themes available on the web, finding the perfect one that matches your needs can be difficult. It is doable, though!
Lastly, most of what we'd call essential e-commerce functionality is built into WooCommerce from the start. The only extensions you might want to consider are for enabling payments via Stripe or Square.
The cost breakdown:
Domain name: $5.98 / year
Web hosting: $34.44 / year ("Turbo" – recommended setup on EasyWP)
Ecommerce software: $0 for both WordPress and WooCommerce
Design/theme: $0 to $100 for a quality theme
SSL certificate: $0 with the Turbo tier at EasyWP
Additional functionality: $0 to $200 per extension
Total cost: from $40 to get an entry-level e-commerce website going.
Cheap e-commerce website #2: Ecwid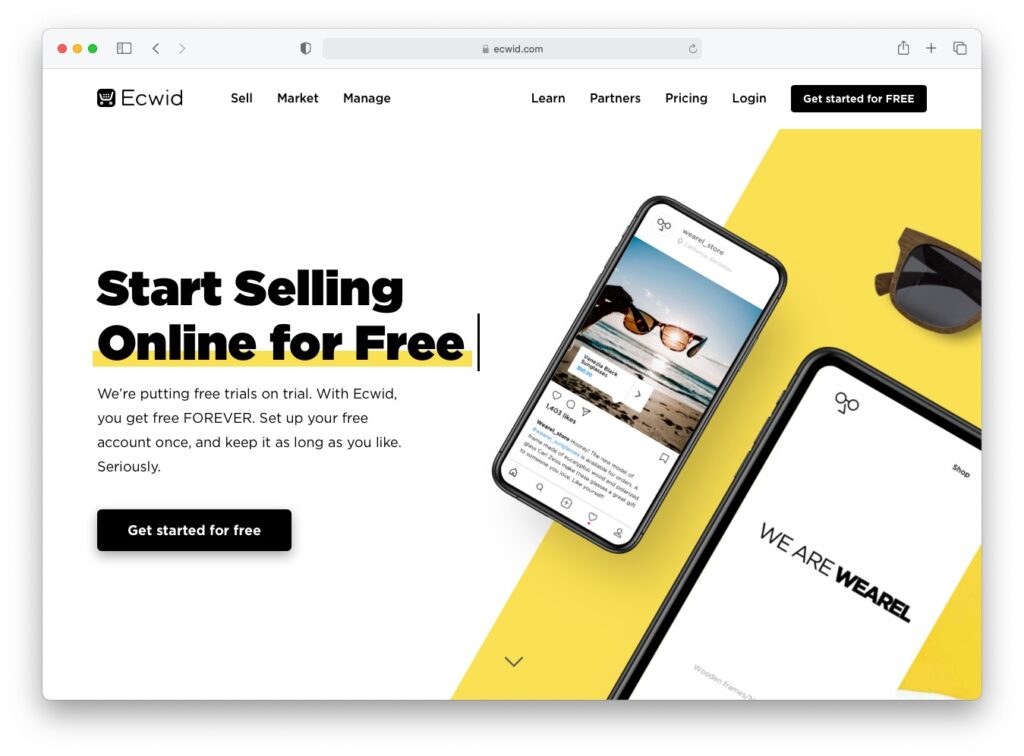 Ecwid is a very interesting e-commerce solution on this list, simply because it offers an entirely free plan.
This is great news, but it does come with a couple of limitations:
You can sell up to 10 products only.
You cannot connect your own domain name (you get a subdomain with Ecwid's branding).
There's no customer support.
Don't worry if these sound a bit harsh because Ecwid's paid plans are not too expensive either. The next tier in line – "Venture" – is $150 / year, and it does expand a lot on what you get:
You can sell up to 100 products.
There's customer support via live chat.
You can connect your own domain name.
You get additional features, such as gift cards, discount coupons, automated tax calculations, inventory tracking, plus options to sell via Facebook and Instagram.
If this is still not enough, Ecwid offers higher tiers with even more features. Lastly, you can extend your store by installing apps for things like Google Shopping integrations or additional marketing features. The pricing on those varies anywhere from $0 to $100 / mo.
The cost breakdown:
Domain name: $5.98 / year (from Namecheap)
Web hosting: $0
Ecommerce software: $150 / year (the price of the entry-level Ecwid setup)
Design/theme: $0
SSL certificate: $0
Additional functionality: $0 to $100 / mo per extension
Total cost: if you're okay with the limitations listed above, you can set yourself up on Ecwid's free plan; alternatively, the total cost of the entry-level paid setup is ~$156 / year.
Cheap e-commerce website #3: Shopify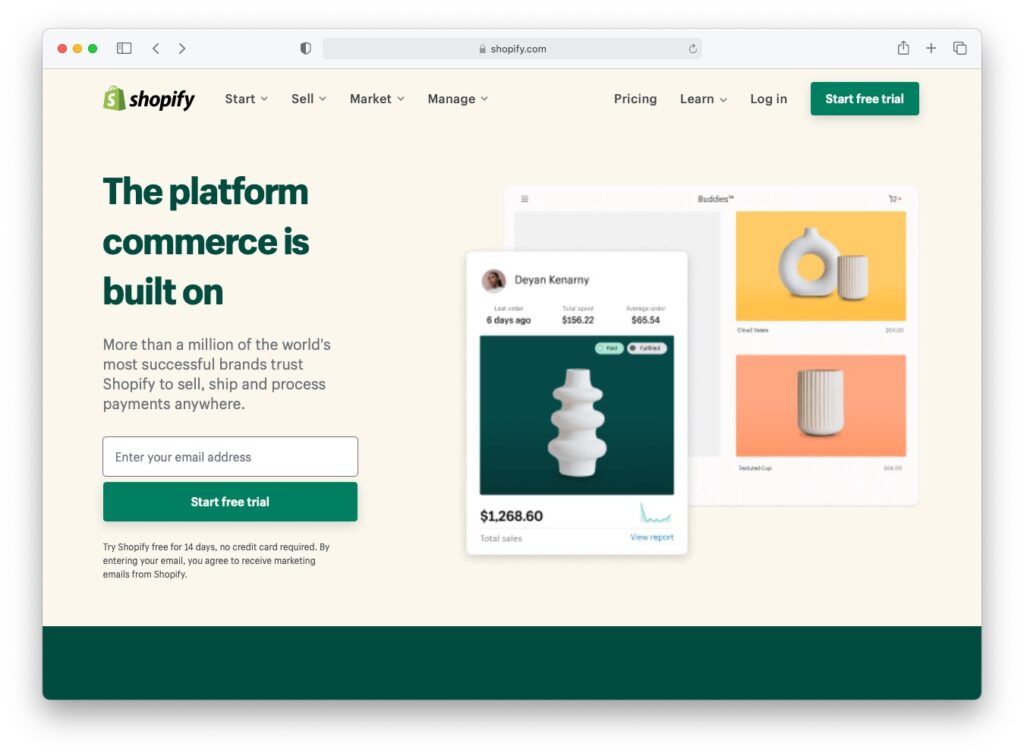 Shopify is the most popular purpose-built all-in-one solution for e-commerce (sorry, that's a mouthful).
Let's unpack the above statement:
It being purpose-built means that it was designed to let you build e-commerce websites specifically. Using it for any other type of website doesn't make too much sense.
It's all-in-one, which means that you don't have to go anywhere else to set up your e-commerce website. Shopify can sell you a domain name through their interface as well (although it's not recommended).
Most importantly of all, Shopify offers an easy-to-use interface that takes you by the hand through all the crucial steps of the process. This means that you don't have to have any particular website-building skills or experience.
Shopify also makes dealing with payments as painless as it can be. They basically give you their own Shopify Payments module with clear credit card processing fees.
Then, of course, there are designs. Shopify has 80+ themes to choose from in their catalog at the time of writing. Ten of them are free. The paid ones cost from $150 to $300.
Shopify also has an impressive catalog of apps and extensions – both free and paid ones. Most of the paid ones come with a free trial, so you don't have to commit until you're sure that you'll keep the app.
The cost breakdown:
Domain name: $14 / year when bought from Shopify directly; $5.98 / year when bought from Namecheap
Web hosting: $0
Ecommerce software: from $29 / mo ($348 / year)
Design/theme: from $0 to $300
SSL certificate: $0
Additional functionality: most apps are around $8 / mo; there are free ones as well
Total cost: if you start with Shopify's entry-level plan and get your domain from Namecheap (for savings), your e-commerce website will cost roughly $354 / year.
Yes, Shopify is the most expensive solution among the cheap e-commerce website setups covered here. Why did we decide to feature it instead of showing you another solution in the $100 / year range?
Well, Shopify is simply too good to be ignored. You get basically all the features you'd need included in the entry plan, and they are all optimized to maximize your conversions. Plus, at the end of the day, Shopify is still much cheaper than having a custom e-commerce website built by a freelancer or an agency.
Cheap e-commerce website #4: Zyro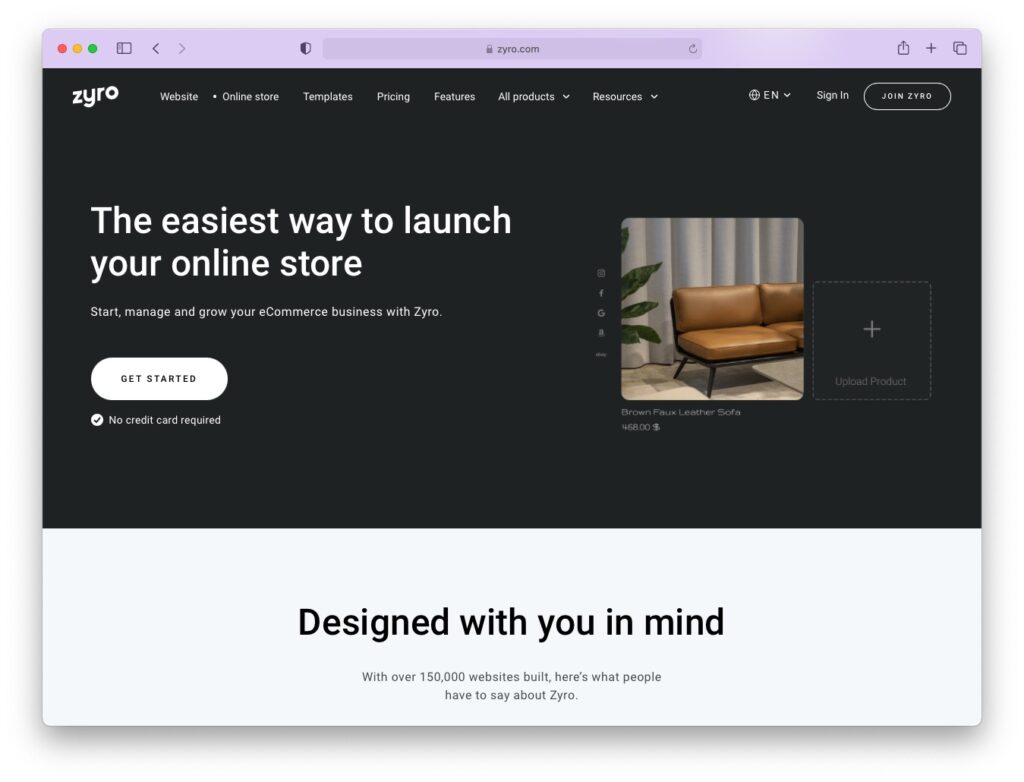 Last but not least, we have Zyro! This is a relative newcomer to the e-commerce space, but it surely does come with a unique offering that's quite affordable.
Zyro is actually an all-purpose website builder that can be used for standard personal or business sites as well. Those setups in particular can be gotten for real cheap. For instance, the entry-level "Basic" plan is only $2.90 / mo. However, before you get excited, you can't use it for e-commerce.
The first tier that does cover ecommerce costs $9.90 / mo. The caveat with this low price is that you have to commit to four years upfront. This means that your initial investment will be $475.20.
Alternatively, if you choose to pay monthly – Zyro gives you this option – the price rises to $19.90 / mo.
No matter the payment model you choose, Zyro offers you the whole package of e-commerce features included:
selling up to 100 products,
accepting online payments via Stripe, PayPal, PayU, and other gateways,
managing your shipping and taxes,
managing your inventory,
getting a domain name for free for the first year or connecting your own domain,
using Zyro's SEO features,
choosing from a couple dozen of optimized designs,
integrations with Facebook Pixel, Google Tag Manager, Facebook Messenger, Google Analytics, and more,
discount coupons and gift cards,
and more.
There really isn't anything you'd need to pay extra for, which is an original business approach on Zyro's part compared to the other platforms listed above.
The cost breakdown:
Domain name: $0 for the first year with Zyro; it's still cheaper long term to get your domain from Namecheap for $5.98
Web hosting: $0
Ecommerce software: $9.90 / mo when paid for four years upfront ($475.20)
Design/theme: $0
SSL certificate: $0
Additional functionality: $0
Total cost: the upfront investment is pretty high at $475.20, but it does average out to a $9.90 monthly price tag, which still makes it a good deal compared to the other alternatives on this list.
What's your preferred way of building a cheap ecommerce website?
Unfortunately for all of us, there really isn't any upper limit when it comes to how much an ecommerce website can cost. The more complicated and advanced setup you need, the more expensive the whole project will be.
That being said, there's also quite a handful of platforms that will let you build a fully-featured ecommerce store for a low amount.
It's really not unreasonable to walk into your ecommerce project with only $40 in the pocket. You can still build a great site using WordPress and WooCommerce for that amount. Then, when the time is right, you can extend your store and invest more funds in it.
👉 Here's how to set up your WordPress website on EasyWP.
Of course, if your budget is a bit higher from the start, you can go for a platform like Shopify or Zyro right away. And, if you just want to test out the waters with ecommerce, there's always the forever-free plan from Ecwid.📚 Further reading: Wondering how to make sure that your ecommerce store generates sales right from day one? Read this.