This week in WordPress design — redesigns, icons, and patterns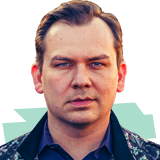 Rodney Brazil
29 Jun 2023
The dynamic universe of WordPress web development and UX design is constantly brimming with exciting innovations and updates, much like a box full of surprises! If you're a pro dedicated to crafting high-quality digital solutions, keeping abreast of the industry's evolution is as crucial as your daily dose of caffeine. See the current climate of small business website redesigns and get predictions about the future of web icons in the latest edition of our new weekly blog series.
Redesigning small business websites to reach new customers
Small businesses recognize the importance of well-designed websites for attracting and retaining customers. A recent Adobe survey, cited by Digital Information World, shows a significant increase in search trends related to website design and customizable website builders, reflecting a growing interest in DIY website design. Almost half of small business owners (46%) identified design as the critical element in website creation, with 43% stressing the importance of marketing in the design process.
The survey further revealed that 53% of small business owners plan to revamp their websites, with the primary focus being on increasing SEO (48%), improving marketing capabilities (42%), and enhancing design (38%). Marketing was the most significant area of concern, with many business owners having questions about SEO and marketing strategies.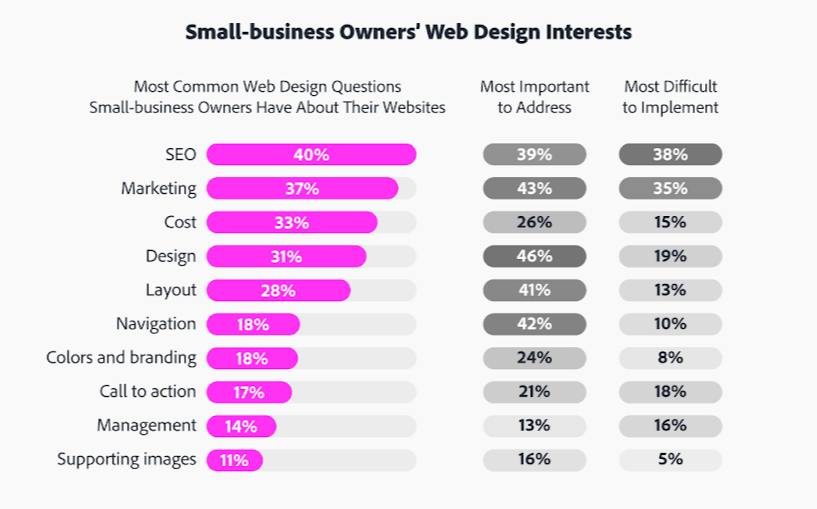 Image source: Adobe
To reinforce their revamped websites, 42% of small business owners also plan to overhaul their marketing efforts, particularly through social media promotions. By prioritizing design, marketing goals, and SEO in website revamps, small businesses can boost their online visibility, attract more customers, and compete more effectively in the digital marketplace.
The future of web icon design
Icons, being the backbone of UX design, serve the crucial purpose of communicating information clearly and accessibly. Originating from archeological symbols and ancient hieroglyphs, modern iconography started gaining popularity in the late 20th century with the advent of graphical user interfaces (GUIs). Icons have evolved through different design approaches, moving from Skeuomorphic (icons looking like mini versions of their real-world counterparts) to Flat design, which promotes minimalist, two-dimensional interfaces to convey meaning more lucidly.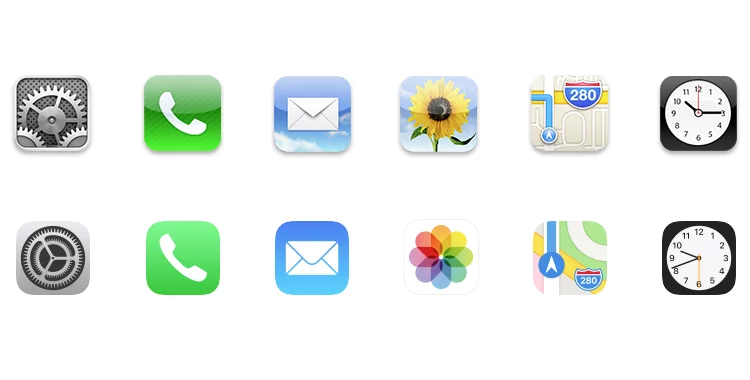 The evolution of Apple's iconography" — Skeumorphic icons on top, Flat on the bottom. Image Source: Justinmind
Despite their simple appearance, icons carry substantial power and complexity, laden with metaphors and thoughtful design choices. Today, they are ubiquitous in software and website design, enhancing user interfaces across diverse platforms. Future developments in iconography will be seen in spatial computing, making interfaces more realistic and three-dimensional to fit physical spaces. According to a recent article on Fast Company, when designing with icons, one should remember the 3 C's of Iconography: Clarity, Consistency, and Conservation, to ensure a clean, cohesive, and user-friendly design.
WordPress changes name of Reusable Blocks to Patterns
WordPress's reusable blocks, which can be created, edited, and reused across posts or pages, have been renamed to "patterns." These patterns can be either synced or non-synced. Synced patterns function like former reusable blocks, allowing for simultaneous updates across instances, while non-synced patterns can be edited independently.
WP Tavern reports that this change, included in the upcoming Gutenberg 16.1 and WordPress 6.3 releases, has received mixed reactions from the community. While some users find the renaming confusing, others see it as a step towards "the great unification," aiming to consolidate different block types into a single concept.
Image source: WordPress Design Share
WordPress 6.3 will also introduce pattern creation in the block editor and a first pass at a Pattern Library within the Site Editor. Moreover, there has been discussion about the concept of "partially synced patterns" which allow for specific 'content' areas to be editable while retaining a reference to the source pattern. However, this feature won't be included in the upcoming release, and discussions about its implementation continue.
We hope you found this read enjoyable and informative. If so, we encourage you to explore other editions of our weekly WordPress design roundup. Each edition features the latest trends, tips, and inspiration for designing a stunning WordPress website. Happy designing!