We Now Support Any Domain Name!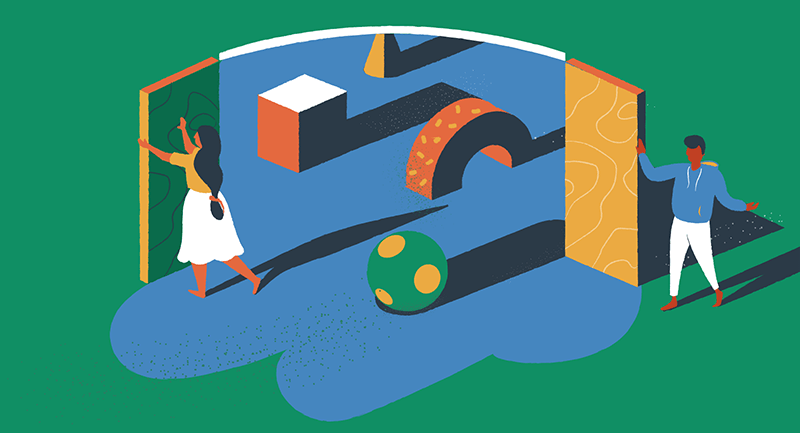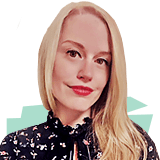 Erin Huebscher
22 Nov 2019
No more waiting! EasyWP optimized WordPress hosting now supports any domain name, whether it's registered with Namecheap or not.
How does this change affect you?
Let's say you're already an EasyWP customer and you'd like to use another domain name that's not registered with Namecheap to replace your EasyWP one. Or, perhaps you're a new EasyWP customer who wants to use a previously purchased domain name from another provider with your new website.
Whatever the case may be, we're now ready to support any domain name, from any domain name provider, with zero hassle for you.
The Quest to Democratize WordPress Continues…
Now that we support any domain name, this only fuels our fire to continue democratizing WordPress. What do we mean by this? Well, for starters, you don't have to have a domain name with Namecheap to benefit from the speed, reliability, and value EasyWP has to offer.
And, since we built our very own cloud platform in-house, we're able to provide you with the superior service you'd expect from all the other Managed WordPress Hosting providers, only at a much lower cost.
---
Can anyone own a domain name?
Yes, absolutely anyone can own a domain name! In fact, owning a domain name has become an essential part of establishing a digital presence for businesses, organizations, and even individuals. A domain name is essentially the address that people use to find your website on the internet. Without a domain name, it would be incredibly difficult for people to find your website, let alone engage with your content.
The process of owning a domain name is relatively straightforward. First, you need to come up with a unique domain name that accurately represents your business or brand. Once you've settled on a name, you'll need to check its availability using a domain name registrar (such as GoDaddy or Namecheap). If the domain name is available, you can purchase it for a yearly fee (usually ranging from $10 to $50, depending on the registrar and the specific domain extension).
It's important to note that while anyone can technically own a domain name, there are certain rules and regulations that must be followed. For example, domain names cannot be used for illegal activities or infringe on someone else's trademark rights. Additionally, some domain extensions (such as .gov or .edu) are reserved for specific types of organizations and may require additional verification.
---
Sure, you might be wondering, "Is this too good to be true?" We can safely say it's not. We did all the heavy lifting ourselves so WordPress could actually work for you. Given that we always stand behind the idea of a free and open Internet, you can see how EasyWP becomes your gateway to getting your ideas online—quickly and affordably.
Using a Domain Name from Another Provider with EasyWP
So, let's say you have a domain name that's registered elsewhere. And you'd like to use it with your new EasyWP website. No problem here! We'll walk you through the necessary steps.
After deciding which plan is right for you (Starter, Turbo or Supersonic), make sure you follow the login instructions that were sent to you in your Welcome Email.
Now, as a brief side note, in order to create your EasyWP website, you'll first need to use a temporary domain name (for example, octopus-3abc4a.easywp.com). That is, however, unless you already use FreeDNS. From here, you'll be free to use your domain name that's registered elsewhere.
From your EasyWP dashboard, first locate Overview.
Under Domain, you should then see your temporary domain name listed. To manage it, click on Manage (you'll see it's circled here in green.)

Good work! Now, locate the Domain on another provider option. This is where you'll type in/paste your domain name that's registered elsewhere.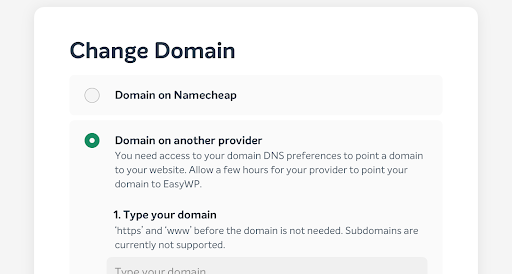 In the blank field where you've copied/pasted in your domain name, something called an ALIAS record gets made. This is, in essence, what lets users be pointed to your website. Remember, though, that in order for your domain name to point to EasyWP, it's important to save this ALIAS record somewhere. (Our recommendation? Copying and pasting it somewhere safe so you can easily refer back to it.)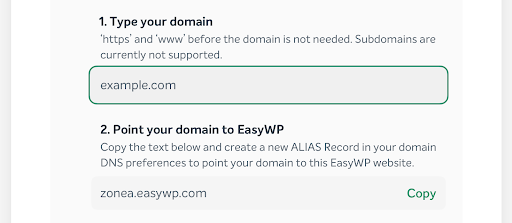 Once you've done this, now open a new tab in your browser and type in the address of your domain provider and log in with your respective details. From here, you'll need to locate the DNS settings.
When you've located the provider's DNS settings, you'll need to then select the domain name you want to use with your EasyWP website and add the ALIAS record you just safely copied and pasted from your EasyWP dashboard. Don't forget to save the changes!
Now, for the final step. To make sure that your domain name is actually pointed to your EasyWP website, go back to your EasyWP tab in your browser and click on Check Domain.Although every domain provider is different, most setup processes (i.e. domain propagation) can take some time so have a little patience.

When the setup process is complete, you'll notice the Change button becomes clickable.

There you have it! Your domain name now has its new home with your EasyWP website.
EasyWP Makes It, Well, Easy!
Want to set up your very first blog? Or your fully-functioning e-commerce shop? No matter what your intentions are, be it personal or professional, EasyWP makes it happen online.

And with our Starter plan beginning at just $3.88/month (with the first month only $1.00!) it's no wonder why we're considered the most affordable Managed WordPress Hosting provider out there. With us, you enjoy all the premium features our competitors offer, without the premium costs.

Already have a WordPress website with another hosting provider but want to make the EasyWP switch? No stress. With us, we're proud to offer free hosting migration if you're not completely satisfied with your current provider's service, loading times, or steep prices.

With EasyWP, you'll notice the difference. Not only do we offer 3X faster speeds and 99.99% uptime, we're now ready to support any registered domain name.
Easy, accessible, affordable, and now inclusive. What more could you want?