Using WordPress Contact Forms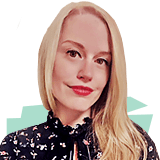 Erin Huebscher
05 Jun 2020
Imagine this scenario: You've got your WordPress website and hopefully, a hosting provider that manages all the technical know-how for you. Just as you're about to publish, you suddenly realize you forgot something. Your contact form!
Using WordPress contact forms as communication is easily forgotten by those who are just starting out but trust us, it's not something you want to skip over. Doing so means skipping out on the opportunity to build valuable relationships with your visitors. Contrary to popular belief, calling your support line or live chatting isn't always the route that your customers want to go. Sometimes they want a simple form to fill out where they can contact you. 
This is where a WordPress contact plugin comes in handy. Here, your potential customers can fill out a quick form without spending too much time; voila, their message is magically sent. 
What is a WordPress contact form?
A WordPress contact form is a web-based form published on a WordPress website that allows visitors to easily communicate with the site owner. When the form is filled out and submitted, an email message is generated and sent to the site owner's inbox. Contact forms are a great way to allow visitors to easily and quickly reach out to you.
Is it possible to customize WordPress contact forms?
Yes! WordPress contact forms are highly customizable. You can easily add or remove form fields, customize the styling of the form, and even add custom messages after a form is submitted. With the right plugin, you can create a beautiful contact form that fits perfectly into your website.
Our top pick these days? HappyForms. Sure, it's one of the newer contact form plugins available for WordPress websites but we're loving it. Not only is it developed and maintained by folks over at The Theme Foundry, who know a thing or two about premium WordPress themes, but it's also 100% free.
Before we list all the reasons why HappyForms is the best contact form plugin around, we'll give you a brief overview of why contact forms are crucial and how HappyForms can do wonders for your WordPress website.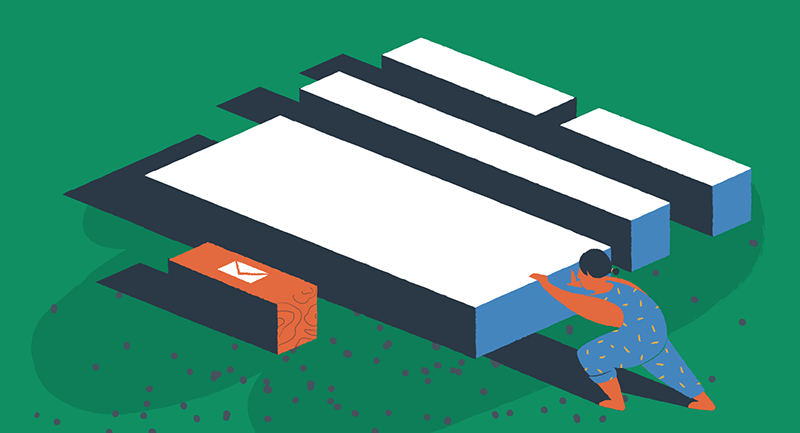 Why use a contact form plugin for WordPress? 
At its core, using a WordPress contact form plugin helps keep your customers in contact with you.
Not only is it a way for you to stay in touch with your customers, it also shows that you're a legitimate business and/or individual. Here you're seen as open to communicating with people, and that might just be all it takes to get a new customer or reader, depending on what your WordPress website is about.
Offering a handful of fields and design tools, WordPress contact form plugins, as a general rule, offer the following:
Customizable forms
Show or hide certain elements based on what the user selects
Visual builders, e.g., drag and drop editors 
Email communication
Spam protection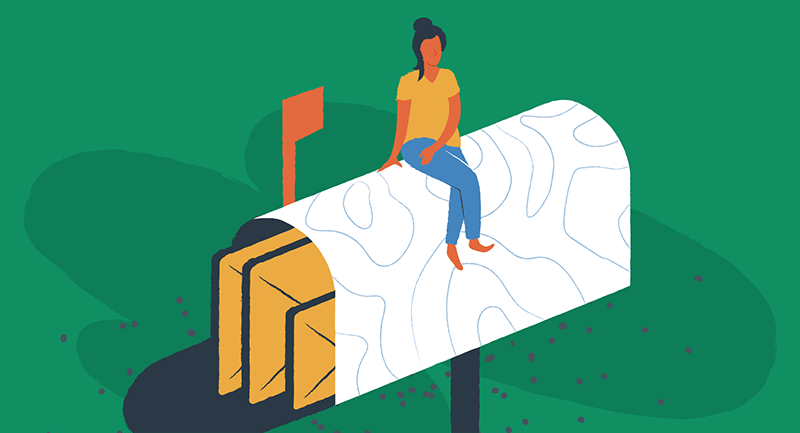 Top 5 reasons why HappyForms is awesome
These days, there are tons of online tools to help you create contact forms in WordPress. But when it comes to simple and powerful form building, few do it it better than HappyForms. Here are the five best reasons you should try this plugin for yourself.
#1 It's Super Easy to Use
When it comes to ease of use, HappyForms is off the charts.
Built entirely in the WordPress Customizer, which is the same interface you're most likely already familiar with, this means you don't need to bother learning a new UI. In other words, it's the same interface you use to customize your themes.
Complete with all the basic CSS style options, HappyForms also makes it super easy to adjust the look of your contact form without ever having to touch a line of code.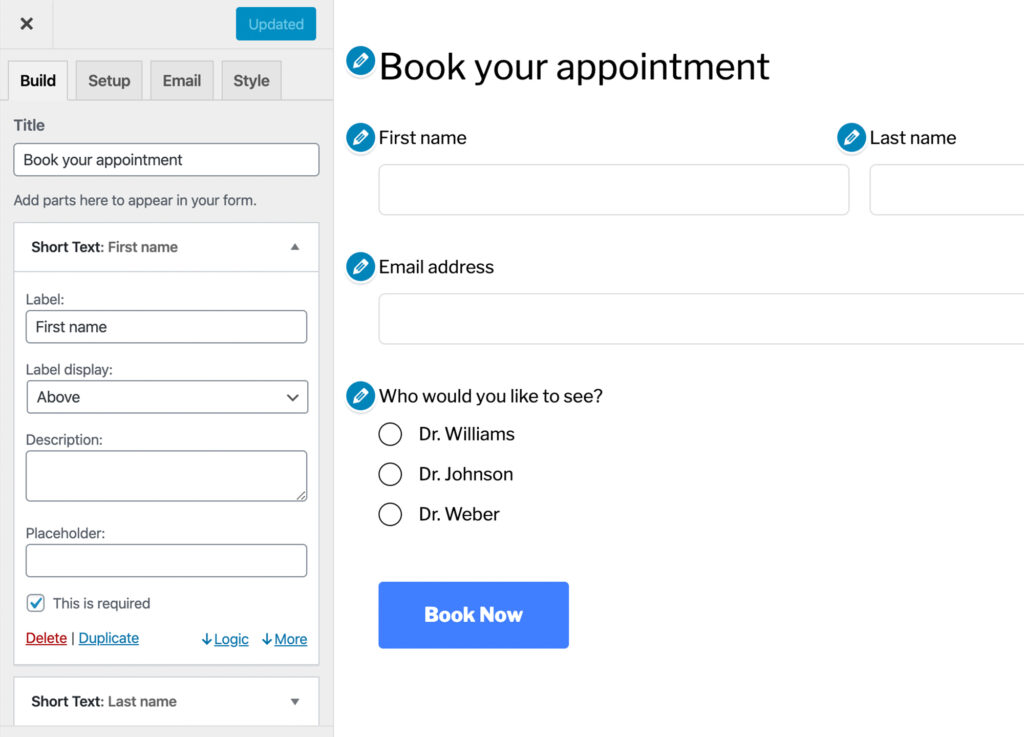 #2 It's Designed to Prevent Spam
With HappyForms, you have two options to fight spam:
1) Use the default HoneyPot technique
2) Use Google reCAPTCHA
While the HoneyPot technique is enabled by default, you might prefer to use Google reCATPCHA.
Thankfully built right into the HappyForms plugin, Google reCAPTCHA can be enabled with each contact form. All you have to do is sign up for an API key, receive a secret key from Google, and promptly paste it into HappyForms.
#3 It Saves Every Contact Form Message
HappyForms helps manage your contact form messages directly from the WordPress admin dashboard. (If you prefer to have messages sent directly to your email address, that's also possible.) 
Even if a message isn't delivered, each one gets safely stored somewhere so you never have to worry about it getting lost. 
#4 It Redirects to a Thank You Page
Depending on your preference, you might want to direct your contact form submissions to a general "Thank You" page.
By redirecting each submission form to the URL of your choice, this is by far one of the easiest (and best) ways to track your conversions in Google Analytics.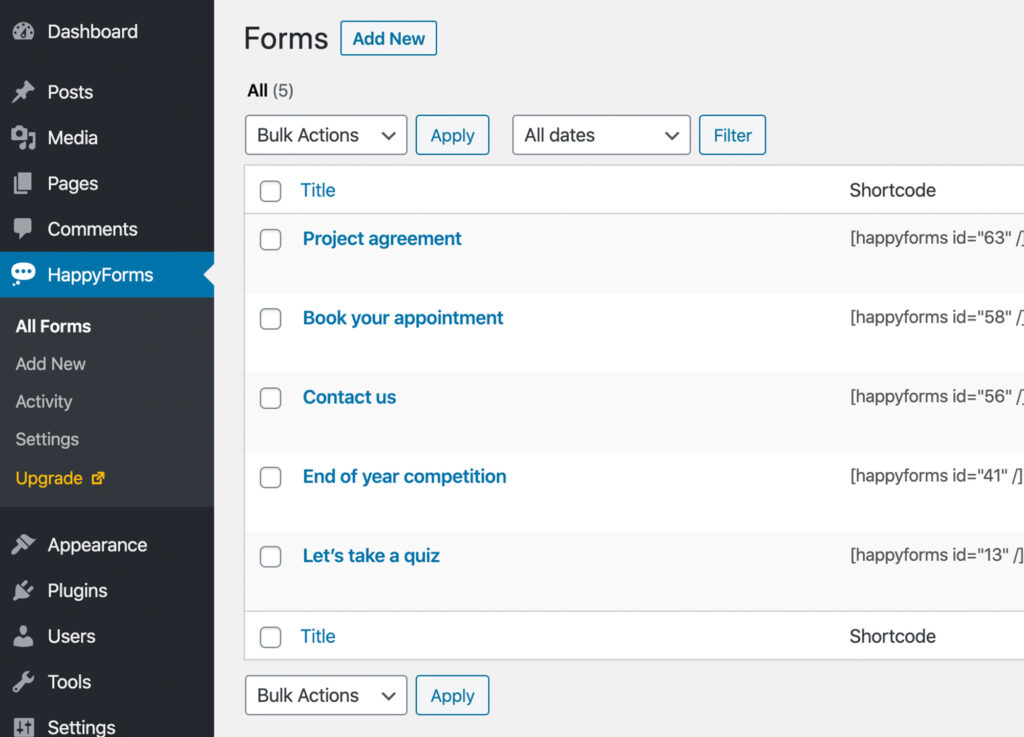 #5 It's Free & Easy to Install
Compatible with any WordPress theme, HappyForms is beyond easy to install and set up.
All it takes is the following:
1) In your WordPress dashboard, locate "Plugins → Add New"
2) Search for "HappyForms" and click on "Install Now"
3) Now click on "Activate"
Congrats! Now you can play around with the drag-and-drop fields and be able to see, in real-time, what your contact form looks like on your website. 
What information should I include in my WordPress contact form?
The information you include in your contact form depends on the type of message you want to receive from visitors. Generally, you should include fields for the visitor's name, email address, and a message box. You can also add additional fields such as phone number, website URL, or address.
Building forms for the future
From various pre-built form fields, built-in spam protection saved database messages, and redirect options, HappyForms is already making major waves in the contact form plugin space.
With 30,000+ active installations and counting, you quite literally have nothing to lose by giving HappyForms a try. Not only is it free, it's also the brainchild of The Theme Foundry folks, who have been creating trusted WordPress themes since 2008.
Although there are premium plans (starting at $99/year for unlimited personal websites), the free version is super simple to use, straight out of the box.