7 best Gutenberg blocks plugins for WordPress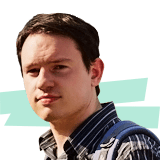 Richard King
WordPress Expert
21 Dec 2022
When WordPress launched way back in 2003 its basic features allowed users to do little more than throw up a blog or two. Today, the free, open-source software has transformed into arguably the most powerful tool on the Internet for creating fully functional and dynamic websites, as well as supporting over 70,000 plugins.
Gutenberg blocks, first introduced in WordPress 5.0, is arguably the most significant change to WordPress since its original release, offering a library of user-friendly content blocks for website creators.
So what makes these Gutenberg blocks so special? Simply put, it makes designing your website that much easier. You add each chunk of content to its own block, customize the block's options, and arrange them in any way you like. You can drag blocks up and down to re-order them, change each block's size and alignment, and more.
However, the standard set of blocks WordPress offers is just the beginning. Now, with growing support, an entire suite of Gutenberg block WordPress plugins is emerging.
What are the two types of Gutenberg blocks plugins?
Before deciding what Gutenberg block plugins to install, you first need to know about the two types that are available.
Single-purpose Gutenberg block plugins
These transform the best WordPress plugins out there into single-purpose Gutenberg blocks. Need to create a contact form? WPForms block (based on WPForms) lets you easily add one using the Gutenberg editor.
Gutenberg block libraries
If you're looking for something less specific, and need blocks for multiple use-case, block libraries may be more ideal for your needs. These include various content elements which are bundled into a single plugin. Our first WordPress plugin, Kadence Blocks, is a good example with blocks to create a table of contents, testimonials, countdowns, and more.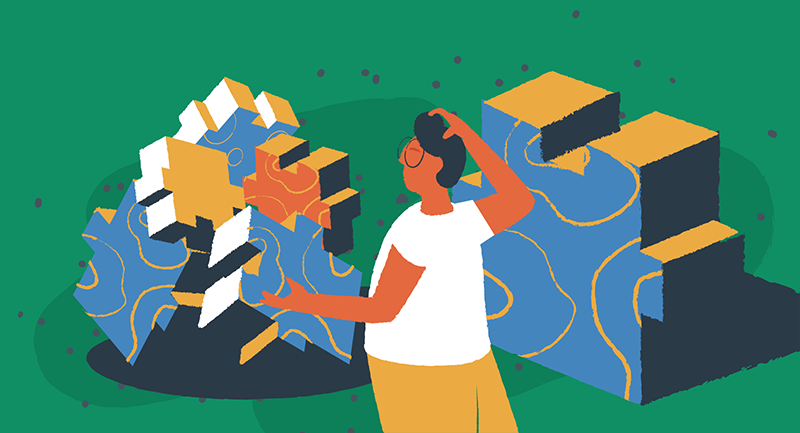 So, now that you're familiar with the two different options, let's explore 7 of the best Gutenberg block plugins for WordPress.   
1. Kadence Blocks
Kadence Blocks is an incredibly popular Gutenberg plugin with various features and customization options. It offers powerful, flexible control over your WordPress website with advanced styling options to help you create something truly stunning.
Build your site effortlessly
Create any number of layout grids and columns
Includes Lottie animation with control over speed and loops
A pre-made blocks library to help build your site quickly and effortlessly with drag and drop
Add custom blocks for a table of contents, testimonials, countdowns, form builders, advanced texts, and more
Responsive and mobile-friendly
2. Qi Blocks
As we've mentioned, there are two types of Gutenberg plugins: single-purpose block plugins and Gutenberg block libraries. Qi Blocks nails the latter, with a comprehensive collection of custom, highly flexible blocks that add seamless functionality to any WordPress site.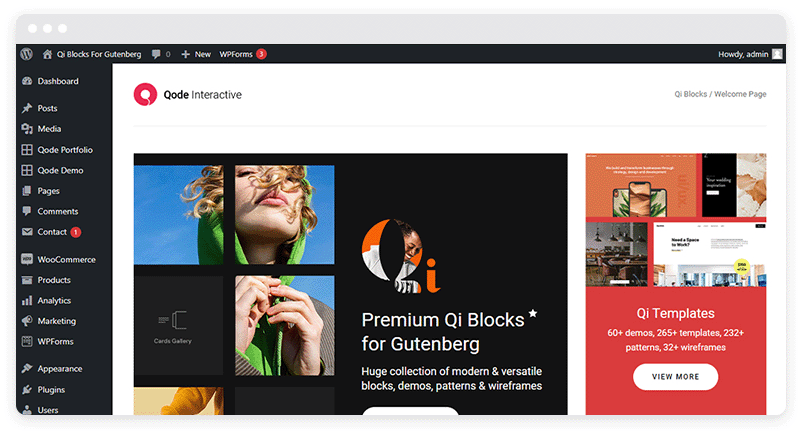 Non-stop customization
Over 80 blocks (48 free blocks and 33 premium) with unparalleled customization options
Blocks are spread over 9 different categories for a smooth user experience, including WooCommerce, SEO, and Form Style blocks
High design standards to impress your web page visitors
Includes a collection of exclusive pre-designed demos, patterns, and templates
3. Spectra Blocks
Spectra Blocks offer a range of unique and responsive blocks. It's one of the best WordPress plugins to help you create a web page or post without using a single line of code.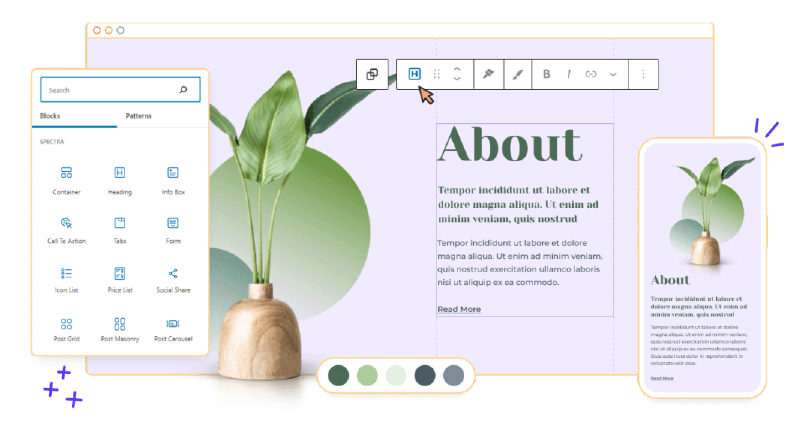 A block for every need
Offers over 30 Gutenberg WordPress blocks, including price, how-to, FAQ, and testimonial blocks – great for small businesses
Includes over 75 plugins and play website demos for any niche
Seamlessly copy and paste styles from one block to another
Add custom styles to forms created with Contact Form 7 and Gravity Forms
Distinctive call-to-action buttons designed to stand out and increase your conversions
Easy-to-use interface
4. Genesis Blocks
Genesis Blocks is a powerful plugin that's become the go-to for creating genuinely stunning website designs. From full-page layouts to customizable page sections designed for speed and increased engagement – Genesis Blocks is an excellent plugin for bloggers.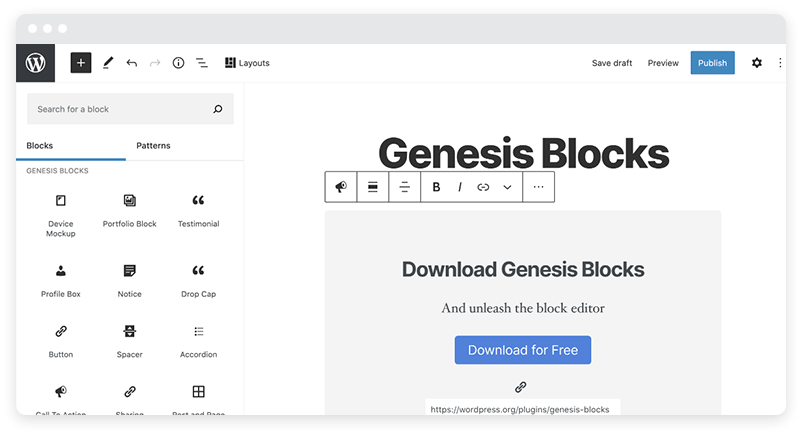 Propel your creative process
A collection of 15 pre-designed premium blocks to help you create attractive pages and posts
Includes layout and section blocks to maximize workflow and ramp up the creation process
An intuitive interface that makes it easy to add blocks to your pages and posts
Fully customizable blocks – change webpage colors, fonts, and other styles to match your overall website design and branding
5. Stackable Blogs
Built for performance, Stackable Blogs is a lightweight, powerful Gutenberg WordPress plugin that transforms the Gutenberg editor into a responsive page builder. The plugin contains a wide-ranging user interface that lets you create a slick website design.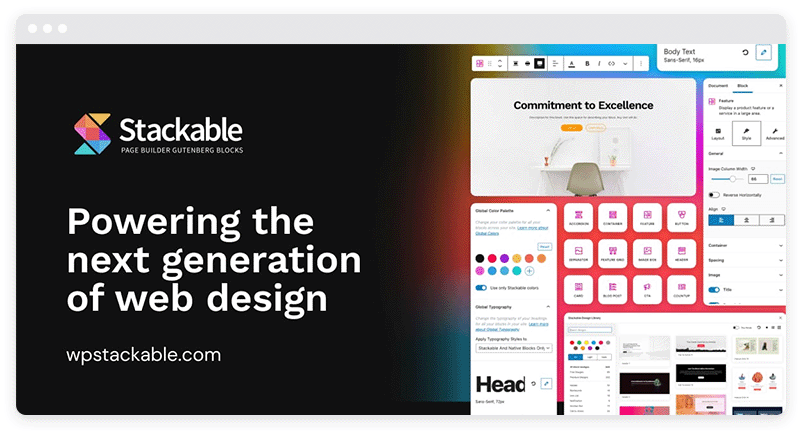 Experiment with eye-catching effects
Includes ready-made designs and 37 UI kits
39 (and counting) flexible custom blocks that include layouts, buttons, video popups and call-to-actions
Integration with third-party plugins such as Toolset, Blocksy, Google Fonts, WPML, Font Awesome and ACF Blocks
Fast page loading time with zero bloat, no JQuery, and loads only the smallest CSS and JS files possible
Offers an extensive range of eye-catching effects and backgrounds, including gradient background effects, video backgrounds and fixed images
6. JetFormBuilder Blocks
A functional yet easy-to-use form builder plugin, JetFormBuilder allows you to create, edit, and style advanced form types in the Gutenberg block editor.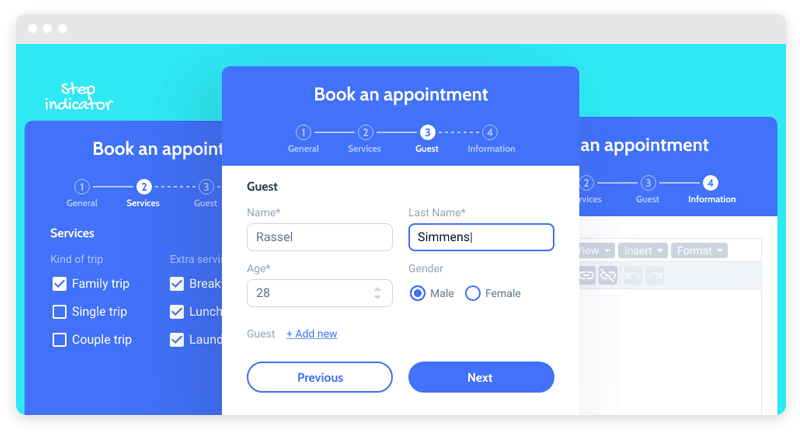 Integrate your favorite payment methods
Offers 18 field types, including form break, heading, media, time, and data
11 post submit actions: update user, redirect to page and send mail
Multi-step form
Calculated field
Hidden fields
Integrated payment methods, including PayPal, Stripe and WooCommerce checkout
7. PostX
Revolutionizing the WordPress experience by leveraging the Gutenberg editor's potential, PostX enables you to construct dynamic websites easily. As the number one Gutenberg dynamic site builder plugin, PostX offers unparalleled design flexibility, simplified workflows, and enhanced content management features.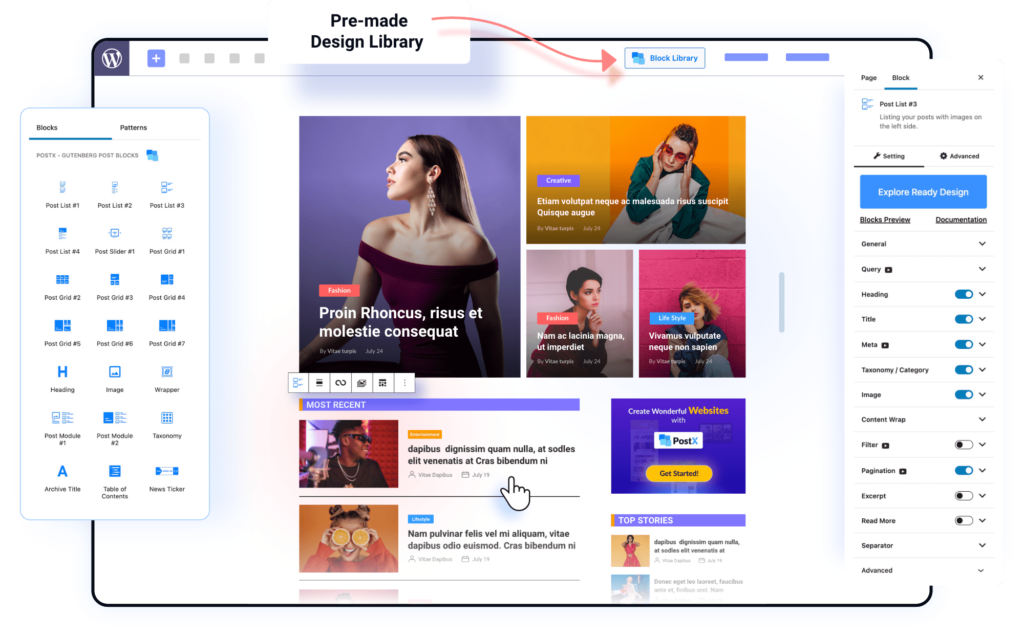 Unmatched customization
Ready-made blocks for endless customization
Multipurpose starter packs for chefs, news reporters, and many more!
Intuitive drag & drop interface
Advanced query building
AJAX filtering and pagination
Table of contents addon
Advanced category settings
Create a dynamic website with Gutenberg blocks
Before Gutenberg blocks, creating a dynamic and visually pleasing website in the WordPress classic editor was a challenging task, especially for non-techies. Today, with a wealth of options to create visually stunning posts and pages – the Gutenberg block editor has become a game-changer in the world of WordPress.
Are you looking to master the best WordPress plugins? Check out our WordPress Resources center.